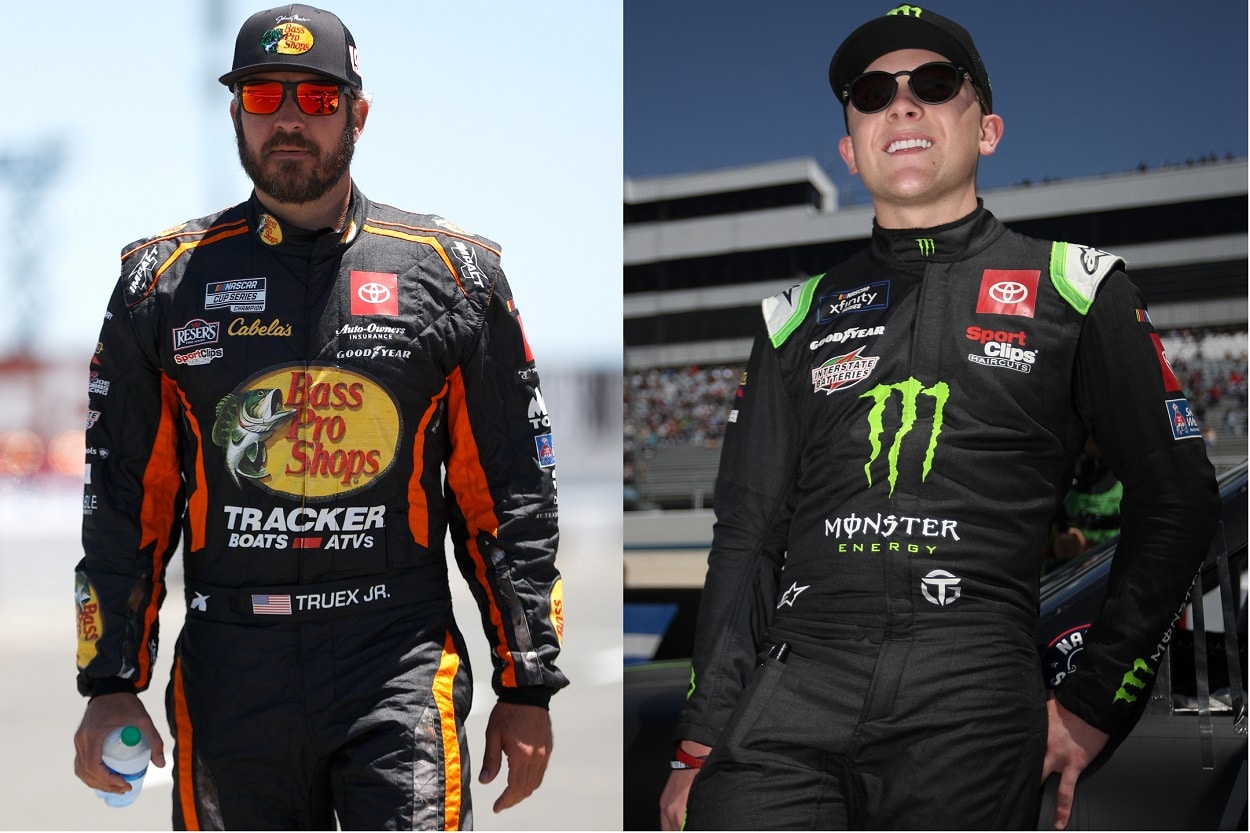 Martin Truex Jr.'s Decision Makes the Ty Gibbs Dilemma a Lot Easier for Joe Gibbs Racing
Ty Gibbs is the obvious choice to replace Martin Truex Jr. at Joe Gibbs Racing.
Martin Truex Jr. quieted a garage area full of rumors this past week at Nashville Superspeedway when he announced he would return to the No. 19 car at Joe Gibbs Racing for the 2023 NASCAR Cup Series season. And he might have ended speculation about the year after as well.
The 42-year-old has driven the No. 19 car since 2019 and has had three of the best seasons of his career in that car, aside from his 2017 Cup Series championship campaign in the No. 78 car for Furniture Row Racing.
Some of Martin Truex Jr.'s best years have been at Joe Gibbs Racing
Truex Jr. has won 12 races in those three years and finished second in the final championship standings twice. He is currently seventh in the points standings, but his season has been more of a struggle.
He has only two top-five finishes and has finished 21st or worse in six of the first 17 points-paying races in 2022. 
Part of that inconsistency can be explained by the new Next Gen car model NASCAR introduced this season. It is a radically different car than the previous Gen 6 model, and teams throughout the series have struggled to run well with any consistency this season.
The new car could have swayed Truex Jr. toward retirement since he had an opt-out in his contract with JGR at the end of this season. That led to rampant conjecture about who would fill the No. 19 spot next year if Truex didn't come back.
Plus, Truex Jr. talked openly about the uncertainty of his future plans.
"If it's not fun, I won't hang around too long," he said in March. "I don't have to do this anymore. I'm still around because I really want to do this and continue winning races and hopefully more championships."
John Hunter Nemechek could have been a replacement candidate since he drives part-time for JGR in the Xfinity Series and has previous Cup Series experience.
Joe Gibbs' grandson, Ty Gibbs, is an obvious choice to replace Truex Jr.
Ty Gibbs was the most obvious name initially among those who could replace Truex. Gibbs is a 19-year-old phenom who has won seven of his first 33 races in the Xfinity Series after 18 wins and a championship in three ARCA Menards Series seasons.
He also happens to be the grandson of JGR team owner and NASCAR Hall of Famer Joe Gibbs. However, Gibbs said last month he would prefer his grandson remain in the Xfinity Series for one more year.
"Our goal was to keep him in Xfinity for two years, and so this is his first year, really," Gibbs said. "I think he's had 23 or 24 Xfinity races, so the game plan is two years for sure in Xfinity. Make sure we don't rush him."
The timing would not have worked out all that smoothly if Truex Jr. had retired after this season. JGR would either have to sign a driver to a one-year bridge deal to cover the No. 19 seat in 2023 or would have had not to re-sign one of its other three drivers to a multi-year contract.
None of those would have been great options with two-time champion Kyle Busch, 48-time Cup Series race winner Denny Hamlin and potentially up-and-coming driver Christopher Bell already in-house.
Truex Jr.'s decision should end a lot of speculation about JGR's future lineup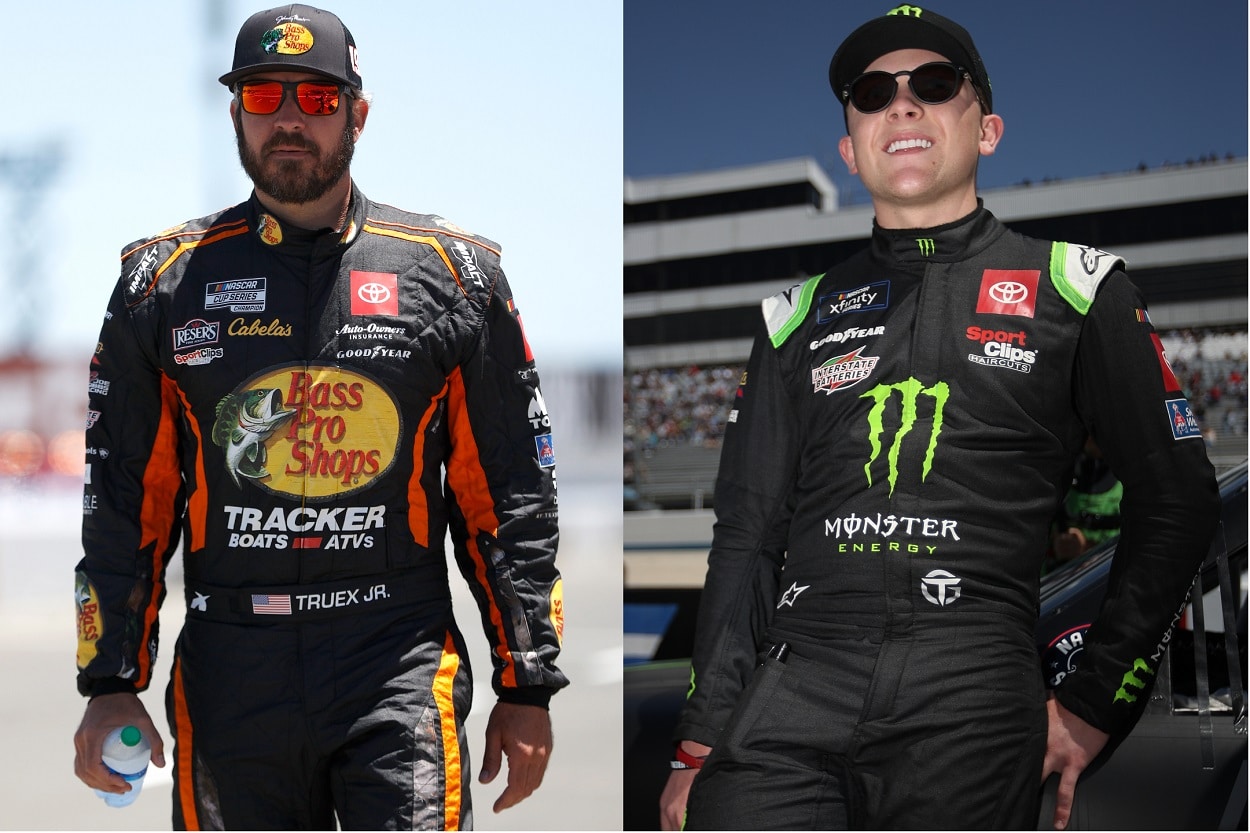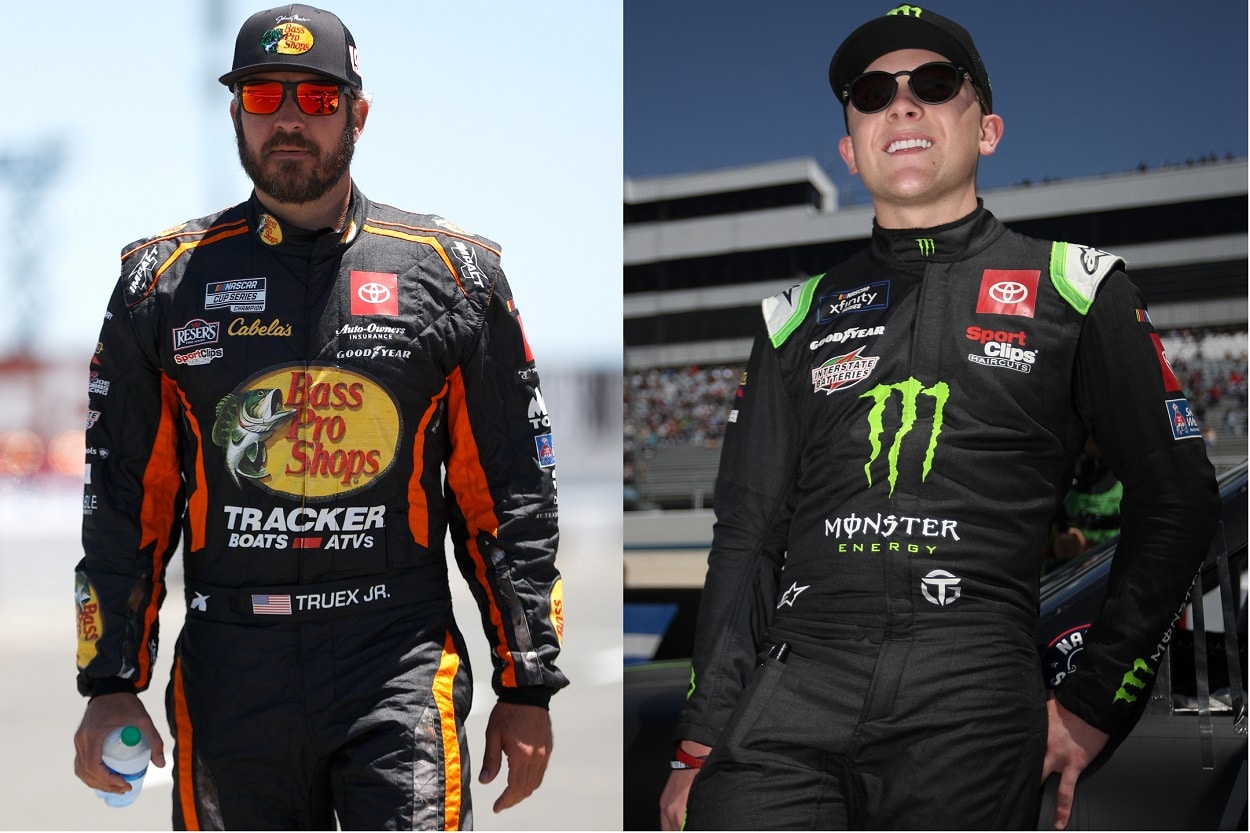 Now, however, Truex has lined things up nicely for JGR so long as it gets Busch signed to a contract extension at some point this year.
That will allow Ty Gibbs the second full season in the Xfinity Series and a straightforward path to the Cup Series in 2024, when he should be able to slide into the No. 19 car, barring anything unexpected.
It also means JGR won't have to search out new sponsorship for a different driver had Truex left after this season. Uncertainty would have surrounded whether or not Truex's sponsor would remain with the team and if the new driver would have brought along any sponsors.
Gibbs has Monster Energy as his primary sponsor in the Xfinity Series. There is little reason to think that company won't remain affiliated with him in some capacity when he moves to the Cup Series, even though it already sponsors Kurt Busch at 23XI Racing.
One Silly Season decision doesn't often take care of several questions about multiple years at once, but Truex has quelled what would have been possibly the biggest Silly Season story for this year and the next.
JGR gets to keep one of its star drivers for another year and doesn't have to rush its next one. Now both drivers can just go to work on winning races and their respective championships without worrying about an uncertain future any longer.
That freedom might even help their chances.
Stats courtesy of Racing Reference
Like Sportscasting on Facebook. Follow us on Twitter @sportscasting19 and subscribe to our YouTube channel.