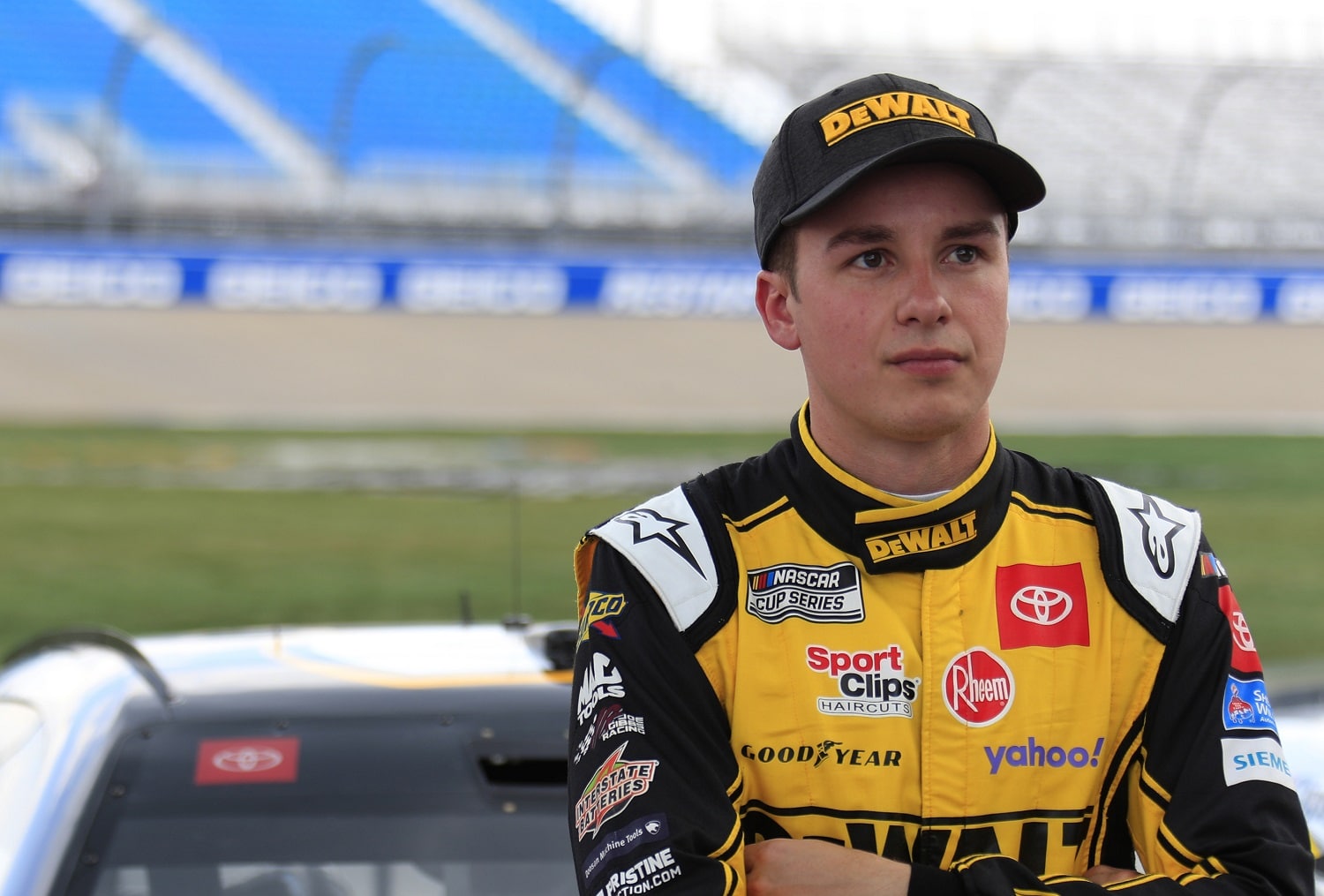 Christopher Bell Sounds Beaten Down While Explaining the Bubba Wallace Pit Crew Swap
Christopher Bell was choosing his words carefully in discussing the swap of some crew members by Joe Gibbs Racing.
Christopher Bell could have gone into hiding or brushed off interview requests by saying he needed to be somewhere. Instead, the NASCAR Cup Series competitor stepped in front of the microphones and dealt with the questions.
That being said, his answers sounded more guarded than Steph Curry with 2.2 seconds left, Golden State down by three, and Klay Thompson out of the game.
The unanswered question about the Christopher Bell-Bubba Wallace swap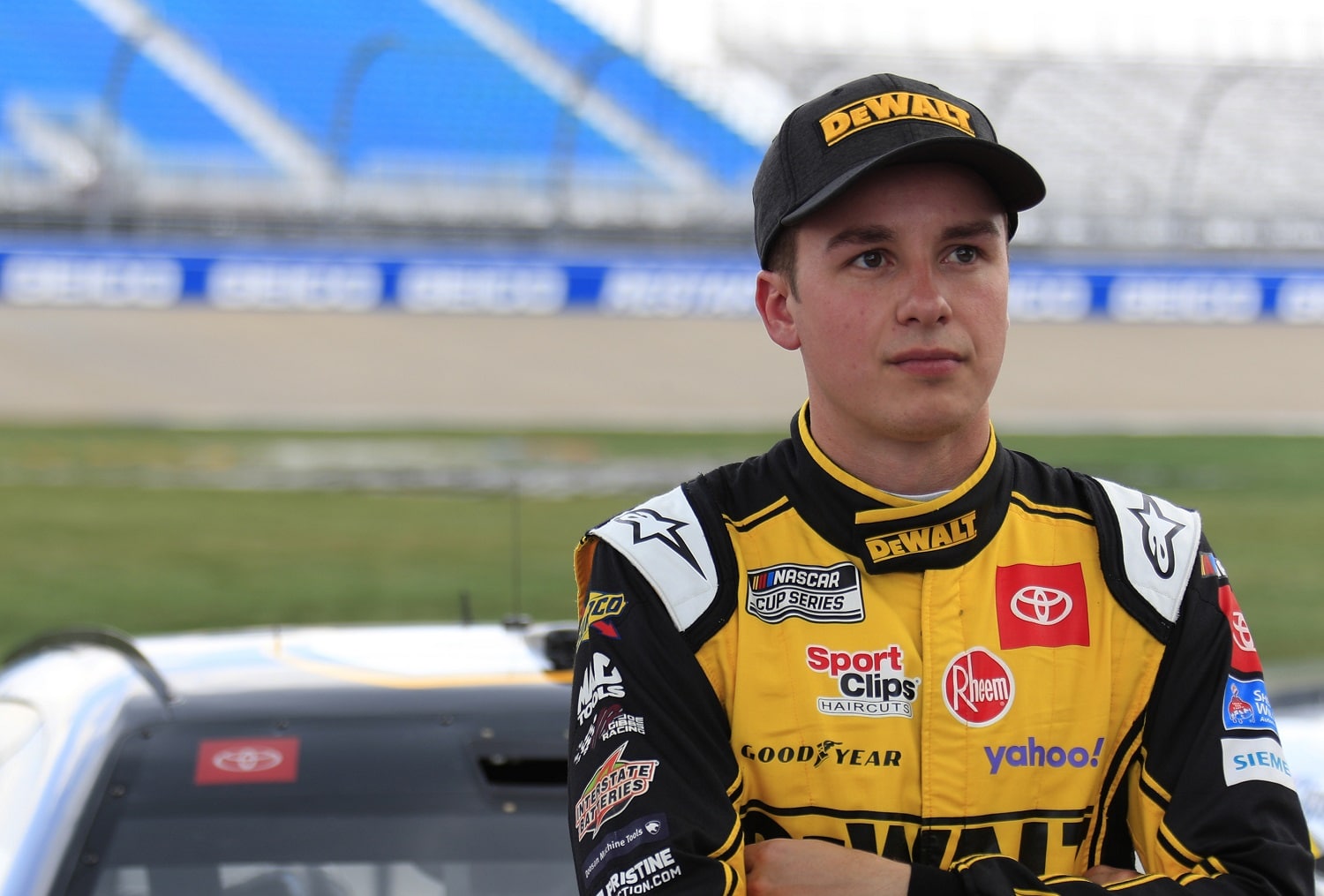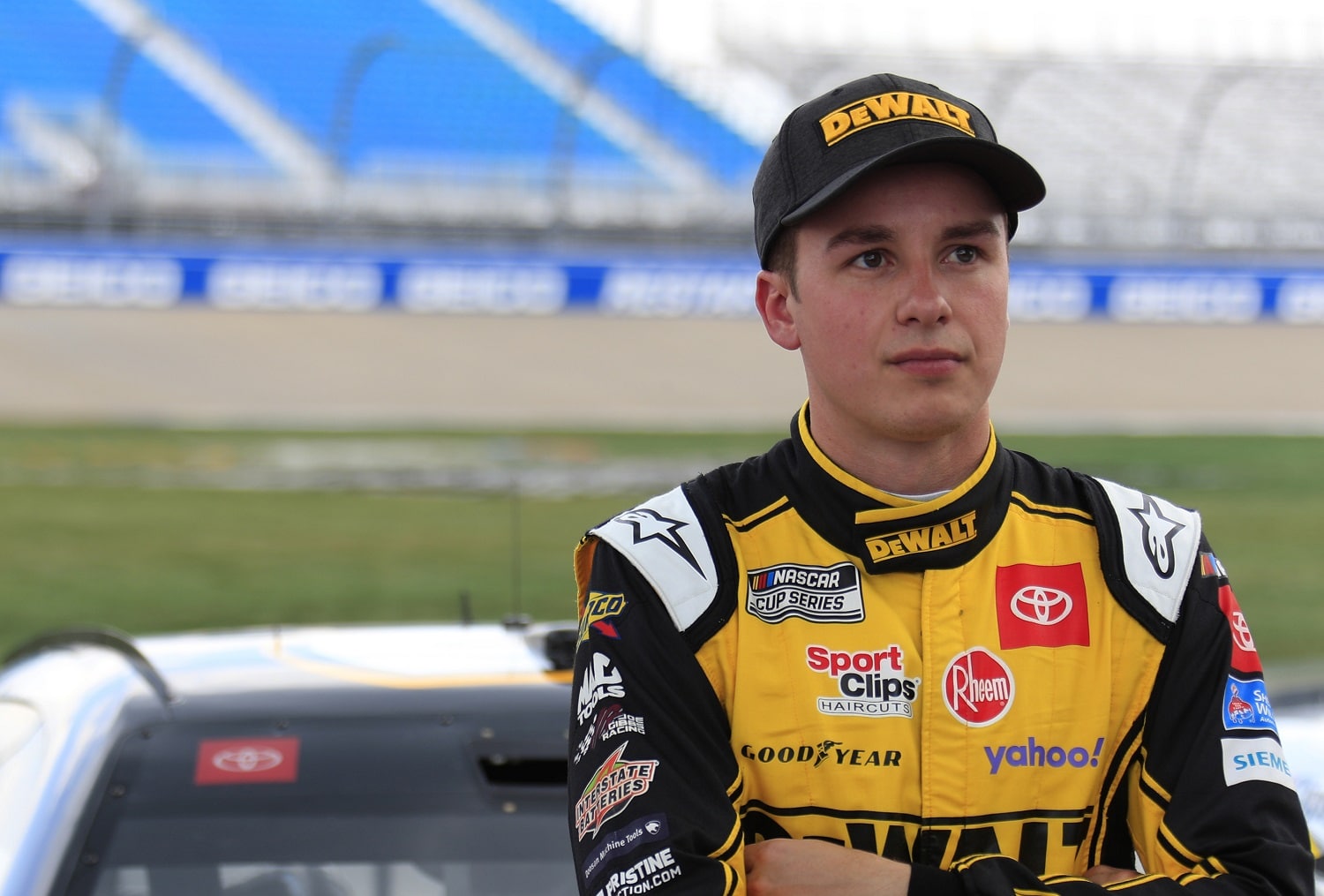 The hot topic coming out of Road America was Noah Gragson playing full-contact NASCAR in the Xfinity Series race. By midweek, that had been supplanted by the news that Joe Gibbs Racing had reassigned some pit crew members on the teams for Christopher Bell and Bubba Wallace. In effect, it was a 2-for-2 trade.
Questions arose almost immediately about the inspiration for the move, particularly since Wallace has been so vocal recently about the season-long problems with his pit crew's performance. However, Wallace is hardly the only driver in the NASCAR Cup Series whose crew has struggled with the Next Gen car and its single-lug nut wheels.
Assuming that a change could help one or both drivers, a significant unanswered question remains: With JGR in charge of crews assignments on all six Toyotas owned by that team or 23XI Racing, how is it that it's the Bell and Wallace teams sporting changes beginning Sunday at Atlanta Motor Speedway?
JGR didn't mess with the team certain of a playoff spot
Denny Hamlin did his best to spin that Joe Gibbs Racing was acting to help both drivers with just eight races remaining before the playoffs. Hamlin, of course, was the natural choice to be the face of the response. He drives for JGR and is a part-owner of 23XI Racing, giving him a stake in the success of both organizations.
Hamlin already owns two victories and has nearly no chance of earning bonus playoff points by placing in the top 10 in points. While the No. 11 Toyota's pit crew hasn't been without fault, it's logical to assume some of its crew members could beef up Christopher Bell's No. 20 team and/or Bubba Wallace's No. 23 squad.
The obvious defense is that Hamlin is headed to the playoffs. Disrupting his team two months before the playoffs would damage chemistry and teamwork over the 10 most important races at the conclusion of the season.
Given that Bell is 20 points above the cut line for the time being, doesn't he deserve the same consideration? Even buying Bell's explanation that his team has had its share of problems, he's obviously been doing a decent job of overcoming them by climbing to eighth in points. Meanwhile, at best, Wallace has dabbled in mediocrity.
Christopher Bell sounds beaten down
Christopher Bell and Bubba Wallace spoke to reporters this weekend ahead of Sunday's race at Atlanta Motor Speedway. Wallace barely looked up while answering questions; Bell sounded beaten down.
"We've had pit crew issues on the '20' as well," he said, seeming to choose his words cautiously. "You know, it hasn't been all fun and games for us on the '20' group either. So, I think that both of us, the '23' and '20,' are looking for improvements."
Still, it seems to come down to common sense. Tenuous as his hold is, Bell remains above the playoff cut line coming to Atlanta. Wallace resides so far down the standings that even a win doesn't assure a playoff spot. It would have looked better had the crew changes come before Wallace's latest tirades. By waiting this long, JGR creates the perception that swapping crew members is about helping Wallace, not Bell.
"I haven't studied the data too close, but both of us have had our struggles for sure," Bell said. "And it's cost both of us a lot of potential good finishes. So, I think mixing up the teams was their goal to try and obviously produce better pit stops and fewer mistakes. We'll see that turns out."
Like Sportscasting on Facebook. Follow us on Twitter @sportscasting19 and subscribe to our YouTube channel.