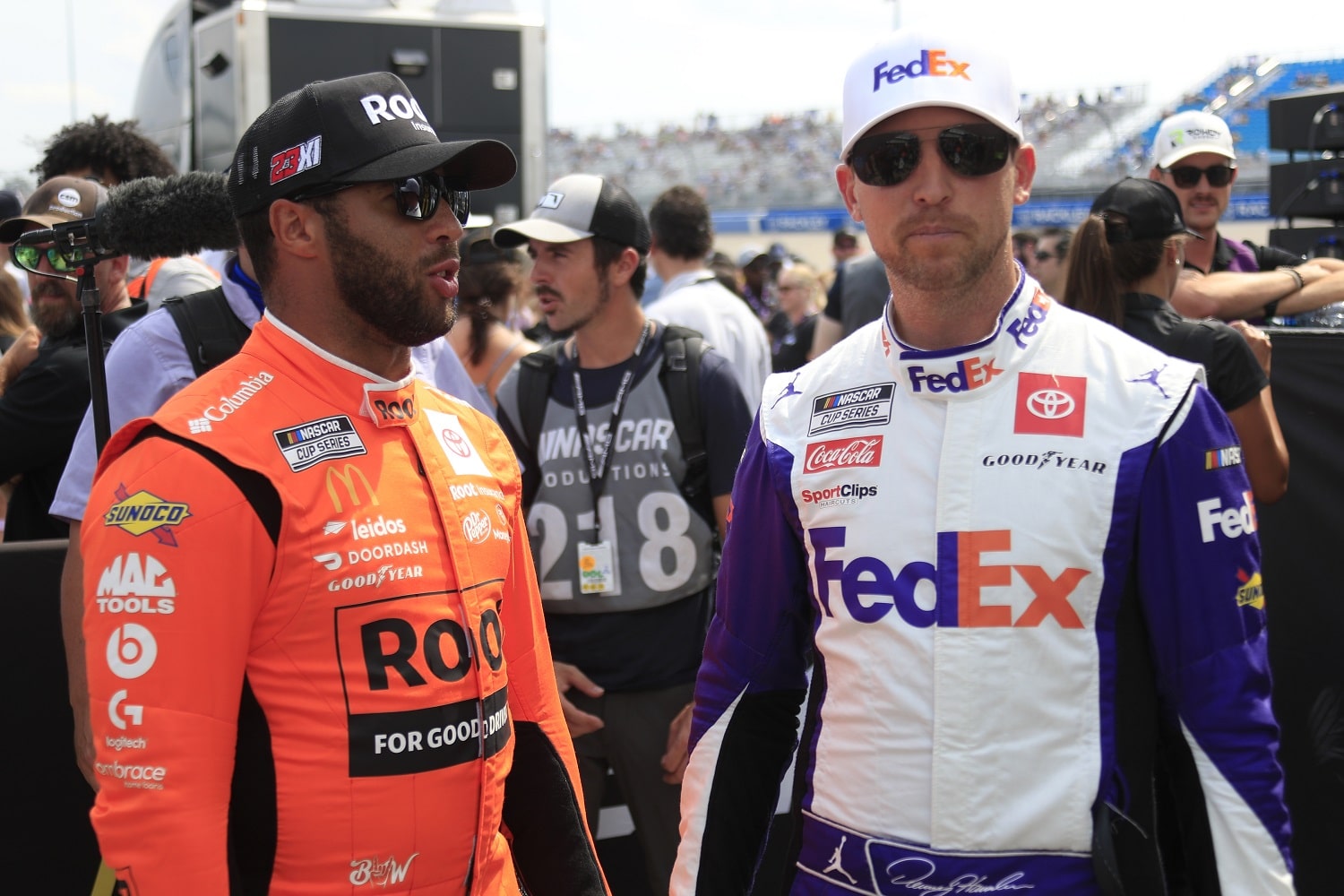 Is Anyone Buying Denny Hamlin's Defense of a Controversial Decision?
Denny Hamlin is trying to spin crew changes as potentially beneficial to Joe Gibbs Racing teammate Christopher Bell.
Add this to your NASCAR Silly Season list of questions: Would Christopher Bell look good in the No. 10 Ford at Stewart-Haas Racing in 2023?
We're getting way ahead of ourselves here, but the question is no more preposterous than the defense Denny Hamlin is mounting over the move that raises the question of Bell's NASCAR Cup Series future.
Hamlin has such an obvious conflict of interest that it's hard to see his tweet late Wednesday afternoon as anything other than carrying water for Joe Gibbs Racing.
The Bubba Wallace and Christopher Bell pit crews are swapping members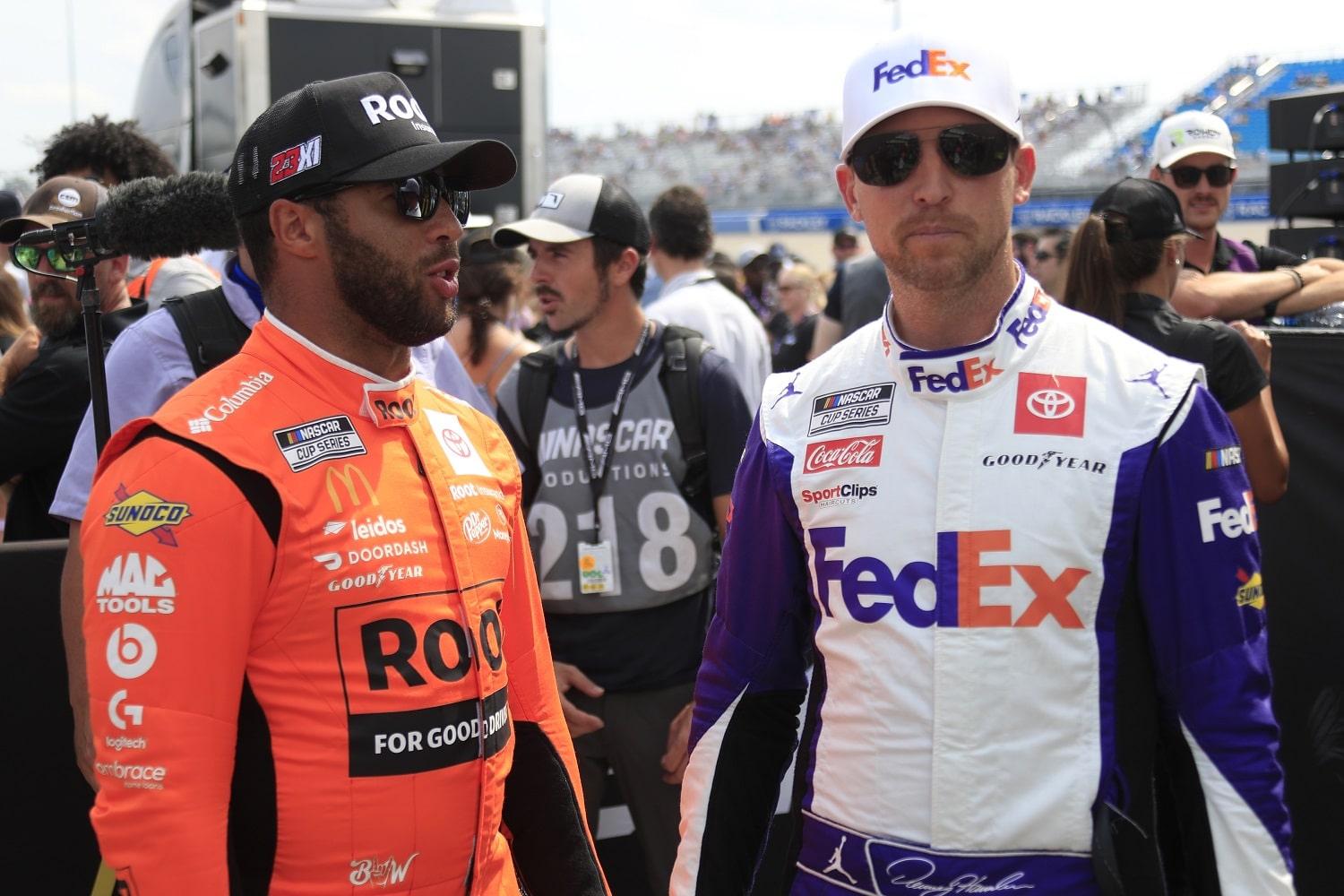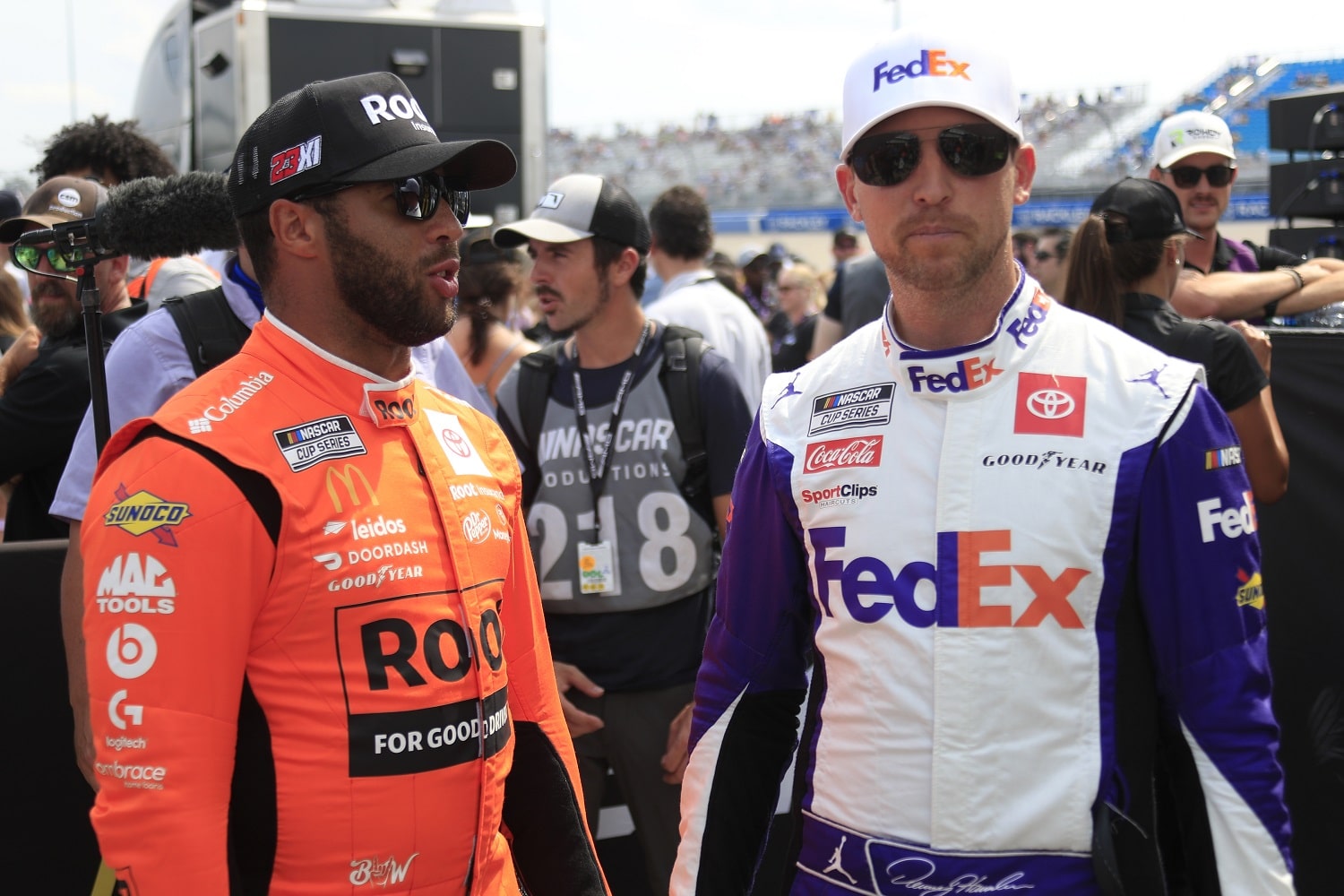 Tuesday's big news in NASCAR was the disclosure of changes this weekend to the pit crews for Christopher Bell and Bubba Wallace, who drive for Joe Gibbs Racing and 23XI Racing, respectively. Those two organizations are the only Toyota teams in the Cup series, and JGR is responsible for training and assigning the crews for all six Camrys.
The front tire changer and a tire carrier from Bell's No. 20 Toyota are moving to Wallace's No. 23 ride. The corresponding members of Wallace's crew are sliding over to Bell's car, NBC Sports was the first to report. Also, Bell's team picks up AJ Rosini, previously part of Chip Ganassi Racing's IndyCar team after a stint on Wallace's car, as its new rear tire changer.
Wallace is furious with the performance of his pit crew. While teams all across the Cup Series have struggled with the Next Gen car, particularly on tire changes, Wallace has experienced more problems than most. There's a perception that he had the worst of the six crews handling the JGR and 23XI Toyotas.
Is anyone buying Denny Hamlin's defense of a controversial decision?
As noted, there are only two Toyota teams in the NASCAR Cup Series. Denny Hamlin happens to have significant ties to both; he drives the No. 11 Camry for Joe Gibbs Racing and is a part-owner of the 23XI Racing team.
Hamlin has won two races, so he's in the playoffs beginning Labor Day weekend. JGR teammate Christopher Bell is eighth on the points list. While that sounds like a comfortable position with eight races left in the regular season, Bell is winless and only 20 points above the cut line.
Meanwhile, Wallace is 25th in points and has no path to the playoffs without winning. Even then, he could be squeezed out if we reach 17 winners this season.
In the face of widespread speculation over the crew changes, Hamlin went online to dispel the notion that Bell has been relegated to a second-class citizen within the Toyota hierarchy. He calls it a chemistry experiment.
Denny Hamlin throws out some misdirection
Dave Moody, who hosts shows on the SiriusXM NASCAR channel, launched a bit of a bomb by tweeting what a lot of people are thinking: "If I'm @CBellRacing, I'm not feeling like a high priority right now. #NoPitCrewLove"
Joe Gibbs Racing has a history of dropping young drivers (see: Joey Logano, Daniel Suarez, and Erik Jones) like supermarkets drop candy prices the day after Halloween, so Moody's implication is that JGR may be moving on from Christopher Bell. (Remember, Ty Gibbs is waiting in the wings.) If that's the way it plays out, then Bell might look pretty good in the No. 10 Ford at Stewart-Haas Racing after Aric Almirola retires in November.
Denny Hamlin tried to fend off Moody's tweet.
"What makes you say that Dave?" he wrote on Twitter. "Especially without knowledge of why changes were made. Chemistry, speed, leadership, experience is what makes up a successful pit crew. Some teams have 2 or 3 of those but not all. Perhaps by mixing a few from one to another is helps both get all 4."
The remark about no knowledge of the rationale is classic misdirection; few of us know how watches are made, but most of us can tell time.
Maybe, just maybe, the crew changes boost Bell's playoff chances. But almost no one is betting that's the case. The 23XI team isn't going to ditch Wallace, who brings in substantial sponsorship money. Bell doesn't have that kind of security.
The team Hamlin co-owns fares much better if Wallace succeeds. So, of course, he's going to spin. We're under no obligation to believe him.
Like Sportscasting on Facebook. Follow us on Twitter @sportscasting19 and subscribe to our YouTube channel.