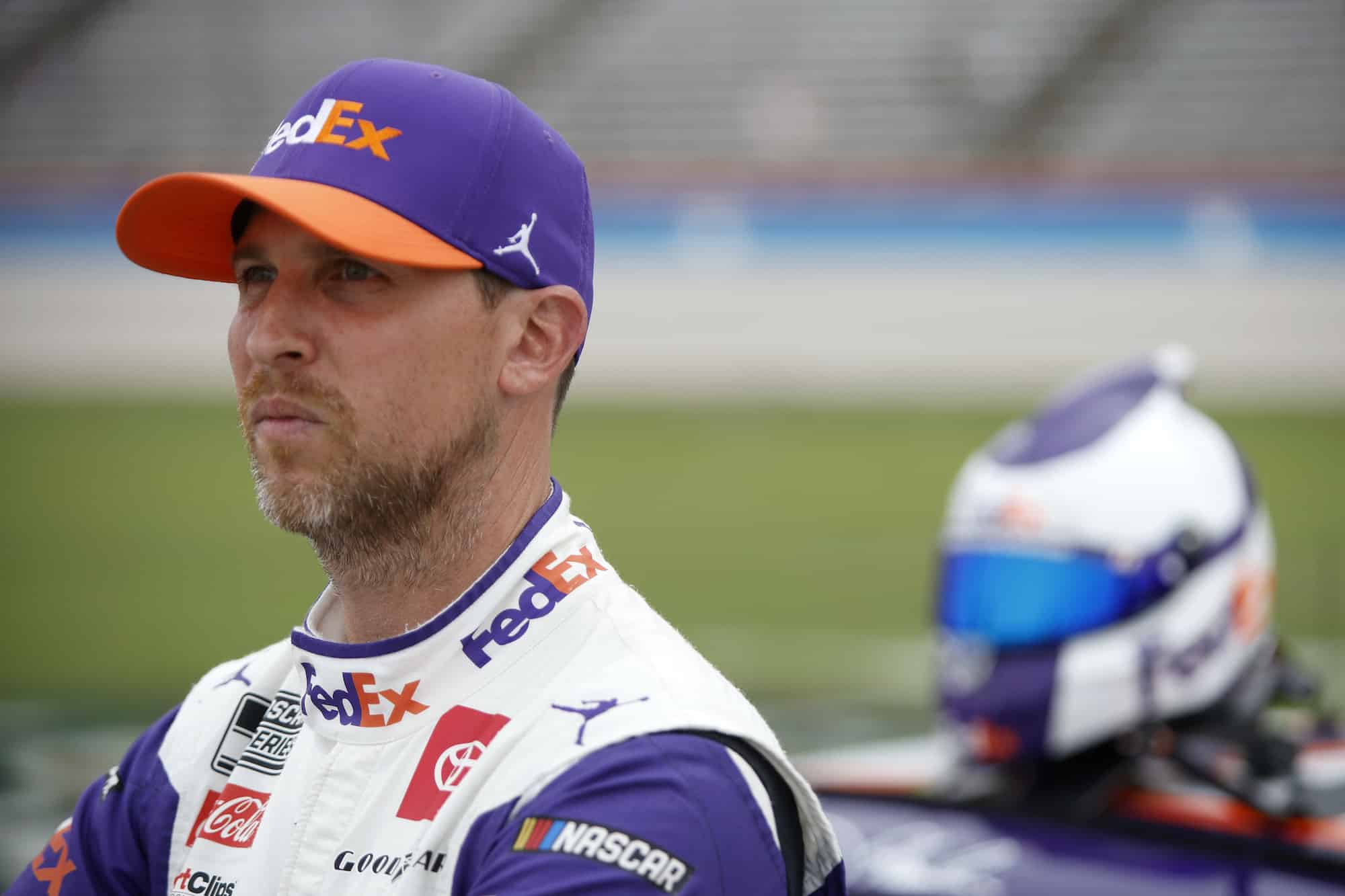 Denny Hamlin's Pessimistic Preseason Prediction Has Come True and NASCAR Fans Have Benefitted From It
Denny Hamlin offered a pessimistic preseason prediction before the Cup Series season that has come true and NASCAR fans have benefitted from it.
Denny Hamlin has been on a rollercoaster ride in the Next Gen car this season. Through 17 races, the three-time Daytona 500 winner has managed just four top-10 finishes. Fortunately, two of those have been wins.
While Hamlin is understandably happy to be locked into the playoffs, the inconsistent performance is not anything he's experienced in years. However, to the Joe Gibbs Racing driver's credit, he predicted before the season how this year would be much more volatile than years past and it's proven to be true. 
Denny Hamlin predicted more accidents in Next Gen car
Denny Hamlin is a leader in the NASCAR Cup Series garage. The 41-year-old driver has years of experience on his side, plus he's added a unique perspective the last couple of seasons as co-owner of 23XI Racing. 
Because of this unique background, he's often outspoken on various topics on and off the track. That was the case multiple times last year when he addressed issues with the Next Gen car, including heat concerns inside the cockpit. 
"We are the steak and the floorboard is the grill," Hamlin said during an appearance on Racing Spaces on Twitter. "We cook from the bottom up." 
In addition to the heat, the driver said the overall handling of the Next Gen car was a challenge because of major differences from the Gen 6 car in both shifting and driving, as well as issues with the simulator, which didn't adequately reflect the new car. He suggested seat time would be imperative to overcome the dramatic changes, but fans would benefit in the end. 
"This thing is an entirely different machine," Hamlin said. "There will certainly be more wrecks, no question." 
The numbers confirm more wrecks
Hamlin's words have turned out to be prophetic. Through 17 races this season, there have been 150 cautions. That's a dramatic increase of 33 more compared to the same number of races last season.
Those numbers include several new tracks that weren't on last year's schedule, including Auto Club Speedway and World Wide Technology Raceway near St. Louis.
However, when comparing apples to apples, the difference is eye-opening. Las Vegas started the trend this season with 12 yellow flags, which was double the amount in last year's race. Bristol dirt saw an increase from 10 in 2021 to 14 this season. 
Dover also experienced a sizeable increase of cautions from seven to 13, but the hands-down winner was the Coca-Cola 600 at Charlotte, which had a shocking change from four a season ago to 18 in 2022. Hamlin won the race.
Hamlin has been part of numerous cautions
Hamlin's prediction coming true has been good news from a fan's perspective. Those increased cautions mean the field has been regularly shuffled due to the accidents and subsequent restarts. The changes equal exciting racing action and, in multiple cases, produce late-race drama.  
From the driver's view, it's been much less enjoyable. Take Hamlin, for example. In 17 starts, he unbelievably has five DNFs. That's more than he's had in the past three seasons combined (2). 
Hamlin's struggles this season are a true reflection of the Next Gen car and the challenges it presents to the drivers individually, which we've seen time and time again with cars spinning out with no one around them, and in a pack of cars traveling at speeds near 200 miles per hour.
NASCAR promised the new car would change the game. Hamlin predicted there would be more wrecks. Both were correct and the fans are the beneficiaries.
Like Sportscasting on Facebook. Follow us on Twitter @sportscasting19 and subscribe to our YouTube channel.