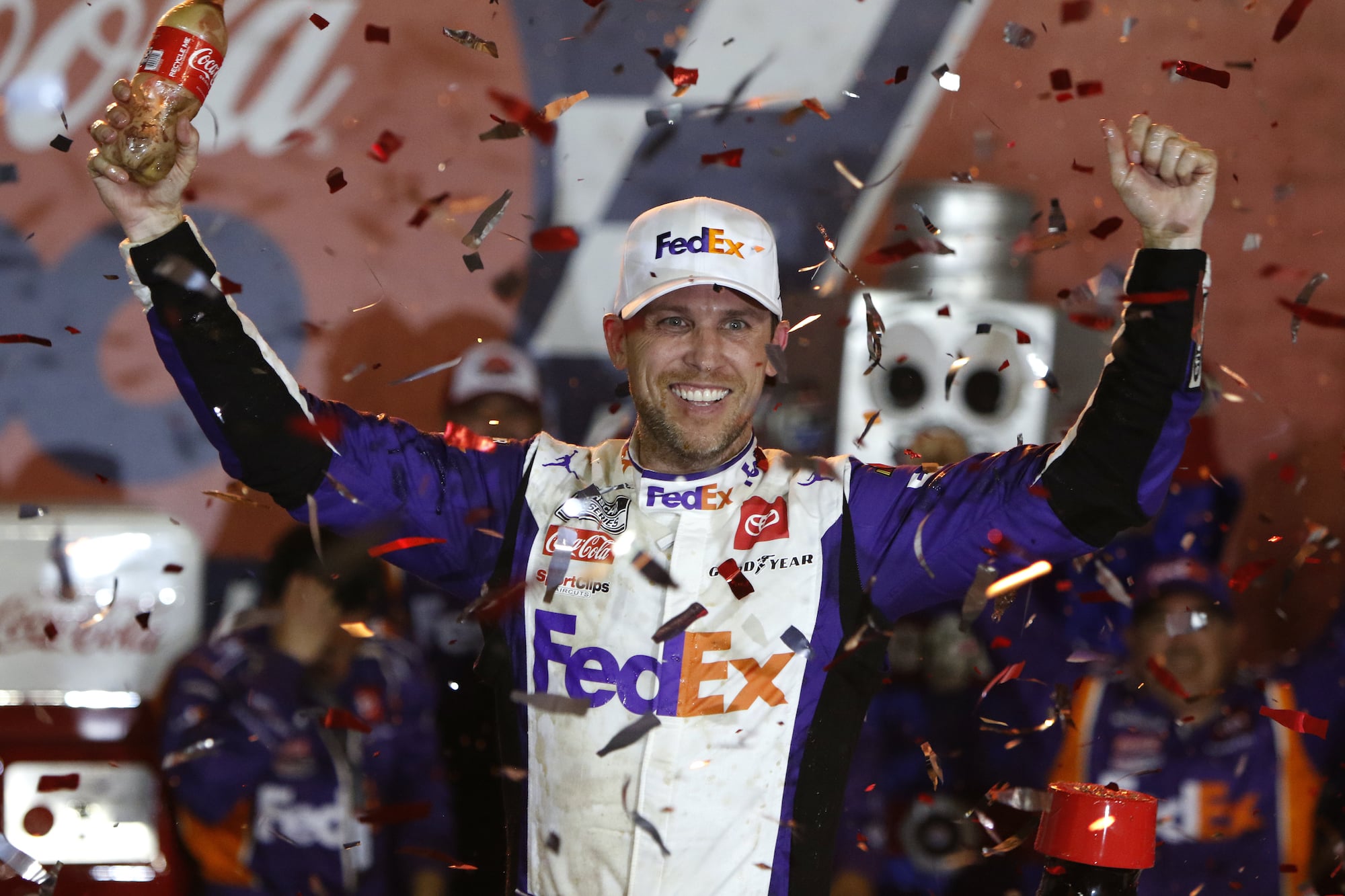 Denny Hamlin Makes Eye-Opening Statement and Reveals Why Racing Career Could End at Conclusion of 2022
Denny Hamlin is still in his prime, winning twice already this season. However, he made an eye-opening statement recently, saying he might retire after 2022.
Denny Hamlin won at Charlotte Sunday to earn his first Coca-Cola 600 and his second win of the season. He's playoff-bound once again and will be looking to capture his first Cup Series title. 
Last week the three-time Daytona 500 winner appeared as a guest on the Dale Jr. Download and talked about the controversial end at the All-Star Race, where he finished second, his Hall of Fame-worthy career, and if he's thought about when he'll retire. The show host and listening audience were surprised by the driver's answer when he suggested his racing days might come to an end as early as this year. 
Denny Hamlin adding to his legacy
There's no denying when Denny Hamlin calls it quits, he's destined for the NASCAR Hall of Fame. His numbers are impressive. 
The 41-year-old has recorded 48 wins, including seven crown jewel victories. He's won the Daytona 500 and Southern 500 three times each, and added the prestigious Coke 600 title to his trophy case on Sunday.
In his 17th full-time season, Hamlin doesn't appear to be slowing down. He's finished in the top 4 the last three seasons. This year, he's already won twice in the first 14 races and is locked into the postseason. 
Hamlin talks about when he wants to retire
While Denny Hamlin is still consistently posting wins and battling for that elusive championship, he understands the window of maintaining such a high level of success in his career will be closing in the coming years. He admitted as much to Dale Earnhardt Jr. last week on the Dale Jr. Download when he talked about hanging up his helmet one final time.
"I talked with my crew chief yesterday about this and I said I'm going to win my last start," Hamlin said. "Hopefully, it's a meaningful start."
"What are you going to do? You go win a race and go, 'Is this when I'm supposed to quit?'" Earnhardt asked. "You're going to know when you get out? I'm done."
"I don't want the performance to decline where I don't think I can win every week," the driver said.
After Hamlin told Earnhardt that he's 41 years old, the Hall of Famer said the "numbers suggest you got about two years." 
"I guess the analytics would say 39-40 is really a sweet spot," Hamlin said. "Then you lose a little. Then you lose a little. Then you lose a fair amount. Then you lose a lot."
Denny Hamlin comment catches Earnhardt and audience by surprise
With his two wins already this season, Hamlin has shown he hasn't lost his edge against the younger competition in the new Next Gen car. When the pair concluded their lengthy conversation, which included comparing their jobs as NASCAR team owners, Earnhardt once again mentioned Hamlin's dream of a fairytale ending to his career.
"He's going to win his last race," Earnhardt said. 
"That's my plan. I just hope it's meaningful," Hamlin said. 
"2037 he's winning his last race," podcast co-host Mike Davis interjected.
"You're not asking much, are you?" Earnhardt added. 
"Dale's like you're f****** out of your mind," the JGR driver said, which drew a big laugh from the room. 
"I want to win my last race, and it's going to be the biggest race of my career," Earnhardt mocked. 
"You never know. If it's this year, then I might think about it," Hamlin ended. 
"Damn," Earnhardt responded with surprise. 
Fairytale ending possible in 2022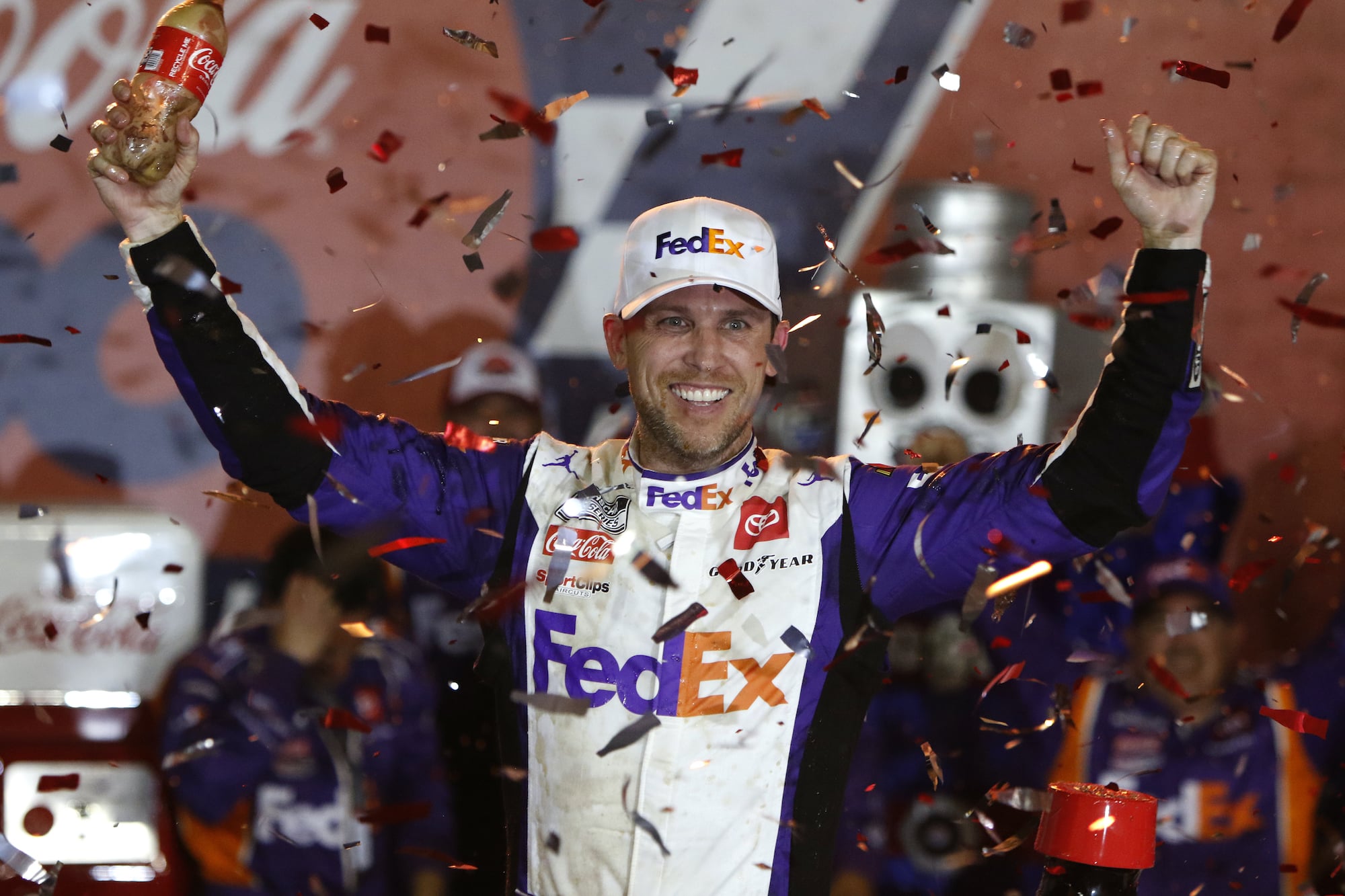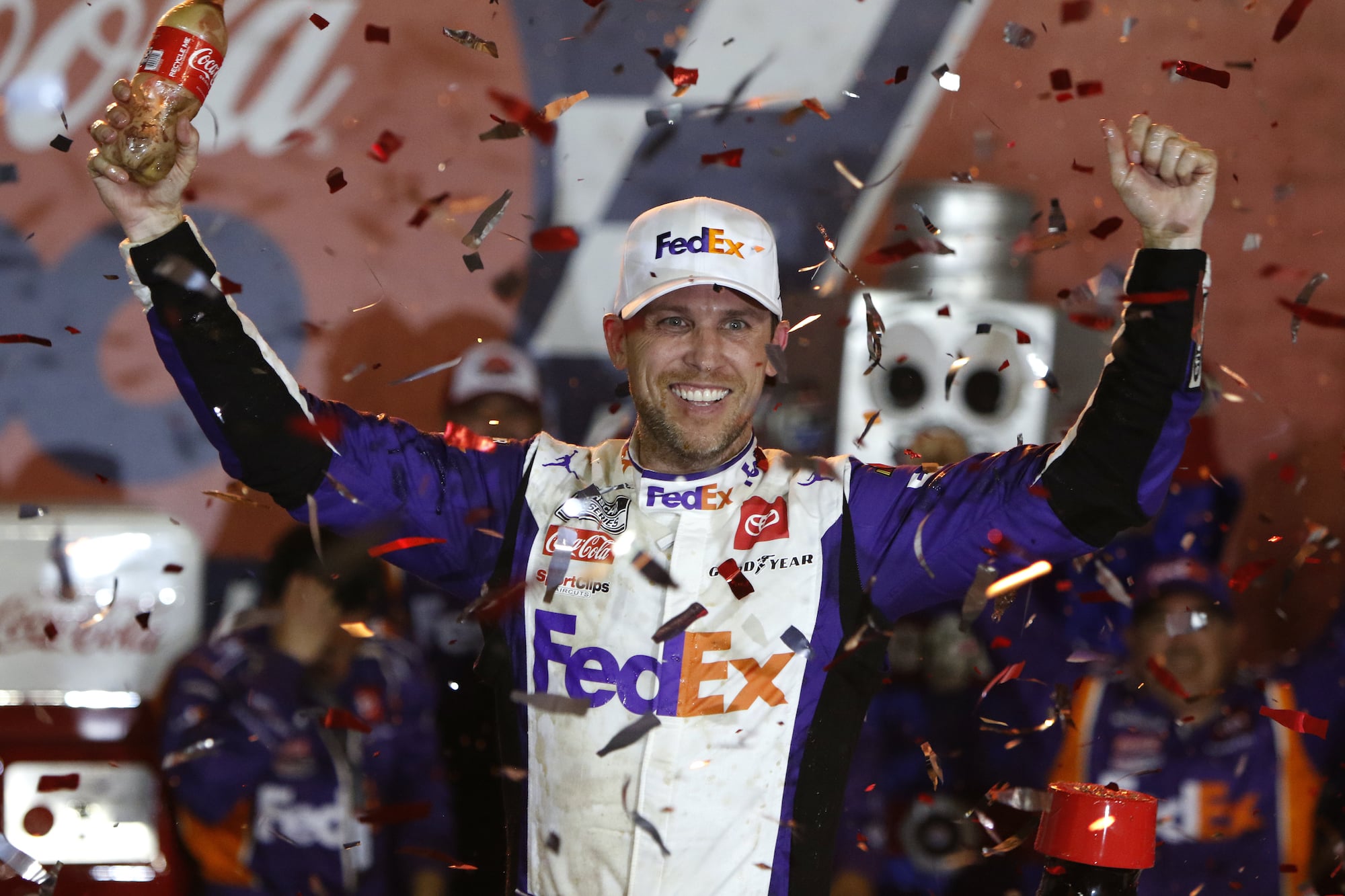 While Earnhardt and Davis joked about Denny Hamlin ending his career with a meaningful win because it sounds so far-fetched, the driver's last comment about thinking about it if it happens this year actually makes complete sense. 
In his career, Hamlin is missing one thing — a championship. If he makes it through the playoffs to Phoenix and the Championship 4, which he's done the last three years, and wins the race and the championship, could there be a more perfect ending? 
That's the definition of a fairytale ending.
Like Sportscasting on Facebook. Follow us on Twitter @sportscasting19 and subscribe to our YouTube channel.