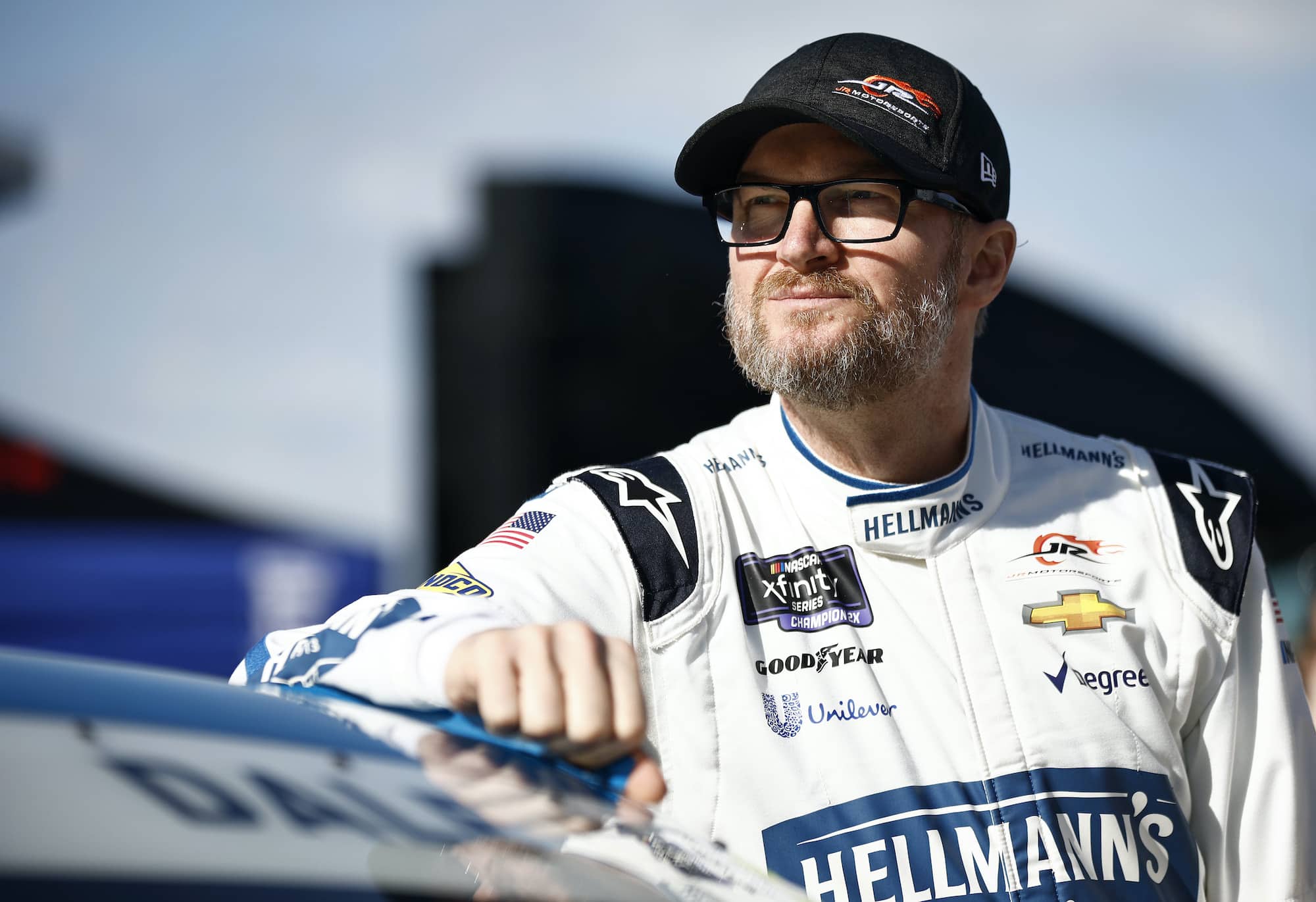 Dale Earnhardt Jr. Puts NASCAR on Blast, Accusing Officials of Deliberately Manufacturing Drama in Controversial All-Star Race Ending: 'It Was All Intentional'
Dale Earnhardt Jr. didn't sugarcoat what he thought about the controversial All-Star Race ending on his podcast and accused NASCAR officials of intentionally producing the late-race drama.
Dale Earnhardt Jr. won the All-Star Race in 2000. The NASCAR Hall of Famer knows the event is special. On Sunday, he watched with interest and tweeted about it throughout the race. Unsurprisingly, his fingers went into overdrive during the controversial ending, and he was none too kind to NASCAR. 
Interestingly, a top NASCAR official responded directly to Earnhardt's tweet after the race and dismissed what he had to say. This week on the Dale Jr. Download, the former driver talked about what happened in detail and blasted the governing body for intentionally creating the drama.  
Dale Earnhardt Jr. tweeting during All-Star Race
Like everyone else, Dale Earnhardt Jr. watched the All-Star Race at Texas Motor Speedway and wondered if the Next Gen car would deliver quality racing action, including passing, lead changes, and thrilling finishes, as it had on the previous 1.5-mile tracks at Las Vegas, Atlanta, and Kansas. 
We had our answer after the first stage as Kyle Busch led every lap. 
"Stage 1 was about as fun as a rice cake," Earnhardt tweeted. He had considerably more to say several hours later when the race ended. 
"That wasn't a caution," he wrote when NASCAR put out a caution with Ryan Blaney 100 yards from the finish line. 
Following the drama of Blaney frantically trying to reconnect his window net, which he did, then holding off Denny Hamlin and winning the race for a second time, Earnhardt summed up the way most fans were feeling. 
"Thank god @Blaney won."
Fires shot at NASCAR and top official responds
Interestingly, Earnhardt wasn't done. Several minutes after he expressed relief that Blaney had won, the 47-year-old called out NASCAR for the race-ending sequence of events. 
"Nascar is gonna gladly let you debate the window net so as you don't reflect on how ridiculous that yellow flag situation was as Blaney was crossing the finish line to win," he wrote. 
Due to the controversial ending, NASCAR made senior VP of competition Scott Miller available for questions from reporters. 
"Obviously, everybody knows that we probably prematurely called that yellow flag," he said. "Wish we wouldn't have done that. We did that. We'll own that we probably prematurely put that caution out."
Miller was then informed of Earnhardt's tweet, suggesting that NASCAR was happy that fans would debate the window net and distract from the late caution.
"We don't deflect from anything," Miller said. "We pretty much own what we do. So I would have to dispute the Dale Jr. quote."
Dale Earnhardt Jr. says late drama was intentional
This week on the Dale Jr. Download, Earnhardt and the rest of his crew discussed what happened in Texas. The two-time Daytona 500 winner maintained everything he had tweeted on Sunday and took it one major step further, accusing NASCAR of deliberately putting out the caution and manufacturing the late-race drama. 
"It wasn't a mistake," Earnhardt bluntly said. "It was all intentional. They were looking for any reason to throw a yellow flag. And if you've seen the replay of the 47 car go up there and brushing the wall, he brushes the wall momentarily and then comes down the back straightaway fine. And he's one of the last cars on the race track. There's nobody behind him in danger. So they were looking for any puff of smoke, any irregular issue going on to have a yellow flag in that last lap. We shouldn't be doing that. I don't know how you can say that's a mistake, like somebody tripped over the button." 
While NASCAR will debate whether or not what happened at the end was intentional, the bottom line is it happened. And it was a blot on what the sport considers one of its biggest races. If anything, it somewhat distracted from what was a lackluster race and magnified that Texas Motor Speedway must be addressed in the future because no late-race theatrics will mask the boring product that's become commonplace on the 1.5-mile track in recent years.
Like Sportscasting on Facebook. Follow us on Twitter @sportscasting19 and subscribe to our YouTube channel.