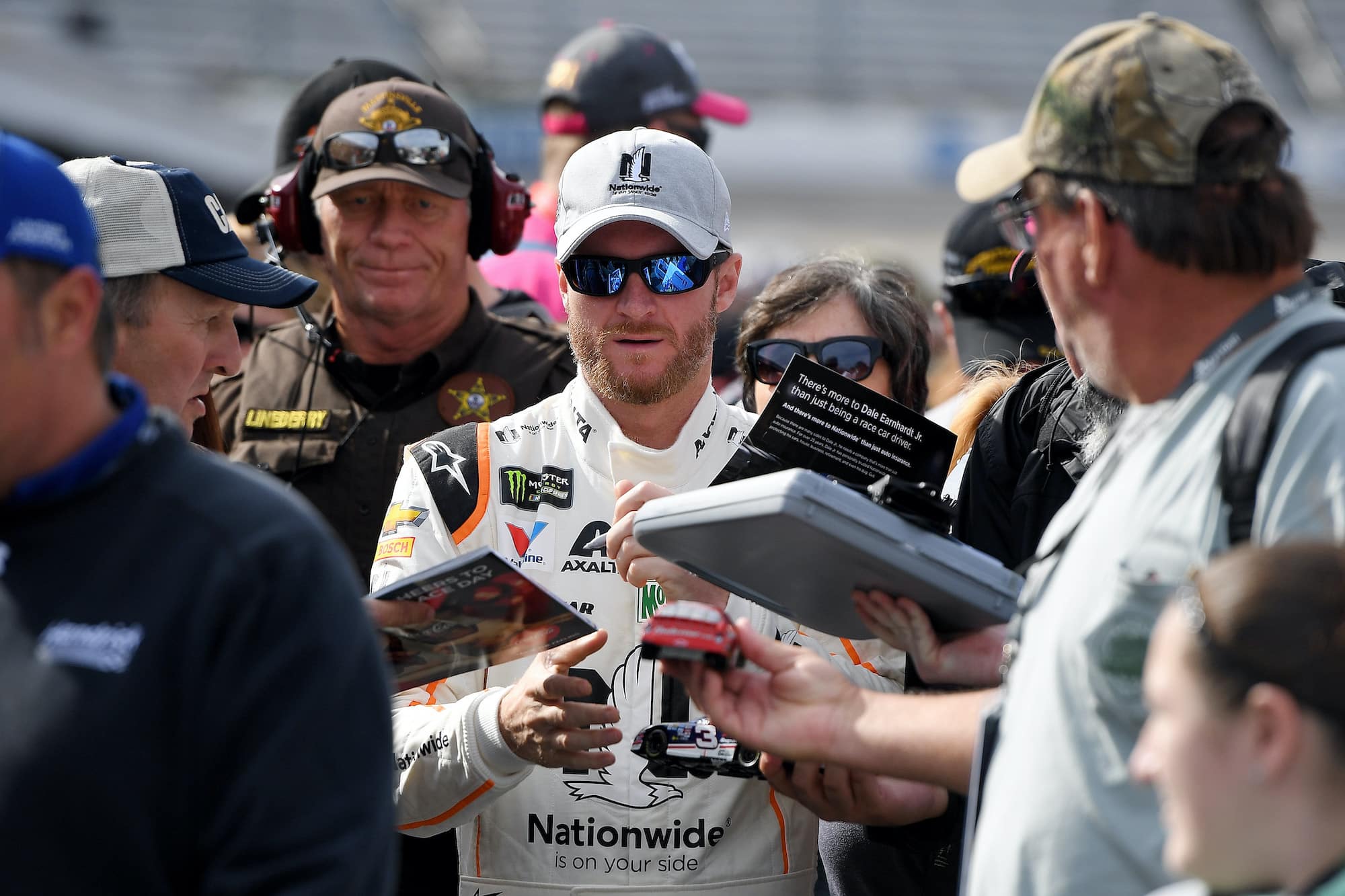 Dale Earnhardt Jr. Bluntly Admits There's 1 Specific Type of Autograph Seeker He Tries to Avoid Because They Make Him Uncomfortable
Dale Earnhardt Jr. regularly gets asked for his autograph. He admitted on his podcast that there's one specific fan type he tries to avoid signing for because they make him uncomfortable.
As the 15-time winner of the NASCAR Cup Series Most Popular Driver Award during his carer, Dale Earnhardt Jr. has been asked for his John Hancock hundreds of thousands of times, if not more. The down-to-earth former driver is a man of the people and generously gives of his time to share that special moment with his fans.
This week on his popular podcast, the two-time Daytona 500 winner was questioned about the strangest thing he's ever been asked to sign. After revealing that interesting answer, he then candidly admitted that there is one particular type of autograph seeker that makes him uncomfortable and he hopes to avoid in the future.
Dale Earnhardt Jr. reveals strangest thing he's ever been asked to autograph 
On the "Ask Jr." segment of the Dale Jr. Download, Dale Earnhardt Jr. answers a hodgepodge of questions submitted by fans about his personal and professional life. During the most recent episode, the 47-year-old was asked the strangest thing he's ever been asked to autograph. 
"Signing a prosthetic limb," he said without hesitation. "I do it, and I don't mind doing it. I think initially though; it's just there's a bit of a shock at first in someone handing that to you. Once you get beyond that initial being taken aback, it's fine. 
"Look, man, I don't know what it's like to have a prosthetic limb and so you sympathize with that person. That's theirs. That's part of their body. They live with this thing every day. So this thing is absolutely normal to them. Once you get beyond that sort of initial reaction to it, you're like, I can see why you would want this to have an autograph on it."
Earnhardt revealed just how much of an impact signing the first prosthetic limb had on him when he recalled the specific time and place.
"I'll never forget it," he said. "It was Indianapolis. I think it was my very first time racing at Indy and I was in my bus and there was a bunch of people outside and I went out there to sign autographs. They were waiting for autographs and somebody took their leg off and handed it to me. And I was like, 'Oh. Die cast, die cast, shirt, shirt, shirt. Leg!'"
Earnhardt wants to avoid these type of autograph seekers going forward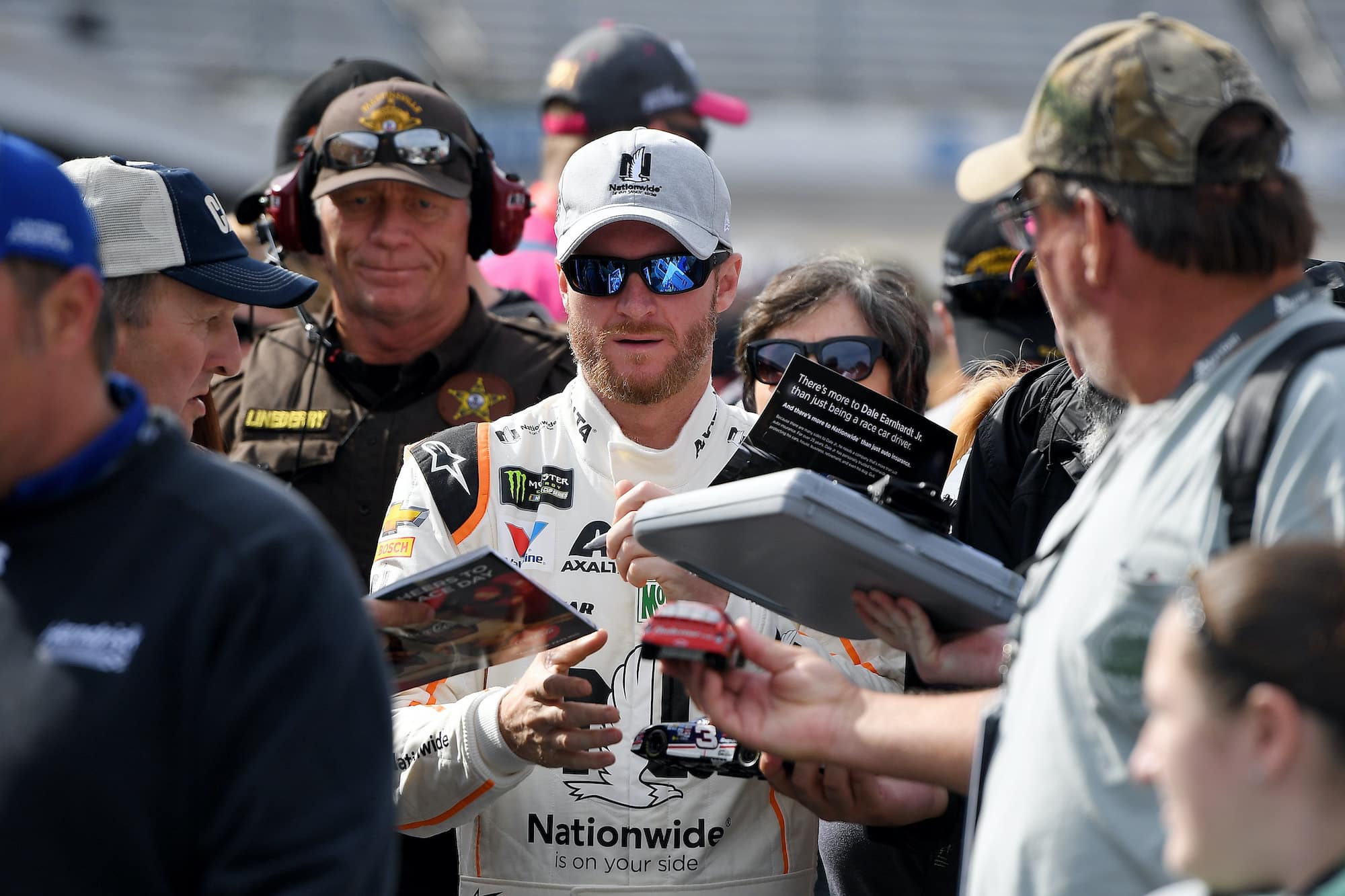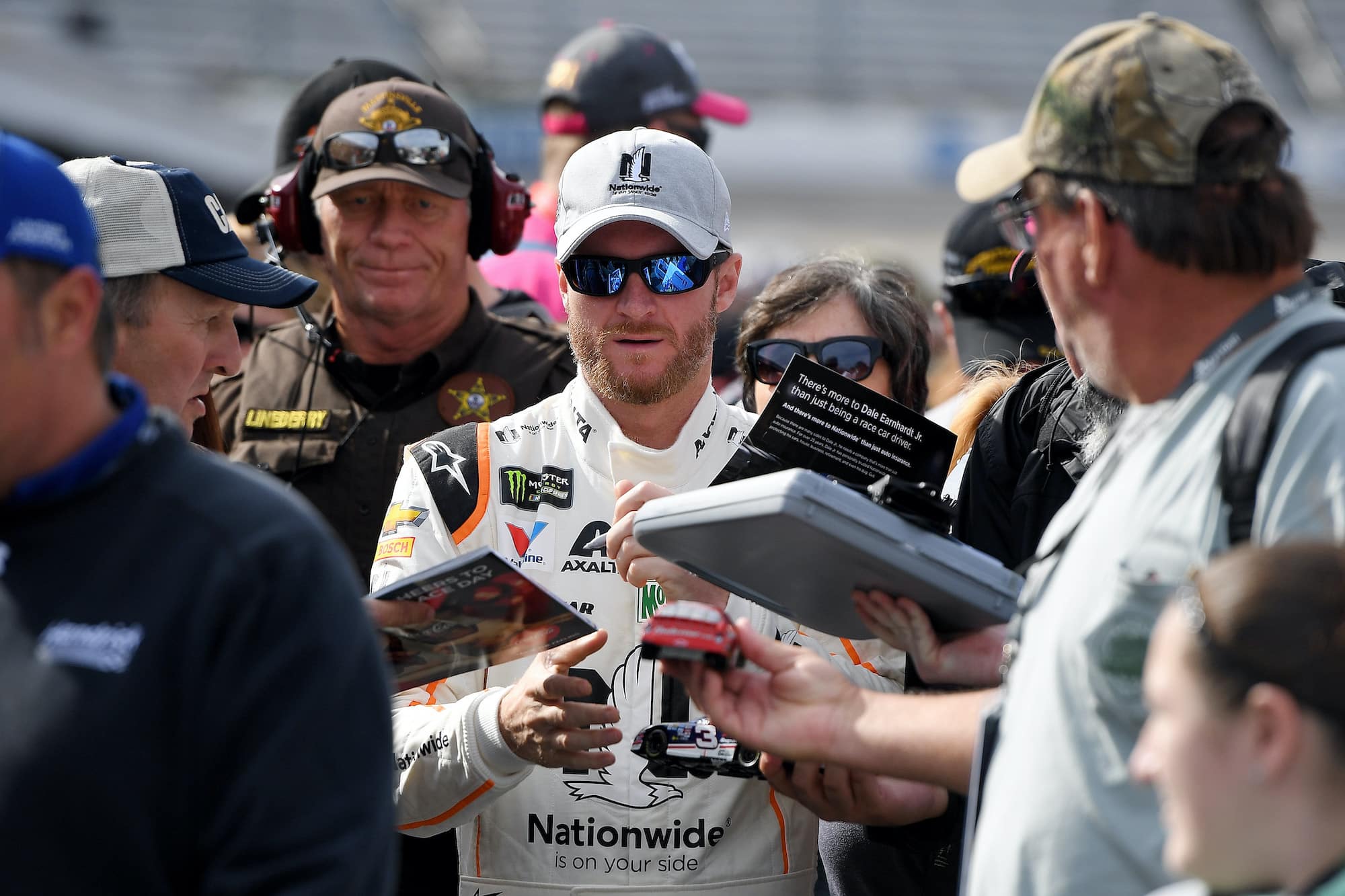 While signing his first prosthetic understandably took him by surprise, Earnhardt said with time to reflect on the situation, it makes complete sense. Conversely, he said there's one specific type of autograph seeker that doesn't make sense and admitted that they make him feel uneasy when they approach. 
"People ask you to autograph their arm, their shoulder. For me, that's uncomfortable," Earnhardt said. "It makes me uncomfortable. I was at an autograph session the other week, and a guy came up and he was like, 'I want you to autograph my arm. I'm going to get it tattooed.' And I'm like, 'Oh, this is such a terrible decision. I don't even want to be a part of this.' 
"This has happened a handful of times before. The person is always usually insistent that you sign their arm or whatever part of the body this is. That you sign it. Because my opinion is, if I sign skin, you can't write well on skin with a sharpie. It doesn't look anything like my autograph. And it's the worst example of my autograph. So I try to get a clean piece of paper, sign it, and say, 'Take this to your artist if you're really, really sure that this is what you want to do. I, at least insist that you have a good-looking signature.' 
"I try to give it to them on a blank piece of paper, and most of the time they refuse that. They want you to actually be the one that signed that arm and not take a piece of paper, right. To them, it doesn't mean the same that they take a piece of paper with the signature and have their artist. It's a bad decision. I'm hopeful going forward that I'm never asked that again because I don't think it's a great choice."
It's an interesting admission from a celebrity that you would think is a similar sentiment held by others who are regularly asked for autographs. And it's also a not-so-subtle hint to Earnhardt fans going forward who had considered getting him to sign a body part that, if they truly care about the person, they'd respect his wishes, avoid making him feel uncomfortable, and get an accurate-looking autograph in the process.
Like Sportscasting on Facebook. Follow us on Twitter @sportscasting19 and subscribe to our YouTube channel.