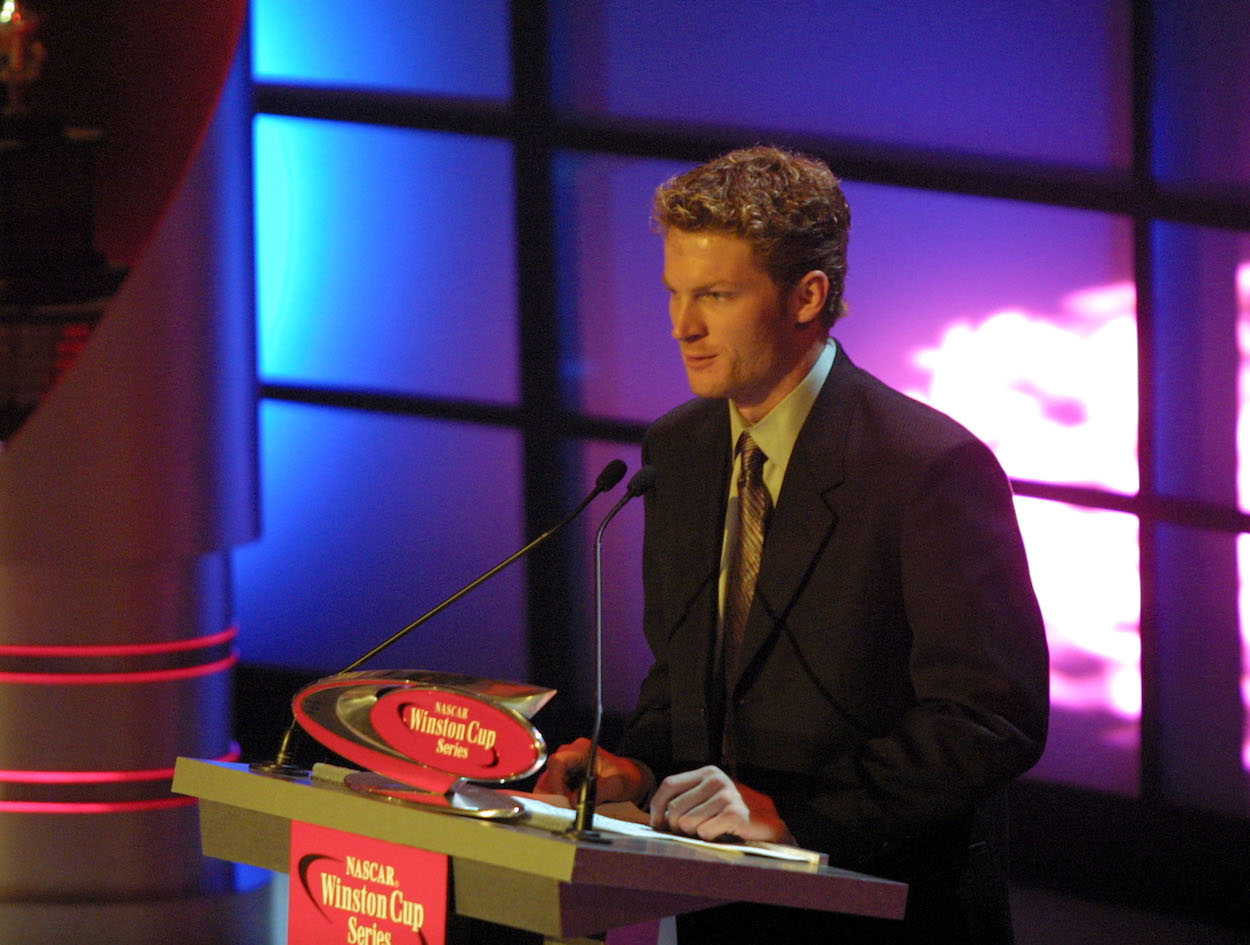 Dale Earnhardt Jr. Confesses on Podcast How He Was Drunk and Just Returned From Partying When He Begrudgingly Accepted Most Popular Driver Award on Father's Behalf in 2001
Dale Earnhardt Jr. admitted on his podcast how he was drunk and had partied until just an hour before accepting his father's award for most popular driver in 2001.
Dale Earnhardt Sr. was one of the greatest drivers in NASCAR history, but he wasn't the most popular, at least according to the postseason awards handed out each year. From 1984 to 2000, Bill Elliott won the award all but two times (Darrell Waltrip won the other two). In 2001 and months after Earnhardt's tragic death, Elliott withdrew his name from consideration. Earnhardt won the award posthumously.
Dale Jr. begrudgingly went to New York City to accept the award on his father's behalf. However, collecting the award almost never happened as Junior stayed out partying until an hour before the morning breakfast/awards presentation. In a June 2021 episode of the Dale Jr. Download, Earnhardt and longtime friend and business partner Ty Norris piece together the events of the night before and also detail the fight that happened just minutes before Junior finally relented, stood before a crowd, and delivered an eloquent speech. 
Dale Earnhardt Jr. burdened with additional responsibilities after father's death
When Dale Earnhardt Sr. died at the 2001 Daytona 500, Dale Jr. admitted, in addition to coping with immense anguish, it felt like he had lost his "cheat sheet" with all the answers to life's tough questions. That was just what he experienced on the personal side after his father's tragic death. 
Unfortunately for the 27-year-old Earnhardt, there was the business side he suddenly found himself thrust in the middle of, and that included serving on behalf of his father in various capacities. According to Ty Norris, who served as executive vice president at Dale Earnhardt Inc. at the time of Earnhardt's death, Junior was understandably less than enthusiastic with certain roles.
"We rewind the clock to earlier in the year after Dale's accident, and I had sponsor after sponsor who was working with Dale come in and say, 'What are we going to do now?'" Norris recalled on the Dale Jr. Download. "Oreo, Remington, Burger King. They're like, we need Dale Jr. Every time you turn around, Dale Jr. was having to carry what was just left by Dale. He would say, 'The only reason you guys want me is because Dad's not here. I'm not your guy. You're not my sponsor.' It was like a fight."
Earnhardt Jr. parties in New York City the night before accepting the award for his dad
After the 2001 season, NASCAR posthumously named Dale Earnhardt Sr. the most popular driver. The ceremony took place in New York City, and the award was given during a morning breakfast. Junior made it to New York but almost didn't make it to the ceremony for a couple of reasons, including partying with driver Ken Schrader and crew chief Andy Petree the night before.
"They leave at two o'clock in the morning like they're supposed to, and I stayed until six or seven in the morning," Earnhardt admitted. "That was the morning they had the Myers Brothers breakfast at eight o'clock in the morning."
That morning, those attending waited for Earnhardt. He was nowhere to be found. When Norris learned Earnhardt insisted he wasn't coming down, he got access to his room key and headed upstairs. 
Ty Norris argues and pleads with Earnhardt to do the right thing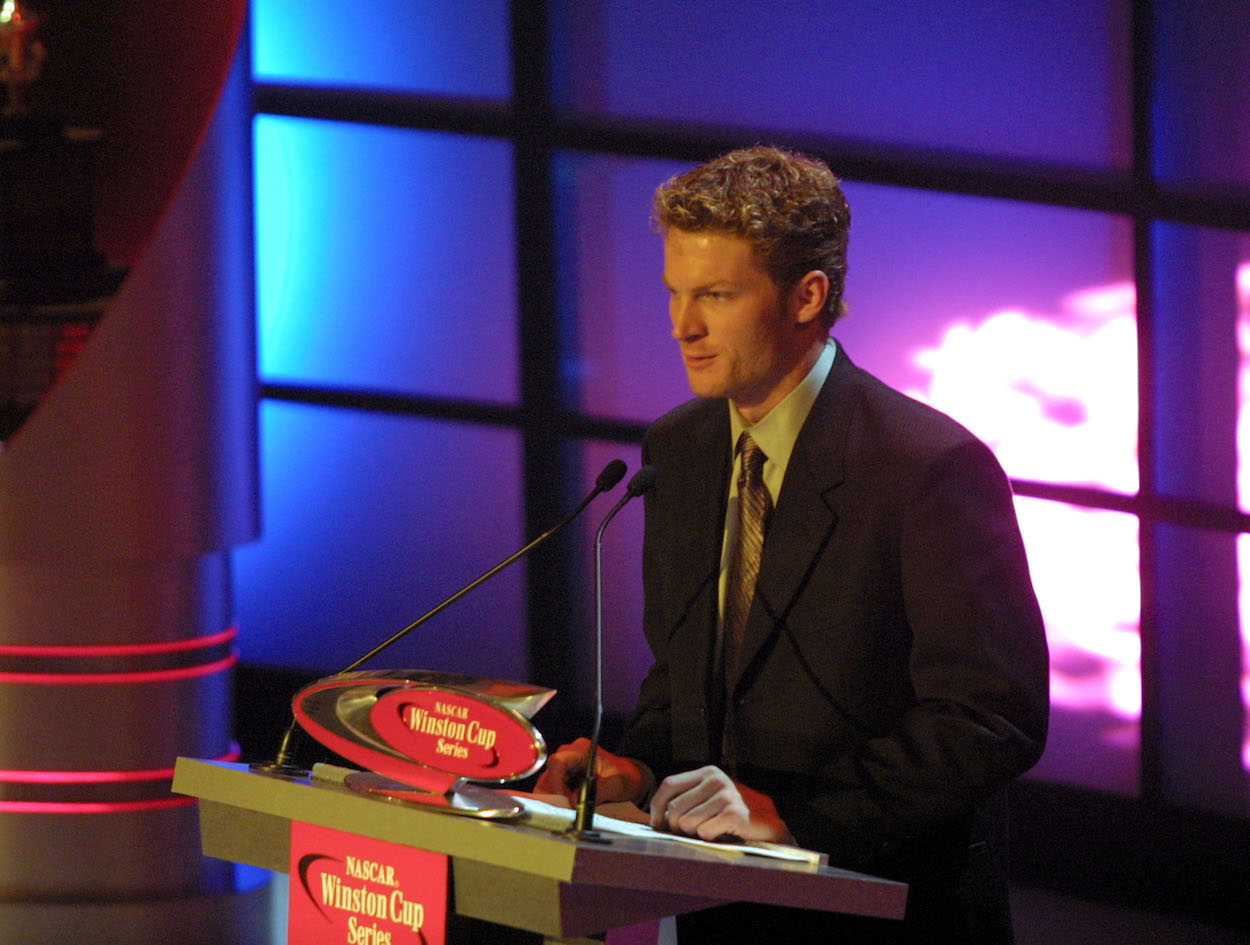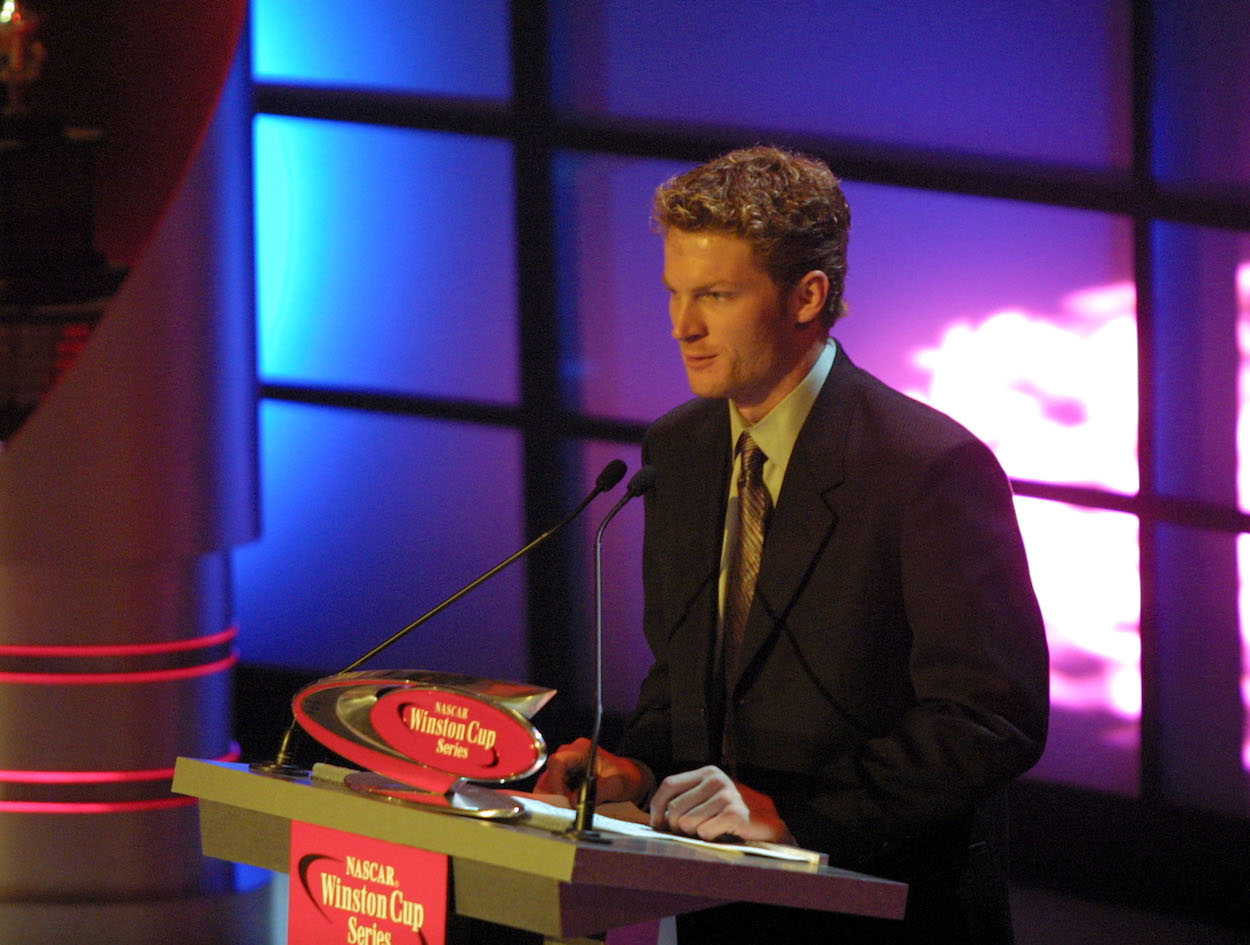 Norris, who admitted on the podcast he was also in rough condition from the night before, made his way up to Earnhardt's room. He knew full well it was going to be a tough sale getting Junior to attend based on his previous reluctance to fill in for his dad in numerous situations, not to mention his condition from being out all night.
"I go up, and it looked like a bomb had gone off in there," Norris said as Earnhardt laughed. "He's sitting in bed, and we get into an argument."
"I'm not f***ing doing it," Norris recalled Earnhardt telling him before he revisited all the previous things he had already done in his father's absence. Norris understood where he was coming from but offered one final plea. 
"Your dad will only win this award one time," he told Junior. "There's only one person in the world, on this earth, that can accept that award on his behalf. It's you. You will live to regret it if you don't get up out of this bed and go downstairs to accept this award. And if you don't want to do it, that's up to you." 
Norris turned around and walked out. About 20 minutes later, he said Earnhardt showed up in a suit, unshaven, and with bloodshot eyes.
"He's wrecked," Norris laughed. "But he goes up there, and he had one of the most eloquent speeches. It was awesome. He spoke for like three minutes about the award. He came off the stage; he went upstairs. You could see in the elevator the jacket coming off. He got to his room, and he was out."  
Interestingly, Earnhardt's acceptance of the award that year was just a warm-up. In 2003, he personally won the award for the first time and received the honor 15 consecutive seasons until he retired after 2017. While all of those awards were undoubtedly special, the first one in 2001, which wasn't even his, will be the most memorable for a lot of reasons. 
Like Sportscasting on Facebook. Follow us on Twitter @sportscasting19.