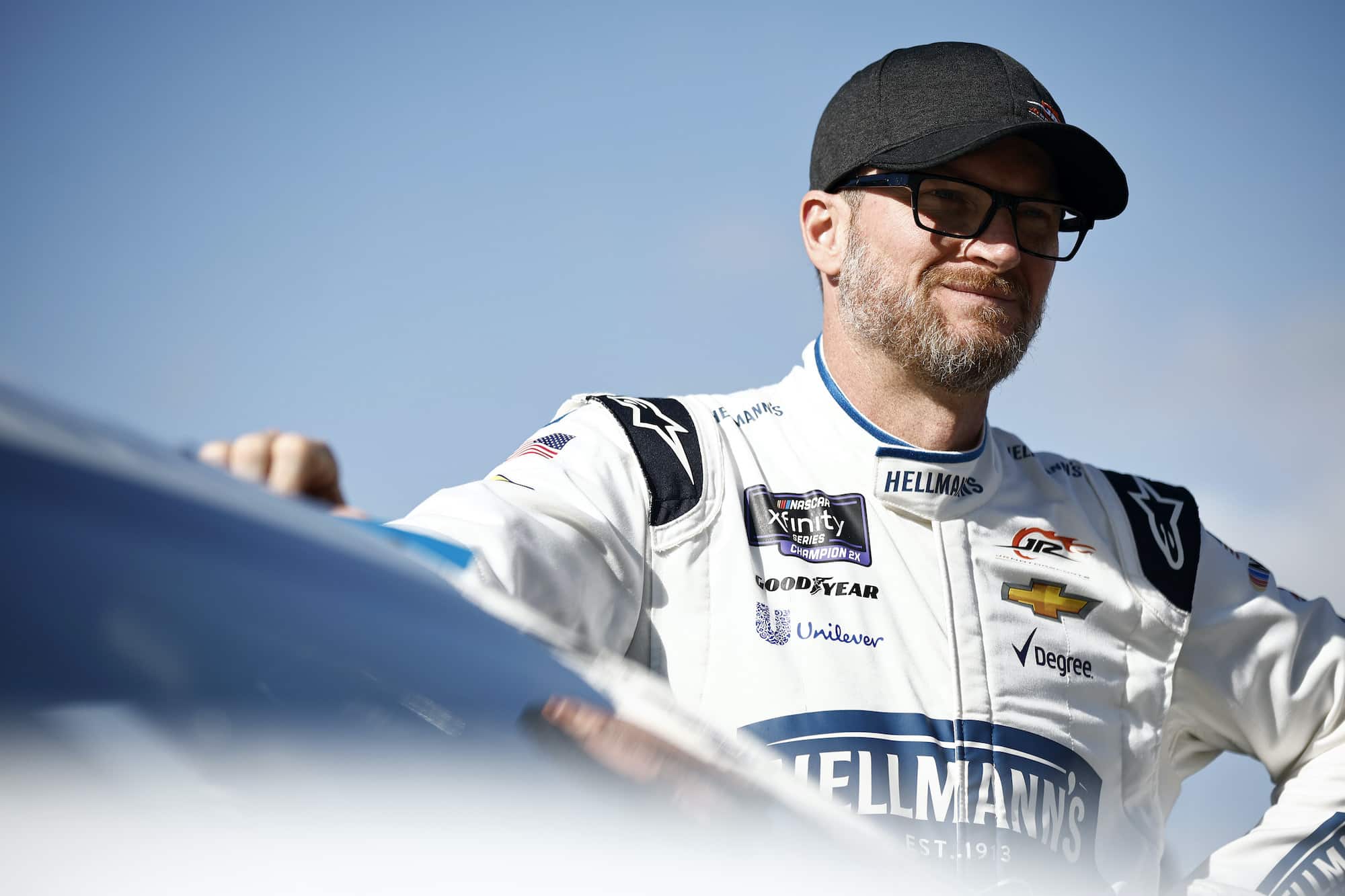 Hesitant Dale Earnhardt Jr. Offers Brutally Honest Thoughts on F1 Miami Grand Prix and Some Fans Won't Be Happy
Dale Earnhardt Jr. was asked his thoughts on the inaugural F1 Miami Grand Prix and the NASCAR Hall of Famer was brutally honest.
Dale Earnhardt Jr. is unquestionably one of NASCAR's biggest ambassadors. Since retirement, he's stayed close to the sport and promoted it through his work on NBC and his Dirty Mo Media production company, which produces his popular Dale Jr. Download podcast. 
This week on the "Ask Jr." segment of the show, the Hall of Famer was asked his thoughts on this past weekend's Miami Grand Prix F1 race. The always-honest Earnhardt didn't hold back. It's safe to say F1 officials won't be coming to him anytime soon to promote future events.  
Dale Earnhardt Jr. offers brutally honest thoughts on Miami Grand Prix
The world of motorsports focused its attention on the U.S. last week and F1's inaugural Miami Grand Prix. It was the hottest sports ticket on the planet and featured a who's who of celebrities. Dale Earnhardt Jr. wasn't one of them. 
This week on his podcast, a fan asked his thoughts on the first-ever Miami race. Unsurprisingly, Junior didn't sugarcoat what was on his mind.
"I hesitate to say this, but I can't get into it," he openly admitted. "I'm not incapable of enjoying F1 because I used to watch it with Mika Hakkinen, Michael Schumacher, and those guys were going at it. It was pretty awesome back then, but for some reason, I have had a hard time finding my interest or my connection to F1. 
"So I really didn't pay a whole lot attention to it. The only thing that I was really watching was some social media stuff. Jeff Gluck was there and several other guys and girls that I follow on social media so I was seeing some of their experiences and so forth. But I have no idea how the race went or what people thought of the track or the experience and what it means for F1 or the Miami Grand Prix going forward."
Linked to F1 and Daniel Ricciardo 
While Earnhardt readily confessed his interest in F1 is at an all-time low, he said that he's still a fan of Daniel Ricciardo. 
"I follow him or want him to do well. If there's a guy that I pull for it's Ricciardo," he said. 
The NASCAR legend and F1 driver have a history together. Ricciardo idolized Dale Earnhardt Sr. growing up in Australia. Last year, he fulfilled a dream of a lifetime when McLaren CEO Zak Brown rewarded the driver for his win at the Italian Grand Prix with some laps around Circuit of the Americas in the 1984 Wrangler Chevrolet Monte Carlo that Dale Sr. drove and he purchased several years ago. 
"I'm happy for Daniel," Earnhardt tweeted after seeing Ricciardo's trip around COTA in the vintage car. "I'm also appreciative for how he celebrates my father. That makes a lot of dads family members and fans smile." 
Ricciardo was later informed of Earnhardt's tweet and responded.
"That's cool, that gives me goosebumps," he replied. "I'm happy that it's well received, that's all I can say." He later admitted how emotional it made him to hear from Earnhardt. "Honestly, if I was in a private setting and he told me that one on one — like maybe here in my room — I think I would have probably cried a little bit. It was pretty crazy, but like happy crazy. To be appreciated by that family in general, I'm such a fan."
Ricciardo's fandom for the Earnhardt family will never go away. Now it's just a matter of whether or not Junior's fandom of F1 will ever return.
Like Sportscasting on Facebook. Follow us on Twitter @sportscasting19 and subscribe to our YouTube channel.