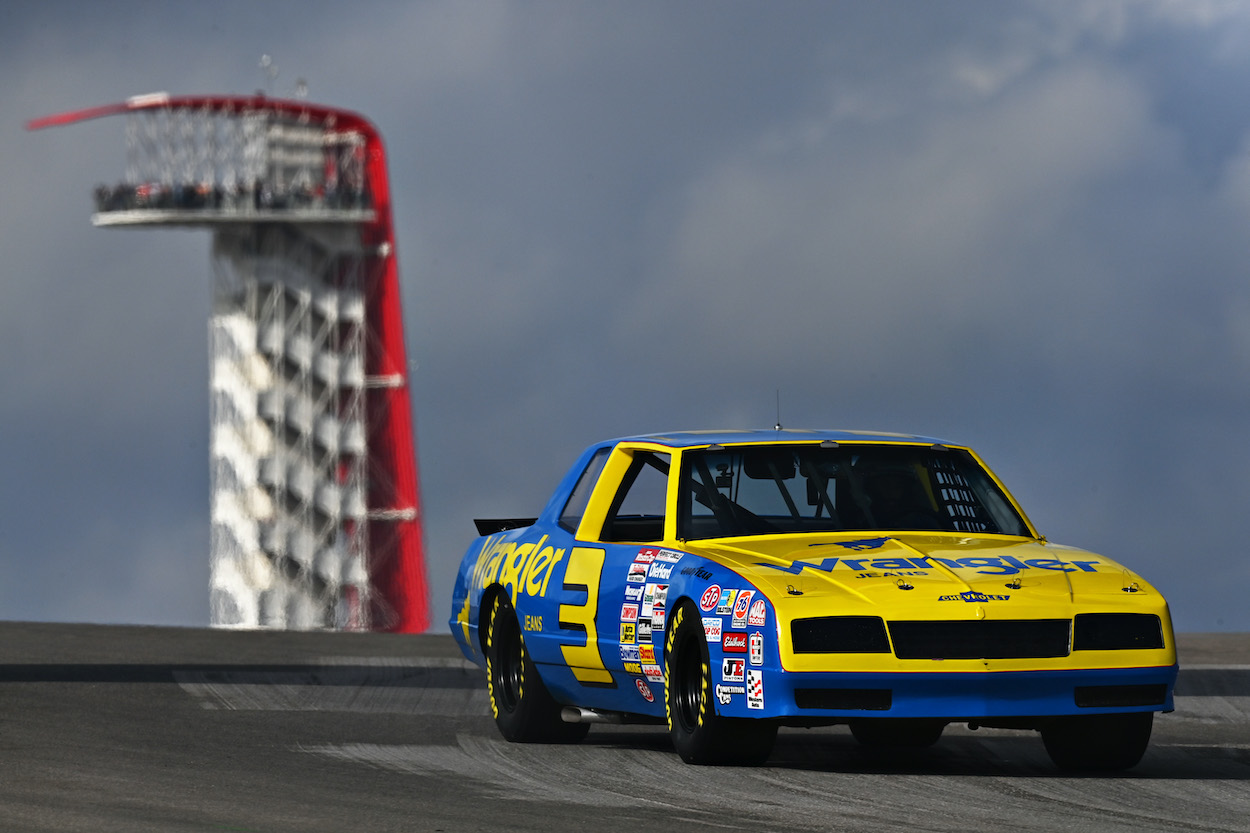 Dale Earnhardt Jr. Makes Daniel Ricciardo Emotional With Comment After Watching Him Drive Father's Car at COTA and Both Surprisingly Talk About Potential Run With Xfinity Series in Future
Dale Earnhardt Jr. made a comment about Daniel Ricciardo driving his dad's 1984 Wrangler car at COTA that made the F1 driver emotional. Both drivers also surprisingly talked about a potential run with Xfinity in the future.
This weekend Daniel Ricciardo lived out a dream, driving laps in Dale Earnhardt's 1984 Wrangler Chevrolet Monte Carlo around COTA the day before the U.S. Grand Prix. It got even better and emotional afterward for the 32-year-old Australian when he heard what Dale Earnhardt Jr. had to say about the memorable crossover moment between Formula One and NASCAR. 
Daniel Ricciardo a huge fan of Dale Earnhardt Sr. 
Most F1 drivers identify another F1 driver as their childhood hero growing up. Lewis Hamilton admired Ayrton Senna. Not Daniel Riccardo. He idolized his father, who raced competitively in Europe and Australia, and NASCAR legend Dale Earnhardt Sr.
Ricciardo recently admitted how he was heartbroken and cried on the phone with his friend the day Earnhardt tragically died at the 2001 Daytona 500.
"I remember walking down the corridor crying and I picked up the phone and called my friend who got me into Earnhardt and we cried on the phone together," Ricciardo told ESPN at COTA for the U.S. Grand Prix. "I walked into the office, sat under the desk, called him. We were just crying. I have all these memories."
He met Dale Jr. for the first time at a NASCAR race at Texas in 2017, and the two exchanged helmets.   
Daniel Ricciardo receives reward for podium
Fate brought Daniel Ricciardo to this moment. Three years ago, McLaren CEO Zak Brown purchased the 1984 Wrangler Chevrolet Monte Carlo driven by Dale Earnhardt. Before this year, Ricciardo's first season with McLaren, Brown promised him an opportunity to drive the car when he scored the first podium finish for the team. He won the Italian Grand Prix last month. 
On the eve of the U.S. Grand Prix at COTA in Texas, Brown delivered on his promise, and Ricciardo got to live out a dream of sitting in the same seat and piloting the car once driven by his childhood idol.  
Photos on social media show Ricciardo visibly smiling as he made his way around the 3.4-mile circuit. 
"I'm out of breath," Ricciardo said when finished. "I was really working hard on that wheel. It was cool. Just to hear it, and just to change gears, you just felt like you're really on top of it." 
Dale Earnhardt Jr. responds, Ricciardo gets emotional, and both surprisingly talk of Xfinity run in future
Daniel Ricciardo got a chance to live out an unbelievable dream. Dale Earnhardt Jr. took that dream to the next level with a comment on Twitter after the exhibition run. 
"I'm happy for Daniel," Earnhardt tweeted. "I'm also appreciative for how he celebrates my father. That makes a lot of dads family members and fans smile." 
After his qualifying run, where he finished sixth, Ricciardo was informed of Earnhardt's tweet. 
"That's cool, that gives me goosebumps," he replied. "I'm happy that it's well received, that's all I can say." He later admitted how emotional it made him to hear from Earnhardt. 
"Honestly, if I was in a private setting and he told me that one on one — like maybe here in my room — I think I would have probably cried a little bit. It was pretty crazy, but like happy crazy. To be appreciated by that family in general, I'm such a fan."
When one fan suggested on Twitter that Junior get Ricciardo in an Xfinity car at Watkins Glen next year, he replied, "That'd be fun." When a reporter made the same suggestion to Ricciardo, he immediately said, "Yes." 
It only makes sense. After driving Dale Sr.'s car, it's time he drive one for Dale Jr. 
Like Sportscasting on Facebook. Follow us on Twitter @sportscasting19.