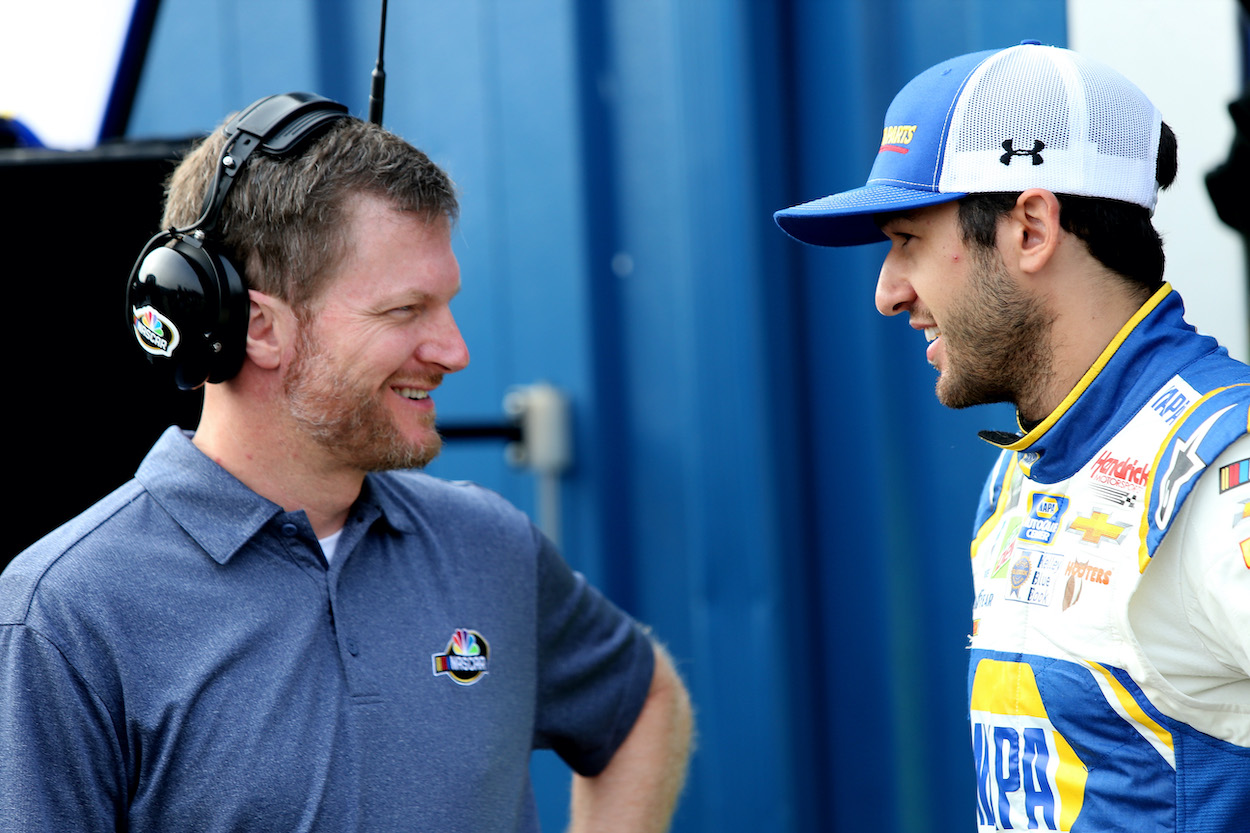 Dale Earnhardt Jr. Not Surprised NASCAR Didn't Black-Flag Chase Elliott at Roval; Calls Out Organization for Inconsistent Rulings: 'Don't Even Try to Make Sense of It. I Quit a Long Time Ago'
Dale Earnhardt Jr. said NASCAR has always been inconsistent in its rulings and not black-flagging Chase Elliott at the Charlotte Roval didn't surprise him at all.
There is no bigger fan of NASCAR than Dale Earnhardt Jr. He's been a huge ambassador of the sport since he started his own racing career in the mid-1990s. Like every other fan, the two-time Daytona 500 champion has been frustrated with NASCAR in the past for what sometimes feels like its indiscriminate rulings and use of caution flags. 
This weekend's race at the Charlotte Roval provided a few classic examples, including Chase Elliott not getting black-flagged late in the race for a bumper hanging on by a thread that ultimately resulted in a caution that benefitted the 2020 Cup Series champion. On the latest episode of the Dale Jr. Download, Earnhardt addressed NASCAR's often inconsistent rulings and what he thought about the decision with Elliott.
Chase Elliott wrecked by Kevin Harvick 
Kevin Harvick finally backed up his threat from weeks earlier at Bristol and wrecked Chase Elliott at the Charlotte Roval early in Stage 3 on lap 55. It resulted in severe damage to the rear end of the No. 9 car. However, after hurriedly making repairs, the Hendrick Motorsports driver returned to the track. 
And that's when the watch began. Everyone in the stands, those watching at home on television, and those racing around Elliott knew it was just a matter of time before the rear bumper cover, which was dangling behind his car, would finally fall off. 
During that wait, drivers talked about it on their radios. And social media exploded with fans questioning why NASCAR wasn't black-flagging Elliott and forcing him to make the repairs. Eventually, on Lap 87, the bumper cover came off, and NASCAR put out the caution.   
And who was the biggest beneficiary? Chase Elliott. After he trailed the leader by almost a minute, the caution allowed him to close that gap at the restart and gain important positions. 
Dale Earnhardt Jr. calls out NASCAR for its ruling inconsistencies
During the latest episode of the Dale Jr. Download, Earnhardt talked about the race at the Charlotte Roval. Before talking specifically about the Chase Elliott situation, he provided some background and talked about several other scenarios throughout the race where all fans could do was shake their heads. 
"There's a lot of things that NASCAR does, and is going to do, has done, that you're going to question," Earnhardt admitted matter-of-factly. Then he referenced a particular spin later in the race. "Cars spin out all the time and miss the chicane. They right themselves and get going again. Even later in the race, a car spun out somewhere and pulled away. Front straightaway, right in plain view of all of us. We can see. It's right there. Car spins, gets going. Caution. Why? What the hell is that yellow for?"
Earnhardt accepts NASCAR's ruling on Elliott and explains why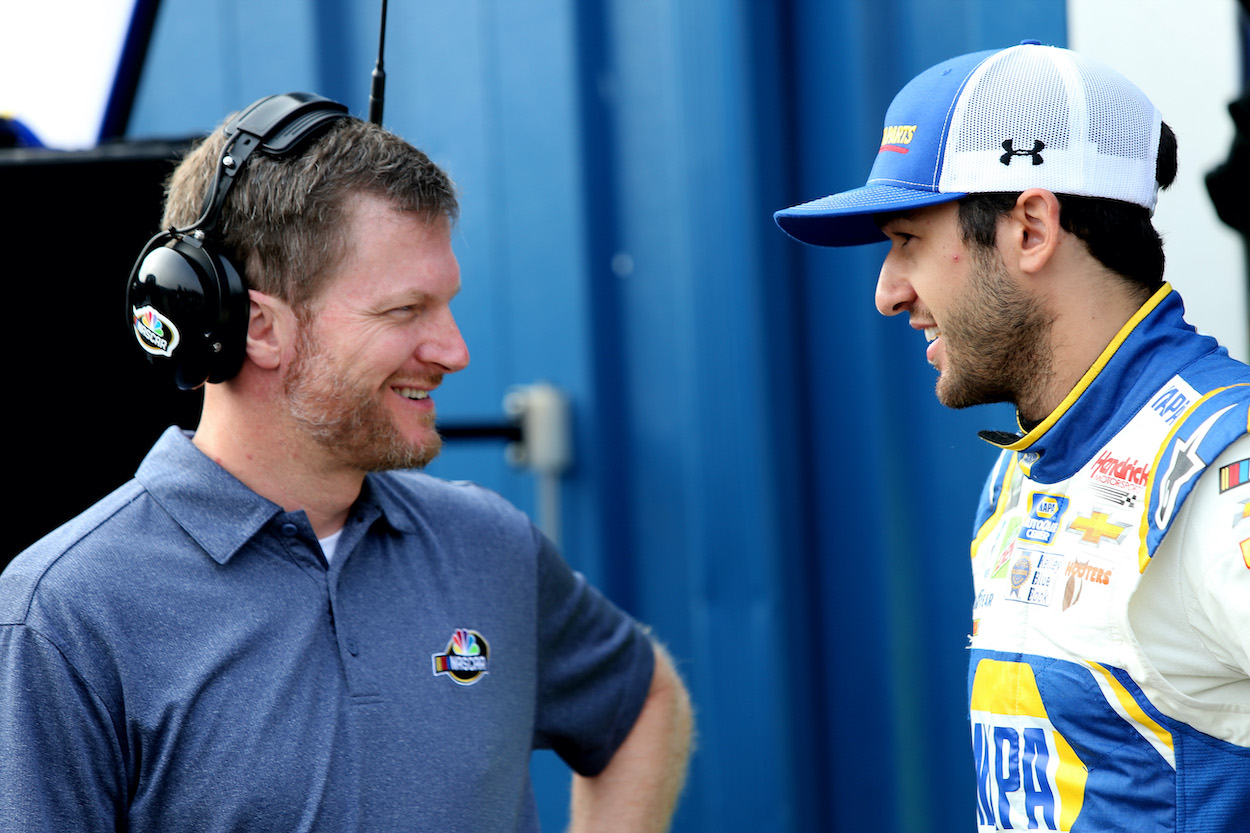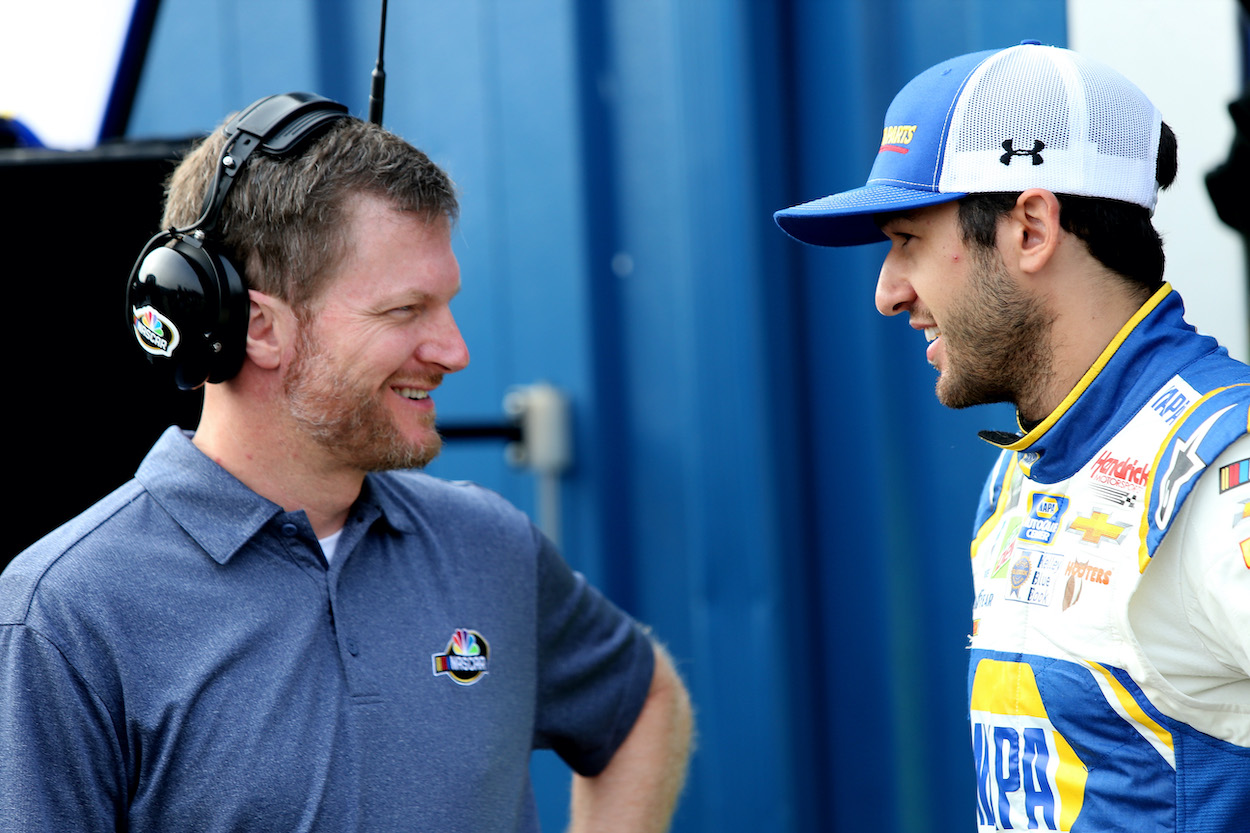 While Earnhardt questioned NASCAR throwing a caution for the spin late in the race, he didn't question its decision not to black-flag Chase Elliott. And he had a simple explanation why. 
"I don't have a problem with them not black-flagging Chase with the bumper. Some people might," he said. "I think any other race, fifth race of the season, 10th race of the season, hell yeah, black flag's coming out. But with everything on the line, they chose not to black-flag him. It ain't cut and dried. They don't do cut-and-dried things. That's why I used the example of the car spinning on the front straightaway that draws a yellow. The same damn car spins out 10 laps later on another part of the track and no yellow. Don't even try to make sense of it. I quit a long time ago. They make the rules. They make the decisions. They're made. It's in stone. Nothing you can do to change it."
With that understanding and acceptance that NASCAR's inconsistent rulings have been a thing in the past and won't change in the future, he said it allows him to avoid frustration. 
"It is what it is. Right or wrong. Good or bad. Agree, disagree. I have a hard time getting up in arms and frustrated about it because I used to do that and I've done that multiple times with things that have happened in our sport," he said. "You get nowhere but wasting a little bit of time being frustrated. It's done. You can't go back and change it. Nothing going forward about that is going to change. NASCAR is going to use discretion. Use judgment. Use their own opinion to do whatever they want to do in that situation."
This is from one of the most respected voices in the sport. If he says it's not going to change, then it's as close to a guarantee that it's not going to change. In other words, fans might as well accept it, avoid the frustration, and just enjoy the show.
Like Sportscasting on Facebook. Follow us on Twitter @sportscasting19.