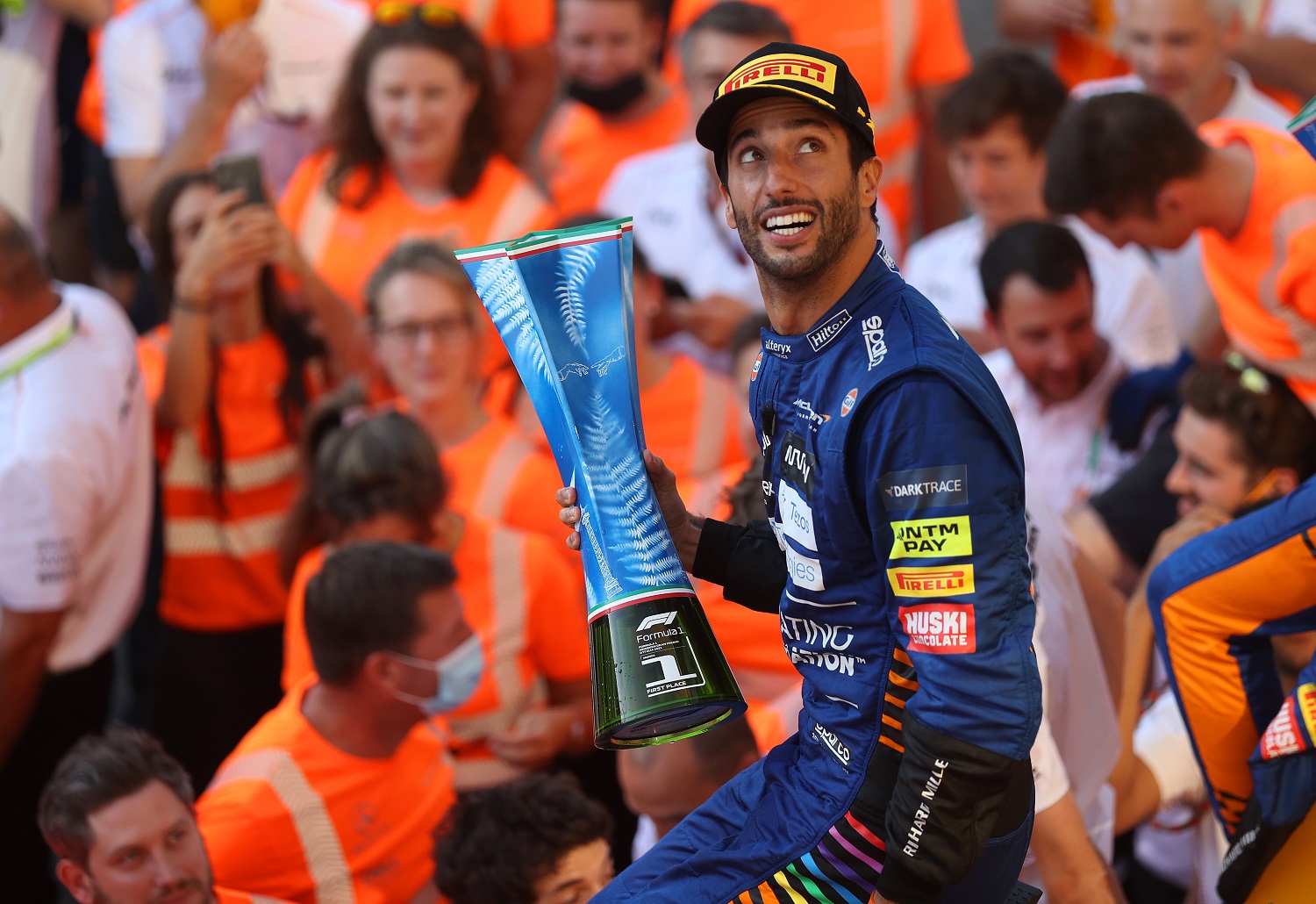 Dale Earnhardt's 1984 NASCAR Chevy Monte Carlo Motivated Daniel Ricciardo to Score His Stunning Formula 1 Victory
Daniel Ricciardo's eighth career Formula 1 victory was overshadowed by the drama between Max Verstappen and Lewis Hamilton, but the Australian driver was more concerned about a connection to Dale Earnhardt.
Daniel Ricciardo is just 32 years old and has won often enough to have a chance to go down in history as one of the better drivers ever. Even if he never makes it onto the shortlist of the best in Formula 1, the native of Australia scores points for his appreciation of racing history and the greats who preceded him.
For that reason alone, it's a shame that Ricciardo picked last weekend to win his first Formula 1 race since 2018. He was in charge nearly from start to finish, but Ricciardo's clutch performance took a backseat to the ongoing drama between season points leader Max Verstappen and seven-time F1 series champion Lewis Hamilton.
Verstappen and Hamilton collided midway through the race, ending the day for the best-known drivers from the sport's hottest teams and leaving fans understandably stunned. How their mishap came to be and what the implications would be consumed the collective thought process of fans and media for the remainder of the race.
All the while, Ricciardo was leading a McLaren sweep of the first two spots en route to his eighth Formula 1 victory in 11 seasons. Even on the podium, thoughts turned to how odd it was to see neither Verstappen nor Hamilton in the top three. The focus belonged on Ricciardo, whose own thoughts were on a 1984 Monte Carlo driven by Dale Earnhardt, and Lando Norris shooting McLaren past Ferrari for third place in the constructor standings.
Eventually, however, Ricciardo snared the attention he deserved, helped along by the words and actions of the driver himself. Growing up in Australia meant limited in-person exposure to racing at its highest levels, but Ricciardo developed a respect for giants of the sport like Ayrton Senna, who captured his three F1 series crowns for McLaren from 1988-91. Ricciardo hadn't even been born yet when Senna rattled off four straight race wins and eight overall in 1988.
"I'm sorry if I sound a bit self-absorbed now, but when I think of McLaren I think of Senna," Ricciardo said, according to Racer.com. "That's the early memories and I've seen the trophies in the cabinet at the MTC (McLaren Technology Centre) and to have a winning trophy now with my name in pretty much the same cabinet is crazy."
But Ricciardo's appreciation of great racing goes beyond F1 legends, and it does so in somewhat curious fashion. That's because F1 may not have been a foreign concept to Australia while Ricciardo was growing up in Perth's suburbs, but NASCAR certainly was.
Stock-car racing has always been much more American than international, yet Ricciardo somehow developed an affinity for Earnhardt, one of NASCAR's genuine greats. In fact, The Intimidator is the reason has driven the No. 3 car for nearly the entirety of his career.
As he negotiated a move from Renault to McLaren last offseason to replace Carlos Sainz, who jumped to the Ferrari team, Ricciardo bonded with McLaren Racing boss Zak Brown, another student of racing history. Brown famously owns Earnhardt's 1984 Wrangler Chevrolet No. 3 Monte Carlo.
As the two sealed their deal, Brown promised his new driver that he could take the Earnhardt car for a spin if he scored a podium finish this season. Such performances became the exception for the organization once Hamilton left after the 2012 season, so it was fair to wonder whether Brown would ever have to make good on the offer.
Well, Ricciardo went above and beyond at the Italian GP, scoring McLaren's first victory since Hamilton and Jenson Button went back-to-back in the final two races of the 2012 campaign.
His success understandably left Ricciardo in a jovial mood, and he dared to get a little bit greedy in a joking fashion after the triumph at Monza.
"I'm like, 'Maybe he gives me the car?'" Ricciardo speculated, according to ESPN. "It was always, 'A podium, I get to drive it'. We never talked about a win."
It's hard to imagine Brown parting with such a cherished piece of his racing collection. Then again, it was hard to imagine until last weekend that Ricciardo would break the McLaren dry spell.
One or two more victories, and perhaps Ricciardo gets to drive the Earnhardt car to and from work for a while.