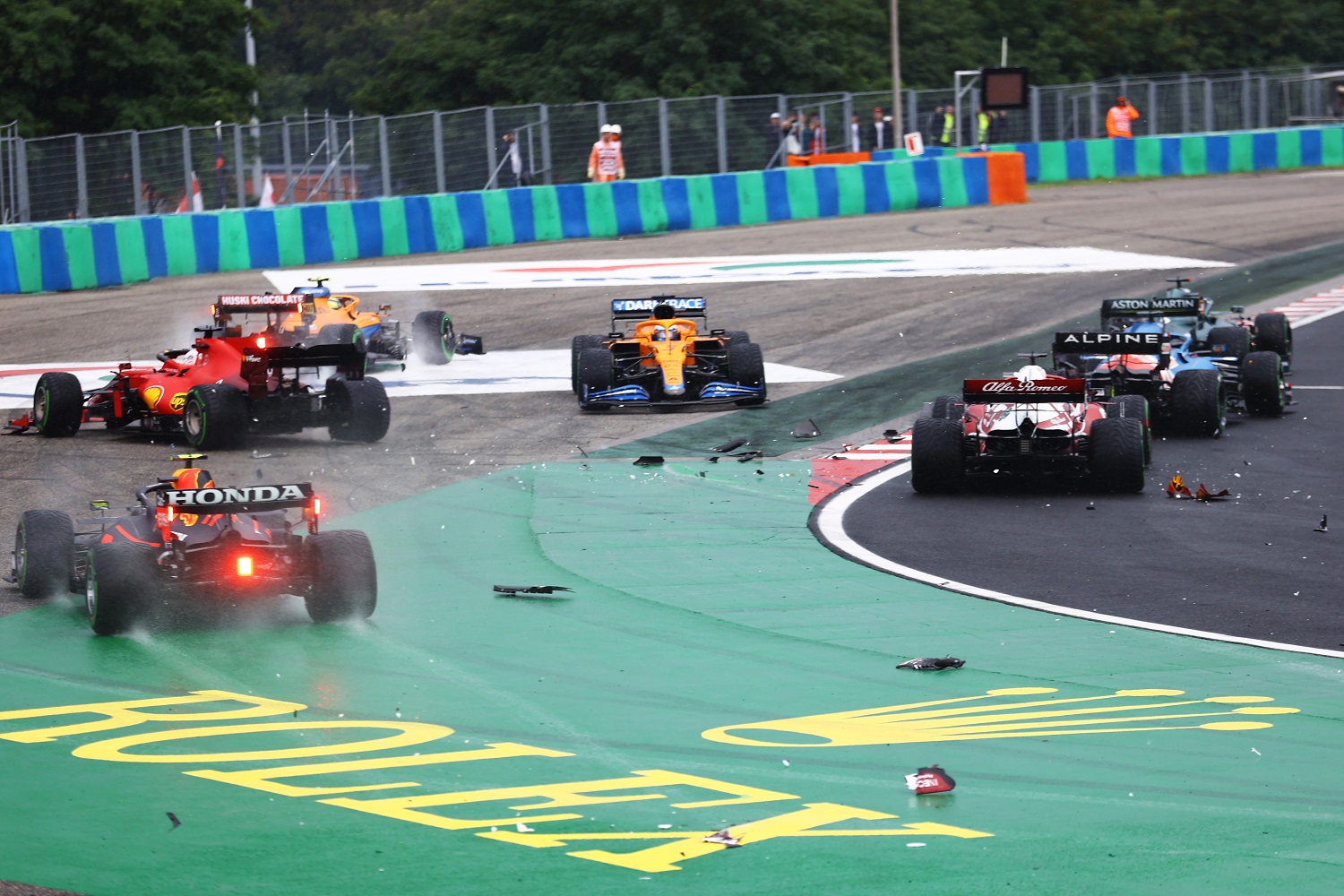 Lewis Hamilton and Max Verstappen May Have Their Battle Decided by Formula 1's $146.2 Million Rule
Formula 1 teams, particularly Red Bull and star Max Verstappen, are feeling the pain of expensive crashes in the first season of a cap meant to limit expenses.
Formula 1 racing finally resumes on Aug. 29 after the month-long summer break, with three races in 15 days going a long way toward deciding the World Drivers' Championship. Lewis Hamilton brings a 195-187 lead over Max Verstappen into the Belgian Grand Prix, with the Italian and Russian GPs on deck the following two Sundays.
Only seven races remain following that stretch. By then, the Mercedes and Red Bull teams will likely be checking their parts inventories at least as often as their schedules.
The drivers' skills will still matter, but the sport is at the juncture at which budgets suddenly matter, too.
Tempers flared shortly before the Formula 1 summer break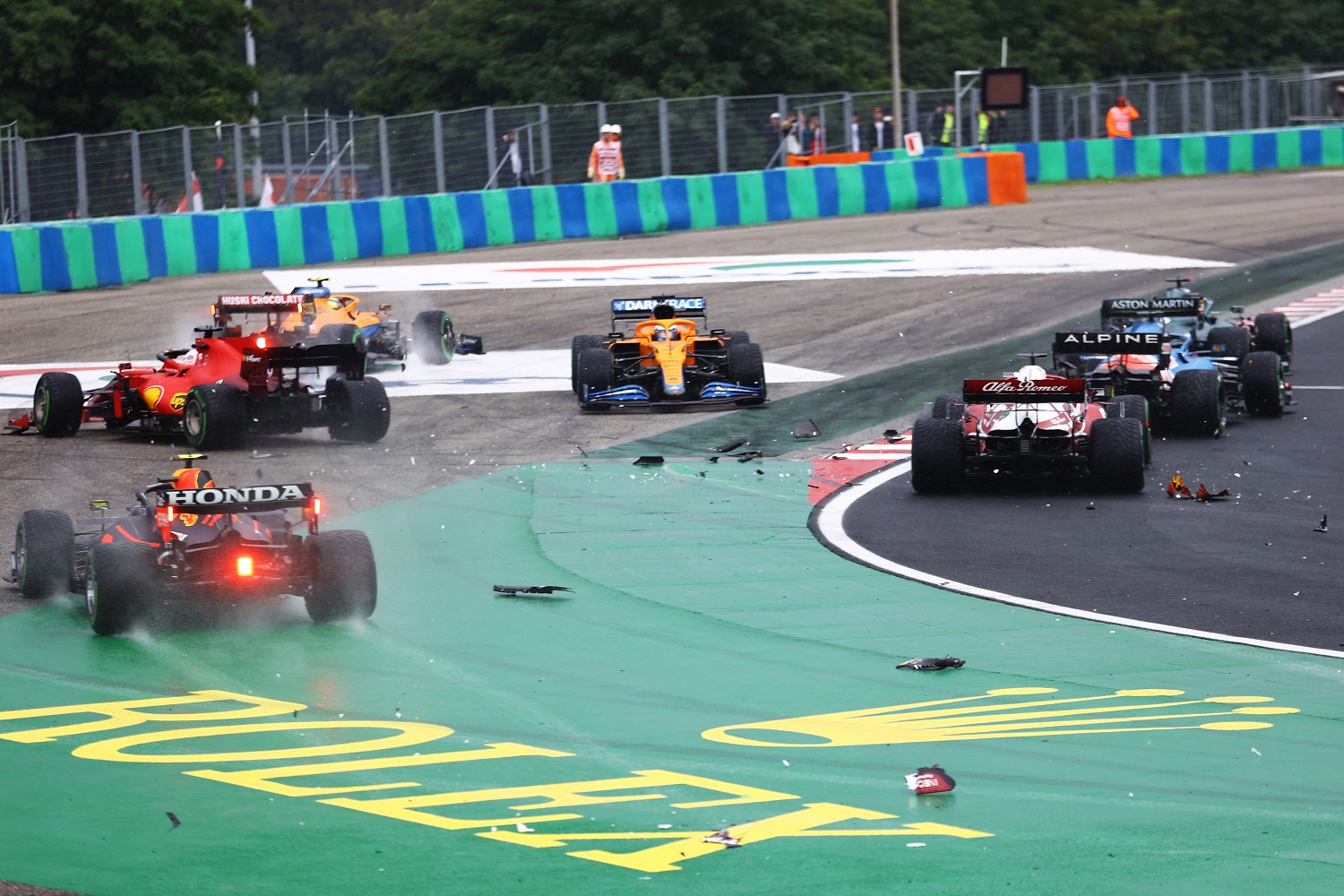 Summer recess arrived just in time to give Formula 1's proverbial cooler heads time to prevail. After his controversial collision with Hamilton took Verstappen out of the British Open on July 18, things got crazy two weeks later. Hamilton teammate Valtteri Bottas took out Verstappen teammate Sergio Perez seconds after the start, with Lance Stroll collecting Charles Leclerc in the mess and Verstappen's car taking on some damage in Budapest.
Yahoo! reported that Red Bull estimated that the tangle with Hamilton inflicted an astonishing $1.8 million in damage to Verstappen's car. The good news? Honda's engineers salvaged enough of the engine to make it viable, though the team subbed it out in Hungary as a precaution.
The bad news is that Red Bull has already retired one engine for the year, so the remaining two must last until the end of the season. If they resort to a fourth engine before the end of the season, Verstappen will absorb a 10-place penalty on one starting grid.
Three races in 15 days, beginning in Belgium, will stress out the equipment and the crews equally.
Formula 1 teams are on a budget
Formula 1 instituted a budget cap for the 2021 season. With engine costs, marketing, and driver salaries exempt, teams must limit all other costs to $146.2 million for the 22-race season.
If that sounds easily attainable, it isn't. Even after layoffs at the biggest teams, the F1 organizations employ literally hundreds of technicians and engineers. Every time they cut a tire, smash the front wing, and blow out a caliper, the replacements ding that budget.
Yahoo! noted that no part is too trivial to discard without a reason. When Verstappen lost a tiny aerodynamic component during practice in France, the Red Bull team asked for it back.
Imagine the implications of Verstappen wrecking again, this time with three or four races left. Aside from incurring the 10-spot grid penalty, the team could wind up pursuing Hamilton with a car they fill out with refurbished components.
Team executives float the idea of making offending drivers pay
Recognizing potential cost-cap difficulties ahead, Red Bull executives have asked Formula 1 officials to reconsider how the $146.2 million rule is applied. However, Autosport reports that Ferrari team principal Mattia Binotto went an additional step: He wants the teams of drivers at fault in accidents to pay for damage they cause to rivals.
"I think there is value for discussions in the near future with the other team principals, FIA and F1," Binotto said. "Obviously, if you're not guilty, having such damage in the budget cap is something which is even more of a consequence now."
Red Bull boss Christian Horner says his team is already approaching the cap and wants the FIA to adopt an exception for accidents.
"I think we need to revisit this with the FIA because ultimately (it) is something that can affect all teams, not just Red Bull," Horner said.
There are additional implications, too. Hamilton is pursuing his eighth season championship, which would break a tie with Michael Schumacher. Accomplishing the feat in part due to Verstappen being strapped for parts could unfairly taint what otherwise would be recognized as a great accomplishment.
Like Sportscasting on Facebook. Follow us on Twitter @sportscasting19.