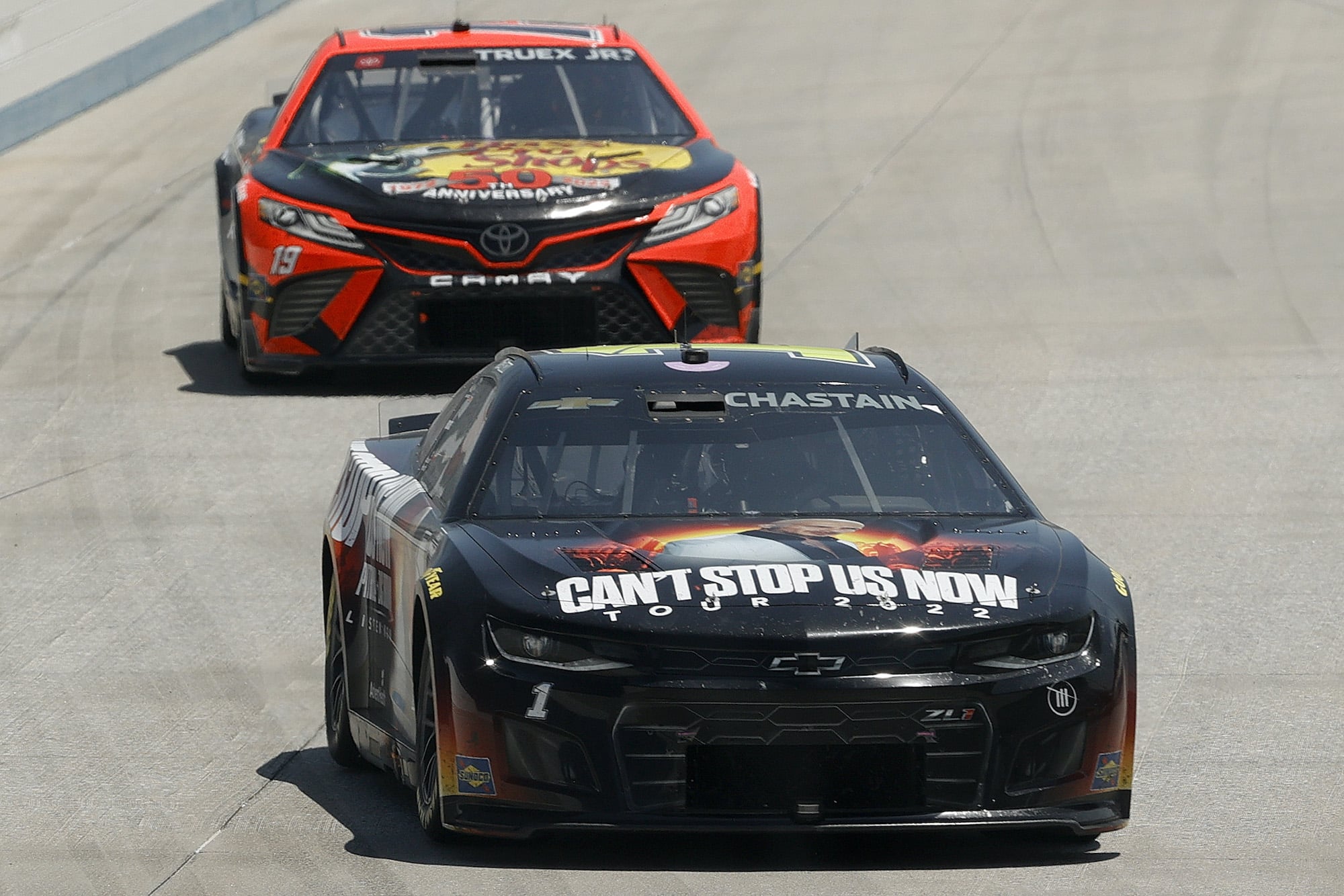 Dale Earnhardt Jr. Offers Interesting Take on Martin Truex Jr.-Ross Chastain Last-Lap Incident at Dover, and Reveals He Spoke With JGR Driver
Dale Earnhardt Jr. addressed the last-lap incident between Ross Chastain and Martin Truex Jr. at Dover, and admitted he spoke with the JGR driver about what was said.
Dale Earnhardt Jr. knows Ross Chastain and Martin Truex Jr. on a personal level better than most. He's talked about those relationships on his podcast and how both Cup Series drivers were tenants of his properties in the past. 
This week during the "Ask Jr." segment of the Dale Jr. Download, the NASCAR Hall of Famer was asked his thoughts on the last-lap incident at Dover between the two drivers. Junior revealed he had spoken with Truex hours after it happened and offered an interesting take that might come as a surprise to some fans.  
Ross Chastain talks about last-lap incident with Martin Truex Jr.
Martin Truex Jr. and Ross Chastain dueled up near the front for most of the race at Dover — the pair trading positions, including the lead in the final stage. On the final trip around the mile-long circuit, the 2017 Cup champion ran fourth, directly behind the Trackhouse Racing driver, and wanted more.
Truex attempted to make one final pass on the high side, but the two-time winner in 2022 deftly blocked the move. The No. 19 slowed up, got loose, and spun down into the inside fence. 
Moments after the race, the Joe Gibbs Racing driver sought out and found his counterpart for what turned out to be an animated discussion on pit road. When it ended, Truex disappeared. Chastain talked to numerous reporters about the incident.  
"We were talking about where we were going to go fishing next week," the driver joked with Fox's Jamie Little before promptly transitioning into discussing his team's effort. A few minutes later he visited with a group of reporters and accepted blame for the final-lap mishap.  
"Racing him hard. I crowded him up. I should have left him more of a lane," he admitted.
Dale Earnhardt Jr. reveals he talked with Martin Truex Jr. after race
The Ross Chastain-Martin Truex Jr. pit road kerfuffle was the talk of postrace shows and will be a storyline many fans will follow in the weeks to come. Dale Earnhardt Jr. watched with particular interest and talked about it on his podcast, including revealing that he had visited with the JGR driver hours after the race ended.
"I watched some of the postrace," Earnhardt said. "Truex goes up to Ross on pit road. They had a conversation. I talked to Truex a little bit last night, and he told me it was a good conversation."
Several minutes later when Chastain's "going fishing" comment was brought up, Earnhardt said the tone of the discussion between the two drivers wasn't as heated as some might think. 
"It was actually not as mean of a conversation," the two-time Daytona 500 winner said.
Earnhardt offers interesting thoughts on both drivers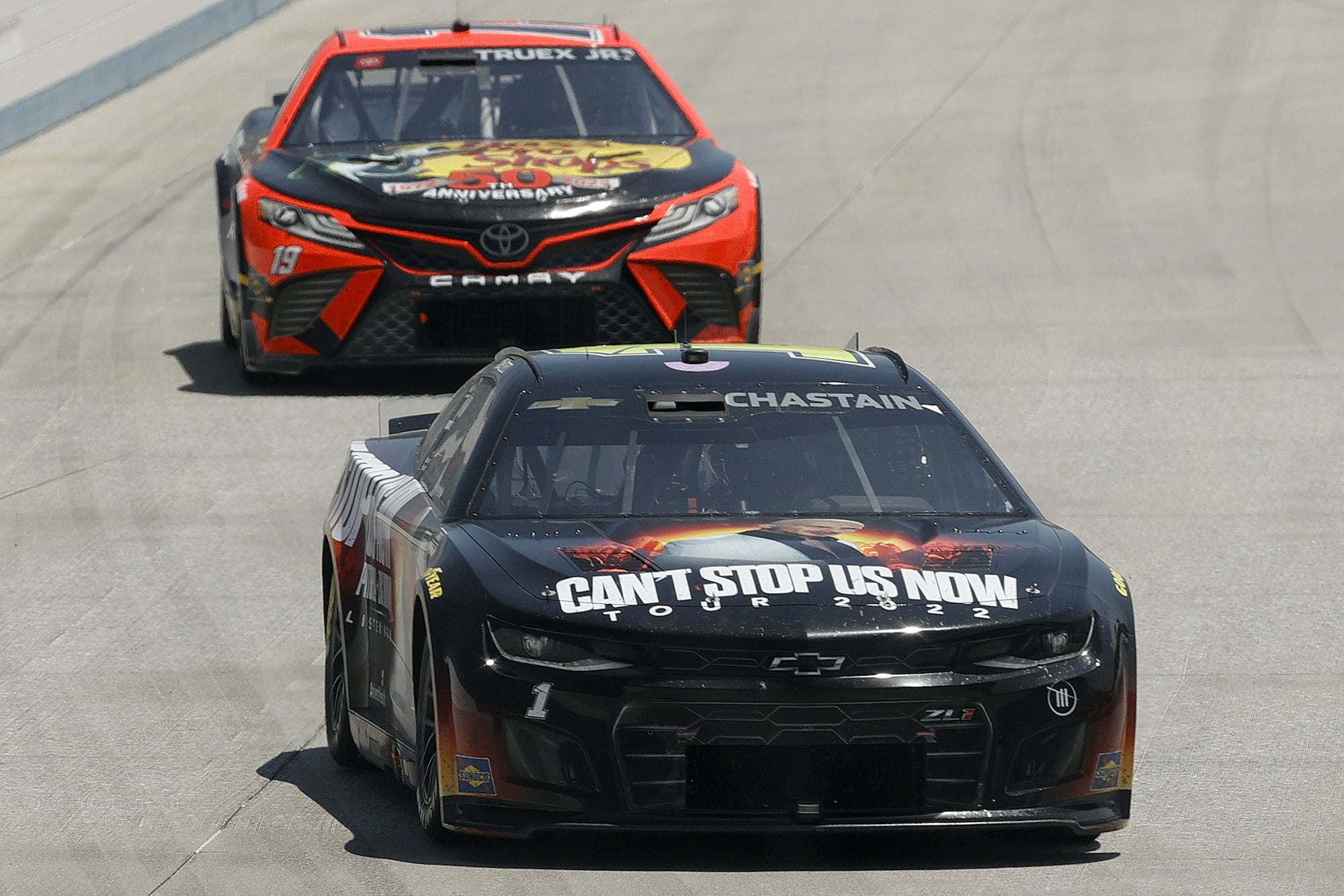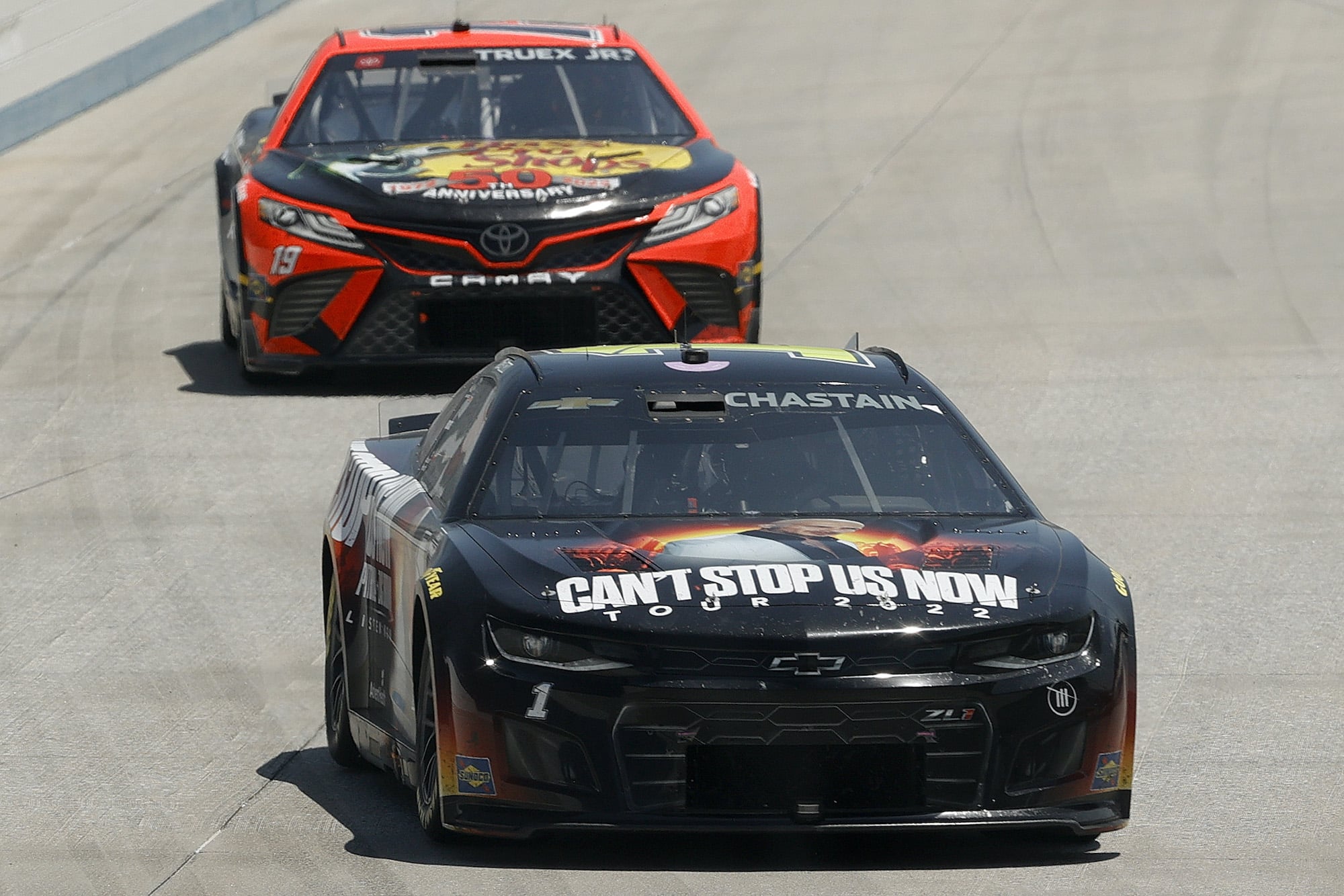 Earnhardt admitted that watching the two drivers battle on the track was challenging for him because he's got personal relationships with both drivers. His friendship with Truex is well-documented. In another interesting twist, both drivers referred to Earnhardt as the landlord in the past when they rented properties from him.
The former driver said Truex is a "clean race car driver" and isn't going to go out and run over somebody unless he's pushed too far and acknowledged Chastain's aggressive driving and how it can certainly rub some people the wrong way. 
'It's quite interesting. As much as I love Truex, and he will always be one of my best friends, and I think that he is a cool cat because he's that blue-collar, hunting and fishing outdoorsman kind of guy that we need in the sport," Earnhardt said. "Ross is that I-don't-care, I'm-not-here-to-make-friends guy that we need in the sport. Boy, have we lacked some of that. Ross is a guy that's come in and he's out there racing like he's not getting a check. Every spot he's racing for is worth food on the table. Bit of a throwback in the way drives, in my opinion. He doesn't give an inch and we need a lot of guys out there like that — the more the better."
Earnhardt's comments are interesting because he clearly conveys how much he values his friendship with Truex, but also makes it obvious how he sincerely admires Chastain's "old-school" driving style. 
Based on the early-season results, Earnhardt can expect to see a lot more of that aggressive driving in the No. 1 car because he's received plenty of airtime running near the front all season, including seven top-5 finishes in the first 11 races. Whether or not his buddy is there in the mix is a whole other question.
Like Sportscasting on Facebook. Follow us on Twitter @sportscasting19.