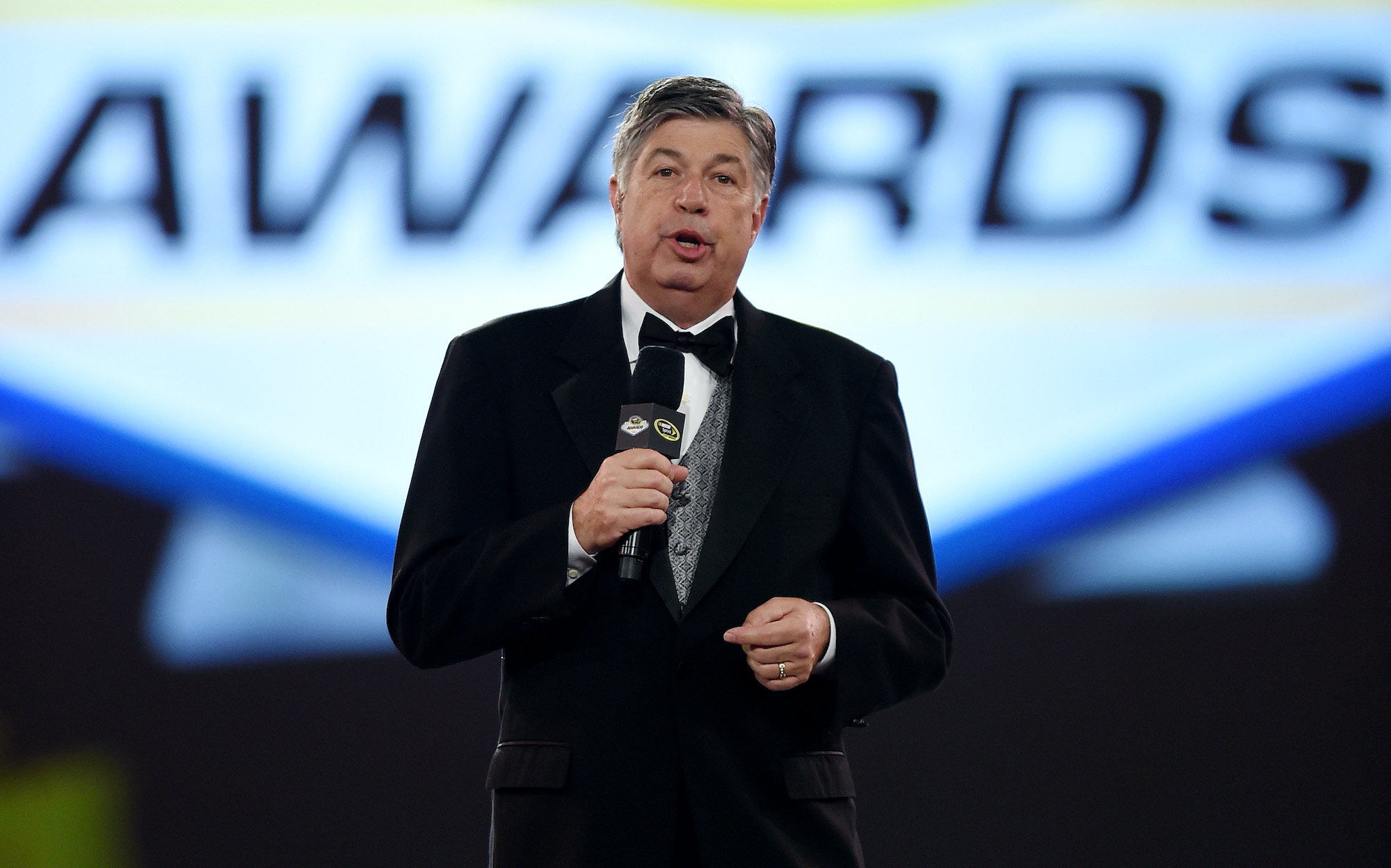 Dale Earnhardt Jr. Was a Huge Success During Fox's Talladega Broadcast but Mike Joy Struggled, Including a Botched Call of the Thrilling Finish
Dale Earnhardt Jr. did a solid job in the Fox NASCAR booth but lead announcer Mike Joy struggled, including a bungled call of an exciting finish. And that wasn't his only miscue.
NASCAR fans were understandably excited when Fox announced Dale Earnhardt Jr. would join Mike Joy and Clint Bowyer in the booth for the race at Talladega. Unsurprisingly, Earnhardt delivered and received rave reviews.
However, the race broadcast wasn't all good. The finish of the race was a thriller as Ross Chastain seemingly came out of nowhere to win and beat multiple cars to the checkered flag. However, if you closed your eyes and just listened to the race call, you wouldn't know what was happening because Joy terribly botched the description of the exciting action. Unfortunately, that wasn't the only time.       
Dale Earnhardt Jr. a success in Fox NASCAR booth
Dale Earnhardt Jr. has been a regular with NBC's NASCAR coverage since he retired from full-time racing in 2018. And he's good at what he does, serving as an analyst who provides insight from a driver's perspective while also candidly conveying his excitement for the action as a fan. 
Fox made a smart decision to bring Earnhardt aboard to work as a guest analyst at Talladega, where he is one of the most successful drivers in the track's history, including six wins, which is tied with Brad Keselowski and Jeff Gordon behind only his father's 10 victories at the superspeedway. 
The 47-year-old delivered from the prerace show to his closing comments, offering interesting tidbits of information about the track's storied history, as well as providing enlightening commentary on what was happening inside the cars throughout the race.  
Mike Joy bungles call during thrilling finish
While Earnhardt was a nice addition to the broadcast, his presence still wasn't enough to cover up some of the broadcast's other issues, including Joy's botched description of the exciting finish. 
Unsurprisingly, Earnhardt, with his years of broadcast experience was much more comfortable in the booth than some of Fox's previous guests analysts, including Danica Patrick, Matt Kenseth, and Tony Stewart. And it showed, especially at the end of the race, when he and Bowyer described the action as multiple cars jockeyed for position in the final sprint to the finish line. Joy, who is the lead announcer and typically provides the play-by-play description, felt more like a bit player, and a confused one at that.  
"Kyle Larson. Big push," Earnhardt described. "Does he go to the outside?"
"He's going to have to," Bowyer responded as Larson made his move up the track, which sent Kurt Busch hard into the wall. "Here he goes."
"And he's in the wall," Joy said, which implied that Larson, not Busch, had gone into the fence. 
"Opens the door up for the one of Ross Chastain," Bowyer excitedly suggested.
"Here comes trouble," Joy said, as the cars approached the finish line. "And on the outside, Kyle Larson added. Oh my gosh!"
"How 'bout you!" Bowyer said with Chastain taking the checkered flag.
"Ross Chastain. Ross is the boss at Talladega," Joy concluded.
Mike Joy repeatedly refers to Christopher Bell as Erik Jones
Unfortunately, Joy's bungled call at the race end wasn't his only misstep during the broadcast. Late in the race, with 28 laps to go and the Toyotas pitting together, the 72-year-old, who has worked 43 Daytona 500s, made another more glaring mistake when Joe Gibbs Racing teammates Kyle Busch and Christopher Bell made contact leaving pit road. 
"Right sides for Busch and for our pole sitter Jones," Joy erroneously said when the Gibbs cars sped out of their boxes. Moments later, when the pair made contact, the announcer continued with his mistaken identity of the No. 20 JGR car, which Jones last drove in 2020. "Oh! And Busch and Jones collide leaving pit road. Jones is in the wall."
"Christopher Bell," Bowyer politely corrected his broadcast partner.
"Excuse me, Christopher Bell," Joy said. "I'm sorry."
There's no denying Mike Joy has had a legendary career. The number of Daytona 500s confirms that. But it's also undeniable that his race call during the end of Fox's Talladega broadcast was subpar, and the earlier mistaken identity was not something you would expect from a lead announcer.
Whether the miscues were the result of Earnhardt's presence or some other reason isn't clear. What is abundantly clear is Fox has come under fire this season for its race coverage that has had some fans suggesting the network doesn't take the sport seriously. Joy's multiple mistakes just add more fuel to the fire.
Like Sportscasting on Facebook. Follow us on Twitter @sportscasting19.