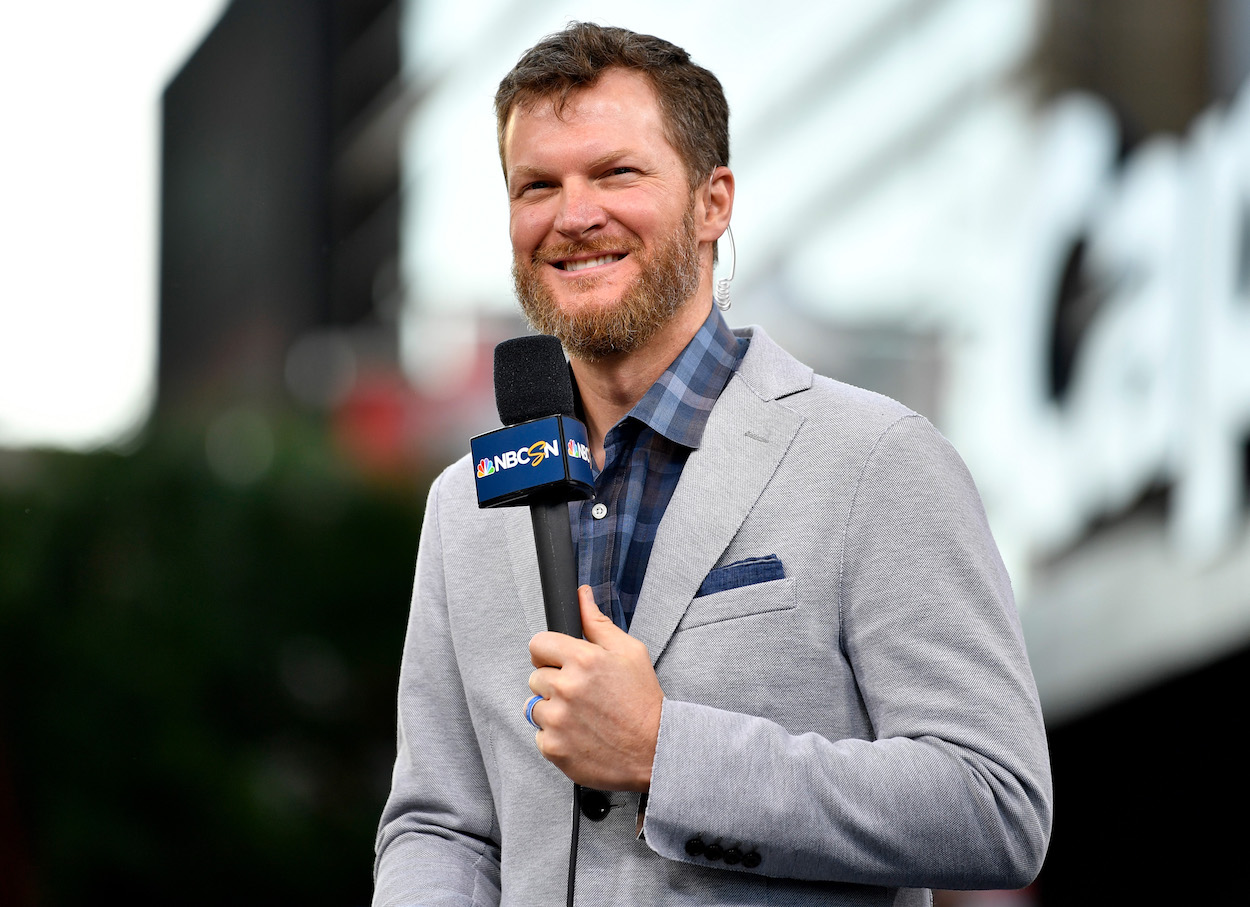 Dale Earnhardt Jr. Reveals Behind-the-Scenes Details Why NBC Is Allowing Him to Work With Fox at Talladega
Dale Earnhardt Jr. will be making the move to Fox for this weekend's race at Talladega and offered a behind-the-scenes look of how it all came together.
Since Dale Earnhardt Jr. retired from full-time Cup Series racing after the 2017 season, he's been in the broadcast booth for NBC's NASCAR coverage. On Sunday night during the Bristol dirt race, Fox made a surprising announcement that the two-time Daytona 500 winner would be joining the network for this weekend's race at Talladega as a guest analyst.
Dale Earnhardt Jr. dominated at Talladega
The news that Earnhardt would be working alongside Fox's Mike Joy and Clint Bowyer caught many fans by surprise. However, the location where he's going to make a guest appearance for the competition shouldn't surprise anyone. That made complete sense. 
Of Junior's 26 career Cup wins, six came on the 2.66-mile Alabama superspeedway. Unbelievably, five of them happened in four years, beginning with his first victory in 2001.  
He followed that victory by winning the next three Cup races at the track through the first race in 2003. He earned a pair of back-to-back runner-up finishes at the track in the second race of 2003 and the first race of 2004. He then made his way to Victory Lane in the second race of 2004. In total, Earnhardt's impressive run of seven races at Talladega from 2001-04 included five wins and a pair of runner-ups. 
Surprisingly, Earnhardt didn't win at the superspeedway again until 2015, for his sixth win, placing him in a tie for second with Jeff Gordon and behind only his father. Brad Keselowski earned his sixth win in 2021.
Dale Earnhardt Jr. working with Fox
This year, Fox has used a rotation of guest analysts that has included Tony Stewart, Matt Kenseth, Danica Patrick, and Chad Knaus. This past weekend at Bristol, Hall of Famer Darrell Waltrip returned to the booth where he worked for 19 seasons with Mike Joy, and did so at a track where he is the all-time winningest driver with 12 wins.
The selection of Earnhardt to work at Talladega is the network once again finding a former driver who can provide race analysis that is second to none based on his previous success. 
Earnhardt was understandably excited about the news. 
"Looking forward to doing some work next weekend," he said on Twitter. "No better place than @TALLADEGA for me. Appreciate this opportunity to work with @mikejoy500 and @ClintBowyer."
How did it all happen?
This week during the "Ask Jr." portion of the Dale Jr. Download, Earnhardt answered the question he's been inundated with since the announcement — how did it all come together?
"NBC is the one that called me," Earnhardt admitted. "My boss called me and said, 'Hey man, would you want to do this?' They're all for it. For a couple of years, we've teased the idea of me doing a Fox race, either the Daytona 500, but the more realistic thing that we have talked about over the last couple of years is me being in the booth for the Sonoma race or the last race before they hand it off to us in Nashville. To have kind of a smooth transition, I guess.
"None of that ever happened but not to say it won't in the future. But NBC really is the ones that thought; they're absolutely supporting this and the reason why is because the ratings start in the season, whatever the ratings do, whether they're going up or they're going down, whenever we start to broadcast, we really pick up right at that same number…The higher that we can get that number, the higher that number can be the better off it is for the broadcast partner that's coming in the second half of the year because wherever the number is you're going to pick it up, or try to pick it up and continue that momentum. Fox has a lot of momentum and we're just trying to do everything we can to be a great partner because, honestly, when you look at it, Fox and NBC are partners trying to raise NASCAR to new heights." 
It will undoubtedly be odd to see and hear Earnhardt working in the Fox broadcast booth but as he's shown both in and out of a race car throughout his entire career, he's one of the sport's greatest ambassadors and wherever and whenever he is talking about NASCAR, he'll have a devoted audience listening to his every word.
Like Sportscasting on Facebook. Follow us on Twitter @sportscasting19.