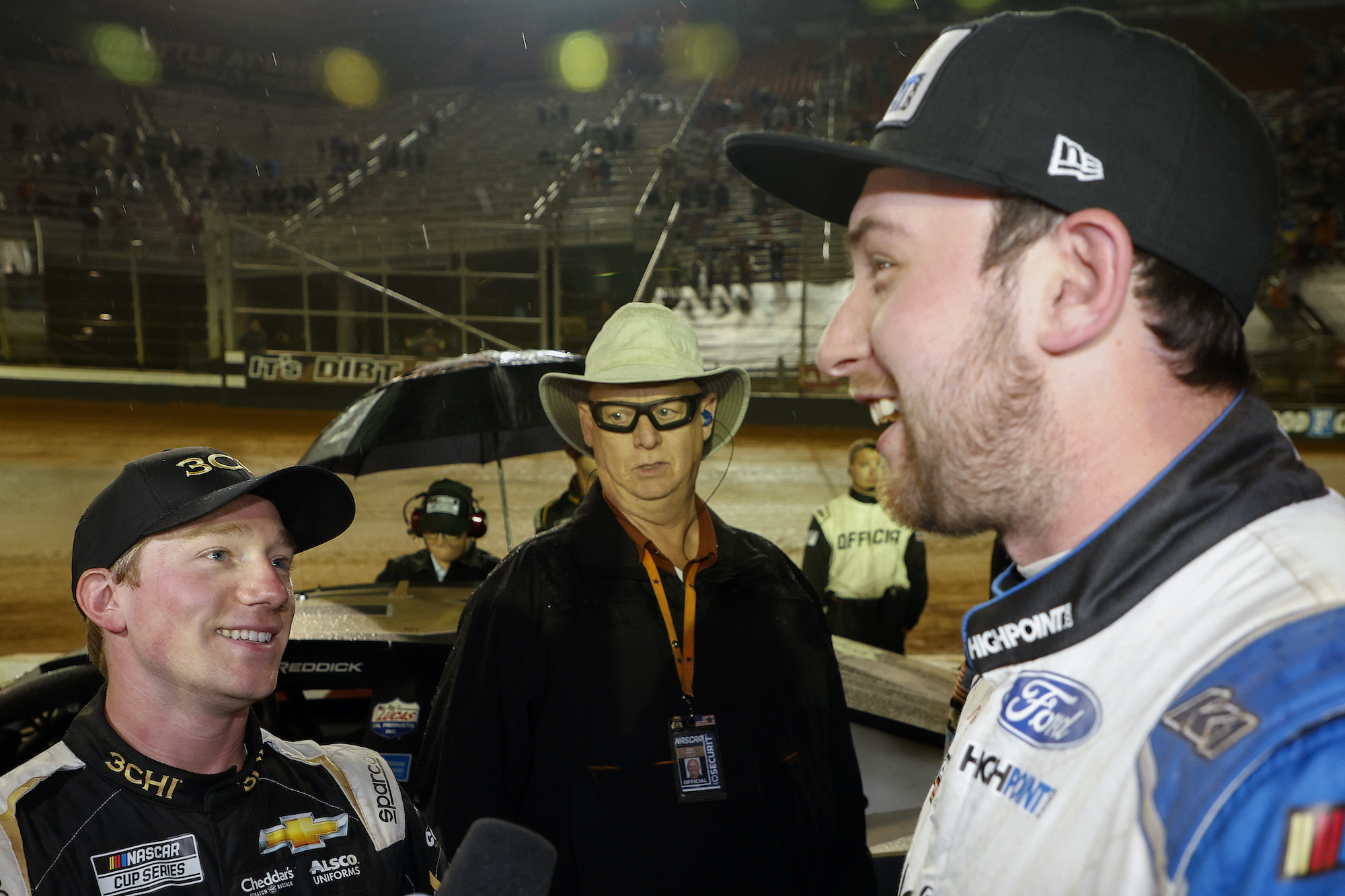 Dale Earnhardt Jr. Points Out How Tyler Reddick Might Have Been Forgiving of Chase Briscoe's Last-Lap Move and Apology but His Crew Wasn't Feeling It
Tyler Reddick accepted Chase Briscoe's apology for his last-lap move on the Bristol dirt but his crew members didn't appear to be as forgiving.
Tyler Reddick appeared destined to win his first-ever NASCAR Cup Series race on the dirt at Bristol Sunday night. However, Chase Briscoe had a say in the matter on the final lap, causing both drivers to spin, which allowed Kyle Busch to back into the win.
A few minutes after the race, Briscoe approached Reddick to apologize for the last-lap incident. The Richard Childress Racing driver remained professional and accepted the apology. In the background, as Dale Earnhardt Jr. later pointed out on Twitter, Reddick's crew members appeared to be in a less-forgiving mood.
Tyler Reddick comes up short at Bristol
For weeks now, many pundits have suggested it's not a matter of if but when before Tyler Reddick earns his first Cup Series win. He's run up front and led laps multiple times this year but has yet to close the deal.
Sunday night on the Bristol dirt, the 26-year-old again found himself in a familiar position, leading the field for dozens of laps. With the laps dwindling on the "World's Fastest Half-Mile," it came down to a pair of dirt-track specialists in Reddick and Chase Briscoe. 
Reddick's lead slowly shrunk, and when the white flag waved, Briscoe was on the No. 8's rear bumper. On the final trip around the muddy surface, the Stewart-Haas Racing driver dove down hard underneath the RCR car going into Turn 3, got sideways, and slid up into Reddick, the momentum sending both cars for a spin.
Reddick completed a 360, hit the gas and headed for the finish line. Kyle Busch, who had been running third, narrowly edged him out for the win.     
Reddick accepts Briscoe's apology after race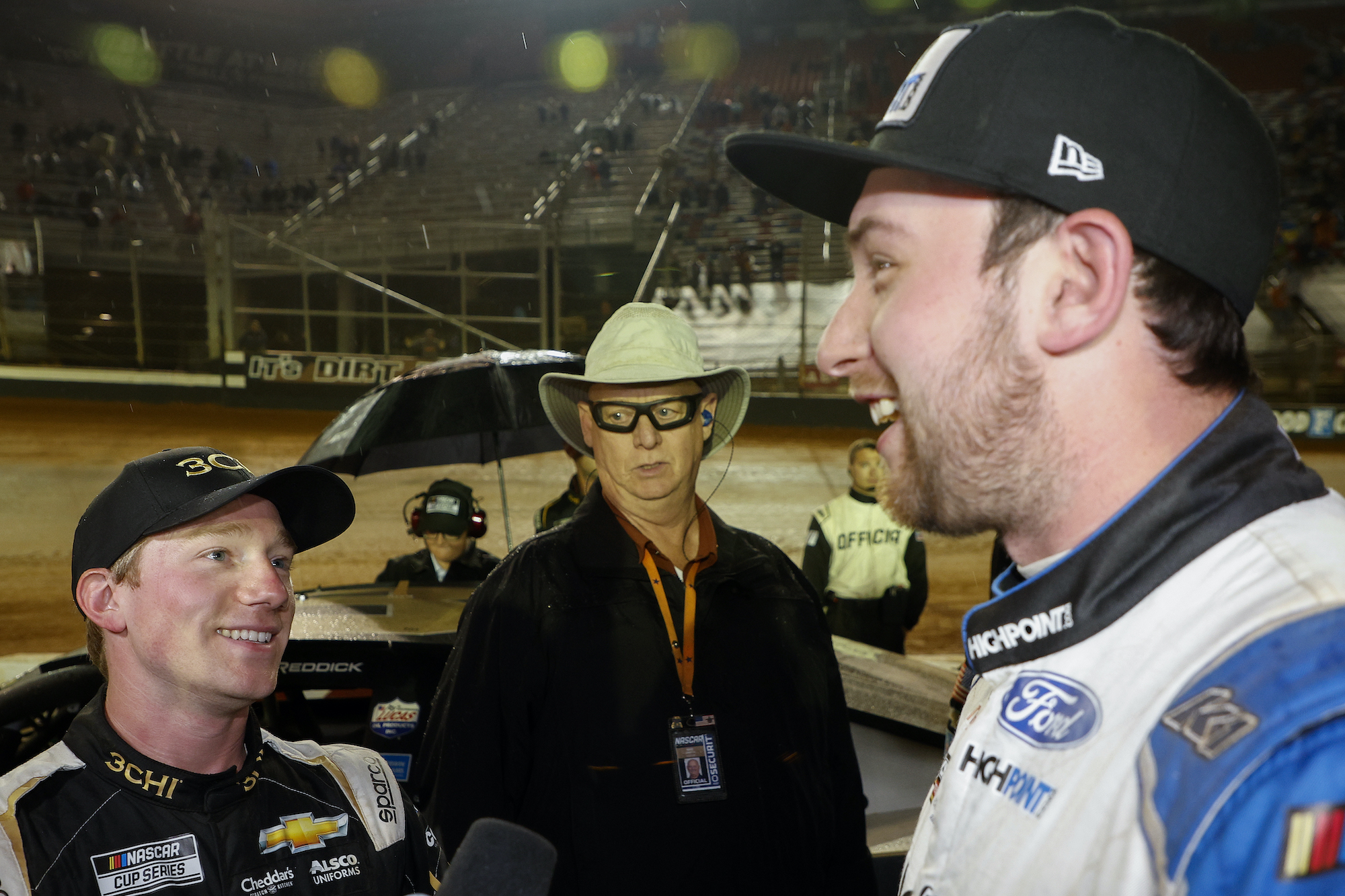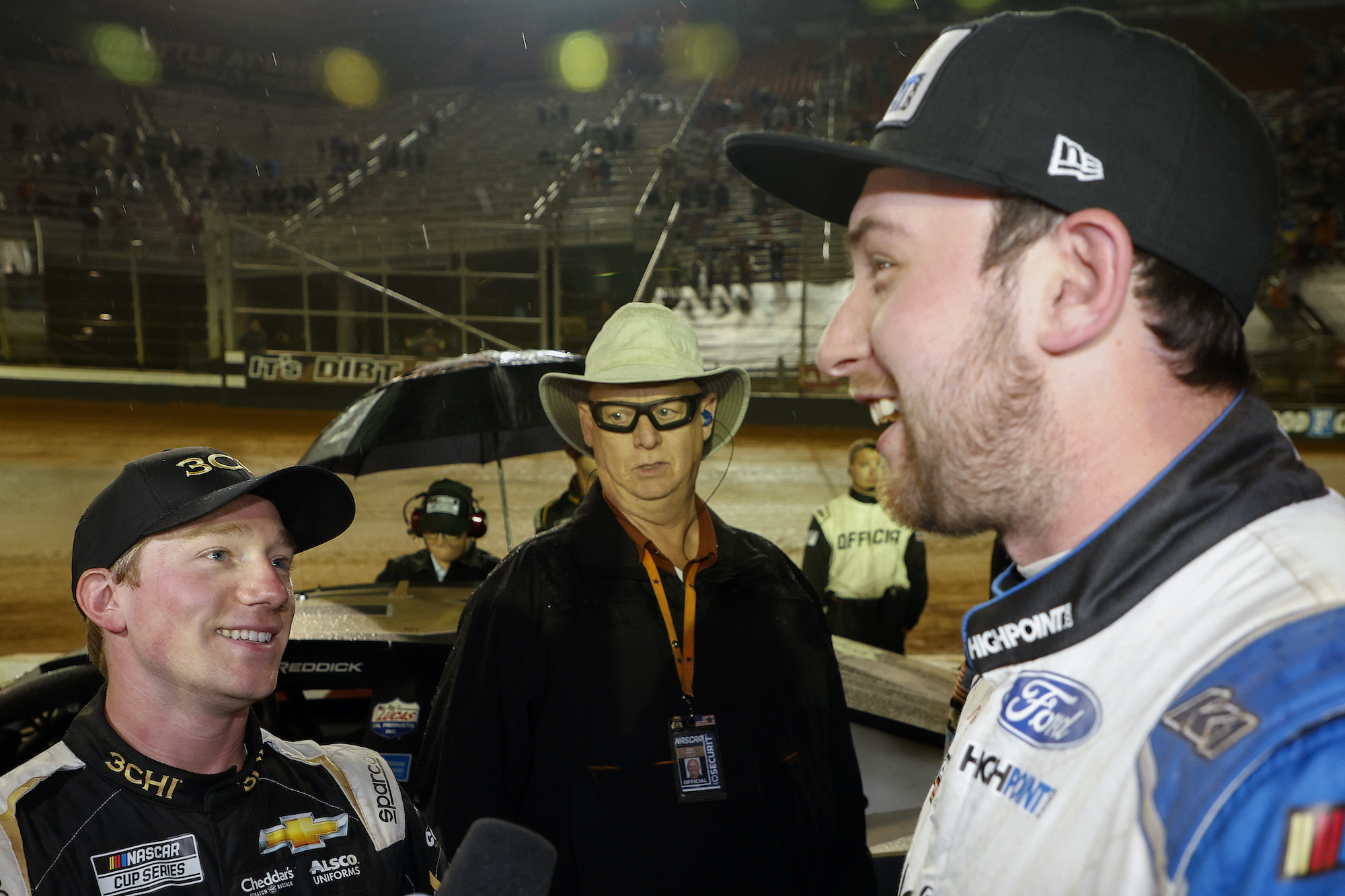 During the postrace interview, a humbled Reddick admitted that "he didn't do everything right" and took responsibility for allowing Briscoe to close the gap on him and put himself in that position on that final lap. 
Briscoe waited off-camera and at the interview's conclusion, walked up to Reddick and apologized.
"I tried, I was going to spin out either way, and I thought please don't get him with the right rear, and I saw it, but I'm sorry. I just wanted to let you know," the SHR driver said with a smile.
"You did a hell of a drive running me down," Reddick told him. "It's all good. I needed to drive away. I let you get close."
"I just wanted to apologize," Briscoe said, as the pair shook hands and walked away from each other. 
Dale Earnhardt Jr. points out Reddick's crew wasn't happy
While both Reddick and Briscoe remained professional and smiled throughout their brief conversation, a couple of the No. 8 team's crew members stood in the background and their facial expressions revealed that they were less than enthusiastic about what transpired at the end of the race.
Like everyone else watching, Dale Earnhardt Jr. noticed the pair's understandable frustration and called it out on Twitter. 
"Y'all see the crew guys in background during Briscoe/Reddick discussion? don't think they were feeling it," Earnhardt wrote. 
As Sam Mayer and Ty Gibbs proved just a week earlier after the Xfinity Series race Martinsville, those type of postrace meetings don't always end peacefully. And based on those facial expressions, if it were up to Reddick's crew members, it wouldn't have. 
Like Sportscasting on Facebook. Follow us on Twitter @sportscasting19.