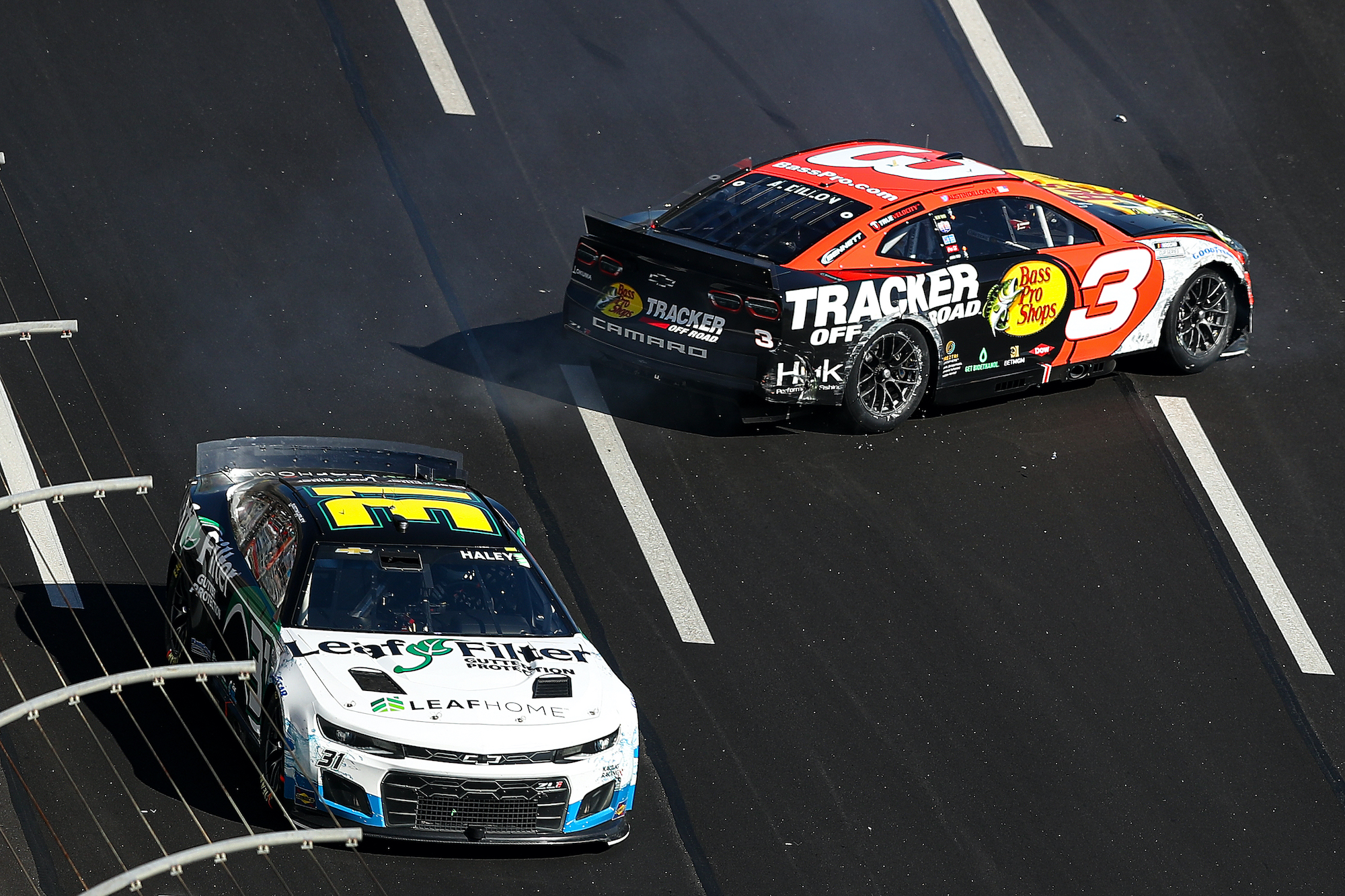 Austin Dillon Points Finger at Kyle Busch for Wrecking Him in Atlanta, and 2-Time Champ Doesn't Accept Responsibility
Austin Dillon pointed the finger at Kyle Busch for wrecking him in Stage 1 and ending his day in Atlanta. The JGR driver didn't take responsibility.
Austin Dillon and Kyle Busch had their third incident in as many years on Sunday, the latest at Atlanta Motor Speedway. After both of their days ended prematurely, Dillon didn't hesitate to direct the blame at the two-time NASCAR Cup Series champion.
Busch, however, didn't see it the same way and said as much in a brief but tension-filled visit with reporters. 
Austin Dillon and Kyle Busch make contact in Stage 1
With five laps to go in Stage 1, Austin Dillon ran third in the outside lane with Kyle Busch on his rear bumper going into Turn 4. The pair hadn't cleared the pit road entrance when Busch's aggressive push got Dillon loose, sending him hard into the outside wall.
The No. 18 car had nowhere to go and ran into the wall with him. Both cars slid down the front stretch and crossed the start-finish line sideways. 
Dillon was out. He finished 35th. The pit crew for the Joe Gibbs Racing driver worked on the car and got it back on the track. It worked temporarily but wasn't enough. He eventually retired 70 laps later, finishing 33rd. 
Austin Dillon points finger at Kyle Busch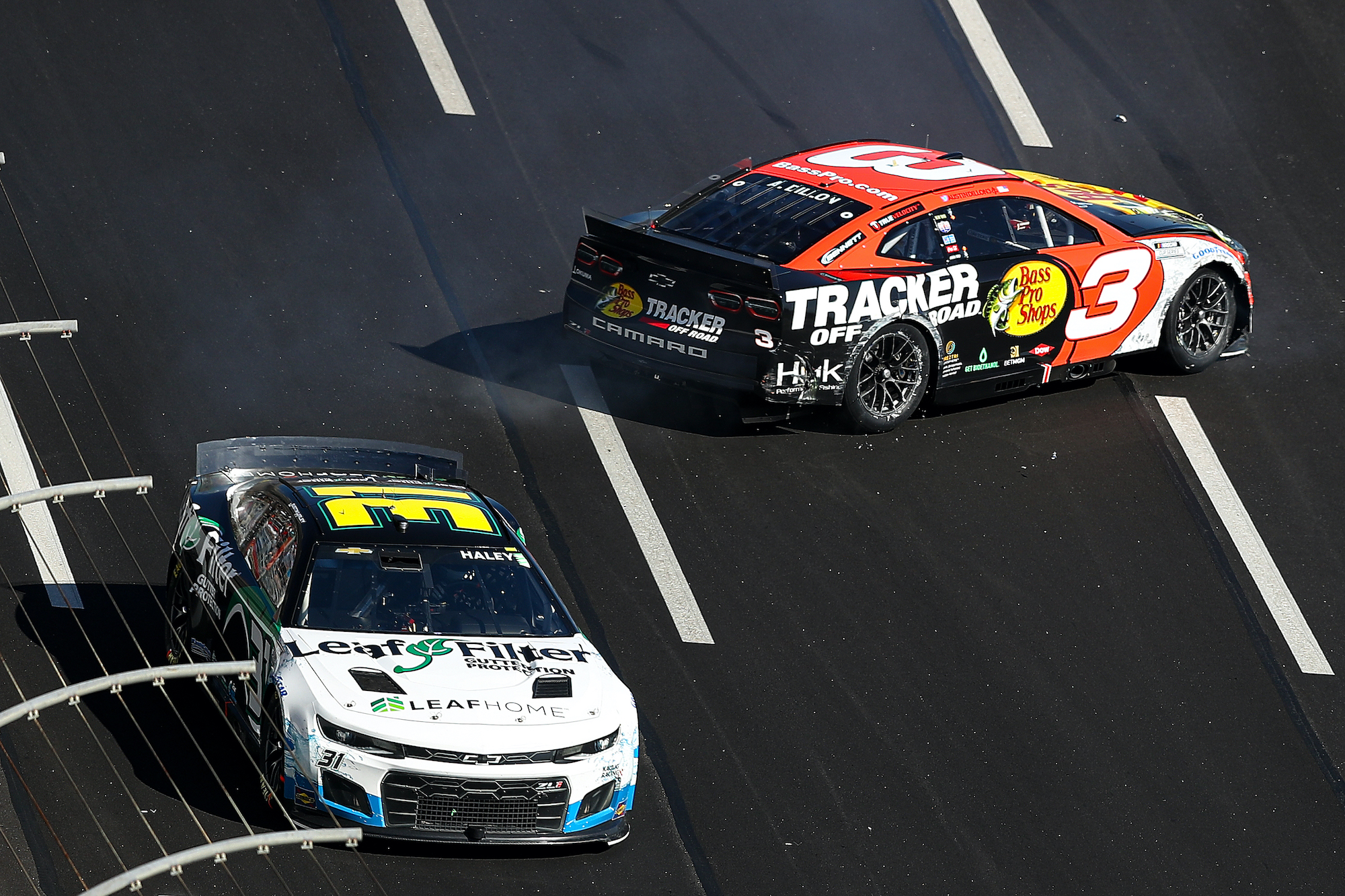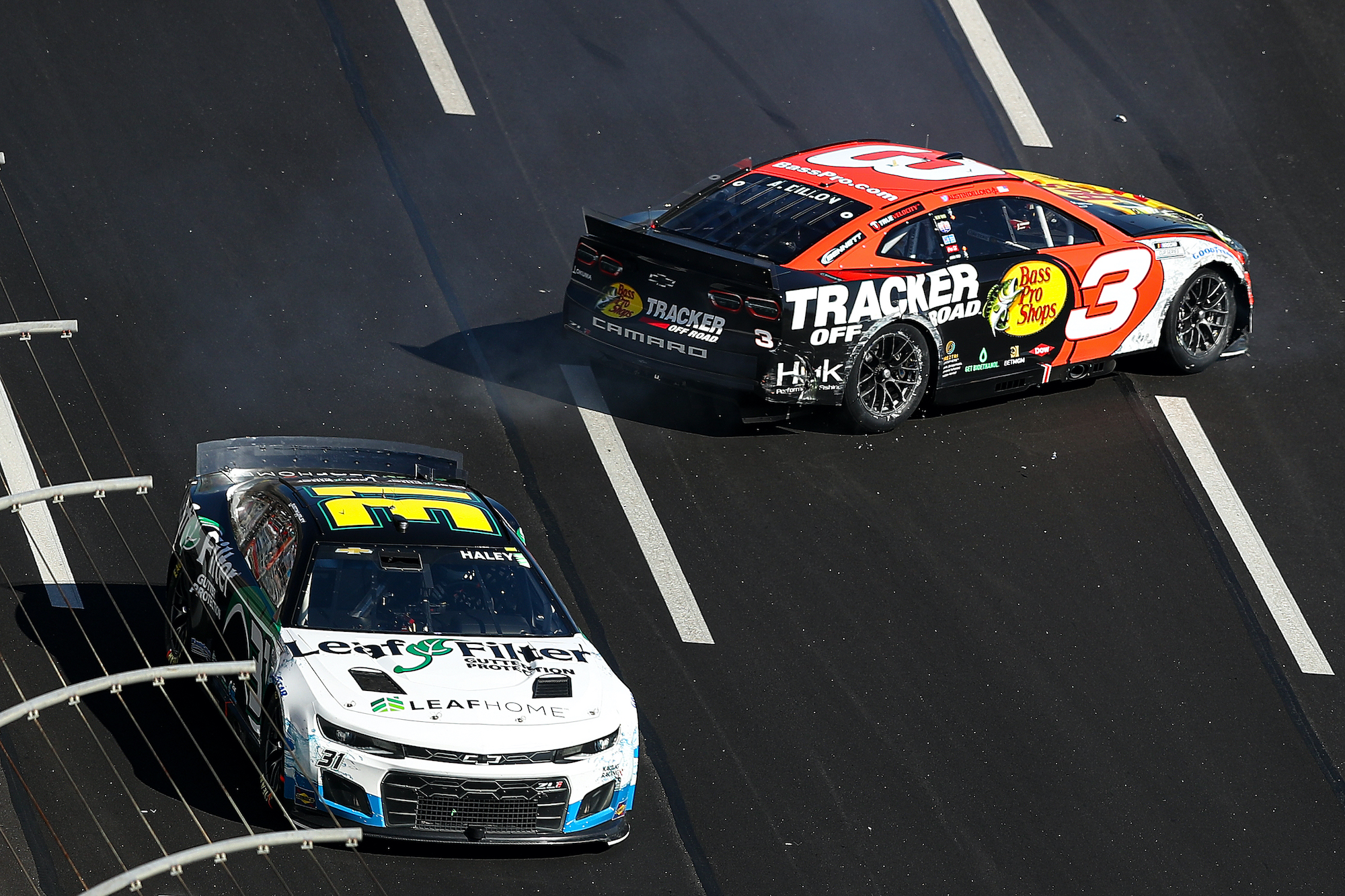 After clearing the care center, Fox's Regan Smith caught up with Austin Dillon and asked him about the incident. The Richard Childress Racing driver made it perfectly clear who he thought was responsible for ending his day.
"No, I was in the gas wide open, and the 18 was pushing us on the left rear from what I saw," Dillon said when asked if he checked up on Turn 4. "Got me loose and took us both out of the race. It didn't help that the other two cars were coming up the track, so it took some air off the nose, but he's already got me turned right there.
"It's the end of Stage 1. We're going to get a run down the front stretch right there, so I don't know why he's pushing like dead-center three-quarter mark. Part of it, I guess. Fun racing there for a while with a really fast Bass Pro Shops Chevy. I don't want to say anything else. My feelings are hurt because two weeks in a row we've been taken out of the race." 
Pair have history together
Sunday's incident in Atlanta isn't the first time the two drivers have tangled with each other. Last year, Dillon got into the left rear of Busch at Darlington, sending him into the wall and ending his day early. That was the race the JGR driver aggressively drove down pit road, hurriedly turned toward the garage, ran over multiple cones, and sent trackside officials scrambling for safety. That was last year.
The pair had another incident the year before at the Charlotte Roval. That's when Busch got into the back of the No. 3 car, sending it into the outside wall. 
Moments after it happened, Busch accepted responsibility for it over the radio. "My bad," he told his team.  
After Sunday's race in Atlanta, no such thing happened when a reporter asked Busch about the incident. "I don't know. He got loose," he tersely responded before providing one-word answers to a couple of other questions and abruptly walking away.  
Could there be more in the future between Dillon and Busch? Time will tell.
Like Sportscasting on Facebook. Follow us on Twitter @sportscasting19.