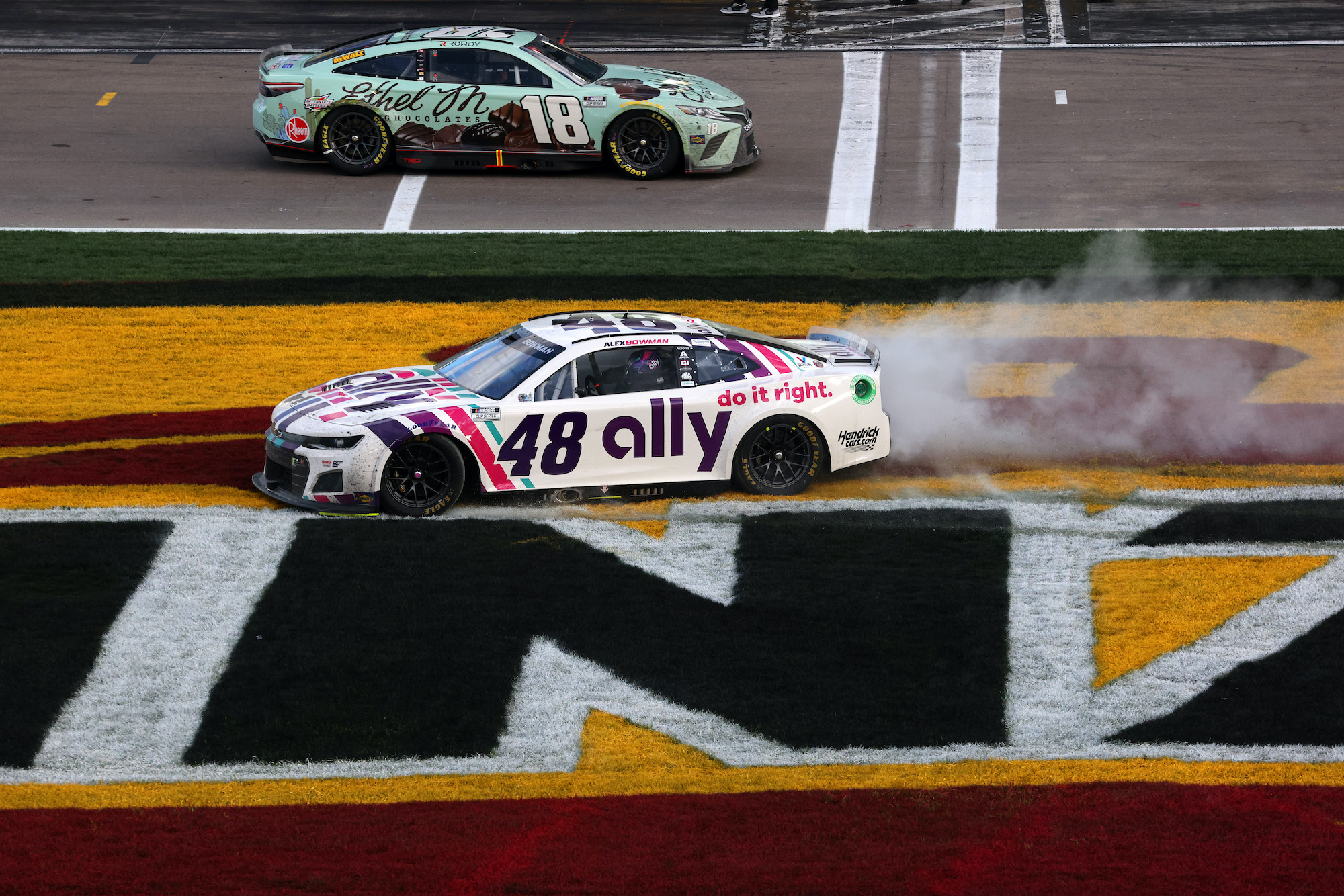 Kyle Busch's Profanity-Laden Outburst Directed at Alex Bowman in Las Vegas Is Pure Hypocrisy
Kyle Busch's explosive curse-filled rant directed at Alex Bowman following the Las Vegas race was pure hypocrisy.
NASCAR fans know Kyle Busch for two main things — his Hall of Fame-bound career and his petulant behavior. His record on the track speaks for itself, including 59 wins and two Cup Series championships. 
His mouth also speaks, and, on occasion, the words that come out of it are not kid-friendly. This past weekend in Las Vegas proved to be a prime example when the 36-year-old went off after the race, oddly directing his anger at race winner Alex Bowman. On closer inspection, Busch's outburst is hypocrisy at its finest.   
Kyle Busch overcomes adversity at Las Vegas
Kyle Busch's weekend on his hometown track at Las Vegas Motor Speedway couldn't have started much worse. Less than 10 minutes into Saturday's practice session, the Joe Gibbs Racing driver found himself sliding down the track backward after suffering a flat left-rear tire and hitting the wall. The resulting damage forced him to drive the backup.
Once the race started, Busch quickly disproved those pundits who suggested the backup car would prevent him from contending. At the end of Stage 1, he finished ninth. By Stage 2's conclusion, he was fifth. 
Busch appeared destined for Victory Lane in that final stage, with the dominant car late, leading 40 of the final 45 laps. Unfortunately for the No. 18 team, a caution came out when Erik Jones slammed into the wall with three laps to go. 
All the leaders dropped down to pit road for a critical final stop before the green-white-checkered overtime restart. During the stop, the Hendrick cars of Kyle Larson, William Byron, and Alex Bowman took two tires. Busch took four. 
That strategy call decided the race.
Kyle Busch explodes after watching Alex Bowman win race
Busch started in the second row behind Bowman but never sniffed the lead after the restart and watched helplessly as Larson and Bowman battled in front of him for the win, with the latter coming out on top for his first victory of the young season. The JGR driver finished fourth behind the surprise story of the day, Ross Chastain, who led for a race-high 83 laps and finished third. 
Seconds after crossing the finish line, Busch exploded, and the target of his anger was somewhat surprising.  
"The same f****** guy who backs into every f****** win that he ever f****** gets backs into another f****** win," he said of Bowman. "Bulls***! F***!"
He won last year at Pocono with pit strategy call on fuel
Busch's comments suggesting Bowman has a pattern of backing into wins can be traced back to last year, and the first season that the HMS driver drove to a multi-win season in his career. The last one came at Martinsville, where the 28-year-old tangled with Denny Hamlin and sent him into the wall with seven laps to go. Bowman outlasted Busch and Brad Keselowski for the win.
Bowman's win prior to that came during the first of two races at Pocono. That's when the No. 48 pursued Larson, who was pursuing history and trying to win his fourth race in a row. However, in a shocking turn of events, on the race's final lap, Larson suffered a flat left-front tire going into Turn 3, allowing Bowman to pass and sprint to victory. 
While both of those races Bowman could have easily finished second, he didn't. And the reason was because he put himself in a position to take advantage of the circumstances and won. Same thing he did in Sin City. He was there in the end and his team capitalized on the opportunity with a pit strategy call, which put him in front and he sealed the deal.
Busch's criticism of Bowman, specifically his latest win at Vegas, is next-level hypocrisy. Why?
The day after the HMS driver won at Pocono, the JGR driver won the second race at the same track. How? A fuel strategy call. He pitted one lap later than the other teams, which gave him just enough gas to finish without stopping, and propelled him to victory. 
Kyle Busch is an emotional driver. Make no mistake about it, his personality is good for the sport. However, sometimes he allows his emotions to get the best of him and opens his mouth prematurely like he did in Las Vegas, looks foolish, and ultimately has to eat his words.
Like Sportscasting on Facebook. Follow us on Twitter @sportscasting19.