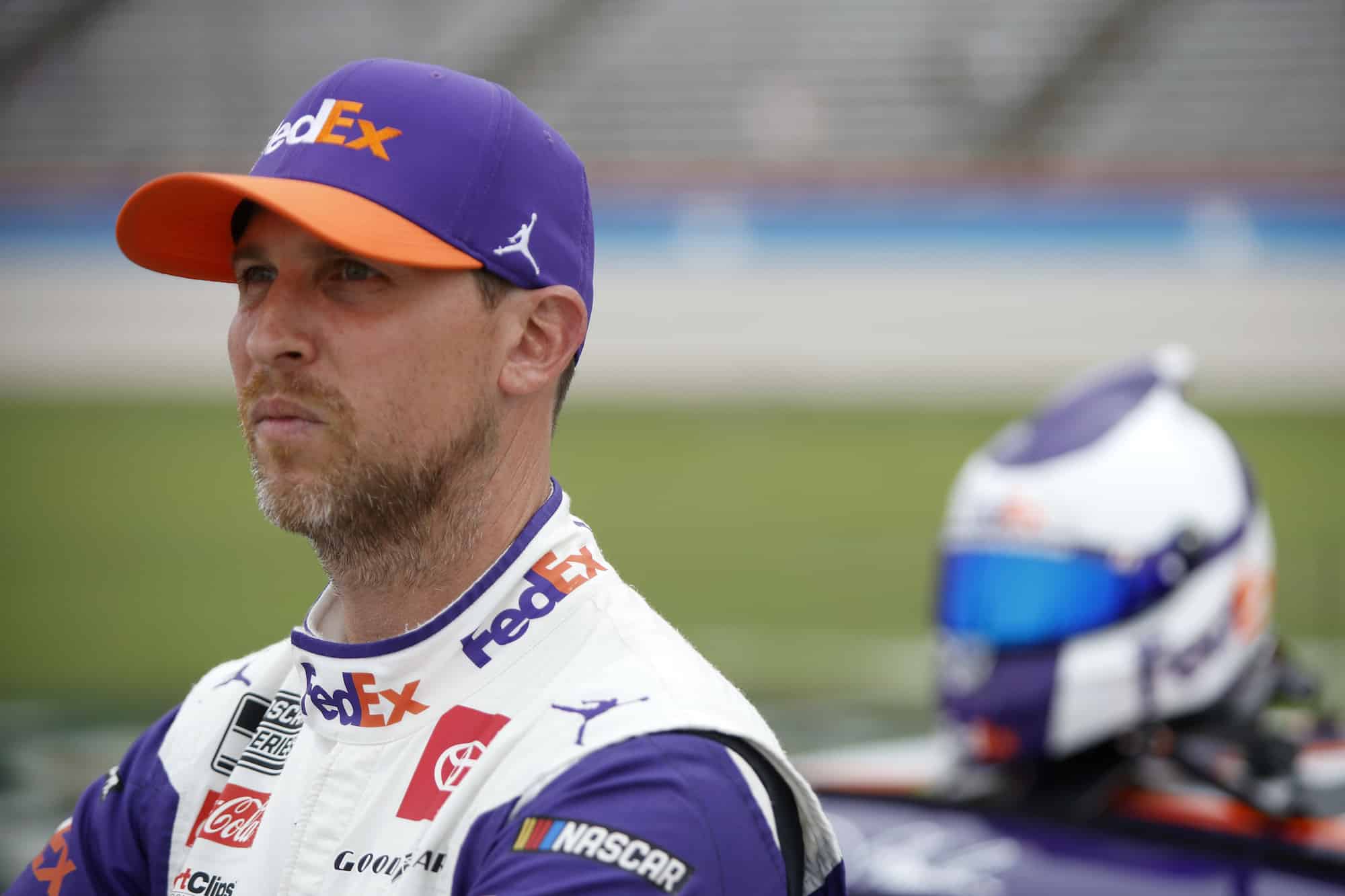 Frustrated Denny Hamlin Doesn't Hold Back After Controversial All-Star Race Ending, Including How NASCAR Avoided a Terrifying Situation and a Potential Lawsuit
Denny Hamlin didn't hold back when visiting with the media in sharing his thoughts on the controversial All-Star Race finish and who should have been declared the winner.
Denny Hamlin had a legitimate chance to win the million dollars up for grabs in the NASCAR All-Star Race at Texas Motor Speedway. He came up just short, finishing second behind Ryan Blaney in what turned out to be a bizarre and controversial finish on multiple levels.
After the race, the Joe Gibbs Racing driver visited with reporters and didn't hold back how he was feeling, including what he thought about NASCAR's decision to throw the caution flag so late and why he should have won the race instead of the Team Penske driver. 
Denny Hamlin finishes second behind Ryan Blaney in All-Star Race
Ryan Blaney brought a fast car for the All-Star Race at Texas Motor Speedway, qualifying second and starting on the outside of the first row in the special event. Denny Hamlin qualified 16th. However, his JGR teammate Kyle Busch won the fastest pit-stop-single-lap-around-the-track drag-race qualifying format and started on the pole. 
Busch dominated the race early and led every lap until late in Stage 2 when he was involved in a nasty accident that ended his day, along with Ross Chastain and Chase Elliott. The defending race winner, Kyle Larson, had exited earlier in an incident of his own.
Blaney proved to be the dominant car the rest of the night and led a race-high 84 laps, with Hamlin, on fresher tires, his closest pursuer over the last dozen laps. On the most important lap, the 28-year-old was a football field away from the finish line with the checkered flag waving when the caution lights started flashing after Ricky Stenhouse Jr. got into the wall on the backstretch. The moment the No. 12 crossed the finish line, NASCAR put out the yellow flag.
The driver, unaware that NASCAR had extended the race, which in the All-Star format couldn't end under caution, had already dropped his window net. After his team informed him of the surprising decision, he feverishly struggled to get the net back up and managed to do it enough to NASCAR's satisfaction without them black flagging him and forcing him to come down pit road. 
He won on the restart and held off Hamlin for a second time to win the race. 
Denny Hamlin doesn't sugarcoat thoughts on race ending 
Following the race, Hamlin visited with reporters and, as expected, didn't sugarcoat what he thought about the chaotic ending. 
"This isn't a Denny Hamlin judgment call," the driver said. "I'm just saying, whatever the rule is, let's be consistent and play by the rule. It's unfortunate because he made a mistake. He should have won the race. He was 100 yards from winning the race, but many cars have not won races because of green-white-checkered or because of a mistake on the restart at the end. Those things happen.
"All I ask is that we know what the rules are; we play by them. Where NASCAR really got away with one is we nearly crashed off (Turn) 2, so I send him head first into traffic, and the window net's down. I don't know. Then they've got a lawsuit on their hands." 
Ryan Blaney responds
After celebrating in Victory Lane with his team, a jubilant, cowboy-hat-wearing Blaney made his way to the media center to talk with reporters, and the controversial ending was unsurprisingly the main topic of conversation. When informed about Hamlin's remarks, the Team Penske driver offered a thoughtful response.
"I would be upset, too, if I was in his position," Blaney said. "I mean, you're running second, and the guy makes a mistake and puts the window net down, and you expect it to be handed to you, and the leader get black flagged. I can understand his frustration, for sure. 
"But obviously I'm not going to say I'm frustrated about it. It worked out for us. We had the best car all night. We were leading by three seconds before that last caution but I can understand where he's coming from but that's just a product of running second compared to winning. He would be over-the-moon elated in my position if he had won the race and I'd be ticked off like he was if I was second. It kind of depends on the spot you are so you can't blame him." 
Before his session with reporters ended, Blaney admitted the now infamous window net might find a location alongside his All-Star Race trophy in the future. Wherever it ends up, it will always be a reminder of one of the craziest finishes to a Cup Series race that anyone watching in person or on television won't soon forget.
Like Sportscasting on Facebook. Follow us on Twitter @sportscasting19 and subscribe to our YouTube channel.