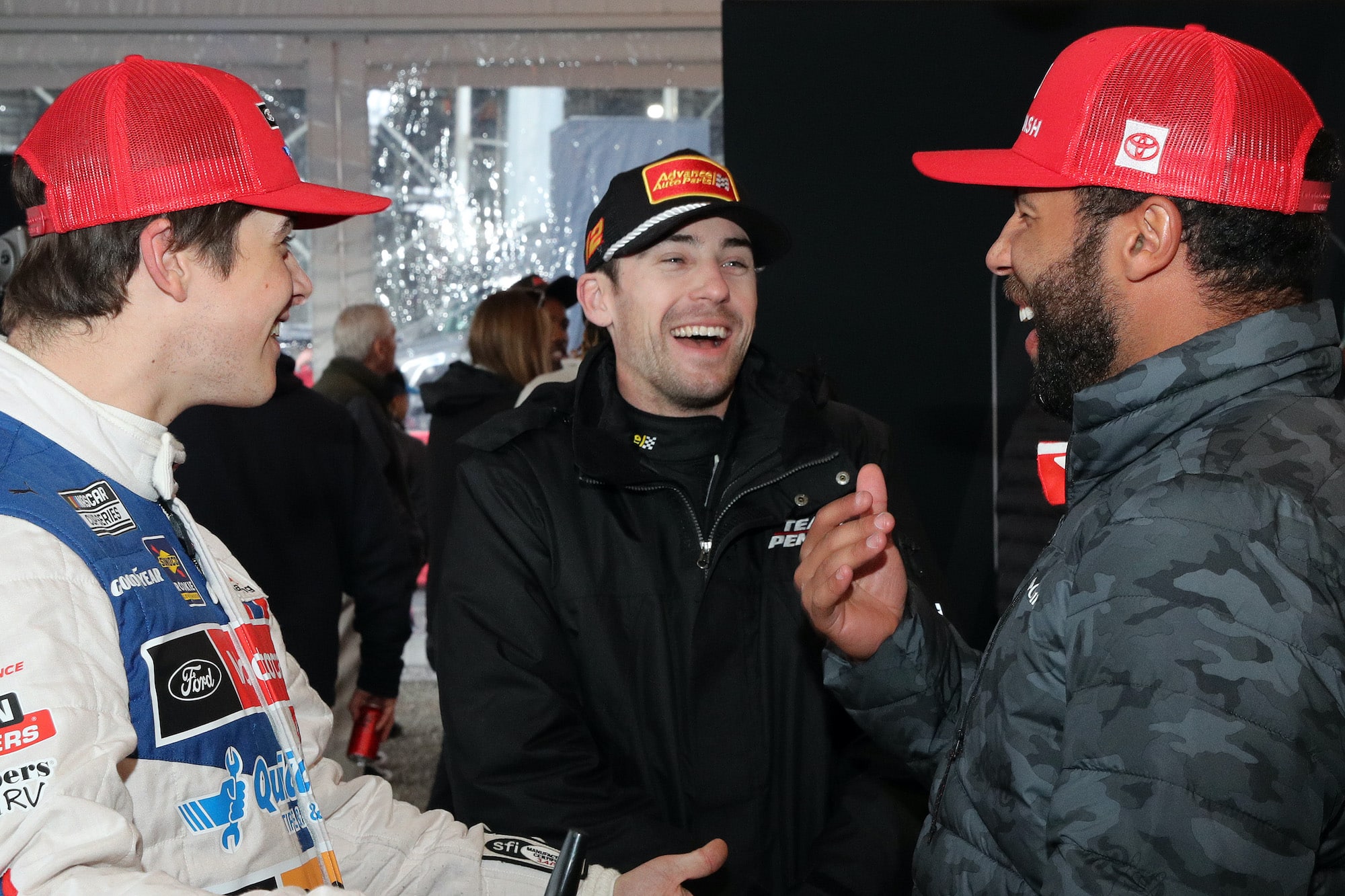 Ryan Blaney Makes Surprising Joke About Bubba Wallace, Which Stuns Show Host, and Prompts Driver to Apologize
Ryan Blaney appeared on NASCAR Race Hub this week and made a surprising joke about Bubba Wallace that he regretted after saying it and apologized.
Bubba Wallace and Ryan Blaney's friendship is well-documented. As the case is in any close friendship, sometimes one jokes at the other's expense. Typically, it's done in private. Not this week.
This week when the Team Penske driver appeared as a guest on NASCAR Race Hub, he was asked to give his assessment on his friend's season. Blaney then made a surprising remark that left the show host covering her mouth and prompted him to apologize. 
Ryan Blaney uncomfortably analyzes Joey Logano-William Byron conflict
Ryan Blaney has been a regular guest on FS1's NASCAR Race Hub this year. During this week's appearance, he found himself in an awkward position being asked to analyze the Darlington incident between his Penske teammate Joey Logano and his sister's boyfriend, William Byron. 
"Well," Blaney said before pausing. "Teammates with one. My sister dates the other. Thank y'all for having me back this week again to discuss these topics. I mean, hey, being a racer, I can understand both sides there. From William's frustration to Joey's mindset on, you know, he put me in the fence to get the lead, so if I get back to him, I'm going to make sure I get back to the lead. 
"But in Byron's situation, he thought he was wronged by — he thought that was over the line of Joey putting him in the fence. I mean, hey, whoever you're a fan of, you're going to side with. That's just what it is. I can understand both sides of it as a racer. If I was William, I'd be upset. If I was Joey, I'd feel justified in what I did. You're going to always have different mindsets but at the end of the day we've seen these things happen toward the ends of these races — people rubbing fenders and bump and runs. 
"Let's not forget the racing has been that good for that to happen. No one has been running away with these things. They've been great finishes. I know people have been like is this dirty, clean, what's going on with the sport. It's always been this way. We just got to appreciate how it's always been this close to have these great finishes this year."
Blaney jokes at Bubba Wallace's expense and apologizes
Later in that same show, Blaney and Michael Waltrip compared the 2022 performances of Denny Hamlin and Bubba Wallace. The numbers interestingly revealed that despite Hamlin's win, he and his 23XI Racing driver have the same number of top 10s (one), but Wallace has a higher average finish of 20.8 versus 22.3.
When host Kaitlyn Vincie asked Blaney what he made of the year Wallace has had, the Team Penske driver first paused, then offered a surprising response.
"Well, you know, I don't know. He got engaged and his year's gone downhill," Blaney said, laughing. 
"Oh man!" Vincie responded as she covered her mouth.
"Just kidding," Blaney promptly responded. "I'm just kidding," he repeated. "I think his year has been pretty decent so far. He's run really good. He almost won the (Daytona) 500. He had a shot to win Talladega and I think the other tracks are going to come to him. So I think he's had a pretty good year on track.
"I'm sorry for saying that," Blaney said with a big grin on his face. "I really am. Mainly to Amanda. Not to Bubba."
"I was not expecting you to say that," Vincie concluded the discussion. 
Joke missed the mark
While Blaney's comments were all in good fun, he still apologized. Maybe he realized by Vincie's shocked reaction that he had come close to the line if not stepped over it.  
What made his remarks even more interesting was the timing. He talked about Wallace getting engaged and his season going downhill. The 23XI Racing driver got engaged last July to his longtime girlfriend Amanda Carter. Wallace won his first Cup Series race after that announcement.
Blaney has been a nice addition to FS1 and its NASCAR coverage on both Race Hub and during the Xfinity Series broadcasts. But his attempted joke at his friend's expense missed the mark and prompted him to publicly apologize. Chances are, that wasn't his last apology for saying them.
Like Sportscasting on Facebook. Follow us on Twitter @sportscasting19 and subscribe to our YouTube channel.