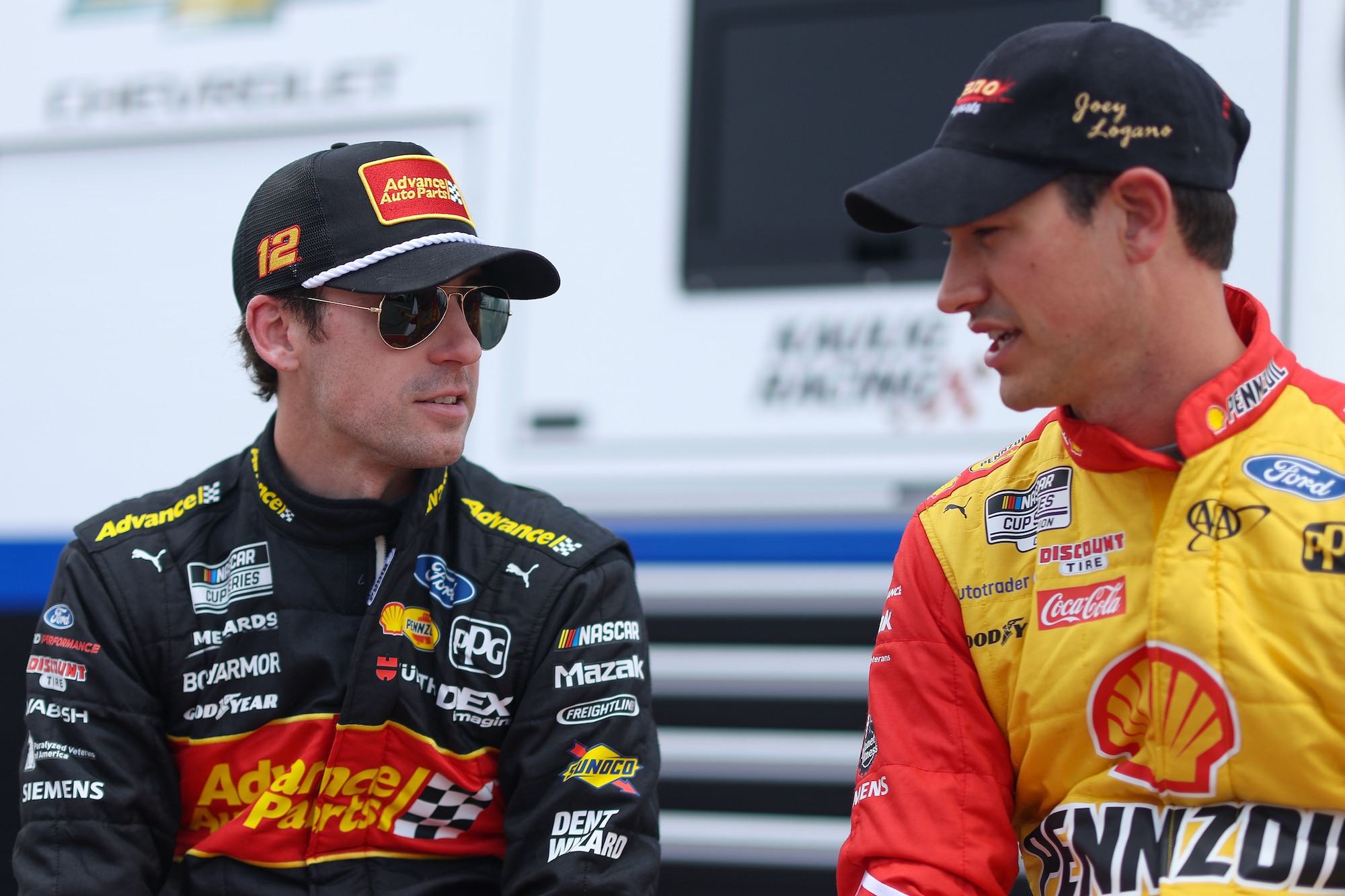 FS1 Makes Ryan Blaney Uncomfortable Discussing Conflict at Darlington Between Teammate Joey Logano and His Sister's Boyfriend William Byron
Ryan Blaney found himself in an awkward situation during his latest appearance on NASCAR Race Hub when he had to address the conflict between teammate Joey Logano and his sister's boyfriend William Byron.
This year, Ryan Blaney has been a regular guest on FS1's NASCAR RaceHub and has shown he has a future in broadcasting when his NASCAR Cup Series racing days are over. This week during his appearance, the Team Penske driver displayed just how good he is by offering his opinion while skillfully navigating the headline-making conflict from Darlington between his teammate Joey Logano and his sister's boyfriend William Byron.
Ryan Blaney awkwardly addressed Kyle Busch's future a few weeks ago
When Ryan Blaney replaces his firesuit with a dress suit for his television appearances, he understands that he's going to talk about some of his fellow competitors and that means sometimes it's going to get uncomfortable. That happened just a few weeks ago when the Penske driver appeared on NASCAR Race Hub and was asked his thoughts on Kyle Busch's uncertain future with Joe Gibbs Racing. 
"You never know how things are going, right. Me, I mean, personally, I don't dig into that stuff. I mean that your guy's job. Hey, I'm just a guest on this show, guys. OK, Kyle," he said looking at the camera, as if talking directly to the JGR driver. "It's unfortunate that M&M's announced that they were leaving. They've been with Kyle for years and years and been a huge part of that team. 
"Listen, at the end of the day, Kyle Busch is probably one of the best race car drivers we've ever seen in the sport and he's won so many races across all three series. Whether it's staying at JGR or going somewhere else, he's going to be a threat no matter where he goes. Or, he could just be playing with us and they already got it done and he's just acting like, you never know."
Ryan Blaney uncomfortably talks about Joey Logano-William Byron incident at Darlington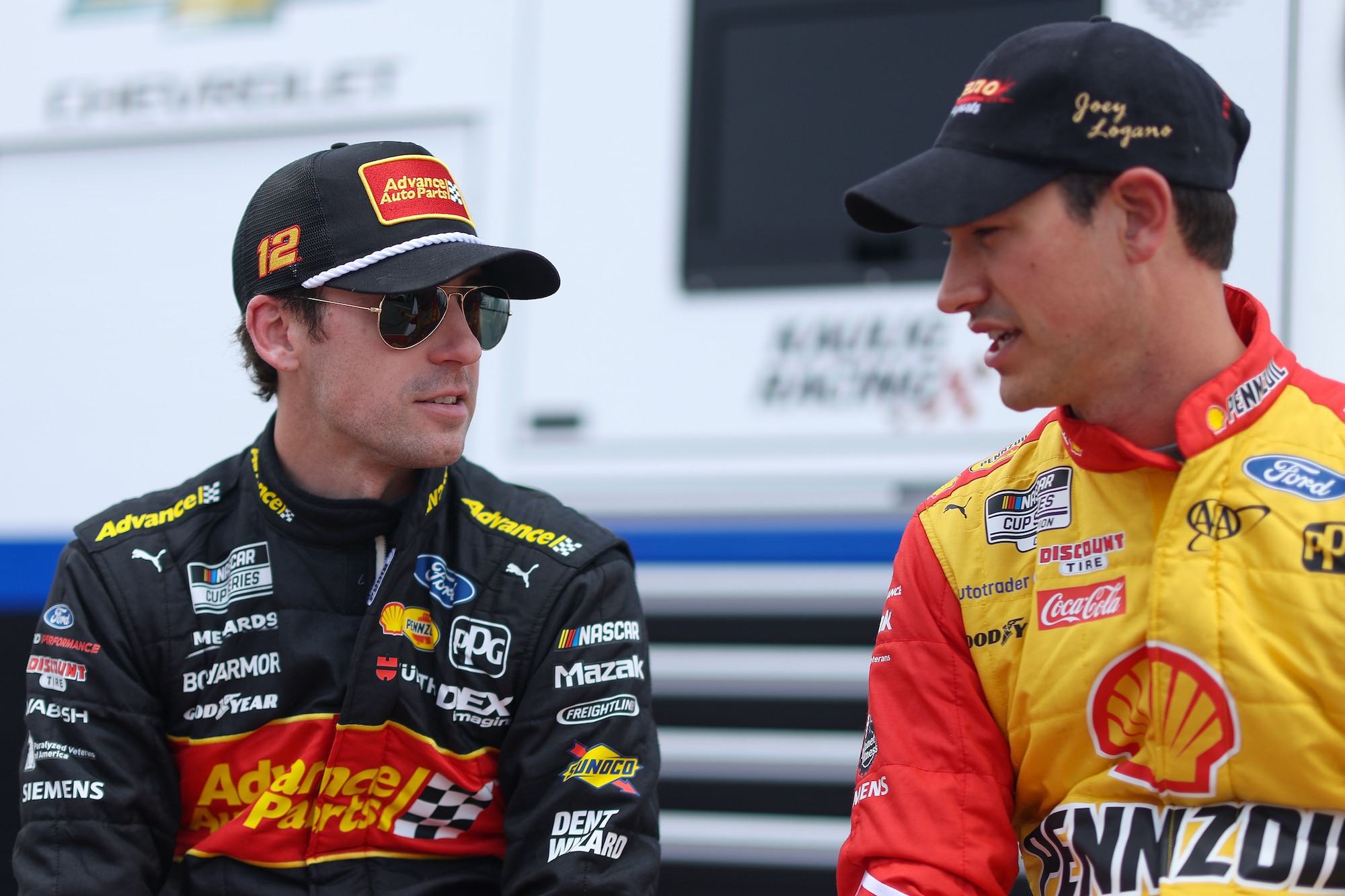 Joey Logano and William Byron's incident at the end of Sunday's race at Darlington is the talk of NASCAR this week. Pundits, fans, and drivers have offered their thoughts on what happened on the track and what was said afterward by the two drivers. 
After showing the incident and the comments from both on Wednesday's episode of Race Hub, Kaitlyn Vincie turned to Ryan Blaney for his thoughts on the situation. Being a driver and commenting on conflicts between other drivers is one thing. However, when one of those drivers is your teammate and the other is your sister's boyfriend is something altogether different.
"Well," Blaney said before a long pause. "Teammates with one. My sister dates the other. Thank y'all for having me back this week again to discuss these topics. I mean, hey, being a racer, I can understand both sides there. From William's frustration to Joey's mindset on, you know, he put me in the fence to get the lead, so if I get back to him, I'm going to make sure I get back to the lead. 
"But in Byron's situation, he thought he was wronged by — he thought that was over the line of Joey putting him in the fence. I mean, hey, whoever you're a fan of, you're going to side with. That's just what it is. I can understand both sides of it as a racer. If I was William, I'd be upset. If I was Joey, I'd feel justified in what I did. You're going to always have different mindsets but at the end of the day we've seen these things happen toward the ends of these races — people rubbing fenders and bump and runs. 
"Let's not forget the racing has been that good for that to happen. No one has been running away with these things. They've been great finishes. I know people have been like is this dirty, clean, what's going on with the sport. It's always been this way. We just got to appreciate how it's always been this close to have these great finishes this year."
Last year Blaney and Byron exchanged words after incident
Last year, during the Saturday race at Pocono, Byron finished third and Blaney finished fifth. After the race, NBC's Marty Snider caught up with Byron for a post-race interview and initially talked about the race before noting his observation about the competition on the track.
"So you and Ryan Blaney are good friends, but this is two weeks in a row you've kind of had run-ins," Snider pointed out. "So what was going on on the track today?"
"Yeah, I don't know," Byron answered, somewhat surprised by the question. "He put me three-wide every chance he can get, so we'll keep blocking as hard as we can. You've got to make your line go, so then make the line go." 
Later that day, Blaney responded on Twitter. "Not blocking good enough, I guess," he tweeted.
In an interview with reporters a few days later, Blaney clarified that everything was fine between the pair. 
"Me and William, we talked like normal at Road America. It's all good," Blaney said. "Just racing hard. I really don't understand why that was a big topic of discussion. You see it every single week with people, but I guess maybe there was nothing to talk about so he had to bring families into it, which I really didn't enjoy, but he (Byron) and I are good."
Ryan Blaney has proven throughout his NASCAR career that he can successfully navigate his way around a track at speeds nearing 200 miles per hour. This year, he's also shown that he's quite adept at navigating some pretty awkward situations on live television.
Like Sportscasting on Facebook. Follow us on Twitter @sportscasting19 and subscribe to our YouTube channel.