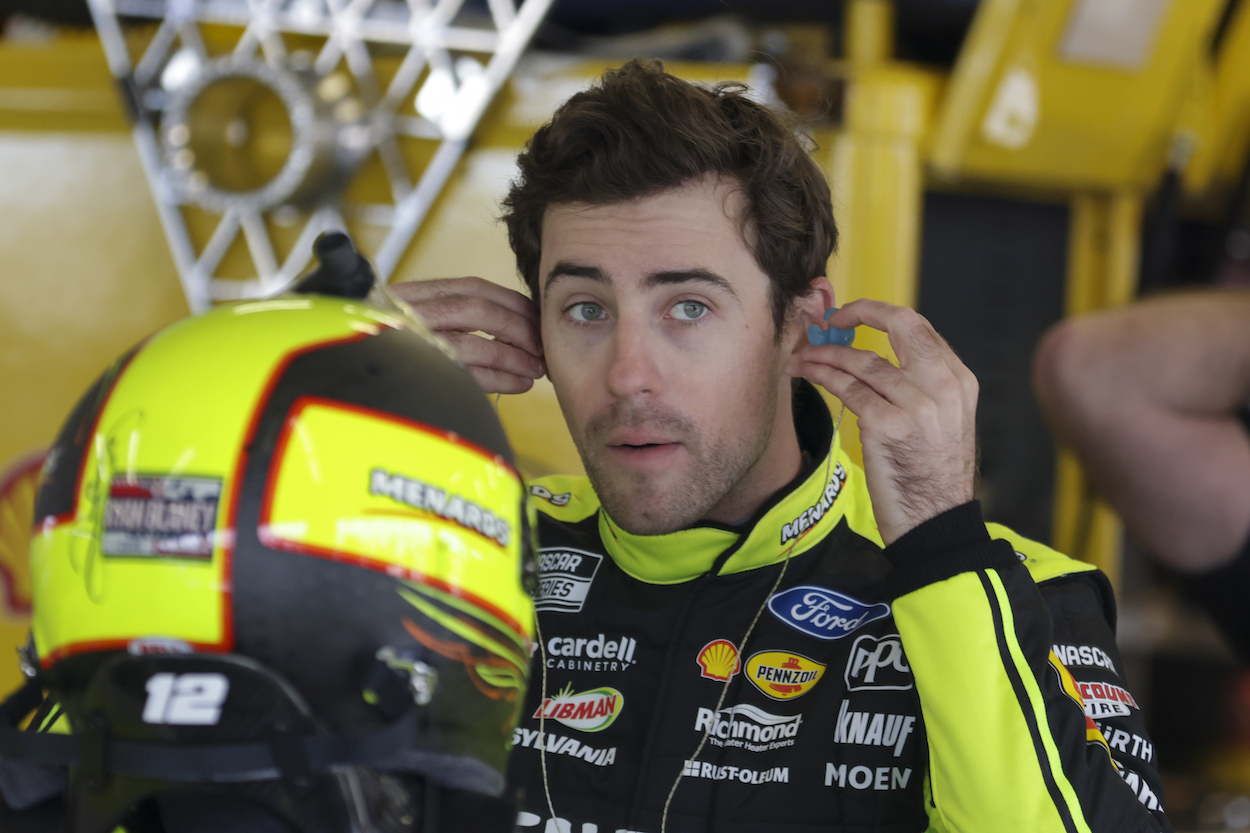 Ryan Blaney Needed to Pee During Daytona 500, Had a Bottle Ready, but Couldn't Execute for an Embarrassing Reason
Before Ryan Blaney made a dash at the 2022 Daytona 500 win, he needed to make a dash to the bathroom. He had a bottle ready. But couldn't pull it off for an embarrassing reason.
Ryan Blaney was in prime position to win the 2022 Daytona 500. He didn't. That's because he selflessly allowed Penske teammate Austin Cindric to get in front of him on the final restart and charge to victory.
Interestingly, several minutes before the wild photo finish at the World Center of Racing, Blaney sat in his car, stopped under red flag conditions. Nature called. He had to pee. He had a bottle ready. However, he couldn't pull it off for an embarrassing reason.  
Ryan Blaney avoids trouble in 2022 Daytona 500
Ryan Blaney was a strong car in the 64th running of the Daytona 500. The 28-year-old who qualified seventh stayed up near the front for much of the race, leading 36 laps. 
What the Team Penske driver did better than most in the field, including his teammate Joey Logano, was avoid trouble. And there was plenty of it. 
But as any driver who's ever driven the Daytona 500 or on any superspeedway knows, fortune is a big part on whether you are there at the end of the race. Blaney had his share of good fortune Sunday, including early in the first stage when Harrison Burton went for a scary ride and landed on his roof.
It was one of the few times during the race the No. 12 car was nowhere near the front. Riding in 28th, he didn't come anywhere close to the crash that took out three-time Daytona 500 champ Denny Hamlin and William Byron. 
Ryan Blaney needs to pee, has a chance and a bottle, but can't
With 10 laps to go, Blaney raced up in the front on the inside lane behind Ricky Stenhouse Jr. and Cindric. Directly behind him on the outside lane, Kevin Harvick got loose after making contact with Chris Buescher, fishtailed, and then went sideways.
Multiple cars were involved in the crash, including the last two Cup Series champions, Kyle Larson and Chase Elliott. Due to a large debris field, NASCAR brought out the red flag and stopped all cars just before the start-finish line, right in front of the sold-out grandstands.
While waiting in his car, Blaney had a dilemma. Nature called. He had to pee. He had a bottle. But he couldn't. 
"Can't even pee in a bottle," he said over the radio. "I got fans looking at me."
Makes selfless move in final restart 
Ryan Blaney never got to relieve himself because the race started several minutes later. After another caution, the two Penske cars of Blaney and Cindric were perfectly positioned for victory on the front row on the final restart in overtime. And that's when he was reminded to follow the plan. 
The drivers were told before the race to avoid what happened a year earlier when Brad Keselowski and Joey Logano headed into the final turn leading the race when the two cars made contact, both crashed, and Michael McDowell split the middle and raced to his first-ever Cup win. 
This time around, that didn't happen. Instead, Blaney slowed enough on the inside lane to allow Cindric to drop down in front of him. The pair made a dash for the finish line, with Cindric blocking his teammate on the outside, almost allowing Bubba Wallace to sneak in underneath and pull off the win.
Cindric won. Blaney finished fourth. And he finally got to relieve himself.  
Like Sportscasting on Facebook. Follow us on Twitter @sportscasting19.