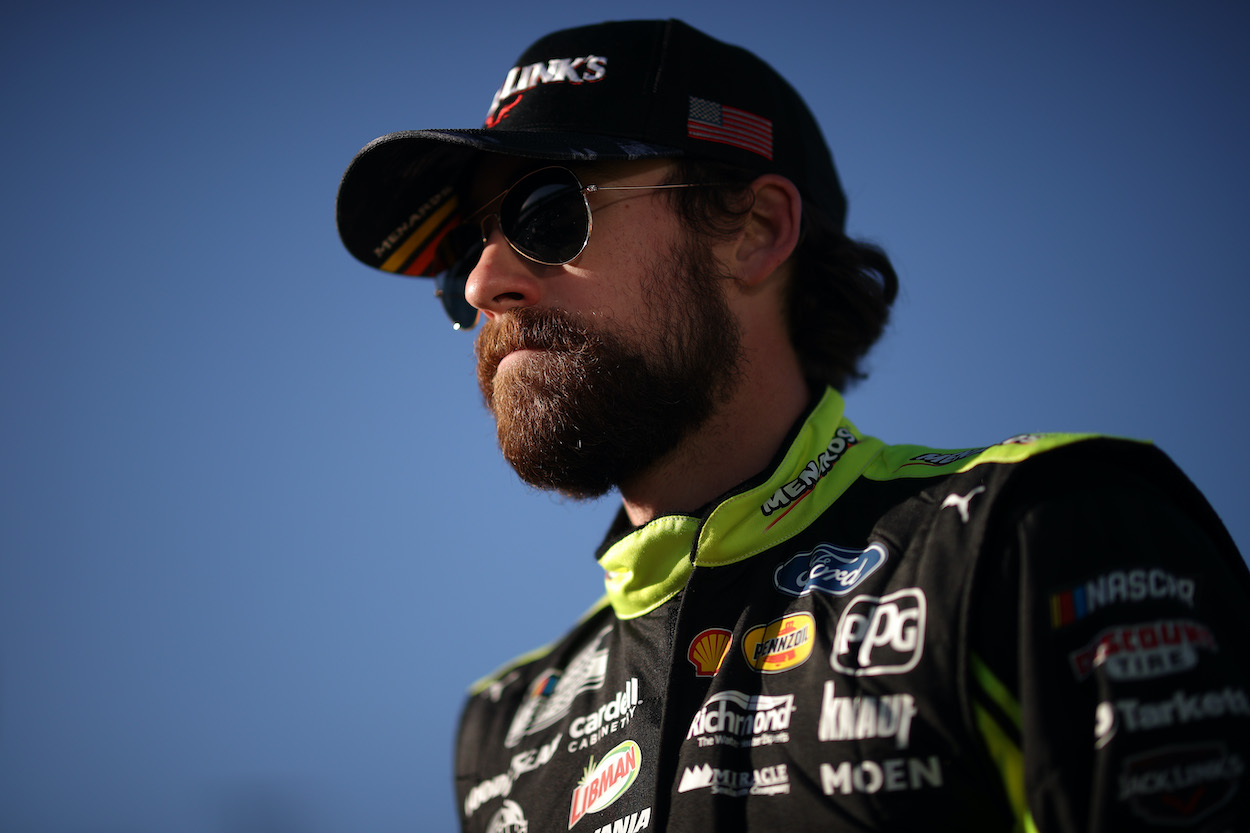 Young Ryan Blaney Shocks Everyone at Daytona With New Look That He Admitted Provides an Unexpected Benefit
Ryan Blaney shocked fans, fellow drivers, and media when he showed up at Daytona for Next Gen testing and looked very different than he did just a month earlier.
Ryan Blaney raced to the best year of his NASCAR Cup Series career in 2021, winning three times, making the playoffs, and finishing seventh in the season's final standings. Despite a massive change with the completely new Next Gen car, it's safe to assume the 28-year-old driver would want to do whatever possible to maintain his routine, replicate last year's performance, and hopefully build on it for an even better result in 2022.  
This week the Team Penske driver showed up at Daytona for testing and revealed that he's ready for a fresh start when he shocked everyone, including veteran reporters, looking remarkably different from the last time he publicly appeared a month ago at the NASCAR Awards in Nashville. It's a new look that he admitted offers an unexpected benefit. 
Ryan Blaney has steadily improved since arriving in Cup Series 
Ryan Blaney has been successful since he debuted in NASCAR with the Truck Series in 2012. That season, racing the last half of the schedule, he recorded five top-10 finishes in nine races, including a win at Iowa. He raced for two more seasons with the trucks and a limited schedule with the Xfinity Series before shifting most of his time to the Cup Series in 2015. 
Since his first full-time Cup season in 2016, the Penske driver has made steady progress, earning a single win each year and finishing the season in the top 10.  
Last year, Blaney had a breakout season, with 19 top-10 finishes, but most impressively, wins at Atlanta, Michigan, and the second race of the year at Daytona. He qualified for the playoffs, advanced to the Round of 8, before being eliminated. He finished seventh in the point standings, tying his previous career-best set in 2019.
Ryan Blaney reveals new look and isn't recognized at Daytona 
Since the final race of the season at Phoenix in early November, Blaney has made several public appearances, including the NASCAR Awards Banquet in Nashville on Dec. 2 and a little more than a week later at the Spider-Man movie premiere in LA. Despite dramatically different attire on the two occasions, he had his standard full brown beard and longer hair, which was how he last appeared at the track.  
This week the pilot of the No. 12 car showed up at Daytona for Next Gen testing, and many didn't recognize him, including Fox's veteran NASCAR reporter Bob Pockrass, who recorded and shared his first interaction with the driver. 
"I didn't recognize you at first. I swear I didn't," the surprised Pockrass told him. He then asked whether or not the new look was mandated from team owner Roger Penske.
"No, it was just that time, that time," Blaney said, touching his hair a couple of times. "I'm unrecognizable, which is a good thing." 
"It literally looks like Ryan Blaney from 10 years ago," Corey LaJoie, standing nearby, chimed in. 
"Truck Series rookie, right here," Blaney said as he walked off.
More expected of him with Team Penske in 2022
While Blaney looks like he shaved off a decade of his life, he is a long way from where he was 10 years ago with the Truck Series, now serving in an expanded role as a leader with Joey Logano for Team Penske after the departure of former teammate Brad Keselowski, who rookie Austin Cindric has replaced this season. 
Based on his steady progress, and more specifically, his performance in 2021 when he was the top performer for the team with his three wins, the driver, who many previously referred to as Young Ryan Blaney, has shown he's matured and is ready to step up and lead. 
And if he maintains his new look, he won't have to worry about fans being a distraction and asking him for an autograph. At least for a little while. 
Like Sportscasting on Facebook. Follow us on Twitter @sportscasting19.