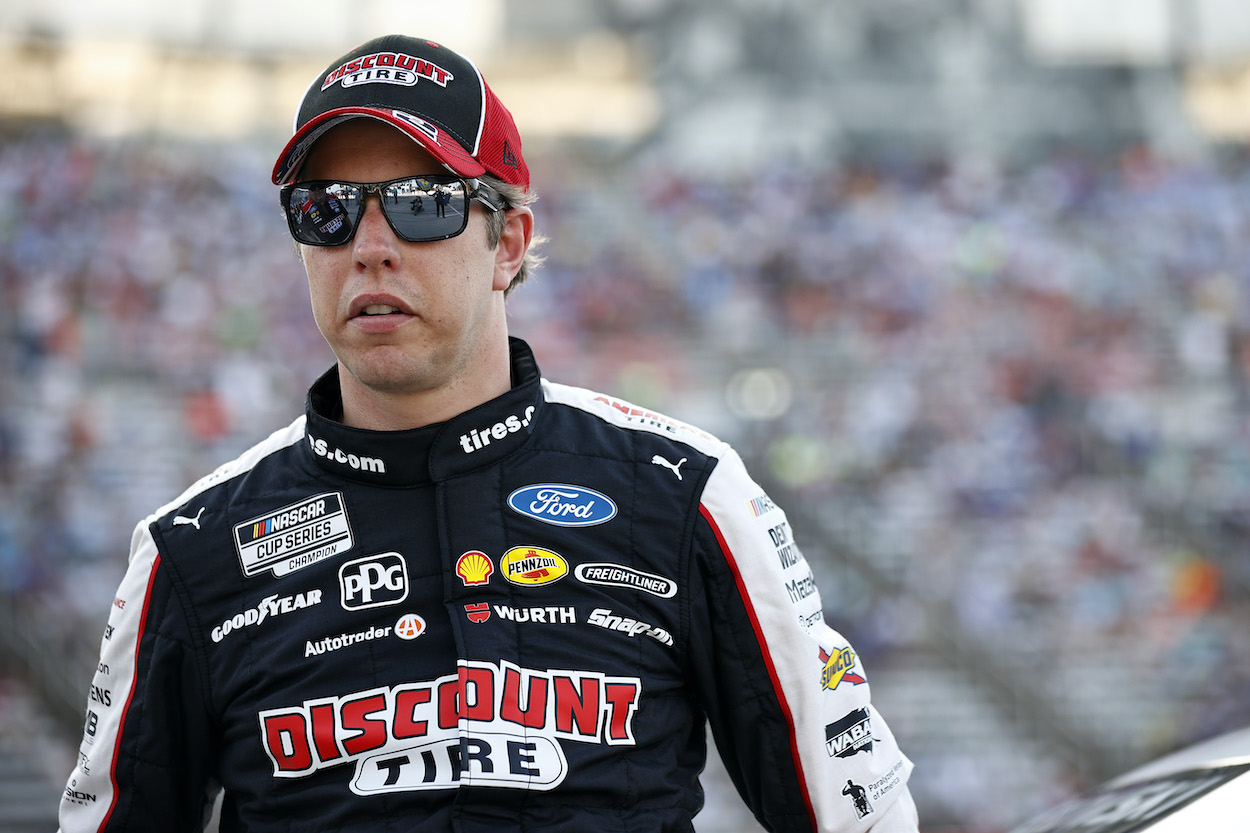 Brad Keselowski Thought He Left Team Penske on Good Terms and Then This Happened
Brad Keselowski made the move to Roush Fenway from Team Penske and thought he left on good terms. Then this happened.
After years of success, Brad Keselowski made a business decision earlier this year when he decided to leave Team Penske and join Roush Fenway in the 2022 Cup Series season to become a driver and part-owner of the organization. In the end, he spoke glowingly of legendary owner Roger Penske and the team. Everything seemed fine.
Now, weeks into his new gig at Roush Fenway Keselowski (RFK), it appears those good feelings from the long-term relationship at Penske have subsided as his former team recently made a move that reveals how officials there don't believe they owe him anything.
Brad Keselowski joins Roush Fenway Racing 
Brad Keselowski will go down in Team Penske history as the driver who won the first NASCAR Cup Series title for the company and its famed owner back in 2012. In July of this year, Keselowski announced he would be joining another respected owner in Jack Roush to start a new chapter in his racing career. 
"It's been a heck of a journey with Roger Penske and the whole team," Keselowski said at the NASCAR Hall of Fame during a press conference. "I'm really proud of it. I'd be remiss to say I'm a little bit sad to leave some great people, some great friendships. But I'm excited with this opportunity in front of me. It's an incredible opportunity."
Since joining RFK, Keselowski, who has a minority stake ownership in the company, has hit the ground running. In addition to his behind-the-scenes work as a co-owner, he's been very public in his new role as a driver, recently testing out the No. 6 Next Gen car at Charlotte Motor Speedway.   
Penske prevents him from using font on car
It's undoubtedly going to take NASCAR fans some time getting used to seeing Keselowski in the No. 6 car after more than a decade in the No. 2. One of the smaller things the 37-year-old driver attempted to bring over to his new ride to maintain some brand continuity was the appearance of his name on the nameplate above the driver's window.
Attempted being the operative word. According to Fox's Bob Pockrass, for some unknown reason, the powers that be at Penske objected to Keselowski using the same font at RFK. It was changed. 
Pockrass included side-by-side photos on Twitter that featured the old font and the new font on Keselowski's nameplate and wrote: "How it started | how it's going (Penske font (police emoji) apparently had their say)."
The reporter also asked the driver about the situation, and he provided a simple response. 
"I'm happy. I've got the same [new] one on my belt. … I'd rather not get into [what happened]," Keselowski responded.
Brad Keselowski gets TJ Majors as spotter  
While Brad Keselowski didn't get his wish to use the old font with him at RFK, he didn't have to leave everything from Penske behind. Next season the driver will have one of the key members of his team with him in spotter TJ Majors. 
Keselowski and former Penske teammate Joey Logano swapped spotters in the latter half of the season following the announcement of his departure. 
"It ended up working out in a really good way for all parties," Keselowski said when the spotter swap was announced. "I've had a lot of success with Coleman Pressley, and proud of that history that we had. I look forward to doing the same with T.J. I feel like I'm looking at having the No. 1 spotter in the sport. That's a big kind of get for me, not just now, but for years to come. I'm pretty happy."
When comparing a spotter to a font, Keselowski made a good business decision.
Like Sportscasting on Facebook. Follow us on Twitter @sportscasting19.