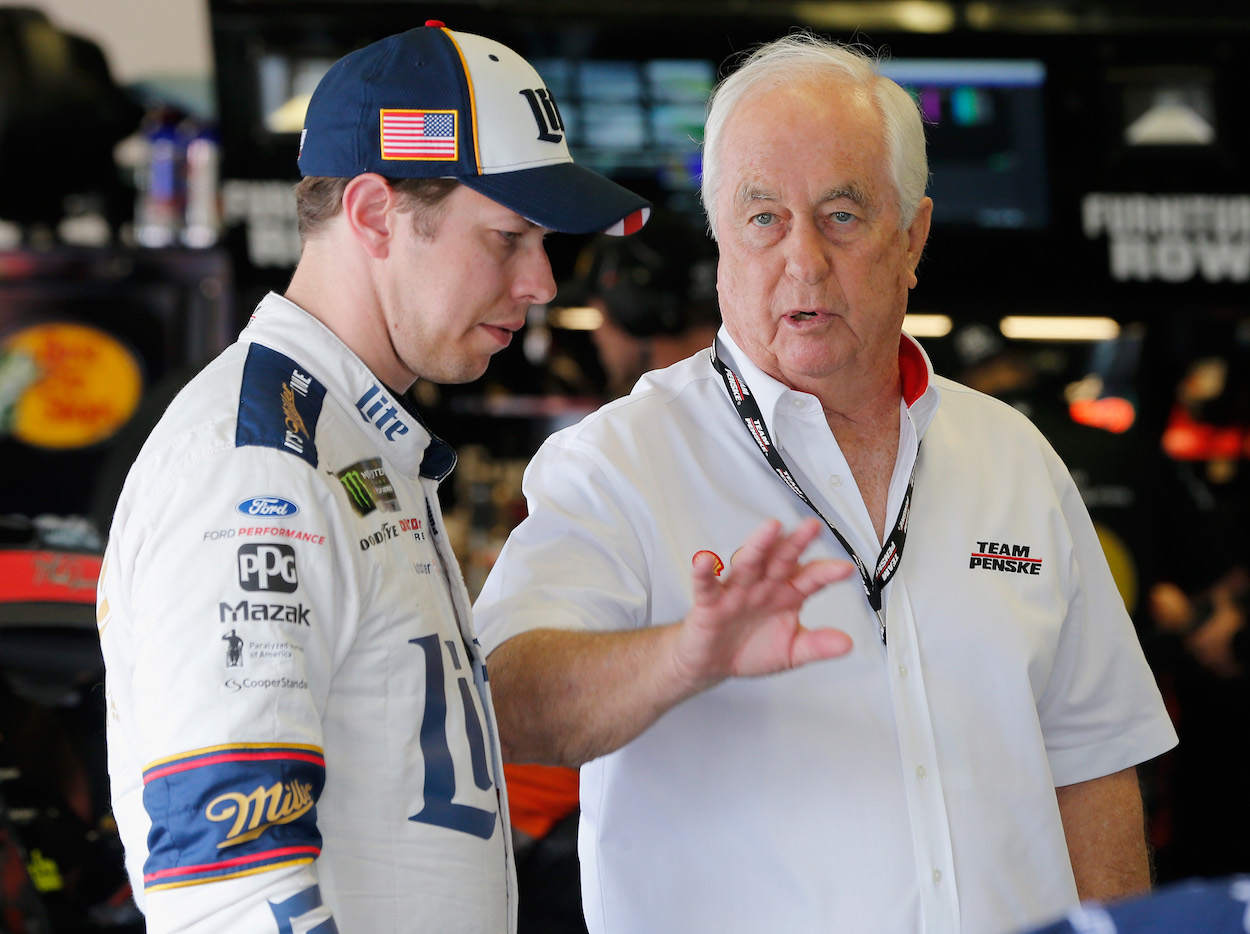 Brad Keselowski and His Future With Team Penske All but Decided Based on Latest Revealing Comments by Roger Penske
Brad Keselowski is moving on from his time with Team Penske based on Roger Penske's latest remarks on the No. 2 team.
Brad Keselowski joined Penske Racing in 2010 for his first full season on the NASCAR Cup Series. In the last 11-plus years, the No. 2 car has recorded 34 wins and captured the 2012 championship. Last week news broke that Keselowski was potentially heading to Roush Fenway Racing, where he would have an ownership stake in the team. There has been no official word from the team but Roger Penske's latest comments appear to indicate it's all but a done deal.
Brad Keselowski rumored to leave Team Penske
Brad Keselowski has had an up and down start to the 2021 NASCAR Cup Series season. It began ominously during the final lap of the Daytona 500, where he was in a position to win the race, running second behind Penske teammate Joey Logano. However, the pair tangled in the final couple of turns and created "the big one." Both fell out of contention, and he finished 13th. 
In the 13 races since, Keselowski has had some strong runs with five top-5 finishes, including a win at Talladega. However, he's also encountered his share of struggles, including a 28th at Atlanta and a season-worst finish of 33rd at Martinsville.
The biggest news on Keselowski this year came last week off the track when multiple media outlets reported he likely would accept an offer from Roush Fenway Racing to become a part-owner and driver for the team in 2022.
The move appeared unusual on the surface, considering Penske is a top-tier team, and Roush hasn't consistently made the playoffs. But the Next Gen car in 2022 changes everything, and all teams using the same equipment effectively levels the playing field. 
Joey Logano addresses teammate's potential departure
Last weekend Keselowski and his Penske teammates traveled to Austin, Texas, and Circuit of the Americas for the inaugural EchoPark Automotive Texas Grand Prix. Keselowski struggled in the elements and finished 19th at the rain-shortened event. Logano was the best Penske car on the day and finished third.
After the race, reporters asked Logano his thoughts on Keselowski's potential departure. Logano admitted he wasn't aware his teammate was looking to leave but acknowledged it didn't come as a total surprise.
"When you look at what happened last year and the one-year term, you could kind of see the writing on the wall for the most part. Whatever he does, everything is up at the end of the season," Logano said. "Definitely an interesting period for us at Team Penske and for Brad and his life."  
Roger Penske all but confirms Keselowski is moving on
Logano's remarks suggested Keselowski was eyeing a move out of the Penske organization last year when he opted to pass on a long-term deal and instead signed a one-year contract. Outside of Logano, Keselowski and the team have remained quiet on the matter. Until now.   
Jeff Gluck of The Athletic caught up with Roger Penske in Indianapolis before the Indianapolis 500 and asked him about Keselowski, and more specifically, who would drive the No. 2 car next year. Penske's response proved to be very telling.
"We really haven't made a decision at this point. We've got a contract with Brad through the end of the year and we'll make a decision when that's over."
Like Sportscasting on Facebook. Follow us on Twitter @sportscasting19.
RELATED: Joey Logano and Brad Keselowski Receive Orders From Roger Penske Ahead of Talladega to Avoid Repeat of Daytona 500