Brad Keselowski's Farewell Video to Roger Penske's NASCAR Team Is Pure Class
Article Highlights:
Brad Keselowski is down to his final race for Team Penske after arriving in 2010
Keselowski will drive in 2022 for Roush Fenway Racing, where he will have an ownership stake
Keselowski is bidding farewell to Team Penske with a touching social media video
Brad Keselowski is only 37 years old and presumably has several years of racing ahead, but the NASCAR Cup Series veteran isn't forgetting the man or the team that made the next chapter of his life possible. With one race left before joining Roush Fenway Racing as an owner/driver, Keselowski went to social media to deliver a heartfelt thank you to Roger Penske and his organization.
The three-minute video exhibits pure class and confirms that both Penske and the Roush Fenway leadership picked the right guy.
Brad Keselowski has all but clinched a Hall of Fame nod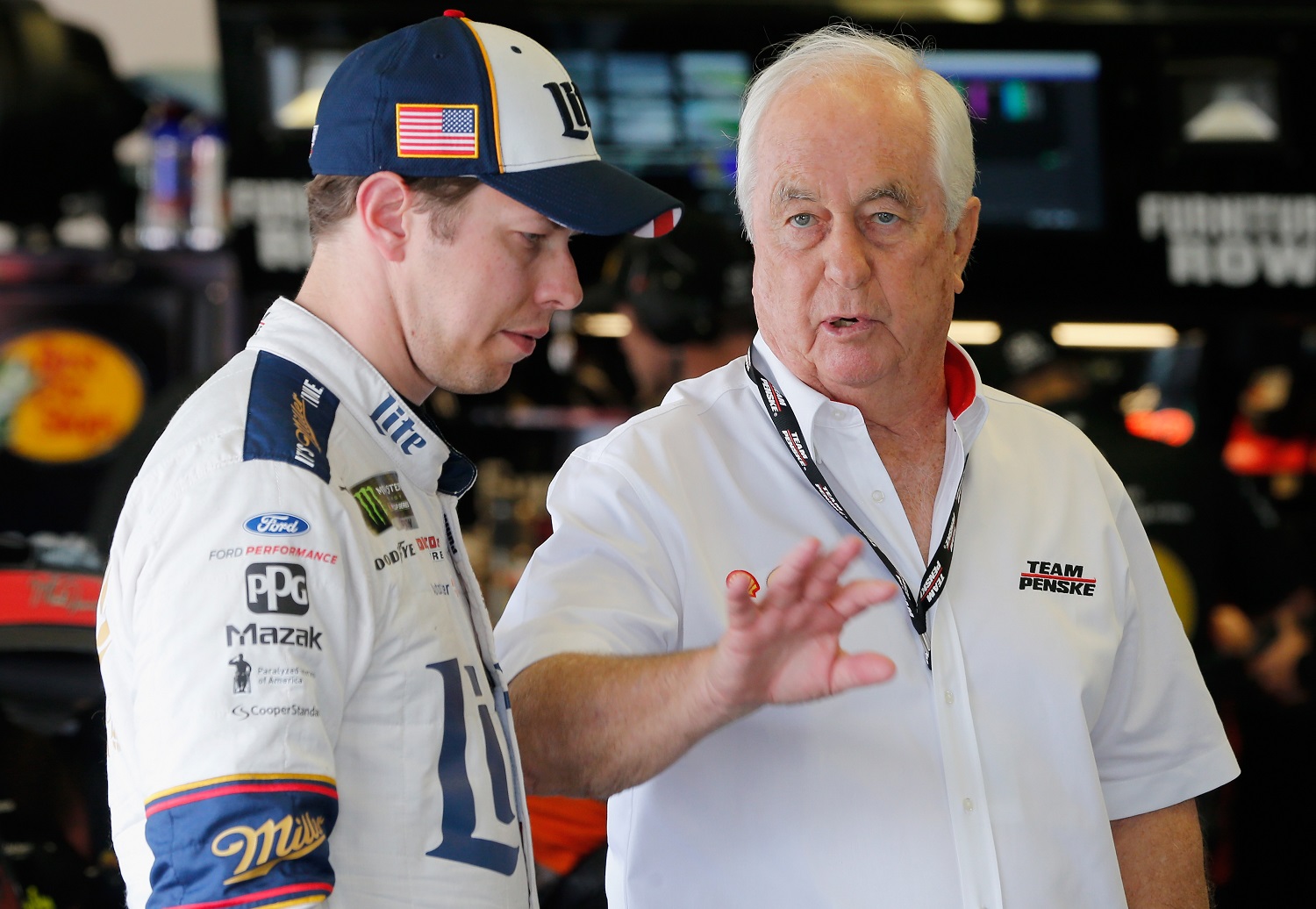 A driver with 447 Cup Series starts tangles a few times with fellow racers. But about the most memorable transgression in Brad Keselowski's NASCAR personnel file might be the $25,000 fine for posting pictures from his car while waiting out red-flag stoppages.
His accomplishments far outweigh anything else, and nearly all his triumphs, 34 of 35 checkered flags in the Cup series and 33 of 39 in the Xfinity Series, have come since joining Team Penske in 2010.
Even more significantly, Keselowski rode six of the victories in 2010 to the Xfinity season championship and five in 2012 to the Cup series crown. That will be more than enough to assure Keselowski a place in the NASCAR Hall of Fame down the road.
Then again, he probably isn't even done racking up accomplishments.
Brad Keselowski's farewell video to Team Penske is pure class
Brad Keselowski tried to go out on a huge positive note by winning the Championship 4 this weekend in Phoenix. It wasn't meant to be as his third-place finish at Martinsville wasn't enough to advance. Nevertheless, he does get to represent Team Penske one more time before moving on to an owner/driver role that he negotiated with Roush Fenway Racing.
This week, Keselowski unveiled a classy social media video expressing his gratitude to the team and owner Roger Penske. It featured the driver sitting among racecars and trophies from his time at Team Penske.
"The first year or two, what stands out to me is how well things were going on the Xfinity side and how poorly things were going on the Cup side," Keselowski said. "It was such an interesting time in my life because I would race the preliminary races and feel on top of the world and race the Cup races and feel like nothing. Roger Penske's willingness to work with me through that process was really pivotal to our success, and I'll never forget that."
Keselowski, who has won a Cup series race in 11 straight seasons, was also effusive in his praise of the organization, which numbers roughly 500 employees.
"Thank you. Thanks for everything you've done for me," he said. "Thanks for the commitment and support you've given to me and my racing career throughout the years. Couldn't have done this without you, and I appreciate you now and always."
Brad Keselowski heads off to a big challenge in 2022
Brad Keselowski will join Roush Fenway Racing for the 2022 season, driving the No. 6 Ford and taking on other responsibilities in his role as a co-owner of RFR. He is squaring away the driving aspect of his dual career already, having revealed this week that  Matt McCall is his new crew chief. 
His more important role will be helping to reshape an organization that needs a kick-start. The No. 6 Ford Ryan Newman has driven (and Keselowski will take over) for three seasons hasn't sniffed victory lane since 2011, and Chris Buescher has not been any more effective in two seasons in the No. 17 Ford.
Keselowski will need to harness all his knowledge and time into rebuilding RFR. There are certain parallels to Tony Stewart's mission in joining Stewart-Haas Racing.
"One of the key things is Tony did an amazing job of bringing in key talent," Keselowski said, according to Motorsport.com. "I think we're always looking at talent. Things will change. Teams change. Companies change over time and people go different places and things like that happen."
At the very least, Keselowski is smart enough to know he won't be able to identify and resolve all the issues by himself.
"There's the old Steve Jobs saying, 'We hire smart people so they can tell us what to do, not so I can tell them what to do,'" he said. "And I'm a big believer in that, so there's certainly some work to be done in that area."
First, there's one more day of racing remaining at Team Penske.
All stats courtesy of Racing Reference.