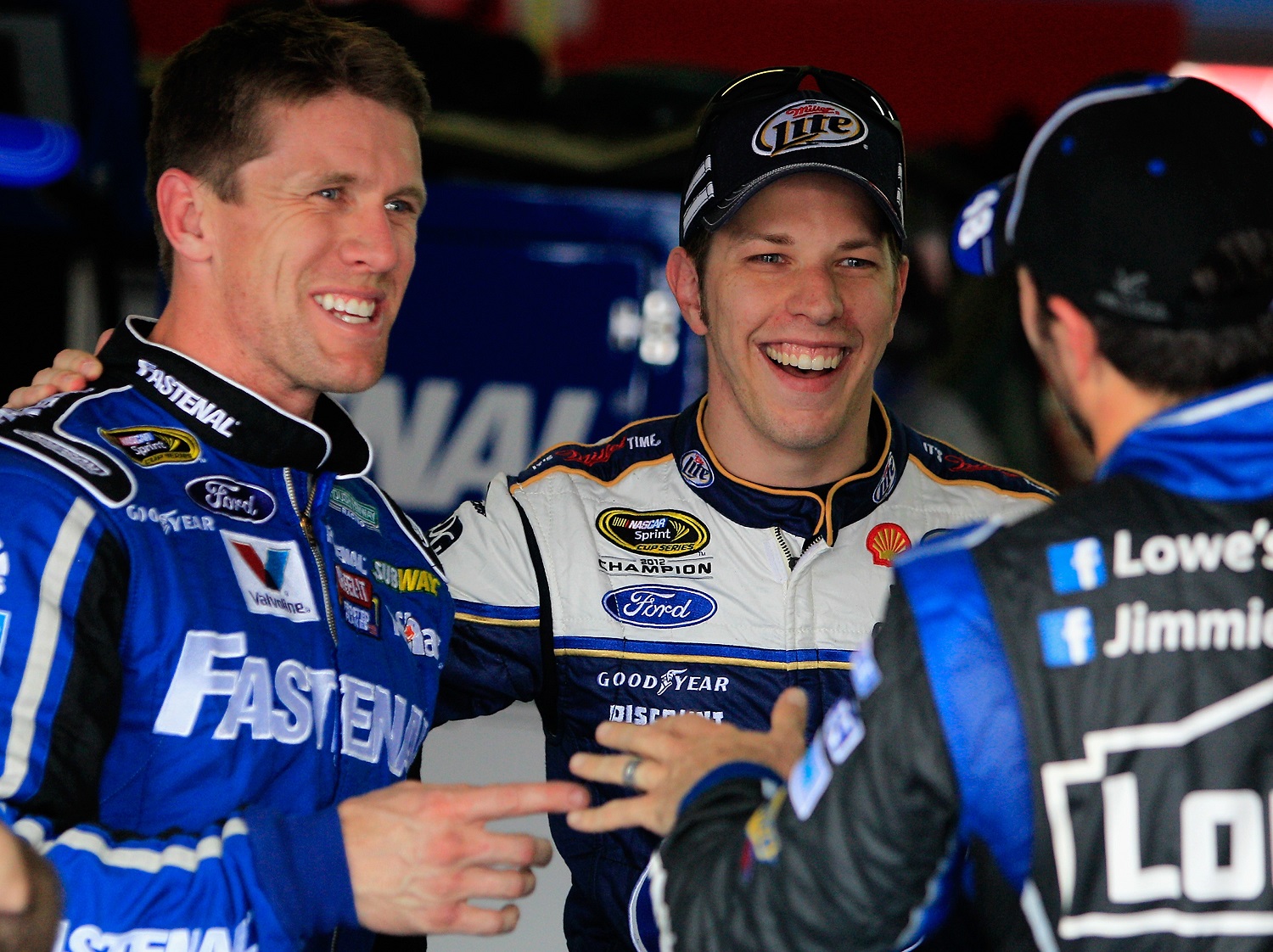 NASCAR star Brad Keselowski Might Be Telling Stories Soon About His Dangerous Feud With a U.S. Senator
Carl Edwards and Brad Keselowski engaged in such a fierce and protracted feud that NASCAR put them on probation.
Given the state of politics, Washington, D.C., is the rare place where retired driver Carl Edwards could re-enact feisty moments from the NASCAR Cup Series and still be considered civil. Edwards is being mentioned as U.S. Senate material, which is surely amusing to those who recall his feud with Brad Keselowski.
Edwards and Keselowski went at it so fiercely that NASCAR officials had to discard their "Have at it, boys" approach to discipline and tell the drivers to knock off the roughhousing before they killed someone.
Carl Edwards is being mentioned as a candidate for high office
Sen. Roy Blount, a Republican from Missouri serving his second term, has announced that he will not stand for re-election in 2022. While November 2022 may seem a long way off, there figures to be a long list of potential candidates, which could necessitate a primary. Before then, there will be jostling as hopefuls try to winnow the field.
Interestingly, one of the names mentioned as a candidate in the immediate aftermath of Blount's announcement is that of Carl Edwards. The NASCAR Cup Series driver who retired in 2016 with 28 race victories and more than $85 million in earnings was previously considered a possibility in 2018, when voters sent Claire McCaskill to Washington.
Edwards, who grew up in Columbia, Missouri, also won 38 Xfinity Series races and the 2007 points championship. He was the season-long runner-up four other times. For all that success, however, he is still largely remembered for his feud with fellow driver Brad Keselowski.
Brad Keselowski might be telling stories soon about a U.S. senator
Oh, the stories Brad Keselowski will be able to tell if Carl Edwards declares his candidacy and subsequently wins a U.S. Senate seat from Missouri. The pair raced against each other full-time in the Xfinity Series from 2007-11 and the Sprint Cup Series from 2009-16.
Their feud began on the final lap of the 2009 Aaron's 499 at Talladega Superspeedway as Keselowski drafted Edwards, fresh off a serious disagreement with Kevin Harvick the previous year, and then made his move on the final straightaway. Edwards blocked one attempted pass but brushed Keselowski on the second try. It sent Edwards into a spin and airborne.  His car bounced off the hood of Ryan Newman's car and into the catchfence as Keselowski took the checkered flag.
Later that season in Memphis, Keselowski tapped Edwards from behind late in the race, again spinning him out. Edwards' car survived, but Keselowski won the race.
Four races into the 2010 NASCAR Cup Series, the pair tangled again. Edwards had tried to go low in traffic during an early restart but brushed Keselowski and slid up the track and into the wall. The damage was significant, and Edwards was more than 150 laps down when he rejoined the race. When he did so, he was obviously hunting for Keselowski, who was running in the top 10.
Edwards found his rival and spun him out. Keselowski's car behaved similarly to Edwards' in the Aaron's 499 wreck a year earlier, though he hit the wall rather than the catchfence. Race stewards parked Edwards for the incident, but there was no further penalty.
NASCAR cracks down on Carl Edwards, Brad Keselowski
By the time that the Xfinity cars, racing in what was known then as the Nationwide Series, got to Gateway International in Madison, Illinois, midway through the 2010 schedule, the hard feelings between Carl Edwards and Brad Keselowski were common knowledge. With Edwards in the lead on the final lap, Keselowski caused contact as he attempted a low pass. Both drivers were able to save their cars, and Keselowski nosed into the lead. At that point, Edwards veered sharply left to spin Keselowski out in front of the pack.
Eleven cars got collected in the wreck as Edwards crossed the finish line uncontested. This time, there were injuries involved, with Keselowski being sent to the hospital to be checked for possible broken ribs. Adding to the seriousness, Edwards all but admitted he'd deliberately wrecked Keselowski.
NASCAR officials had no choice but to acknowledge that the feud would continue if they did not crack down. They placed both drivers on probation for the remainder of the season – the prospect of indefinite suspensions loomed — and fined Edwards $25,000.
"I sincerely apologize to the other guys who were caught up in that wreck," Edwards said, according to ESPN. "But I'm real happy with is that NASCAR realized Brad needed to be penalized, too. My race car could have been the one turned around instead of his."
That was the last of the serious incidents between the two. They wisely toned things down before they killed any innocent bystanders.
Like Sportscasting on Facebook. Follow us on Twitter @sportscasting19.