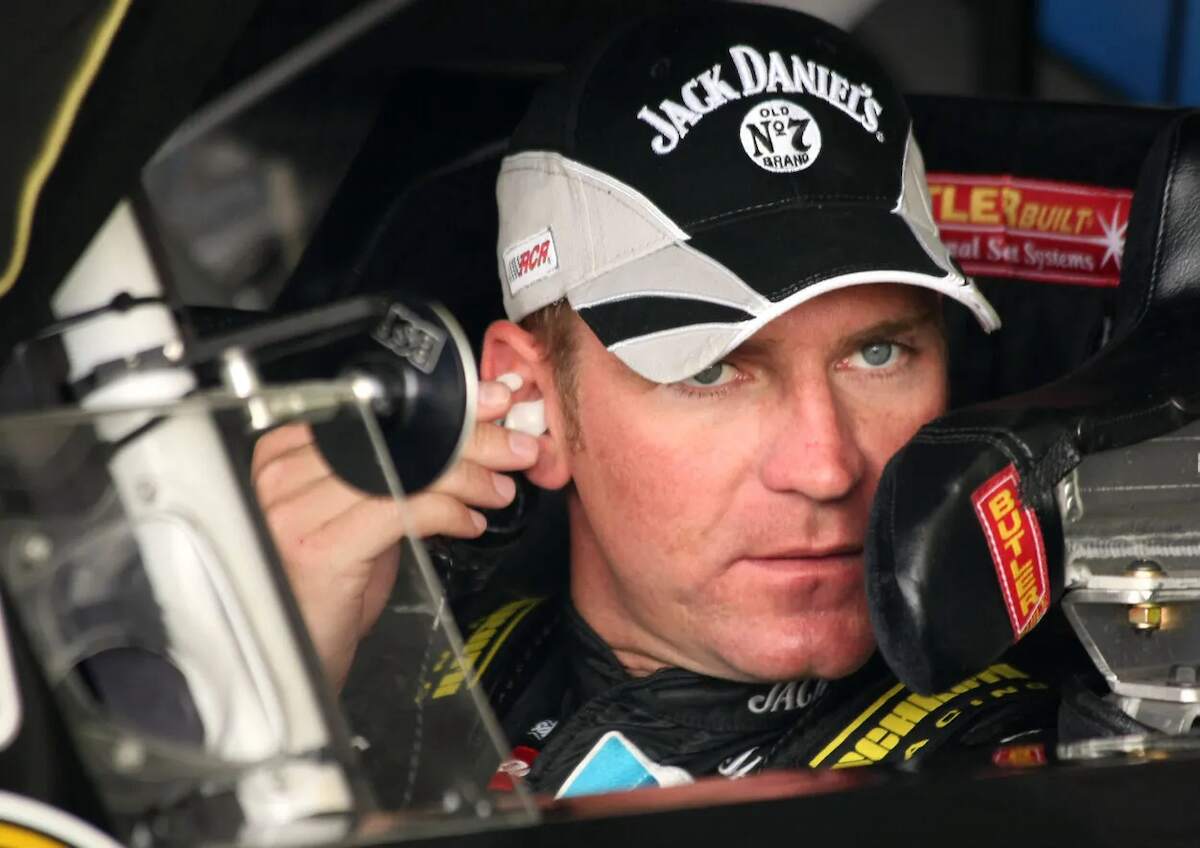 Clint Bowyer's First Victory Led to an All-Out Brawl and a Hiding Flagger
Longtime NASCAR racer Clint Bowyer won his first amateur race at 15 years old, and his victory created a disaster in Kansas.
Clint Bowyer became accustomed to packed racetracks and cheering crowds during his NASCAR career. The same didn't hold true earlier in Bowyer's life.  Growing up in Kansas, a 15-year-old Bowyer captured his first victory at a street stock race. 
What happened after that is something out of 10 Cent Beer Night, trust us.
Clint Bowyer won his first race at 15 years old
There were no trophies or celebrating fans when Clint Bowyer won a street stock race in Junction City, Kan., at age 15.
In a 2012 interview with SB Nation, Bowyer walked Jeff Gluck and his readers through what happened. While participating in a Sunday afternoon race, Bowyer used his driving to create a chaotic scene.
"I was running well and the local hero was behind me. With a few laps to go, under caution, he came up behind me and hit me in the left rear and knocked my tire down. Well, (the officials) let me go to the pits, waited for me to change my tire and put me right back up at the front. I beat him, and boy, the fight was on!"
Trust us when we say that Bowyer wasn't exaggerating about a fight. 
Bowyer's victory started an all-out brawl
The crowd in attendance at Junction City wasn't at all happy with Clint Bowyer's victory. Bowyer explained to SB Nation that his win actually left the fans quite angry. We'll let Bowyer take it from here.
"The pits were fighting, the grandstands were fighting. Everyone was after the flagger; the flagger locked himself in either the restroom or the concession stand, I think. But it was a wild, wild first win. There I was: Like 15 years old in the middle of all of it, just grinning, loving it."
Imagine this scene for a second. A 15-year-old racer's victory made people so angry that they began fighting, and the flagger sealed himself away to avoid getting hurt. There aren't many 15-year-olds capable of creating such havoc, but that is Clint Bowyer in a nutshell.
Things went far better in Clint Bowyer's NASCAR career
Clint Bowyer captured his first Cup Series victory at the Sylvania 300 in Loudon, N.H., during the 2007 season.
Bowyer was 28 at the time and long removed from his controversial victory in Junction City. In 16 seasons at the Cup Series level, Bowyer had 226 top-10 finishes and 10 victories.
Thankfully for Bowyer and his team, none of his victories seemingly inspired the chaos that happened when he was 15. Bowyer is an eccentric person, and NASCAR fans are a passionate bunch, which created a lovable relationship between both parties in his time racing.
Bowyer will turn 45 in May 2024. Perhaps he should spend that day tracking down the racer from his first victory and having a rematch, for old times' sake.
Like Sportscasting on Facebook. Follow us on Twitter @sportscasting19.