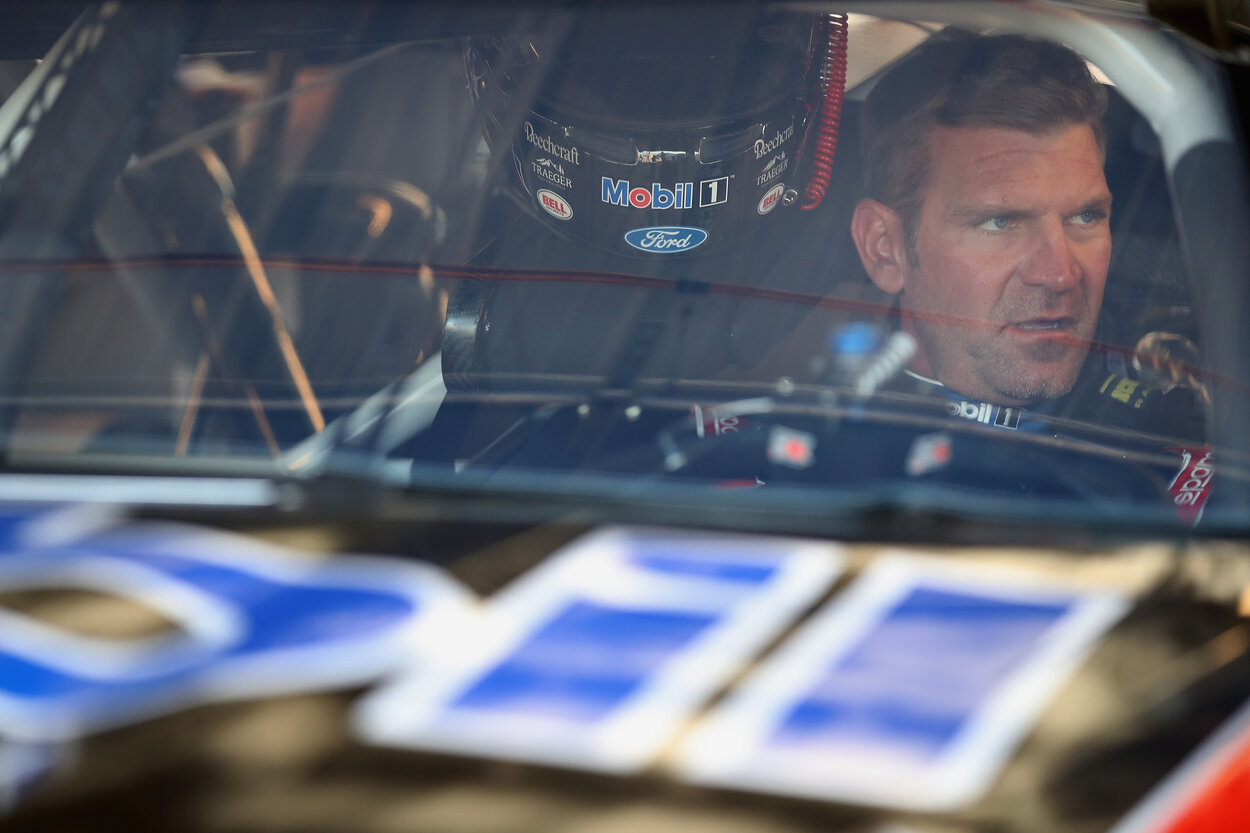 Clint Bowyer Had a Practical and Slightly Disgusting Pre-Race 'Key to Success'
NASCAR veteran and current Fox analyst Clint Bowyer believes that a driver's pre-race 'key to success' involves when to use the bathroom.
During his NASCAR career, Clint Bowyer was one of the sport's most eccentric and affable characters.
Bowyer has always been open with the media and eager to share his charming ways. That extended to discussing everything from upcoming races to what made Bowyer, well, Bowyer.
For example, take Bowyer's idea of what the best pre-race "key to success" was for those who wanted a memorable NASCAR career.
Clint Bowyer's pre-race 'key to success' involved the bathroom
No one can ever say that Clint Bowyer wasn't an open book about how his brain worked.
Longtime NASCAR reporter Jeff Gluck interviewed Bowyer on his personal website in 2018. Gluck asked Bowyer what he believed the key to finding the "best pre-race bathroom was."
Bowyer responded that Gluck's question represented the "key to success in motorsports."
Everybody always asks, 'What do you do pregame? What do you do before the race?' If you don't do one thing before the race, you're gonna wish you did that one thing the entire race. It's three and a half hours out there, Jack. If you've got a Number Two issue on your hands for three and a half hours, you've got a hell of an issue on your hands. It's a s—– situation."
Clint Bowyer is now officially the master of both the practical and slightly disgusting explanation. 
NASCAR drivers understandably have their own bathroom tactics
Clint Bowyer's blunt admission about how a bathroom trip is the key to success in NASCAR should answer some common questions.
As Bowyer pointed out, drivers are in their cars for at least three hours if they don't get into a nasty wreck. This isn't baseball, where the No. 7 hitter can use the bathroom if the No. 9 hitter is leading off the fifth inning.
And, of course, there is no traditional halftime in NASCAR. Football and basketball players can at least take care of their business during the intermission.
Dale Earnhardt Jr. admitted in 2017 that, yes, NASCAR drivers do relieve themselves in their suits if they have no other choice. Earnhardt said he only did it a handful of times in his career.
Clint Bowyer is now at Fox, so he can worry less
Leave it to Clint Bowyer to be so open and blunt about NASCAR drivers and the bathroom.
Bowyer has always been a bit carefree and eccentric with his words. Fox Sports transcribed Bowyer's comments in 2014 about interacting with the hospital staff after his son Cash, was born.
"In the room there I was high-fiving people and I was kind of pushing the doctor out of the way at one point because I was trying to get a better view of him coming into the world. Of course the nurses are trying to hold me back, and they're like, 'You can't get that close.' I'm like, 'Get the hell out of my way, here he comes.'"
Now, Bowyer has taken his unique personality to the broadcast booth. Those watching the recent Dixie Vodka 400 in Homestead, Fla., saw Bowyer wear a Tom Brady jersey and smash the Lombardi Trophy after losing a bet with driver Aric Almirola.
And the best part about being at Fox? If Clint Bowyer has to use the bathroom at any point, he has far more opportunities to get up and sneak to the men's room than he did as a Cup Series driver.
Like Sportscasting on Facebook. Follow us on Twitter @sportscasting19.