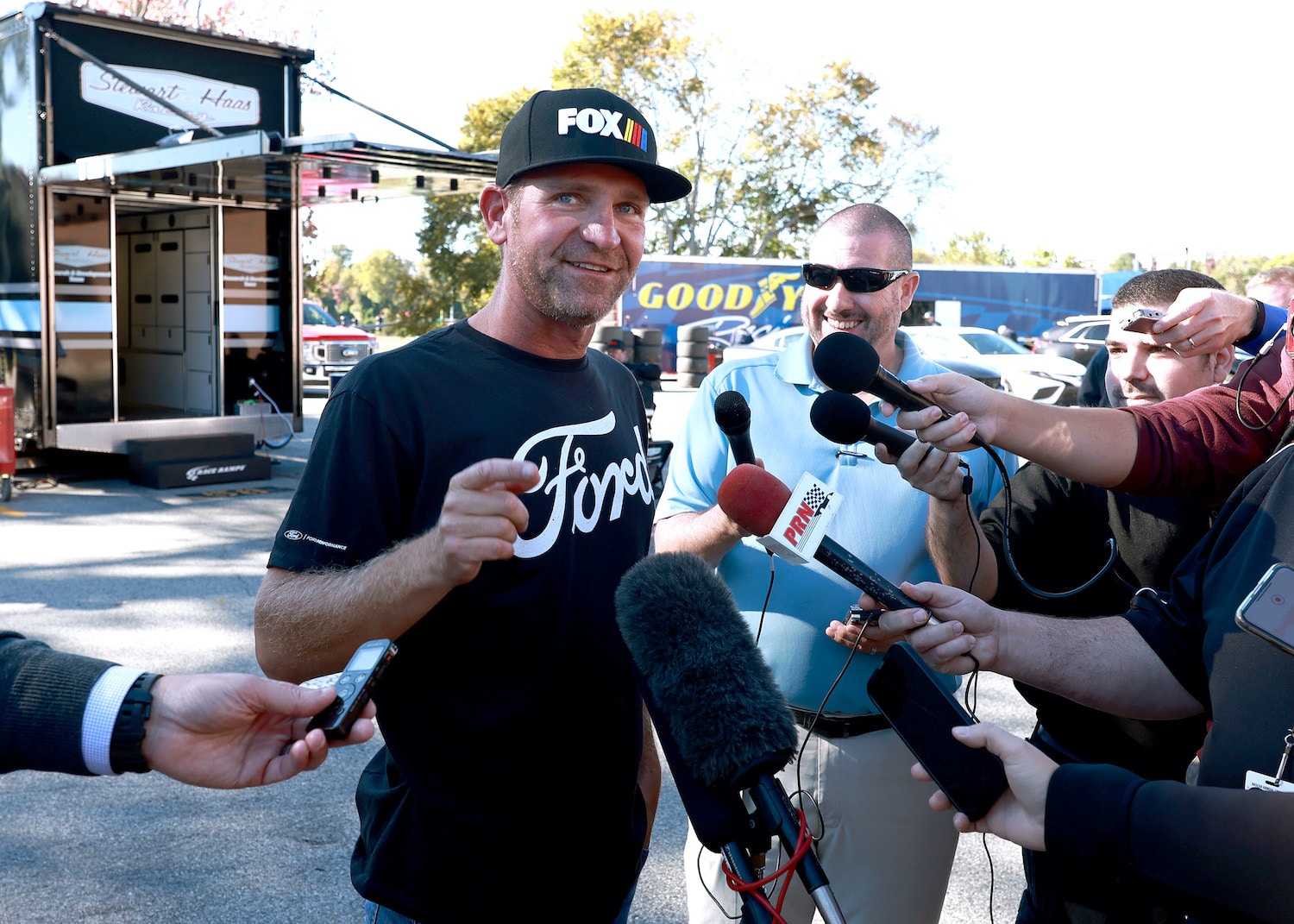 What Is Clint Bowyer's Net Worth?
Clint Bowyer had a solid NASCAR career and earned a healthy amount of money before moving up to the Fox broadcast booth for the 2021 season. What is his net worth?
Clint Bowyer was a 16-year veteran on the NASCAR Cup Series before retiring at the end of the 2020 season and moving up to the Fox broadcast booth. During his career, Bowyer had more than 200 top-10 finishes and 10 wins. He earned a hefty amount of money during his time in NASCAR. What is Clint Bowyer's net worth? 
Clint Bowyer had a solid NASCAR career
After a successful career racing regionally in the Midwest, Clint Bowyer got his big break when Richard Childress spotted him at an ARCA race in 2003. A year later, Bowyer made his NASCAR debut, running a partial schedule in the Xfinity Series.
In 2005, Bowyer raced full-time with Xfinity and was quite impressive, earning 22 top-10 finishes and a pair of wins. He finished second in the overall points standings. He made his Cup Series debut the following year. 
Clint Bowyer finished 17th during his rookie season and then made a dramatic jump his sophomore year in 2007, finishing third overall with 17 top-10 finishes and his first victory in New Hampshire. Bowyer won again in 2008 at Richmond. 
He had his best season in 2012 when he earned three victories and finished second in points, just behind Brad Keselowski. When Bowyer retired after the 2020 Cup Series season, he had collected 226 top-10 finishes and 10 victories, his last at Michigan in 2018. 
Transition to the broadcast booth
Clint Bowyer is consistently full of energy and a fun-loving personality. Fox recognized these attributes over the years during his pre- and post-race interviews. In 2019, the network learned just how good he would be as a commentator when he worked in the broadcast booth with Joey Logano and Kevin Harvick covering an Xfinity race.
That training served him well as Bowyer has seamlessly transitioned into the broadcast booth this season alongside former driver Jeff Gordon and lead man Mike Joy.
Interestingly, Fox has incorporated the past and often very contentious rivalry between Gordon and Bowyer into their segments. The 43-year-old Bowyer more than holds his own as he willingly plays second fiddle to Gordon. The chemistry is there and the audience can sense it each race as the two easily banter back and forth on a variety of topics, most of them about racing.
What is Clint Bowyer's net worth?
Clint Bowyer is a native of Emporia, Kansas, and remains true to his roots as a rabid fan of the local teams, including the Kansas City Chiefs and Kansas City Royals. He's also someone who has given back to his local community. 
In 2008, he hosted the first Clint Bowyer Charity Golf Event. It raised $160,000. He has continued to raise money for the local community through the tournament and other events. In 2012, the fruits of his labor paid off when he dedicated a new community center in Emporia that is used for a variety of purposes, including business meetings, weddings, and VIP concerts. 
With Clint Bowyer's fame, he's been able to use it to raise money and give back to his local community. He's also accumulated a healthy level of personal wealth and, according to Celebrity Net Worth, is worth $40 million. 
While his earnings from NASCAR have stopped flowing, Bowyer can expect his worth to increase because of what looks to be a promising future in the Fox broadcast booth.