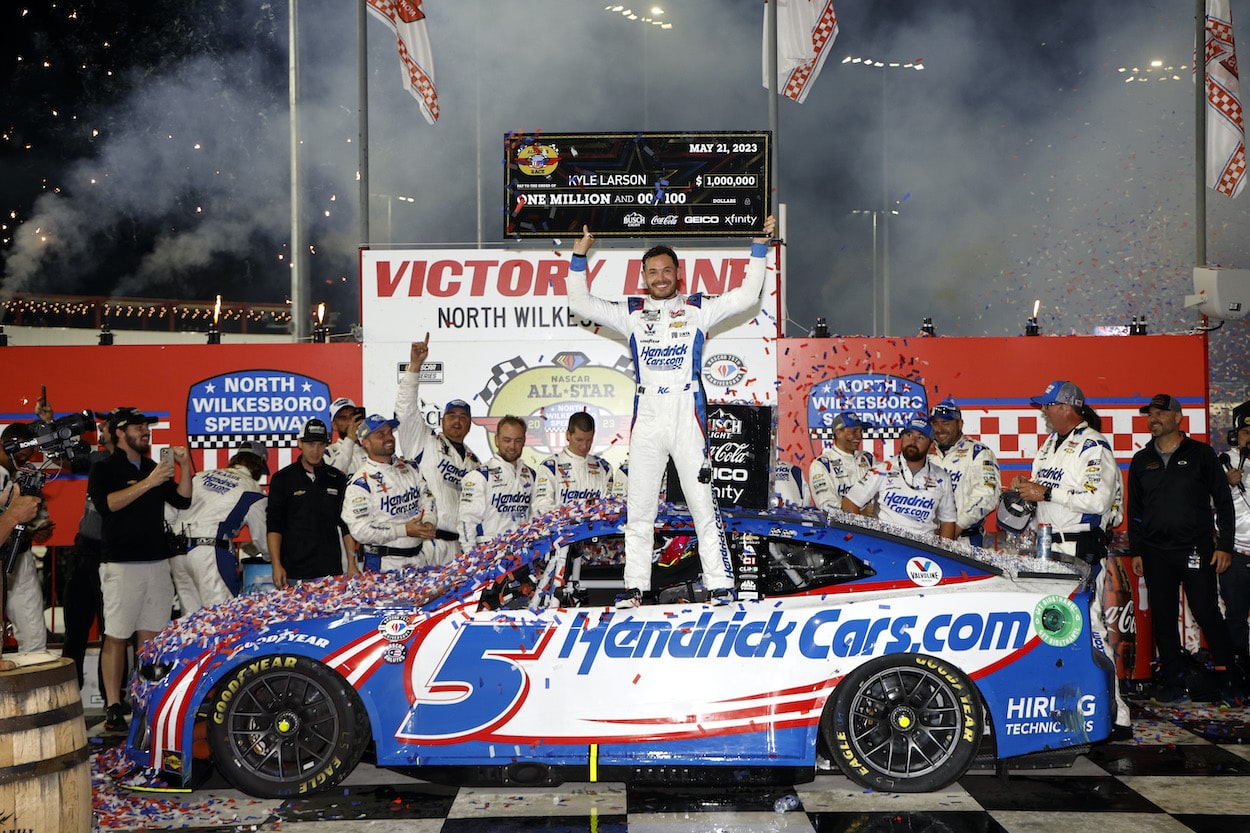 Clint Bowyer Makes Surprising Statement About Kyle Larson and His Lack of Racing Knowledge During All-Star Race
Clint Bowyer surprisingly mocked Kyle Larson during his All-Star Race domination at North Wilkesboro, pointing out the HMS driver's lack of racing knowledge in one specific area.
Kyle Larson showed on Sunday night at North Wilkesboro Speedway why he's considered one of the best race car drivers in the world. He dominated the All-Star Race, which wasn't even close, leading a race-high 145 laps.
During that impressive performance, Clint Bowyer and the Fox broadcast team of Mike Joy and Darrell Waltrip understandably heaped plenty of praise on the 2021 Cup Series champion. However, at one point, the former Stewart-Haas Racing driver took a detour and pointed out one particular area where the Hendrick Motorsports driver lacks in racing knowledge compared to many of his fellow competitors. 
Clint Bowyer points out Kyle Larson's lack of knowledge about his car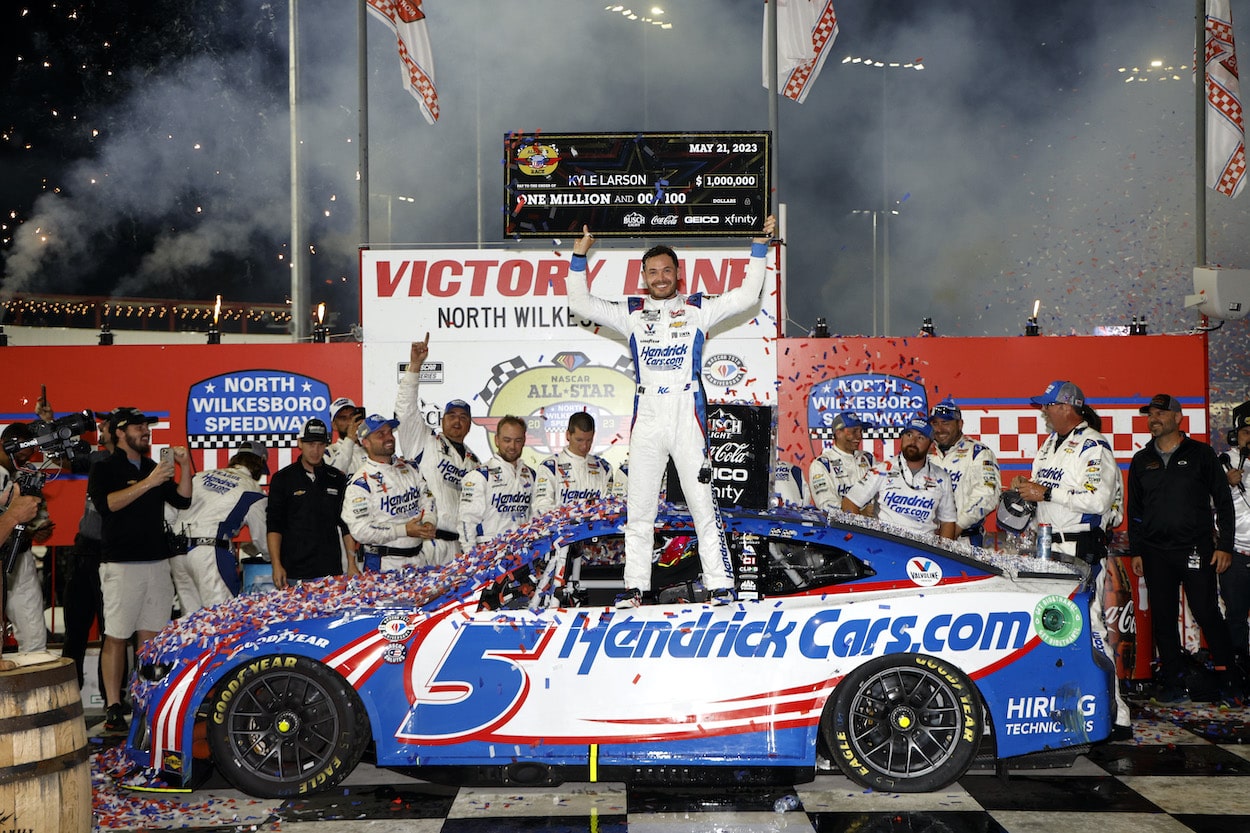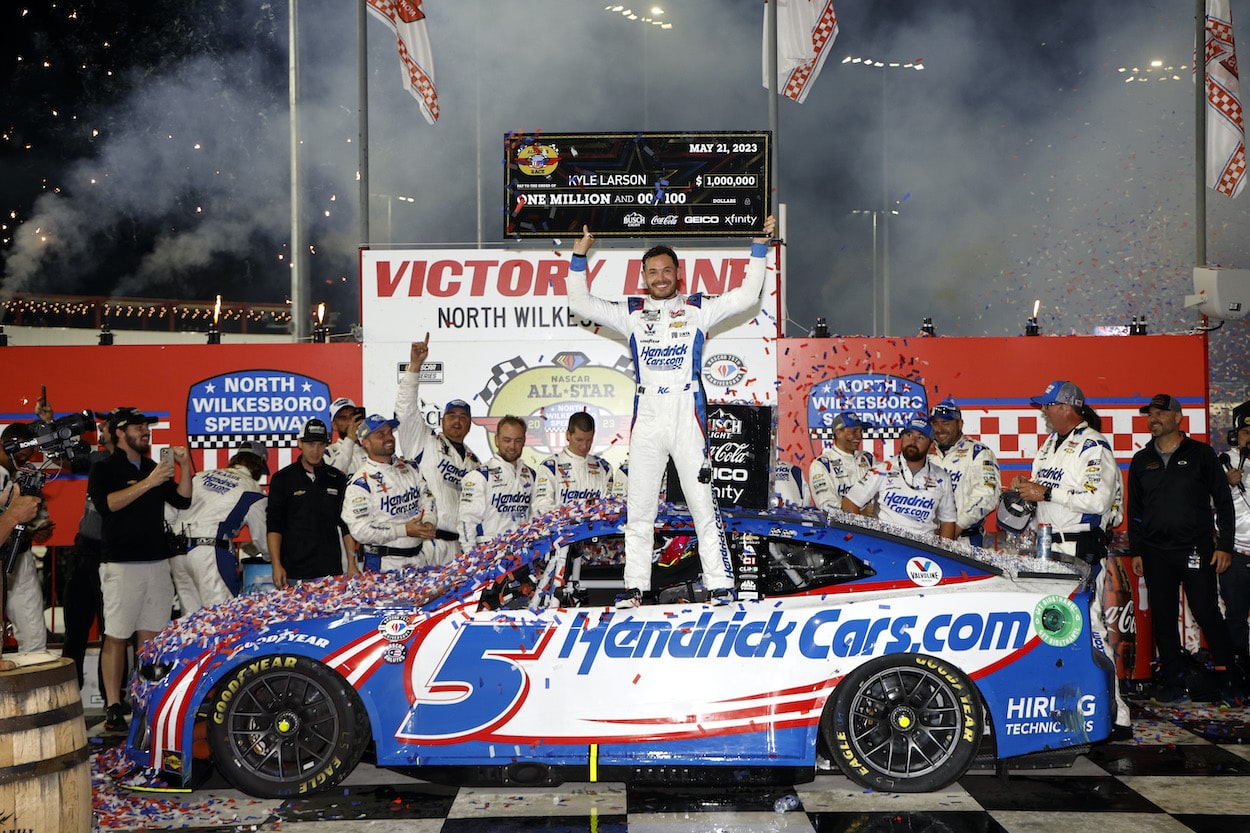 Kyle Larson appeared to be driving a rocket ship on Sunday night on the 0.625-mile short track in the hills of North Carolina. After incurring a penalty for speeding on pit road on Lap 18, the No. 5 car made its way to the front of the field and never looked back.  
With just over 50 laps to go and Larson holding a two-plus second lead over Bubba Wallace, the Fox broadcast crew had a conversation about the HMS driver and how he doesn't know about the setup of his car.
"Doesn't care either. Never has," Bowyer said about Larson's knowledge and his willingness to learn more about the cars. "I'll tell you another funny thing about him. He doesn't know how to work on anything. It makes me laugh. Like we all grew up working on cars. He grew up racing cars." 
"Pretty good at it, I know that," Waltrip said.
"Half-inch wrench, nah," Bowyer said, mocking Larson. "I think that's a toolbox over there. I think that's over there."
Larson surprised Bowyer didn't make fun of him at 2022 All-Star Race
Flashback to a year ago and last year's All-Star Race at Texas Motor Speedway. During the Pit Crew Challenge, the No. 5 team performed well, advancing to the semifinal round against Kyle Busch and his team. 
During that duel, Larson stalled out his car at the start, which ended any chances of advancing. A few minutes after being eliminated, the HMS driver met with reporters and admitted how the blunder made him feel, including the fear he had that Bowyer called him out for the mistake on the broadcast. 
"I stalled it," he admitted. "When you're sitting there, you're not fully compressed with the clutch. You're trying to find that sweet spot and I didn't want to spin my tires really bad and I got a little too greedy obviously and stalled it. 
"It's embarrassing. I'm the only guy that stalled. Pretty embarrassing. I think it's honestly more embarrassing than Aric Almirola who was sleeping. I'm sure Bowyer was busting me on the broadcast."
"That's surprising," the driver replied when informed the race analyst didn't make fun of him.
Driver trying to learn from broadcaster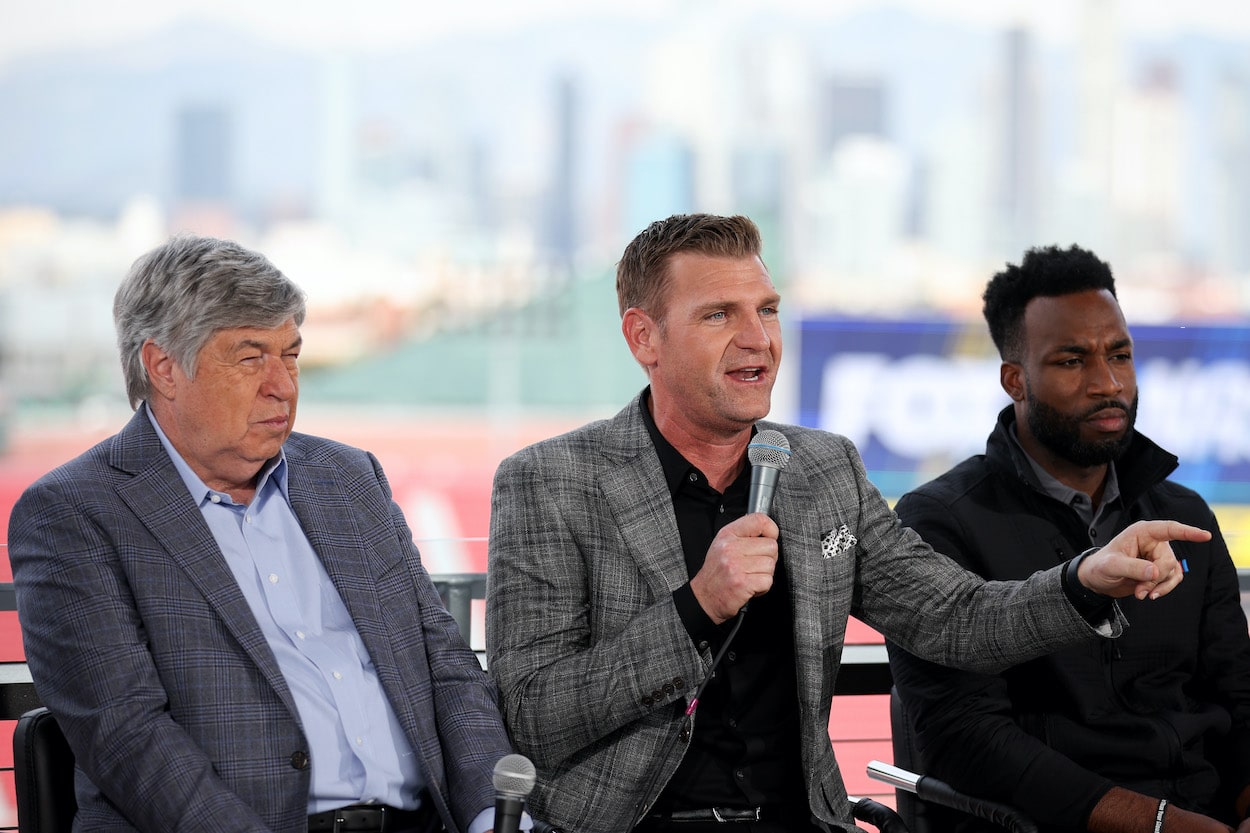 Clint Bowyer doesn't shy away from sharing what he thinks, as he did on Sunday night. That's his job. According to Larson, the former driver is not afraid of showing it either. 
Last year during an interview with The Athletic's Jeff Gluck for his 12 questions article, the driver talked about the best way to get out of a conversation with someone who won't stop talking and how he's seen Bowyer do it.
"Typically, if I'm in a hurry and a fan or somebody is wanting to have a full-blown conversation, I'm pretty short with them," Larson admitted. "I'll just wrap it up and be like, 'Alright, I'll see you later.' And then they immediately get the hint and close their end of the conversation. You learn a little bit of that from (Clint) Bowyer. He doesn't even say, 'See you later.' He just disappears. So maybe that's what I should do.
"You'll be like mid-conversation with Clint, and he's just gone. It's like, 'I guess we're over.' It's sometimes rude, but it's just Clint. I feel like that's the best way to get out of it, but I try to at least just say, 'Alright, see you later' and then start walking."
We know, at least from Bowyer's comments on Sunday, Larson isn't walking away from said conversation to go work on his car.
To stay up to date on the latest happenings in NASCAR, including breaking stories you can't find anywhere else, follow Kyle on YouTube and Twitter.