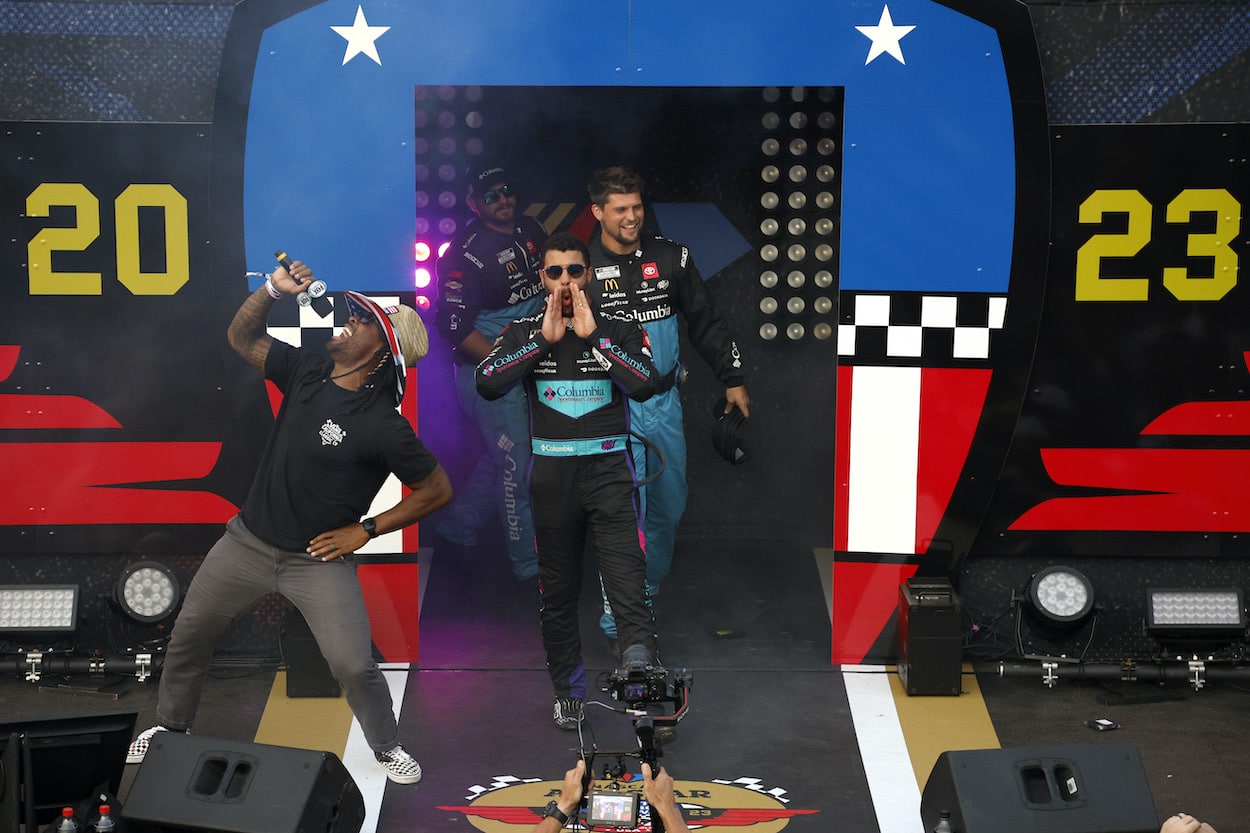 Was Bubba Wallace Shooting Middle Finger at Racist Fan Who Hacked His Team Radio or Something Else During Post-All-Star Race Interview?
Bubba Wallace made a surprising move in his post-race interview when he flashed the middle finger, which prompted speculation that it might have been in response to his team radio being hacked and someone directing racist comments at the driver.
Bubba Wallace has been on a roll in the last few weeks, including a pair of top-five finishes in the last two races. His No. 23 car was fast again on Sunday in the All-Star Race and NASCAR's return to the historic North Wilkesboro Speedway. 
It wasn't enough, though, as the 23XI Racing driver finished second behind a dominating performance from Kyle Larson. However, after the race, it wasn't the 29-year-old driver's runner-up finish everyone was talking about but the middle finger he flashed in the post-race interview. And naturally, everyone speculated as to who it was directed with a couple of specific targets in mind.
Bubba Wallace booed in driver intros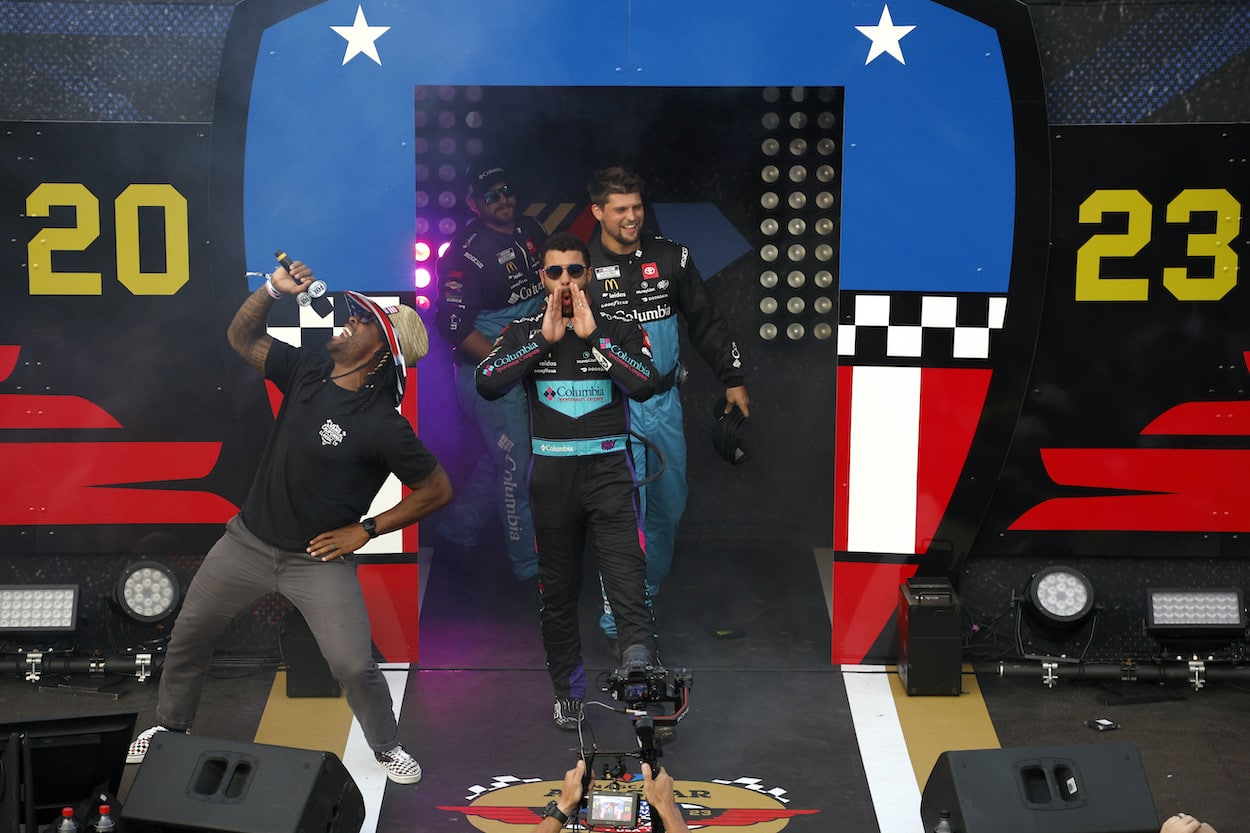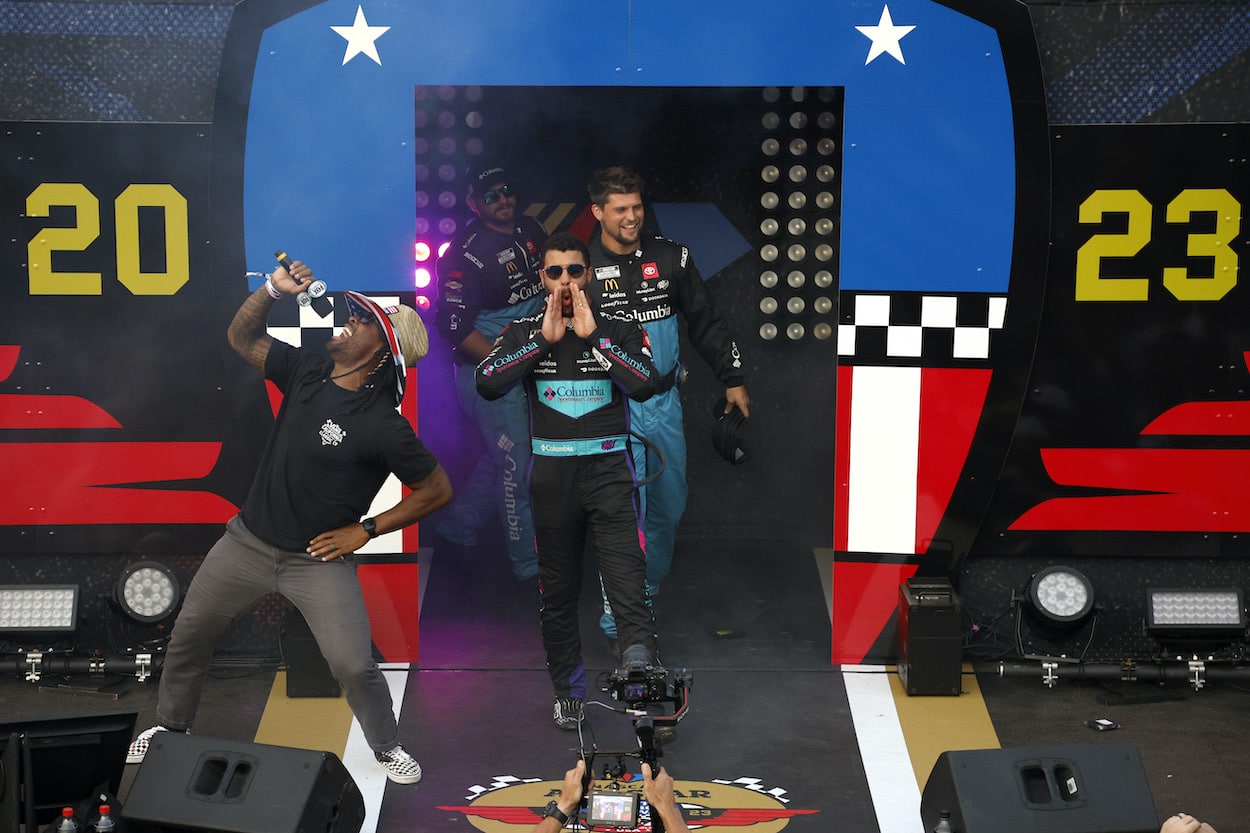 Bubba Wallace is used to the boos. He's regularly showered with them at many races.
Sunday's All-Star Race at North Wilkesboro was no different. The moment the 23XI Racing driver walked onto the stage, a number of vocal fans shared how they felt about him with a chorus of boos. 
Wallace, who usually will just wave at the crowd, did not. He went full Kyle Busch and embraced the villain role, first coming out with his hands around his mouth and booing with the crowd before moving them up to his eyes and acting like he was crying.  
Wallace flashes middle finger after All-Star Race
After a solid race where he led every car but the winner across the finish line, Wallace visited with Fox's Jamie Little, who asked what it would have taken to catch Kyle Larson. During the reporter's question, the driver ran his hand over his mouth before grabbing the collar on his firesuit. And that's when he flashed the middle finger. 
"I don't know. I think we needed the louvers and whatever cheated up stuff they have on there," Wallace said with a laugh. "No, his capability throughout the whole run. He can attack hard and have something there at the end."
Was the finger directed at racist who hijacked team radio?
Unsurprisingly, soon after Wallace's gesture, it appeared on social media, with everyone wondering what prompted it. Was it a continuation of his villainous role like he displayed during driver intros?
Another report added fuel to the speculation fire when it was learned that someone had hacked into the No. 23 team radio after the race and made several racist comments directed at the driver. 
"Go back to where you came from you ass****," the person said. "You're not wanted in NASCAR."
NASCAR officials confirmed they were investigating the incident to determine who accessed the channel and how. A team spokesperson indicated that Wallace did not hear the comments or acknowledge them at the time.
And the middle finger mystery lives on.
To stay up to date on the latest happenings in NASCAR, including breaking stories you can't find anywhere else, follow Kyle on YouTube and Twitter.