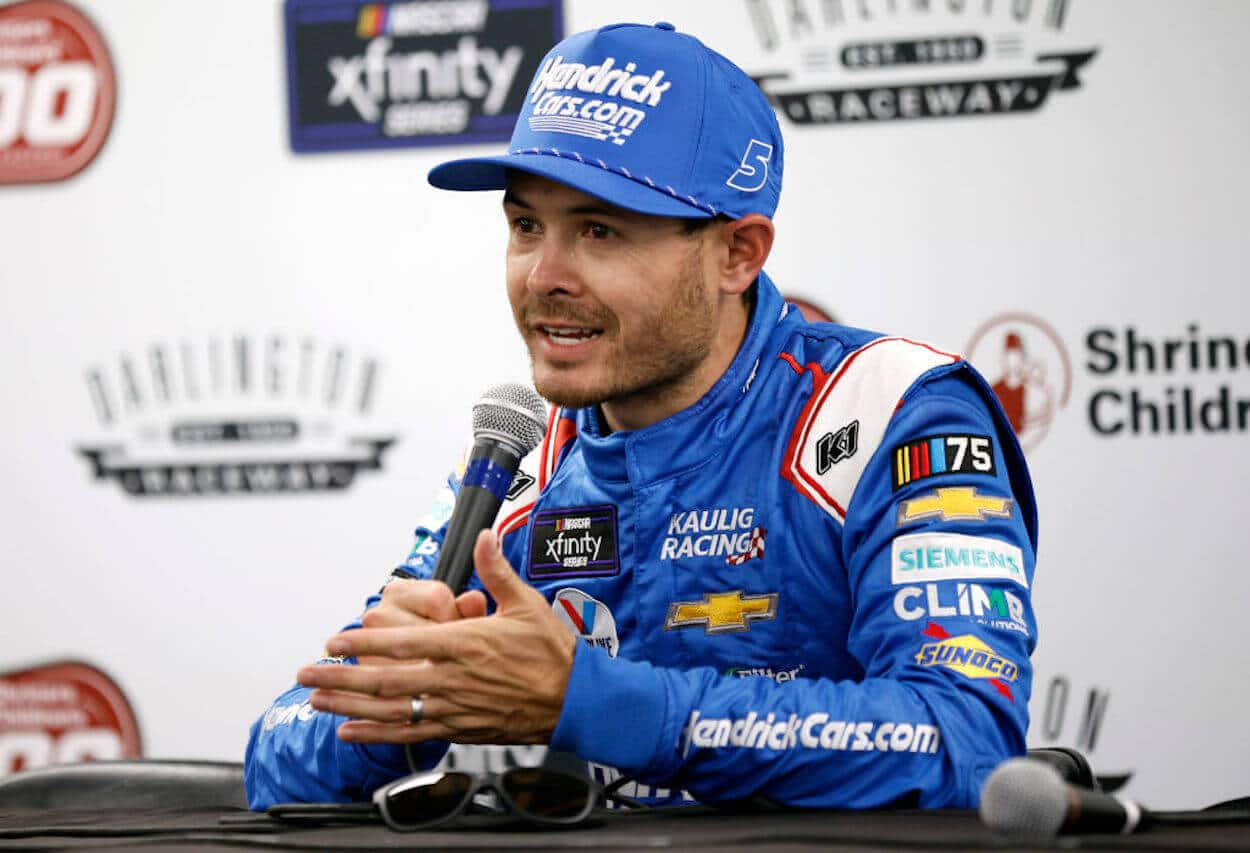 Kyle Larson and the 4 Drivers Who Can Be the Ultimate 'All Star' at North Wilkesboro Speedway
Who will claim the top spot at NASCAR's annual All-Star Race? We've got some ideas for you.
Picking drivers capable of winning a race at a track that hasn't hosted a NASCAR Cup Series event since 1996 might seem akin to pulling names out of a hat.
In other words, it's not exactly easy — especially considering that no one in the field for Sunday night's All-Star Race at North Wilkesboro Speedway has ever driven a Cup Series car at the fabled North Carolina short track.
That being said, it's still worth trying to pick some potential winners, right?
Here are four drivers who — based on their 2023 results and history of success in All-Star Races past — come into this weekend's 200-lap, non-points-paying affair with an edge over the rest of the competition.
Ryan Blaney
Despite being winless in points races since August 2021, Ryan Blaney feels like a solid All-Star Race pick.
Not only did the Team Penske driver capture last year's All-Star Race — held at Texas Motor Speedway, not North Wilkesboro — but he's come painfully close to winning multiple points races over the last nearly two years, only to continually come up short.
The bottom line? Blaney seems overdue for a trip to Victory Lane, even if it won't technically end his drought — which currently stands at 59 points races.
William Byron
No one has done more winning in 2023 than William Byron, the only Cup Series driver who's made three trips to Victory Lane in the first 13 events.
Also, if momentum matters — and it often does in this sport — no one has more of it coming into All-Star weekend than Byron, who's riding high on the heels of his triumph this past Sunday at Darlington.
Unlike the rest of the drivers on this list, Byron has never prevailed in the All-Star Race and, therefore, never reaped the $1 million payday that comes with it.
So, inevitably, the Hendrick Motorsports driver will have more incentive than others to leave North Wilkesboro on Sunday night with a bucketful of cash in hand.
Kyle Larson
It's been feast or famine in 2023 for Kyle Larson, who either seems to win the race or finish the day with a DNF. Outcomes notwithstanding, the Hendrick Motorsports driver has been ultra-fast just about everywhere, and had it not been for Ross Chastain's reckless aggression, Larson may very well have a couple more marks in the win column.
As it is, Larson has triumphed twice — once at Martinsville and once at Richmond, making him the only driver to win on a paved short track this season. The third paved short track on the schedule? That would be North Wilkesboro, the venerable .625-mile speedway playing host to Sunday night's All-Star Race for the first time.
Although Larson has no more experience than any of his peers at North Wilkesboro, which was last part of the Cup Series schedule 27 years ago, he's proven to be the man to beat this year on asphalt-covered surfaces that are less than a mile in length.
Larson, one of only two two-time All-Star Race winners locked into Sunday's main event, also won't be suffering from any lack of motivation, given that he's been on the losing end of late-race battles for the win each of the past two weekends.
Denny Hamlin
A noted short-track aficionado, veteran Denny Hamlin has enjoyed some of his greatest success over the years at Richmond Raceway and Martinsville Speedway — the tracks on the Cup Series schedule that most closely resemble North Wilkesboro in size, speed, and banking.
Hamlin, who owns a total of nine wins between the two venues in his home state of Virginia, is also just one race removed from his first triumph of 2023, which came at Kansas Speedway, where his No. 11 Joe Gibbs Racing Toyota nudged Kyle Larson into the wall on the final lap.
Hamlin's past All-Star Race accomplishments include a win in the 2015 event at Charlotte Motor Speedway — which has hosted the overwhelming majority of All-Star Races since the event's inaugural running in 1985.