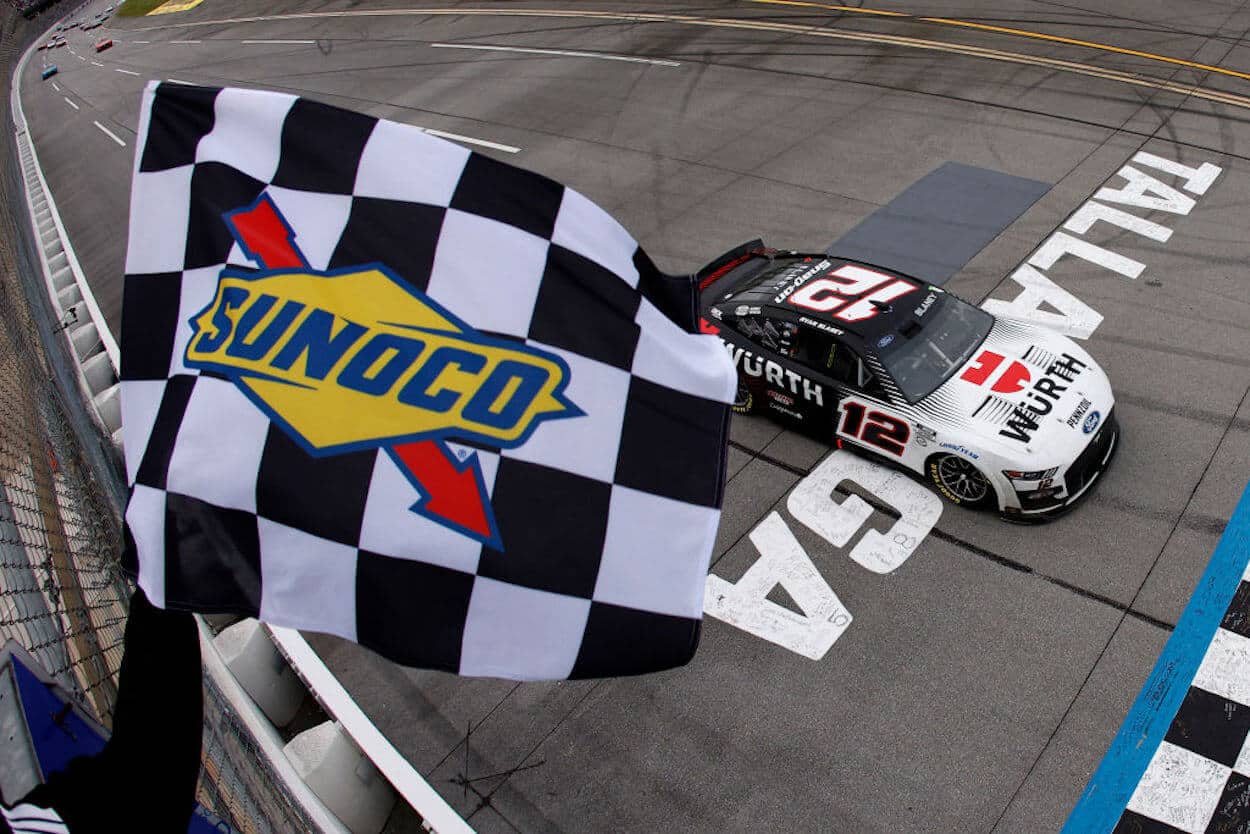 Ryan Blaney May Be the Worst Closer in NASCAR, and He Has No Excuses
Ryan Blaney may be talented, but he doesn't have what it takes when it comes time to win a race. And there's no excuse for that.
With all due respect to Ryan Blaney and his accomplishments in the NASCAR Cup Series, the Team Penske driver just doesn't have what it takes when it comes time to actually win a race.
Think I'm being too harsh?
Well, as they often say in stick-and-ball sports, "Watch the tape."
Blaney gets manhandled with regularity whenever a race victory is at stake, and that's never been more evident than in the last month — when he's been in contention to win three of the last four races, only to come up short each time after challenging for the victory in the final laps.
Unlike 2014 Cup Series champion and 60-time Cup Series race winner Kevin Harvick, who was once anointed "The Closer" for his uncanny proclivity for bringing his "A" game in the closing stages of a race, Blaney would be more appropriately dubbed "The Poser." That is, he poses as if he's a serious threat to win, but it never actually happens.
And reality is, it won't happen until the second-generation driver, who's the son of retired NASCAR driver and World of Outlaws legend Dave Blaney, figures out a way to get his car out front when it matters most — at the checkered flag.
The last month has been brutal for Ryan Blaney at the end of races
Let's rewind to roughly a month ago and do a quick review of the three races that Ryan Blaney has been in the hunt to win over this time span.
The first such occasion was the race at the Bristol dirt track on April 9. After restarting on the inside of Row 1 with eight laps to go, Blaney proved to be no match for the driver to his outside — Christopher Bell — who quickly sped away after the green flag waved. Once Bell cleared Blaney, which took not even a quarter of a lap, Blaney spun following a bump from Chase Briscoe. And with that, Blaney's race was effectively over.
Now let's roll the tape forward two weeks to the race at the high-banked, 2.66-mile Talladega Superspeedway. This time, Blaney was running second to good friend Bubba Wallace on the final lap when Wallace lost control of his No. 23 Toyota, forcing Blaney to check up and allowing Kyle Busch to sneak past Blaney for the lead just before NASCAR froze the field, ending the race.
For the record: I'll give Blaney somewhat of a pass on this one since his failure to hold the lead at the final moment was, to a large degree, out of his control.
OK, now for this past Monday's race at Dover. Just like at Bristol three weeks earlier, Blaney lined up on the inside of Row 1 for a restart with less than 10 laps to go. Only this time, Blaney actually did put up a fight, remaining alongside Martin Truex Jr. for a lap-and-a-half before Truex finally cleared Blaney and set sail for his first victory in 54 races. Blaney ended up finishing third after falling into the clutches of Ross Chastain for second-place moments after losing the lead to Truex.
So, three great opportunities in the last month for Blaney to get a win but no trophies to show for it. Sadly, though, Blaney's inability to take care of business when it really counts is nothing new.
Compared to other Team Penske drivers in modern times, Ryan Blaney's win/loss record fails to impress
Ryan Blaney hasn't won a points-paying NASCAR Cup Series race since he prevailed in late August 2021 at Daytona. Last season, he was the only driver among the original 16 playoff qualifiers who failed to win a points race in the regular season.
Truth be told, Blaney wouldn't have made the playoffs had a medical misfortune not forced Kurt Busch to vacate his playoff eligibility at the last minute, opening up a spot for someone else — and that someone happened to be Blaney.

But even more troubling than Blaney going winless in 2021 is how his overall record at Team Penske — one of the Cup Series' elite organizations — compares to the record of two other drivers who've spent most of their respective careers with the Roger Penske-owned organization.
Those drivers are Joey Logano (who joined Team Penske in 2013) and Brad Keselowski (who competed for the organization from 2010-2021).
Since joining Team Penske in 2018, Blaney has recorded six victories — averaging out to approximately 1.1 wins per season.
Keselowski averaged right at 2.8 wins a season over his 12 years with the company, for which he went to Victory Lane 34 times.
Logano, meanwhile, has averaged right at 2.9 wins a year for Penske — the result of 30 victories over 10 full seasons plus nearly the first third of the 2023 season.
Translation: As Team Penske drivers, Logano and Keselowski have averaged almost three times as many wins per season as Blaney (not to mention combining for three championships, compared to none for Blaney). This is despite Blaney being in basically the same equipment and being widely considered to be among the Cup Series' upper-tier of drivers.
With Blaney clearly lagging well behind those who've been full-time Team Penske drivers for multiple full seasons over the last dozen years or so, it begs the question: Why does Blaney struggle so badly to get to Victory Lane?
Ryan Blaney's inability to close out races is nothing new, and it's totally unjustified
Ryan Blaney's late-race ineptitude didn't just come about in the last month. The truth is: He's had multiple big misses over his time in NASCAR's top series, most of which he's spent with Team Penske.
Blaney's biggest miss of all undoubtedly came at the 2020 Daytona 500, where he wrecked Ryan Newman while going for the win coming to the checkered flag, sending Newman's car airborne in a violent crash through the Daytona International Speedway trioval. Blaney's aggressive move was all for naught, however, because Denny Hamlin's No. 11 Toyota shot to his outside at the very last moment, taking the lead and the win.
Then there was last year's season finale at Phoenix Raceway. Blaney led 109 of 312 laps and seemed to have the car to beat for most of the race, but he finished in the runner-up position — just over three-tenths of a second behind teammate Joey Logano, who led the final 30 laps on the way to winning the race and the championship.
I could certainly give more examples of times over Blaney's five-plus Cup Series seasons at Team Penske that he's faltered late in a race, but I digress. The bottom line is that despite showing flashes of tremendous talent throughout his career and even this year, Blaney lacks the killer instinct — or maybe it's the focus or aggression  — a driver needs to be a closer. In fact, one could argue that based on all the evidence presented, he's the absolute worst closer in NASCAR.
And as a guy who's privileged to drive for one of the Cup Series' best teams, Blaney truly has no excuses.