2022 NASCAR Cup Series Season in Review: Team Penske
The 22 in '22. That's the phrase Team Penske driver Joey Logano started saying at the beginning of the 2022 NASCAR Cup Series season. The undeniably catchy phrase proved prescient in early November when the 32-year-old dominated at the Championship 4 race in Phoenix and captured his second title in five seasons. 
His teammates Ryan Blaney and Austin Cindric also had solid years, with the rookie winning the Daytona 500 while the No. 12 car ran up front for much of the year but unfortunately failed to convert those good runs into wins. Here's a look back on the 2022 season for Team Penske. 
Joey Logano, Ryan Blaney, and rookie Austin Cindric make playoffs
Joey Logano was all about firsts in 2022. He won the first-ever Clash at the Coliseum in the first-ever competition with the new Next Gen car. He did it again at June near St. Louis when he won the first-ever Cup race held at World Wide Technology Raceway. The veteran driver won three other times at existing tracks, including the spring race at Darlington and in the playoffs at Las Vegas and Phoenix.
Ryan Blaney will look back on the 2022 campaign as a season of what might have been. There is one telling number from his year that stands out — 636. That's the number of laps led by the driver of the No. 12 car. 
Unfortunately, none of those laps were the most important and final one of any race. Instead of winning, the 28-year-old had plenty of close calls, including 17 top 10s, a dozen of them in the top five. 
Blaney had a chance at winning the season-opening race at Daytona, but instead came up just short to his rookie Penske teammate Austin Cindric, who started his Cup career in grand fashion. The 24-year-old made the playoffs on that win and finished 12th in the final standings, earning him Rookie of the Year honors. 
Overall grade: A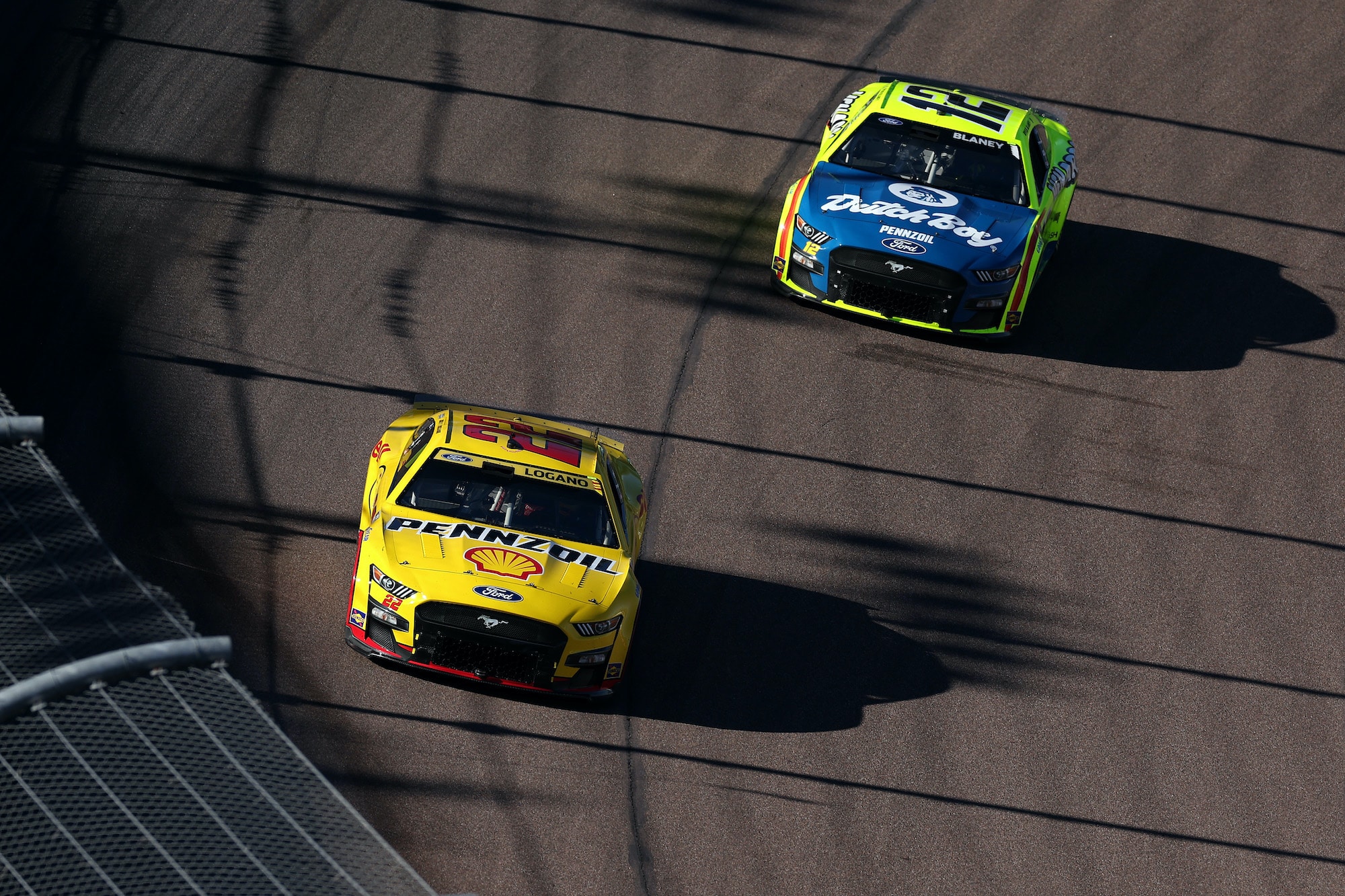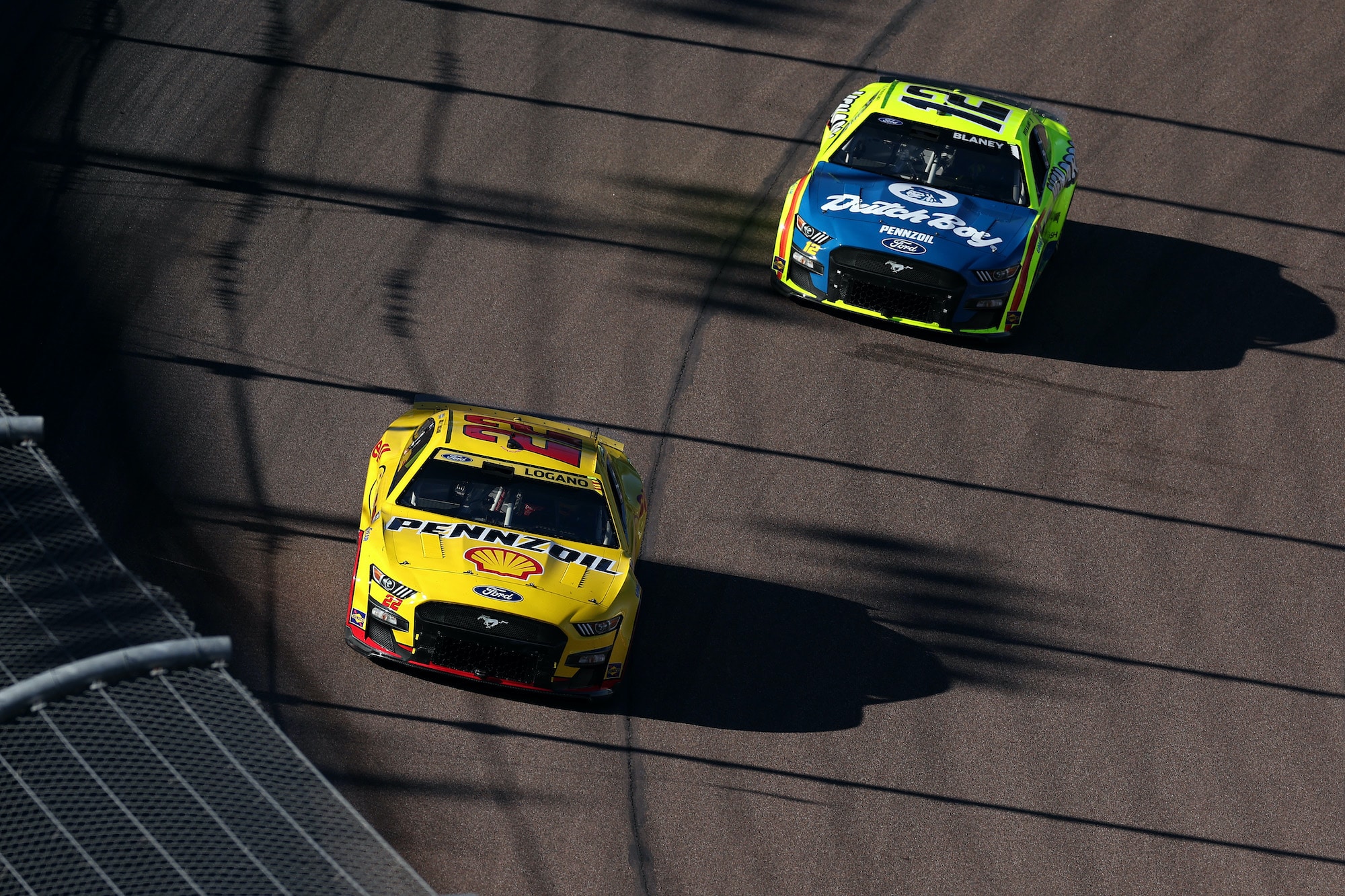 The overall performance of Team Penske was impressive. Cindric's surprise win in the Daytona 500 certainly started the team's year off on a good note, and both Logano and Blaney built off that, running up front a considerable amount of time in the first year of the new car. Logano converted those runs into wins. Blaney did not. 
While Hendrick Motorsports and Joe Gibbs Racing each had more total team wins in the season, it's hard to argue with the final results and who was standing up on stage holding the trophy. Logano's victory at Phoenix put an exclamation point on a great season for the No. 22 car and the organization. Blaney, appropriately enough, finished runner-up in the race. Cindric finished 11th. 
Their combined performance earns an easy A. 
By the numbers

Ryan Blaney
2021 | 2022
Joey Logano
2021 | 2022
Austin Cindric
2022
Wins
3 | 0
1 | 4
1
Top 5s
11 | 12
10 | 11
5
Top 10s
20 | 17
19 | 17
9
Top 20s
30 | 27
29 | 27
26
Average Start
9.6 | 10.1
9.2 | 10.4
12.6
Average Finish
11.9 | 13.6
12.6 | 13.5
16.3
Laps Led
423 | 636
453 | 784
86