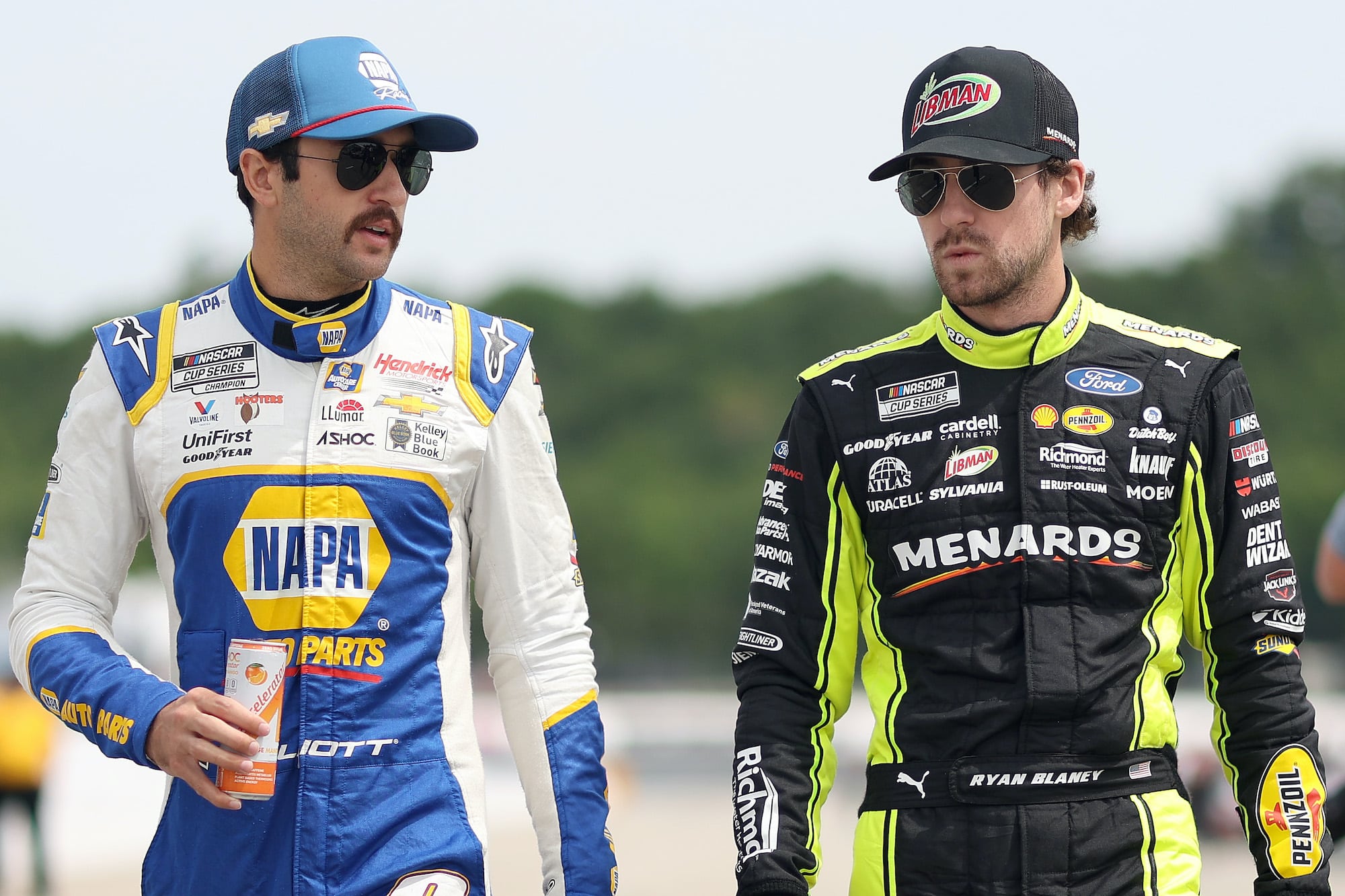 Ryan Blaney Not Pulling Any Punches With 'Attack' Ads Mocking Chase Elliott in Attempt to Dethrone NASCAR's Most Popular Driver
Ryan Blaney wants to become NASCAR's Most Popular Driver and he's doing so by "attacking" Chase Elliott in a new ad campaign mocking the HMS driver.
In the last year, Ryan Blaney has shown that he has one of the best senses of humor of all the Cup Series drivers. Now, he's weaponized it. With voting for NASCAR's Most Popular Driver open to the fans, the Team Penske driver has revealed that he might have a future in politics after racing with a new "attack" campaign that hilariously mocks Chase Elliott in an attempt to dethrone his friend as the sport's most popular driver.
Ryan Blaney 'attacks' Chase Elliott in ad campaign
Ryan Blaney knows the odds are stacked against him. His good friend, Chase Elliott, has won the Cup Series Most Popular Driver Award for the last four years. There's no reason to believe that will change this year. 
But Blaney isn't going to let it happen without a fight. Or, at least acting like it's a fight. This past week the 28-year-old shared several campaign ads on Twitter jokingly attacking the Hendrick Motorsports driver. 
"NASCAR's most popular driver Chase Elliott, he uses a fork and knife to eat his wings," the first ad begins while showing a graphic that features the 2020 champion in a frustrated pose with his hand to his head. "Not Ryan Blaney. He uses his hands. This election season, vote for a man willing to get a little dirty."
A second similar ad, which refers to Elliott as "Mr. Fork and Knife," then suggests that the 26-year-old HMS driver thinks parmesan garlic is too spicy. It recommends voting for Blaney because "he can handle the heat." 
The end of both spots features a message about who is responsible for the content, including "Moms for Blaney, Babies for Blaney, and Dogs for Blaney."  
Blaney has shown his sense of humor in past
For Ryan Blaney fans, the ads don't come as a surprise. The driver has regularly displayed his witty side in the past.
Before the start of the 2022 season, he participated in various media-related activities, including photoshoots and filming of video clips for Fox's NASCAR coverage. There was also a "fun room," and the Penske driver enjoyed his share in a 13-second clip where he wore large gold-rimmed sunglasses like Elton John and was covered by a black hair-cutting cape.
With a green screen behind him, he lip-synced Celine Dion's "It's All Coming Back to Me Now" and dramatically shifted his head to the song's rhythm. When the tune reached the chorus, he ripped off his cape, revealing his race-day firesuit, grabbed the glasses and tossed them to the side, and then with confetti blasting behind him, grabbed a broom handle and began using it as a microphone. 
The response on Twitter was positive and overwhelmingly gender-specific.
"I've watched this so many times," one woman commented.
"I wouldn't have thought it possible, but this makes me love him even more! Go Ryan!!!!" wrote another.
Might be another contender for popular driver
While Blaney knows how to have fun and is popular with the ladies, that still hasn't ever been enough to displace Elliott as the most popular driver. His "attack" ads likely won't do anything to change that. 
However, Elliott might have a surprise contender this year that wasn't on anyone's radar at the start of the season, and this driver's popularity with the fans has interestingly increased because his popularity with his fellow drivers has decreased. 
Ross Chastain didn't make a lot of friends on the track this season. Denny Hamlin. Martin Truex Jr. Austin Dillon. Even Elliott was upset with the Trackhouse Racing driver for his aggressive moves. But to many fans, that was appealing, and it was reflected on social media, where many compared his style to that of Dale Earnhardt and his reputation as The Intimidator. 
Add into the mix his last-lap move at Martinsville, which became a worldwide viral video, and the watermelon farmer gained a lot of supporters in 2022. Will it be enough to topple Elliott from the top? We'll find out on December 1. 
Voting is open until noon (ET) on Nov. 30. Fans are encouraged to vote daily at: https://www.nascar.com/mostpopulardriver/