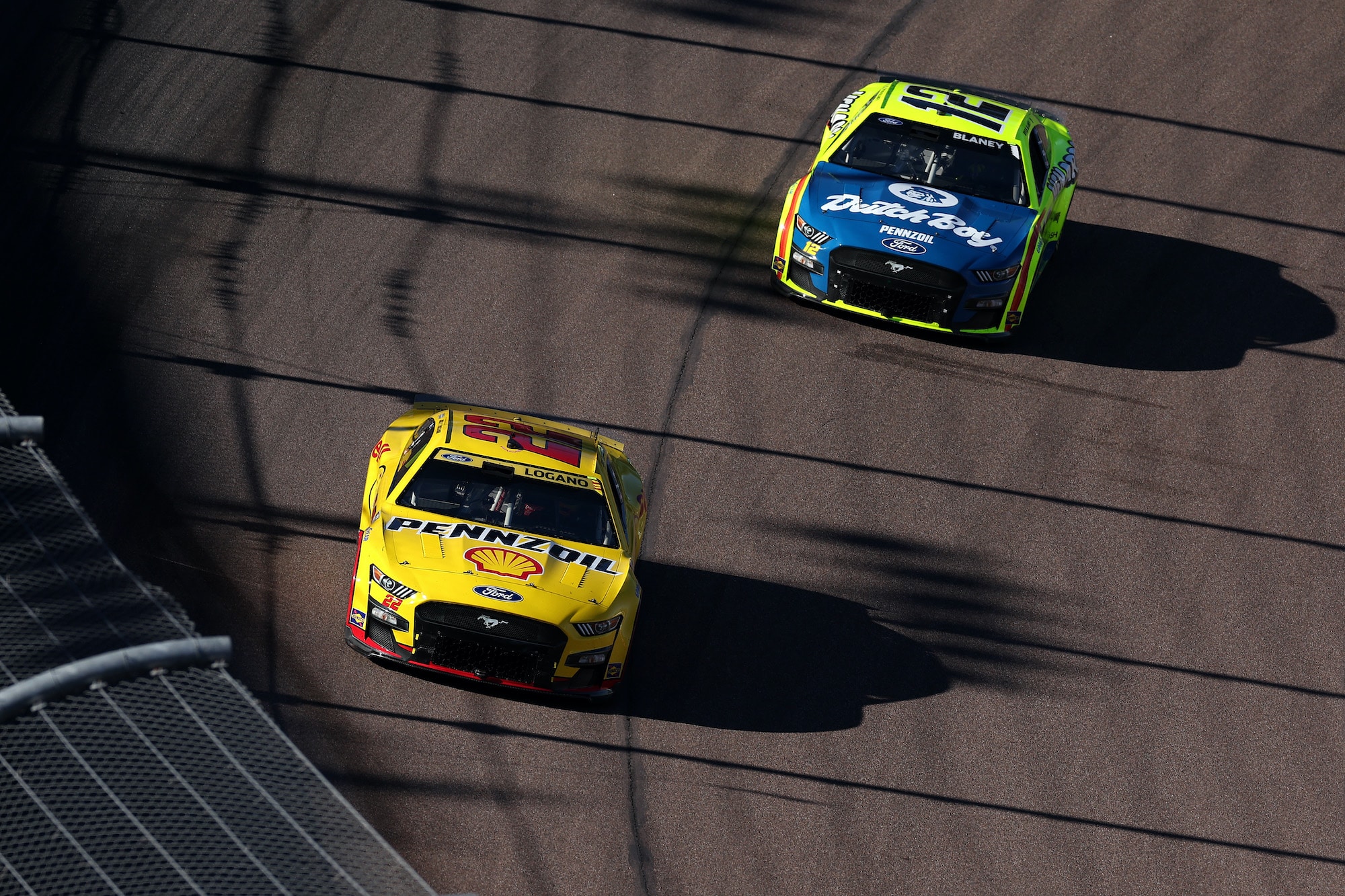 Frustrated Ryan Blaney Doesn't Hold Back After Finishing Second at Phoenix, Bluntly Calls Out Reporter for 'Dumb Question'
Ryan Blaney didn't try to hide his frustration after finishing second at Phoenix when he bluntly called out a reporter for asking a "dumb question."
Ryan Blaney will look back on the 2022 NASCAR Cup Series season and think about what might have been. Sunday's final race at Phoenix Raceway was a microcosm of the 28-year-old's season with Team Penske, coming close but ultimately coming up short.
Moments after the race and finishing second behind teammate Joey Logano, who had also earned his second Cup title, the clearly frustrated driver of the No. 12 gave a postrace interview and didn't sugarcoat what he thought of his day and the reporter's initial question. 
Ryan Blaney finishes second at Phoenix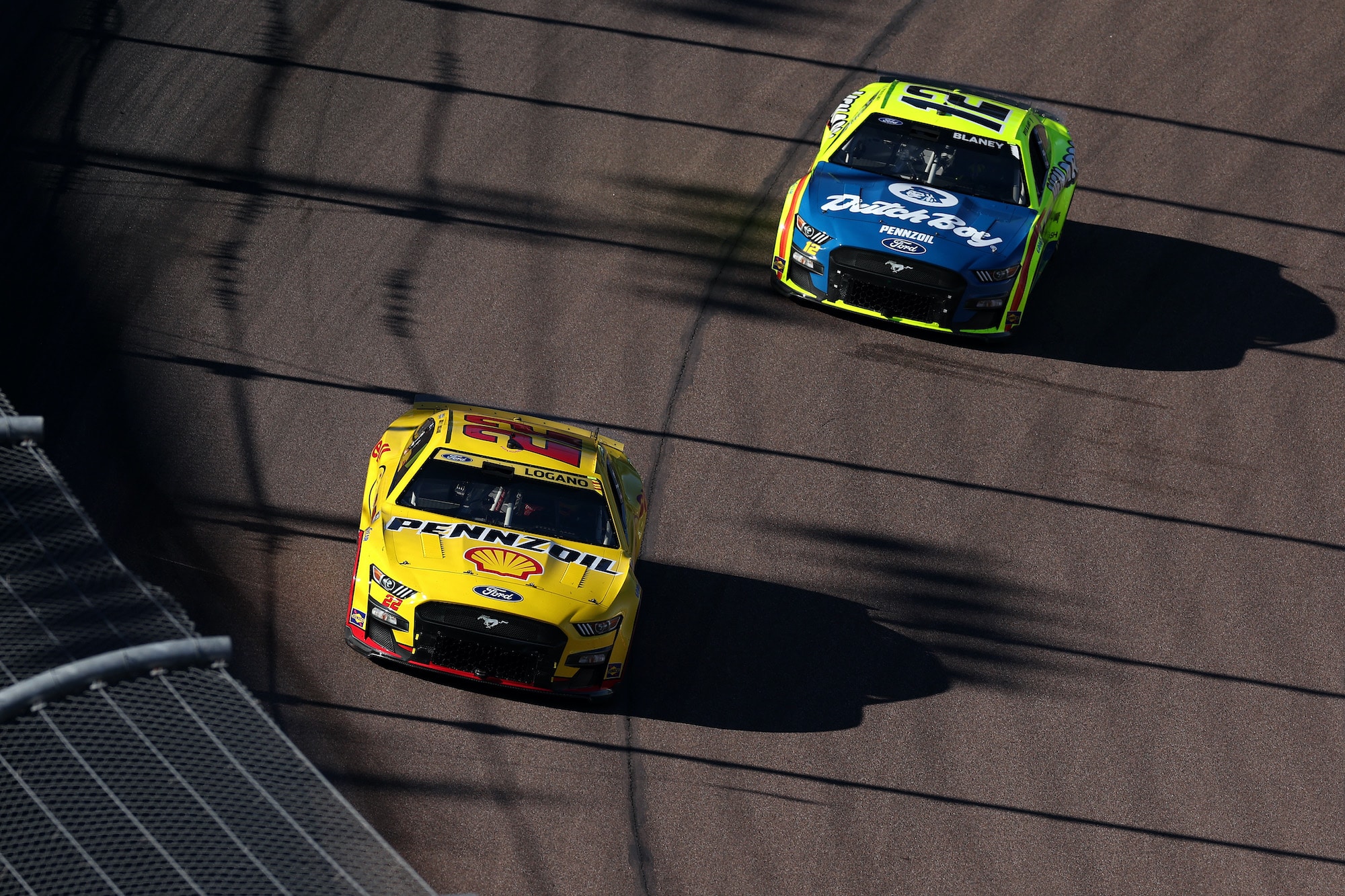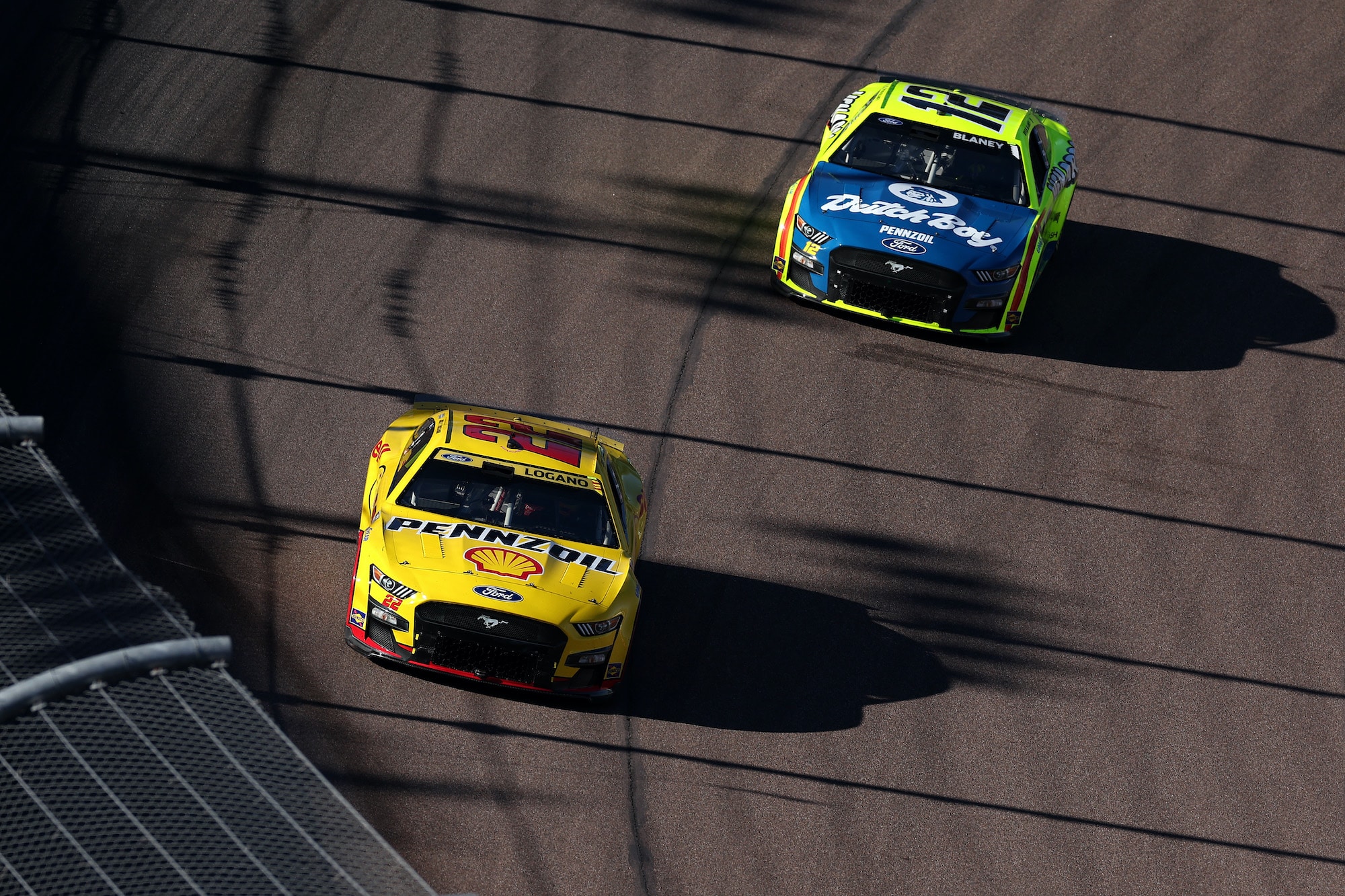 Ryan Blaney strapped inside his car on Sunday at Phoenix, knowing he had a fast race car starting on the front row. He also recognized that Penske teammate Joey Logano would be his toughest competition, also starting on the front row from the pole position.  
Both cars soon confirmed after the waving of the green flag that they were the class of the field. The two drivers dominated and never relinquished their spots, finishing 1-2 at the stage break. Second verse, same as the first. In Stage 2, Blaney found some extra speed, surged to the lead, and held on for the stage win while Logano finished second.
But Blaney and his fans have been here before. Stage wins have not translated into race wins this year. Sunday proved to be much of the same. The two Penske cars remained out front in the final stage, with Logano holding on to win the race and Blaney crossing the finish line right behind him. 
Blaney calls out reporter for 'dumb question'
Logano was understandably happy after winning the race and his second championship. Conversely, Blaney was not pleased with his result and made that clear during his postrace interview with NBC's Dave Burns.  
"Ryan Blaney gets out of his 12 car visibly upset after leading over 100 laps and finishing second today," Burns said. "Ryan, what's the nature of your anger?"
"I didn't win, obviously. Dumb question," the irritated driver responded. "Really good Menard's Ford all day. Just didn't get the lead on the restart. Couldn't pass anybody."
"Did you have the car to win and did you not pass your teammate on purpose?" the reporter asked. 
"We had the car to win and couldn't get by him in dirty air," he said and turned away. 
First winless season since 2016
RELATED: FS1 Makes Ryan Blaney Uncomfortable Discussing Conflict at Darlington Between Teammate Joey Logano and His Sister's Boyfriend William Byron
Finishing second on Sunday for Blaney was painful on multiple levels. For starters, he watched Logano finish right in front of him and secure his fourth win of the season and the title. That was the bookend for a year that started with the No. 12 in position to win the season-opening Daytona 500, only to see his other Penske teammate, rookie Austin Cindric capture his first Cup victory in the Great American Race.
Unfortunately for Blaney, he never made his way to Victory Lane all year and suffered his first winless season since 2016 when he raced for the Wood Brothers.  
It's fair to assume that when Burns asked about his anger following the race, the driver was stewing from a year's worth of near-misses, with the latest just adding to his frustration. And now he gets to think about it for the entire offseason.
Have thoughts on this topic? Keep the conversation rolling in our comments section below.