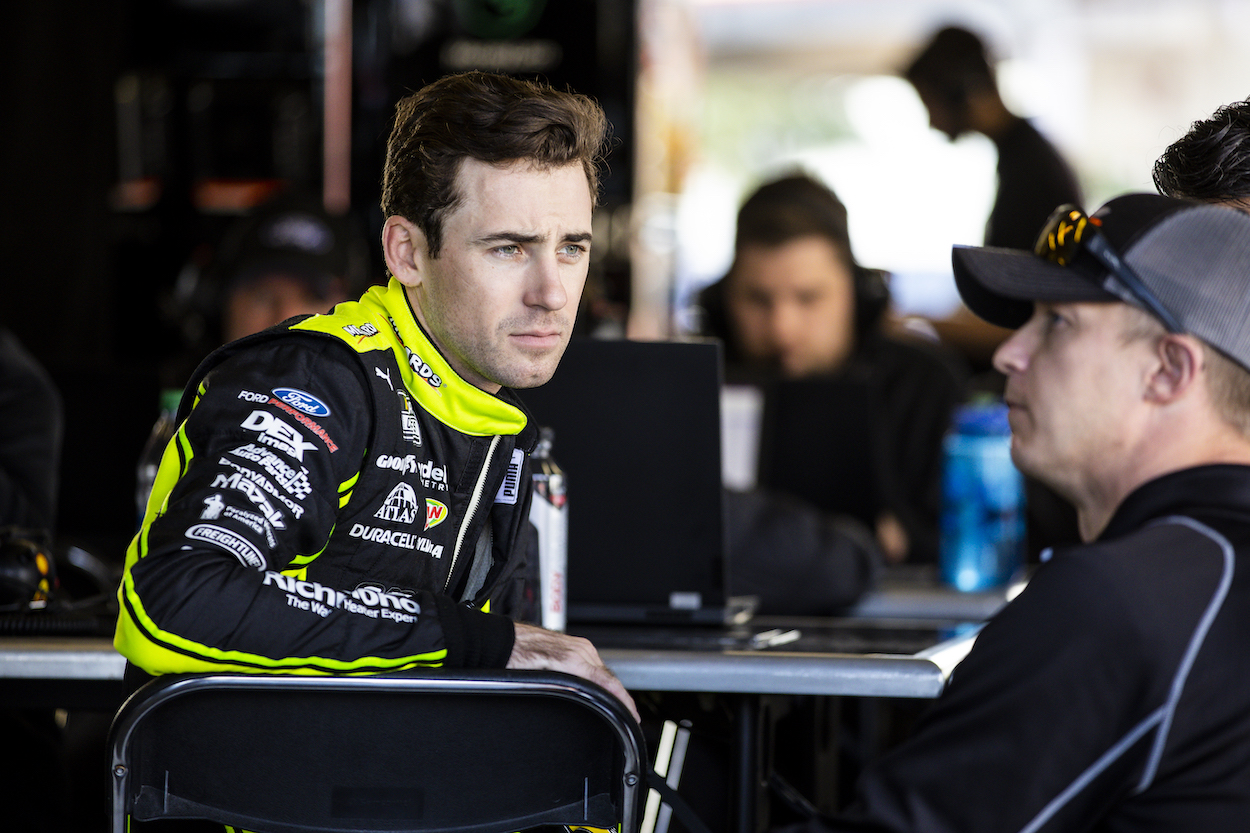 Ryan Blaney Making Moves on Chase Elliott's Most Popular Driver Title Before 2022 Season With Video That's Leaving Fans in Tears
Ryan Blaney's participation in a video is leaving fans in tears and could help him challenge Chase Elliott for the sport's most popular driver.
Ryan Blaney won three times in the 2021 NASCAR Cup Series season. Chase Elliott won twice and captured his fourth consecutive Most Popular Driver Award. The Team Penske driver's racing accomplishments are enough to increase his popularity with fans. However, it's what he's doing off the track that's endearing him to a larger audience, and this week during media days, the 28-year-old took his appeal to another level.    
Ryan Blaney unrecognizable at Daytona 
NASCAR fans last saw Ryan Blaney in public during the 2021 final race in Phoenix or at the NASCAR Awards Banquet in Nashville in early December. In both cases, he had longer hair and a full beard. 
Last week, the Penske driver showed up at Daytona for Next Gen car testing, and many didn't recognize him, including Fox's veteran NASCAR reporter Bob Pockrass, who recorded and shared his first interaction with the driver. 
"I didn't recognize you at first. I swear I didn't," a surprised Pockrass admitted. He then asked the driver if team owner Roger Penske mandated the new look.
"No, it was just that time, that time," Blaney said. "I'm unrecognizable, which is a good thing." 
"It literally looks like Ryan Blaney from 10 years ago," Corey LaJoie chimed in. 
"Truck Series rookie, right here," Blaney said, then walked off.
Ryan Blaney channels Celine Dion in hilarious video
This week Ryan Blaney joined his competitors for various media-related activities, including photoshoots and the filming of video clips Fox shows during the broadcast. According to multiple reports, there was also a "fun room," where drivers did an assortment of things. For Blaney, fans know exactly what he did because a video of his performance appeared on social media and went viral. 
The 13-second clip opens with the new-look Blaney wearing large gold-rimmed sunglasses ala Elton John and covered by what appears to be a black hair-cutting cape. With a green screen behind him, he is lip-syncing Celine Dion's "It's All Coming Back to Me Now" and dramatically moving his head to the song's rhythm. That is funny enough. But it gets exponentially better and downright hysterical when the song moves into the chorus. 
In sync with each "baby," the cape is ripped off, revealing his race-day firesuit, Blaney grabs the glasses and throws them to the ground, and then in unison with a confetti blast going off behind him, takes a broom handle and begins using it as a microphone. He looks into the camera, hand on hip, and a pair of those working on the production walk behind him with their own sunglasses. 
The response on Twitter was unsurprisingly positive and overwhelmingly gender-specific.
"I've watched this so many times," wrote one woman. 
"I wouldn't have thought it possible, but this makes me love him even more! Go Ryan!!!!" wrote another.
Starts using Instagram filters and interview goes south
While some NASCAR drivers might be known as dry and not necessarily the most fun-loving, Ryan Blaney is just the opposite. When it's time to be serious and race, he can do that. See last year's results. But he also knows how to have fun, which he put on full display last year during an interview with NASCAR's Alex Weaver.
Blaney, along with fellow Penske drivers Joey Logano and Austin Cindric joined Weaver for an interview where they discussed a variety of topics on and off the track. At one point, the driver of the No. 12 decided to incorporate Instagram filters into the conversation, and hilarity ensued.
Initially, he framed his face and then transitioned to glittery sparkles. That background caught Cindric's attention, who immediately burst out laughing. Logano was a little delayed in realizing what was going on, but the serious portion of the interview came to a grinding halt when he did. 
"What's Blaney doing down there?" Logano asked, and at almost the same time, his teammate changed to a new filter that blew up his lips and eyes. Both drivers began loudly laughing before Cindric asked, "How do you do that?" 
The interview descended into chaos, including Blaney turning into Yoda and Cindric jumping in on the fun, growing a huge nose like Pinocchio. The comedy lasted for almost two minutes. 
Blaney is the new generation of NASCAR driver, unafraid to let loose and have fun. He and the much more reserved Chase Elliott are good friends. That's a good thing because Blaney is making moves to win over NASCAR fans and take away Elliott's claim as the sport's most popular driver. With the ladies, it appears that's already a foregone conclusion. 
Like Sportscasting on Facebook. Follow us on Twitter @sportscasting19.