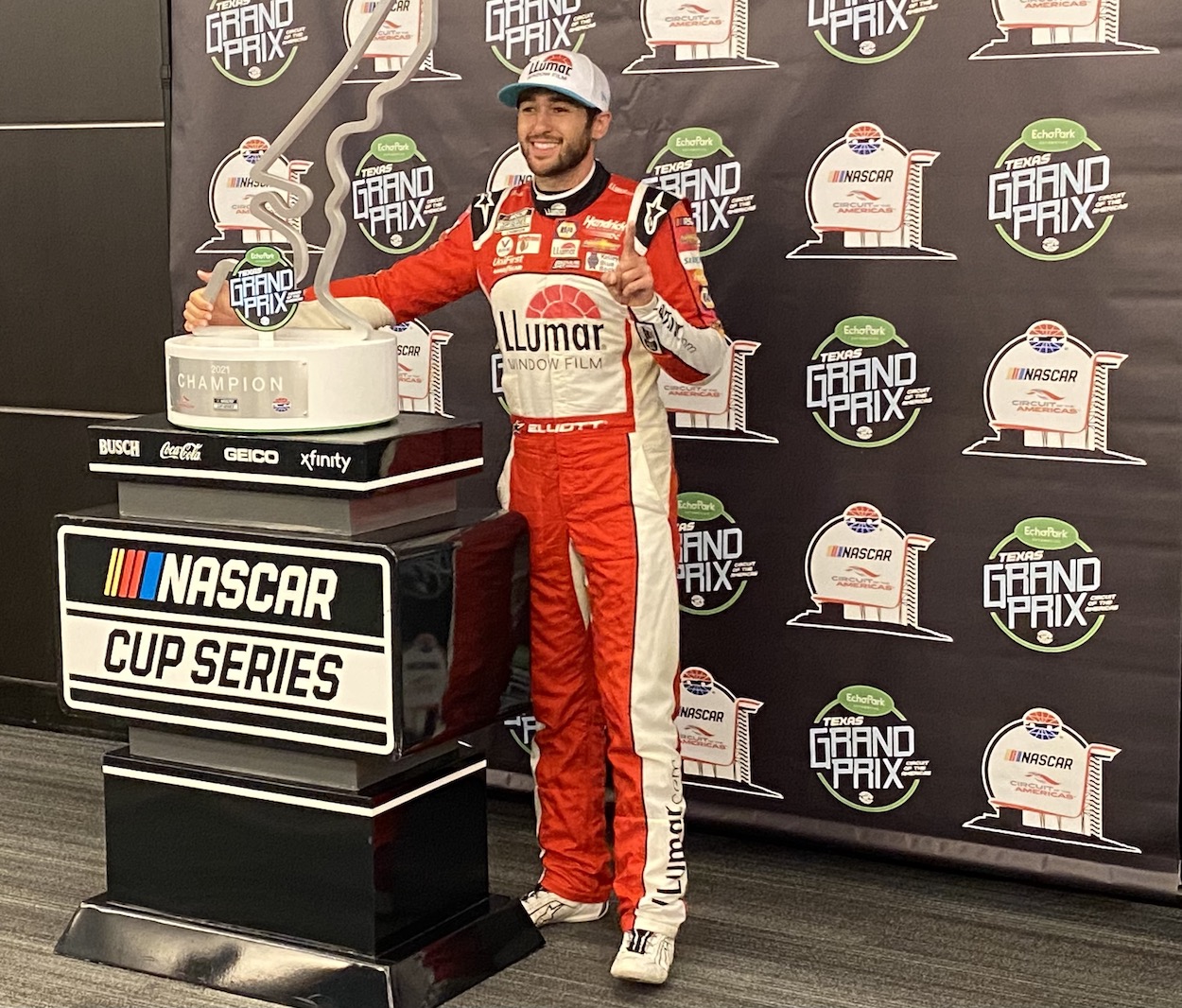 Chase Elliott & Co. Receive Terrible News Days After First Win of Season at COTA With Longtime Spotter Suspended Following Arrest and Charges of Battery on Unborn Child and Assault on Woman
Just a couple days after winning at COTA, Chase Elliott received bad news when it was revealed his spotter was arrested and charged with two crimes.
On Sunday, Chase Elliott was all smiles at Circuit of the Americas in Austin after earning his first NASCAR Cup Series win of the season at the rain-shortened EchoPark Automotive Texas Grand Prix. With the victory, Elliott joined his three Hendrick Motorsports teammates who had previously won this season, and more impressively, earned HMS its 268th victory, tying it with Petty Enterprises for most all-time in NASCAR history.
Unfortunately, the excitement from the weekend came to a screeching halt on Wednesday morning when the team announced the suspension of veteran spotter Eddie D'Hondt after learning about his arrest on May 12 for charges resulting from a September incident that allegedly included battery on an unborn child and assault on a woman. 
Chase Elliott wins first race of season at COTA
After watching each one of his teammates make trips to victory lane this season, including Alex Bowman who'd won twice, Chase Elliott would likely never admit it, but he was feeling the pressure. Most experts suggested COTA was the perfect opportunity for the 2020 Cup Series champion to get his first win after he'd won four out of the last five road course races. 
After starting from the eighth position, Elliott steadily made his way up through the field. By the end of stage 2, he had moved up to second behind stage winner Kyle Busch. In the the third stage, Elliott stalked Busch. Eddie D'Hondt, who was one of three spotters on the 20-turn, 3.4-mile layout, offered encouragement for his driver, who he has spotted for in all 12 of his Cup wins. 
"Nice work," D'Hondt said over the radio. "You've been outpacing him. You'll get him." Several laps later when Elliott had claimed the lead, his spotter gave him an update on what was happening. "You're very quick right here. Just keep it up. Just build the real estate. Keep the heat on right here."
With 14 laps to go and Elliott in the lead, NASCAR officials ordered a caution due to the rainy conditions. Several minutes later, they called the race and Elliott had earned his first win of the 2021 season.
Elliott's spotter arrested on two different charges
NASCAR spotters are an important part of any race, but the weekend race at COTA magnified their roles simply because of the layout. In fact, that's why each team employed three different spotters to get the job done. In addition to D'Hondt, Elliott's father, Bill, the 1988 Cup Series champion, spotted for his son. 
All of them celebrated the team win following the race. However, any lingering excitement from the weekend ended abruptly on Wednesday morning when the team learned spotter Eddie D'Hondt had been arrested and charged with two crimes. The team suspended him. 
According to The Athletic, there were two separate charges and two separate arrests. D'Hondt was originally arrested on September 7 for allegedly assaulting a woman, who told D'Hondt to stay back because she was pregnant, but he "slapped her hand out of the way and came at her, pushing her back with his body."  
A second charge of battery of an unborn child was added later, which resulted in his arrest on May 12.
NASCAR suspends indefinitely
In addition to Chase Elliott, the 62-year-old D'Hondt currently spots for Justin Allgaier in the Xfinity Series and Austin Hill in the Truck Series. Before joining the No. 9 team, he previously worked as the spotter for Jeff Gordon from 2012-2015.
While Hendrick announced the original suspension, NASCAR added its own indefinite suspension for two violations of the rule book, including Section 12.8.1.e, which states a driver can be fined, suspended, or terminated if "being charged with or convicted of significant criminal violations (e.g. Domestic Violence, Trafficking, Assault), or having had determinations rendered by criminal or civil authorities that in NASCAR's judgement necessitate action."
In addition, D'Hondt violated Section 2.11, which reads: "Any NASCAR Member charged with any violation of the law (misdemeanor and/or felony) shall notify NASCAR … prior to the next scheduled Event or within 72 hours of being so charged, whichever is earlier." 
Hendrick Motorsports has had a lot to celebrate lately, including this past weekend's win in Austin. However, Wednesday's news was a sobering dose of reality that could dramatically affect the No. 9 team from both an emotional and logistical standpoint in the future. Time will tell.
Like Sportscasting on Facebook. Follow us on Twitter @sportscasting19.