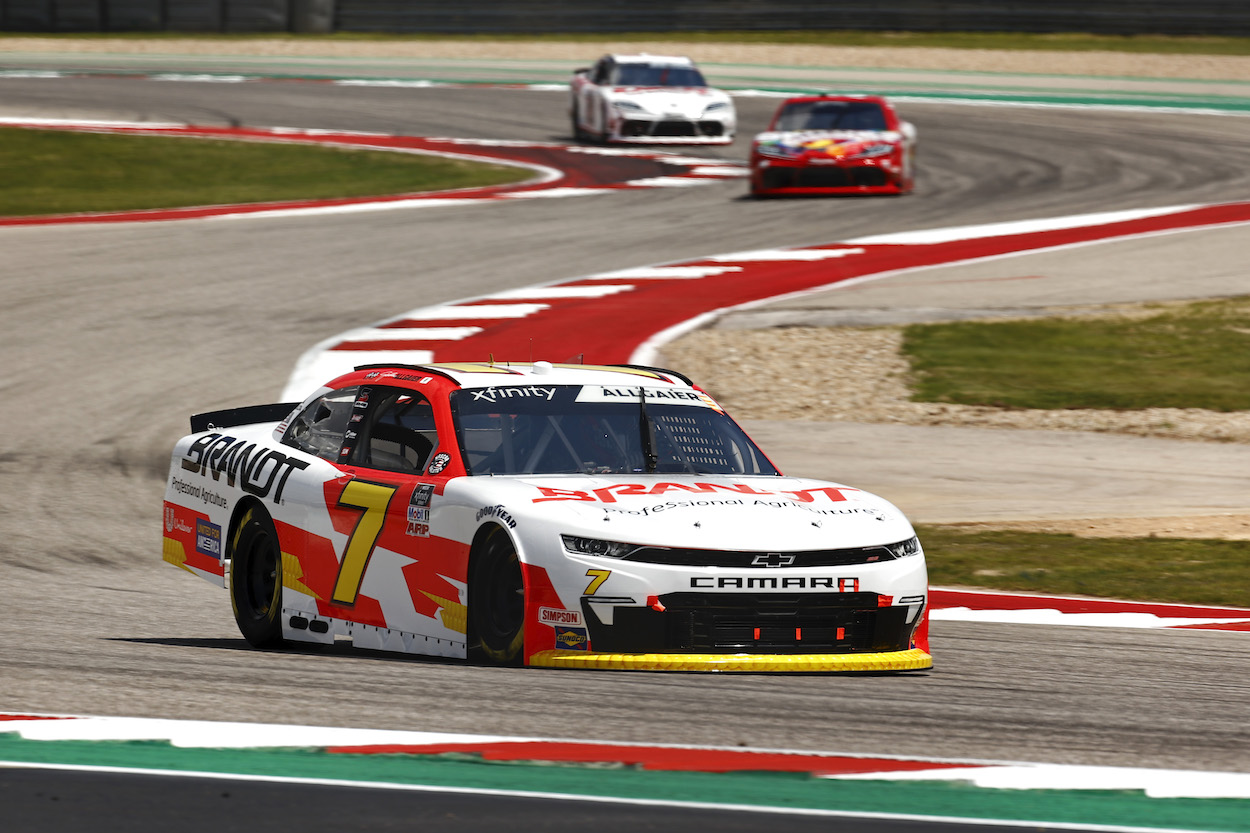 Justin Allgaier Explains Why He Went Incognito and Required a Secret Code Word for Racing Weekend at COTA
Justin Allgaier had an adventurous weekend in Austin at COTA that included creating a secret code word with his wife and going incognito.
Justin Allgaier had a successful first trip to Austin, Texas, racing on the Xfinity Series and bringing home a third-place finish at the inaugural Pit Boss 250 at Circuit of the Americas. While the weekend produced a good result, the entire week leading up to the first-time event was more than stressful for the 34-year-old driver.
Back home, his wife Ashley was expecting their second child at any moment. In the postrace interview, the JR Motorsports driver revealed how the pending birth of his second child weighed heavy on him all week, why it prompted him and his wife to create a special code word for this weekend's race, and how he went incognito during the Truck Series race and was glad he did.  
Justin Allgaier's up and down year in 2021 includes a pair of wins
To say Justin Allgaier has had an up-and-down 2021 Xfinity Series season is a major understatement. Through 10 races and up until the race at COTA in Austin, Allgaier finished 25th or worse in four events. 
On the flip side, when Allgaier hasn't been bad, he's been outstanding. The other six races he's earned five top-10 finishes, including a pair of victories at Atlanta and several weeks ago at Darlington. 
In Austin, the No. 7 Chevy proved to be strong throughout the day making its way around the 20-turn layout at COTA, but in the end, everyone was in a battle for second place behind a dominant performance by Kyle Busch. Allgaier earned a third-place finish, his sixth top 10 in 11 races. 
Created a special code word with wife for race
Interestingly, the entire successful trip to Austin almost never happened. Allgaier had a backup prepared for COTA as he was prepared to drop everything and return home to be with his wife, Ashley for the birth of their second child. In the postrace interview, he admitted the combination of a new baby on the way and being so far away caused him more stress than he wanted others to believe.
"It was a very nerve-wracking week," he admitted. "I tried to put on that it was super easy. We had a code word if Ashley did go into delivery while I was in the car. We just monitored the situation and my wife has been a rock star through all of this. I'm excited to welcome the birth of my second child but I was super worried that it was going to come here while we were down here at COTA."
Allgaier didn't identify the code word, but his wife did later on Twitter. 
"If anyone was listening to @J_Allgaier radio at the end, he said we didn't have to call "bluebird"… that was our code word for the radio if I went into labor," she wrote.  
Allgaier went incognito and was glad he did
On Saturday before the Xfinity Series race, Allgaier bided some time taking in NASCAR Truck Series race action from a unique vantage point. 
"This race track, the fans today were really into it," Allgaier said. "I actually went and sat in turn 1 in the grand stands for the truck race. It is pouring down rain and every time somebody would pass for the lead, the entire grand stand would erupt in cheers. That's what drew me to the sport. That's what I loved about it when I was a kid. That's what's going to keep me coming back for years and years to come. It was really special to be able do that and be a part of it."
It was undoubtedly a very special event for Allgaier and all those who took part in NASCAR's inaugural weekend of races at COTA. But it still won't compare to the special delivery he and his wife are expecting very soon.
Like Sportscasting on Facebook. Follow us on Twitter @sportscasting19.