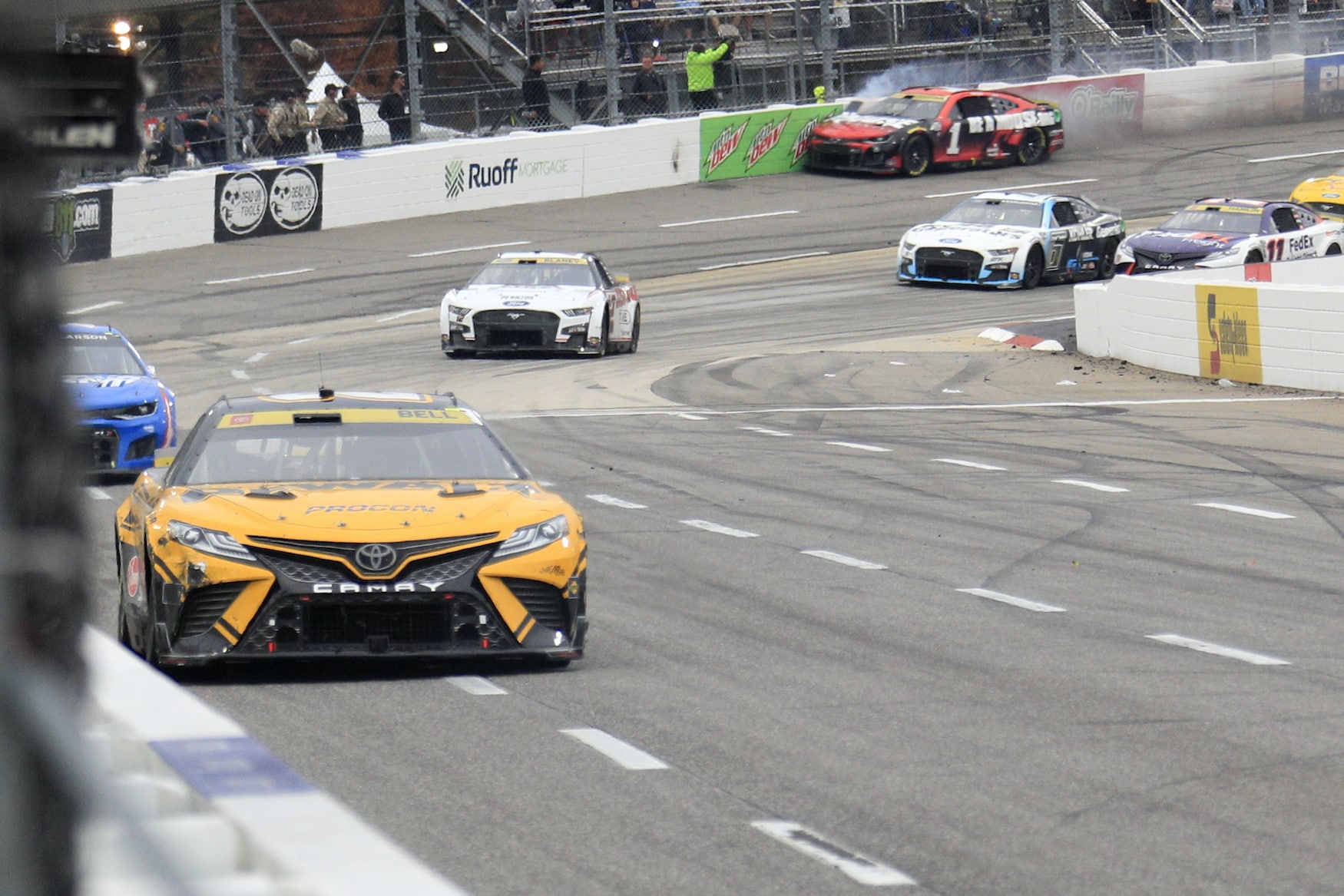 The Shocking Difference in Speed Is Why Ross Chastain Martinsville Miracle Looked Like an Optical Illusion
The shocking difference in speed of Ross Chastain compared to the field on the last lap at Martinsville is why it appeared the Trackhouse car was in fast-forward while the others were in slow motion.
Ross Chastain knew he was two points behind Denny Hamlin and the last transfer spot for the Championship 4 when he started the final lap at Martinsville Speedway. That's when the Trackhouse Racing driver made a business decision and went full throttle down the backstretch and around Turns 3 and 4 in what was unquestionably a monumental moment in NASCAR Cup Series history.
Most people, including drivers, reacted in disbelief when watching the replay for the first time because it appeared that the No. 1 car was in fast-forward mode as it darted past five cars in a matter of feet. There's a reason for such an optical illusion and it's based purely on speed. So that begs the question — how much faster was Chastain traveling when he made the move? The number is shocking.
Ross Chastain pulls off miracle move
Ross Chastain and Denny Hamlin have raced around each other and had numerous run-ins this season. It felt appropriate going into the waning laps at Martinsville that it would come down to the two drivers battling for the final spot to advance to Phoenix. 
When the white flag waved at the Paper Clip, no one gave Chastain (10th) a chance to pass Hamlin (5th) on the track, and it would take a miracle to pass the number of cars needed to get above the Joe Gibbs Racing driver to move on to the championship race. 
"Need two spots here," Chastain's team told him over the radio.
"Got to get them?" the driver asked. 
"Yeah, got to get them. Need two," his spotter replied. 
The driver went quiet over the radio. He was about to let his actions do all the talking. 
How fast was Chastain going?
No driver had used fifth gear all day on the half-mile track. Chastain shifted into fifth going down the backstretch, and floored it. When he went into Turn 3 and first made contact with the wall, he was traveling at 130 mph. 
In NASCAR, 130 mph doesn't sound fast when cars reach almost 200 mph at tracks like Talladega and Daytona. But at Martinsville, that's an extremely high rate of speed, especially when you consider the cars that Chastain was passing on the inside were traveling anywhere between 70-80 mph. 
Chastain's video game move looked like he was going in fast motion compared to the other cars because he was traveling around 50 mph faster at his top speed. 
Drivers and teams react in disbelief to move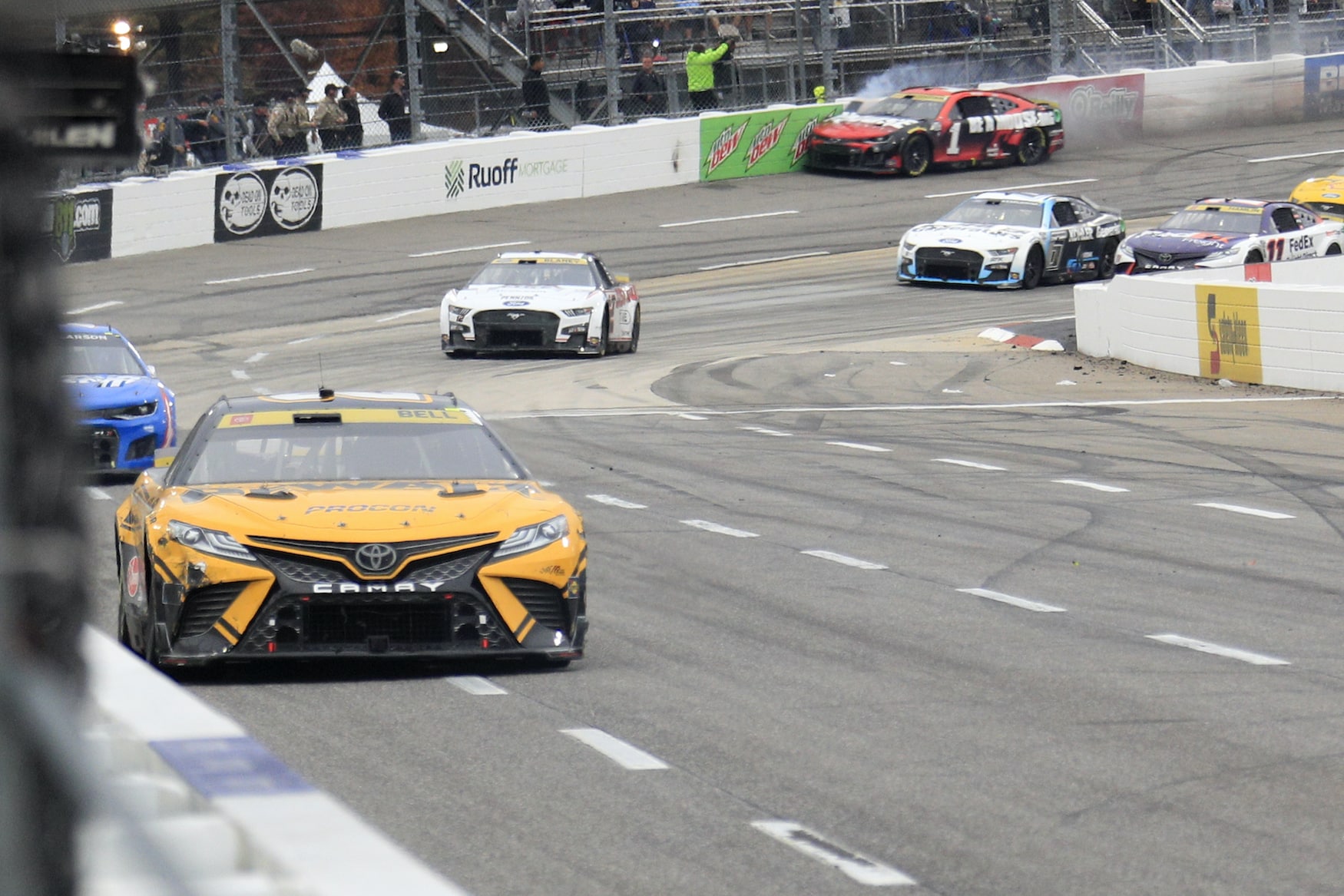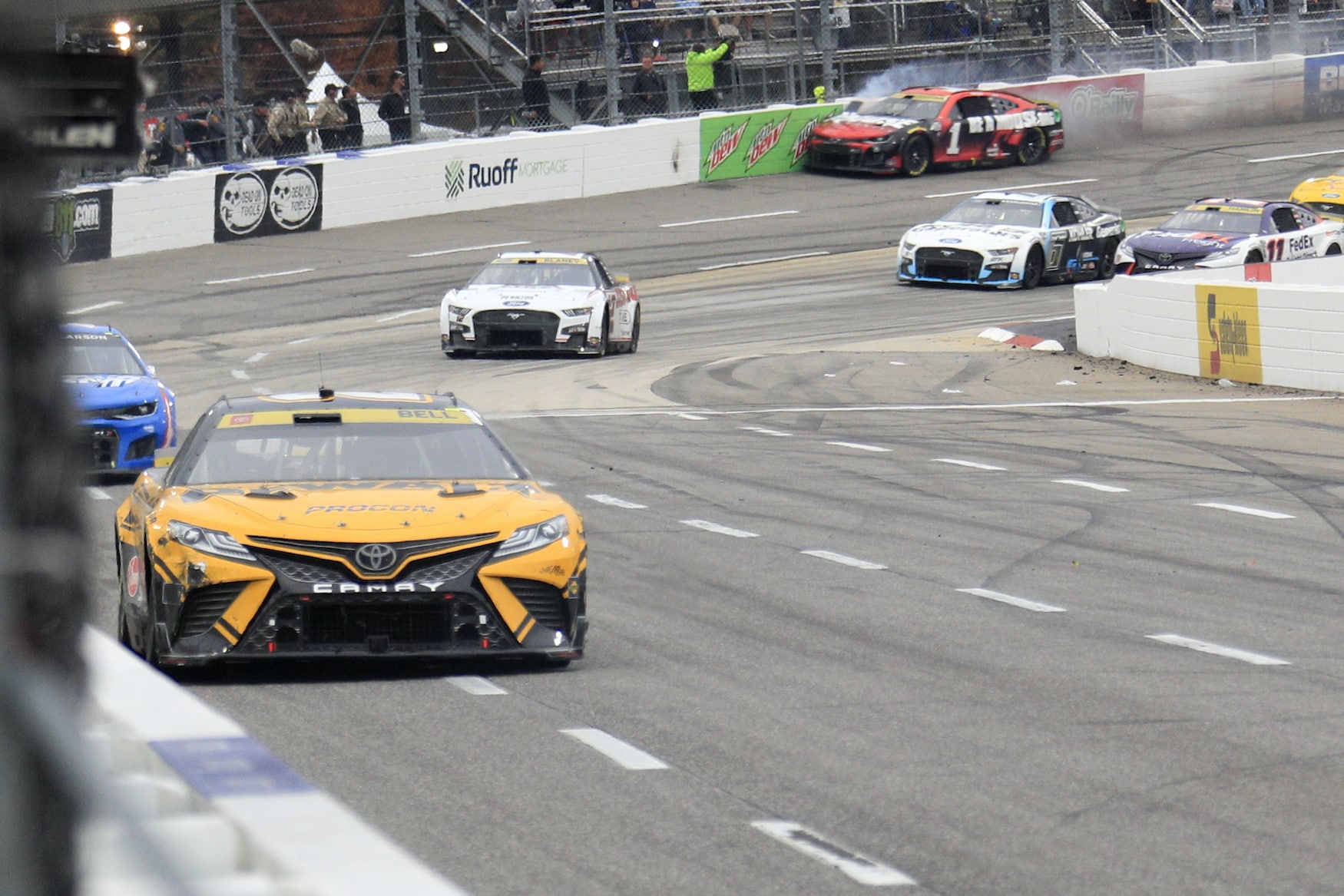 That dramatic difference in speed of Chastain's car compared to the field, which made it appear like an optical illusion, unsurprisingly drew a response from everyone who witnessed it, including the drivers and the crews just moments after it happened. 
"I guess we just lost on that," a dejected Denny Hamlin radioed after realizing what had happened. 
"Well, I've never seen anything like it," crew chief Chris Gabehart told him. "But Bell wins, he's in and the 1 Hail Mary-ed the fence in (Turns) 3 and 4 and got in." 
"Holy s***! Did you see that?" Joey Logano said as Chastain passed him. "Ha ha ha! Oh my God!"
"Oh my God! Coming to the checkered flag. I can't believe what I just saw," Chase Briscoe's spotter radioed to him. 
"That's literally the coolest thing I've ever seen in my life," Briscoe responded. 
It was the coolest and fastest thing ever seen at Martinsville. The track record was 18.954 seconds. Chastain's final lap was 18.845 seconds. And to think he accomplished that by what he did in just half a lap. 
Have thoughts on this topic? Keep the conversation rolling in our comments section below.