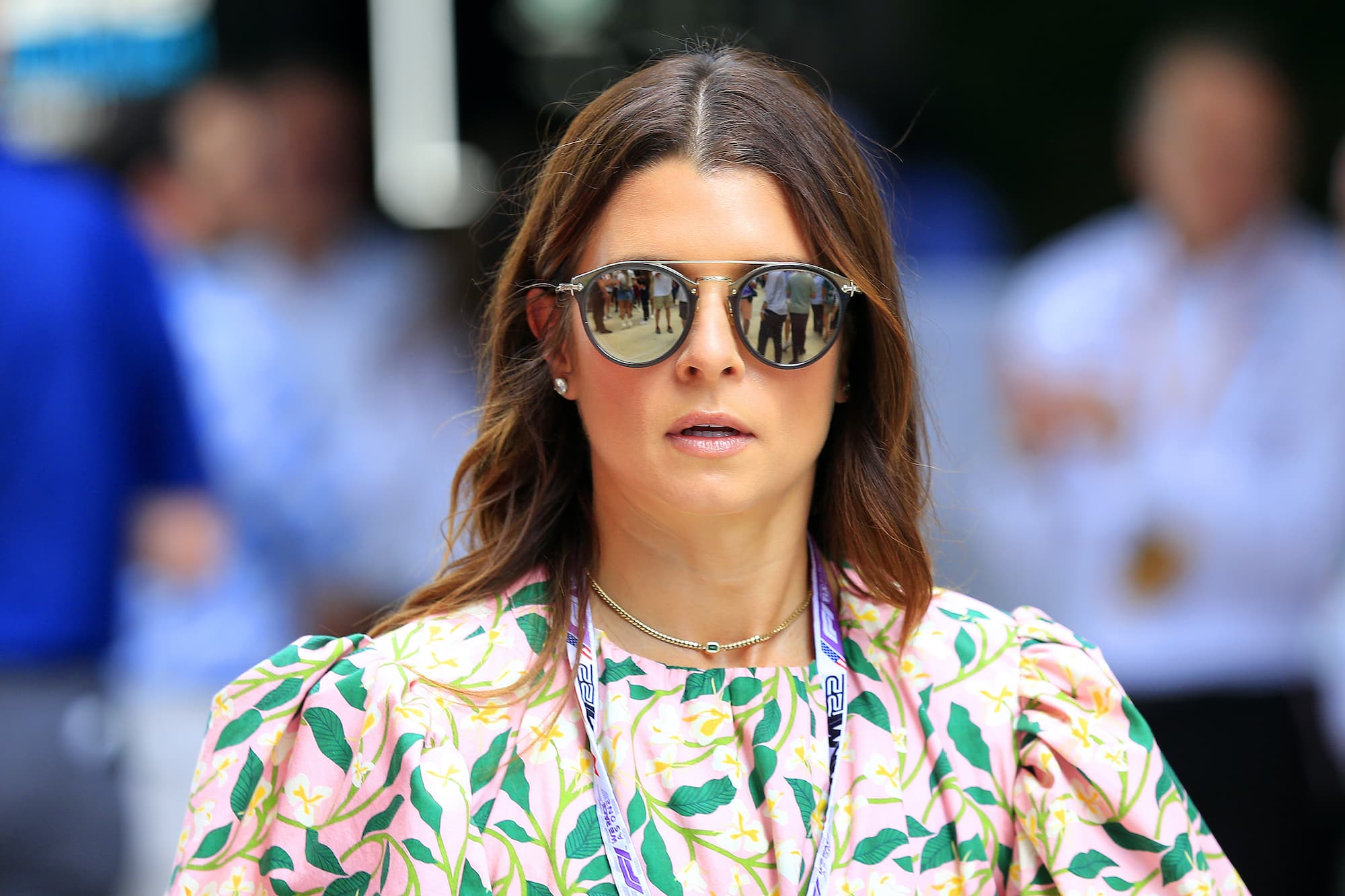 Danica Patrick Doesn't Hide How She Feels About Joey Logano, Calling Him a 'Jackass' and a 'Punk'
Danica Patrick had Denny Hamlin as a guest on her podcast, and when the subject turned to aggressive driving, the former driver called out Joey Logano, saying the Team Penske driver is a "punk" and a "jackass" on the track.
Danica Patrick retired from full-time racing after the 2017 Cup Series season. Since then, the former Stewart-Haas Racing driver has been involved in numerous business ventures, including her own podcast. 
Denny Hamlin recently appeared as a guest and the pair relived some of their racing memories, including some frustrating moments for Patrick when the Joe Gibbs Racing driver wrecked her. But it was during another discussion on retaliation that the 40-year-old former driver took direct aim at Joey Logano and didn't hold back what she thought about his driving style.  
Danica Patrick doesn't hide how she feels about Joey Logano
With Bubba Wallace wrecking Kyle Larson at Las Vegas and serving a one-race suspension, retaliation has been a hot topic of conversation in NASCAR circles. With that as the backdrop, it wasn't surprising when Danica Patrick had Denny Hamlin as a guest on her Pretty Intense podcast that she asked him about retaliation and if he believed NASCAR should intervene.
"They set a precedent when Matt Kenseth wrecked Joey Logano," Hamlin said. 
"Oh yeah, that was so exciting though," Patrick said. "For those who don't know, Matt Kenseth was taken out by Joey Logano. And he needed to get through to the Chase by winning, and he was in the lead. [Logano] took him out and then the next weekend at Martinsville, nothing happened while [Kenseth] was up there, up in the mix for top-three, top-five.
"But then once he was a lap down, he waited and came back up on track. And when the green flag dropped at the end of the race, he just freaking dumped Joey. And I, for one, am joyful about that because Joey's a jackass on the track. He also is another one that I don't like, probably more than you even. But he crashed me, too. He's just a little punk out there. Just look at his track record. Just look at how many people have a beef with him."
Patrick and Logano involved in scary crash with Aric Almirola
While Patrick and Logano had multiple run-ins, most fans remember the last one in 2017 at Kansas. That's when the No. 22 made a sudden left turn into the right rear of Patrick, which sent the No. 10 car for a hard hit into the outside wall that produced a shower of sparks. 
Logano also went up the track into the wall and took a hard hit when Aric Almirola was unable to sufficiently slow down and plowed into the Team Penske car.
Moments later, with her car on fire, Patrick hurriedly exited her vehicle and walked onto the infield grass. She and Logano were uninjured. Almirola, however, wasn't as fortunate, as medical safety workers had to cut apart his car to remove him. He was later diagnosed with a compression fracture in his back. He missed eight weeks before returning. 
Logano's aggressive style noted by NASCAR President Steve Phelps
While Logano caused that accident at Kansas, it was later reported to be due to a parts failure. However, the 2018 Cup champion has been involved in plenty of other incidents without anything breaking. Hamlin mentioned that to Patrick on the podcast, suggesting that Logano would be considered on the more aggressive end of the spectrum.
NASCAR President Steve Phelps admitted as much when he talked about Logano's driving style last year on the I Am Athlete podcast.
"Joey Logano cares about this sport. I'd say Joey's a little more — when he's out of the car, phenomenal guy," Phelps said. "Smart. Cares about the sport. When he's in the car, he doesn't give a s***."
"He has that switch," podcast co-host Brandon Marshall said. 
"Rowdy said the same thing," Channing Crowder offered, referencing Kyle Busch's earlier appearance on the podcast where he didn't speak highly of Logano. 
"He doesn't care," Phelps said. 
"He'll come up to you," Crowder said. "He'll buy you a drink. He's the nicest guy in the world."
"Couldn't be nicer," Phelps said. "When you get in the arena, he's going to, I don't care who you are. I'll take you out."  
Or in Patrick terms, drive like a "jackass."
Have thoughts on this topic? Keep the conversation rolling in our comments section below.