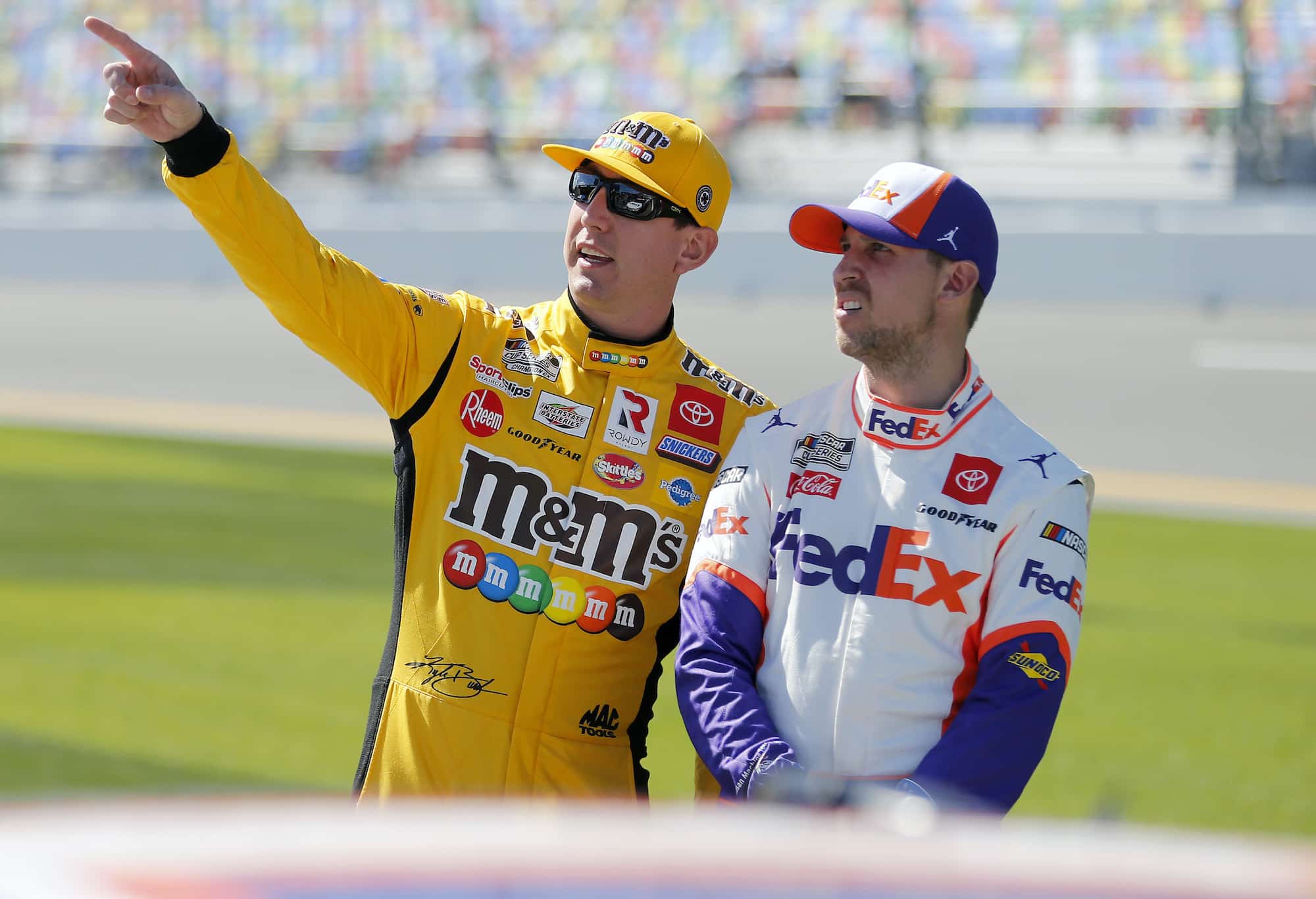 Kyle Busch Shows His Sense of Humor When He Pulls Off an Unexpected Move Behind Denny Hamlin's Back on National Television
Kyle Busch showed his humorous side this weekend in Miami when he pulled of an unexpected move behind an unsuspecting Denny Hamlin on national television.
Kyle Busch and Denny Hamlin have been teammates at Joe Gibbs Racing for 15 years. They've been through plenty of ups and downs together. However, that close working relationship ends after this year, with the two-time champion leaving for Richard Childress Racing in 2023. 
On Sunday at Miami and before one of their last races together at JGR, Busch showed off his sense of humor and fondness for his teammate in a spontaneous move that he unexpectedly pulled off behind Hamlin's back and in front of a national television audience. 
Kyle Busch and Denny Hamlin forever linked by 2022 race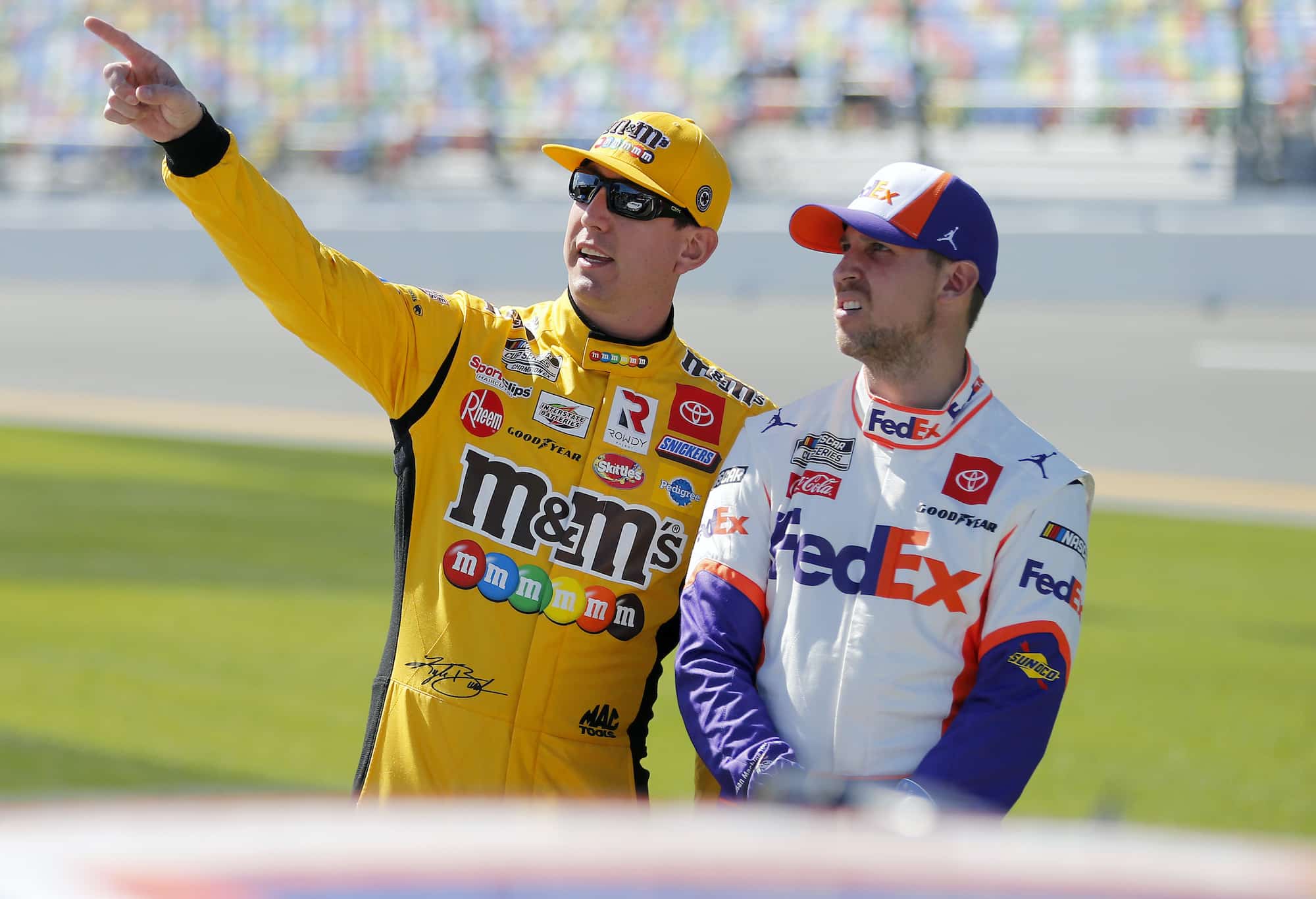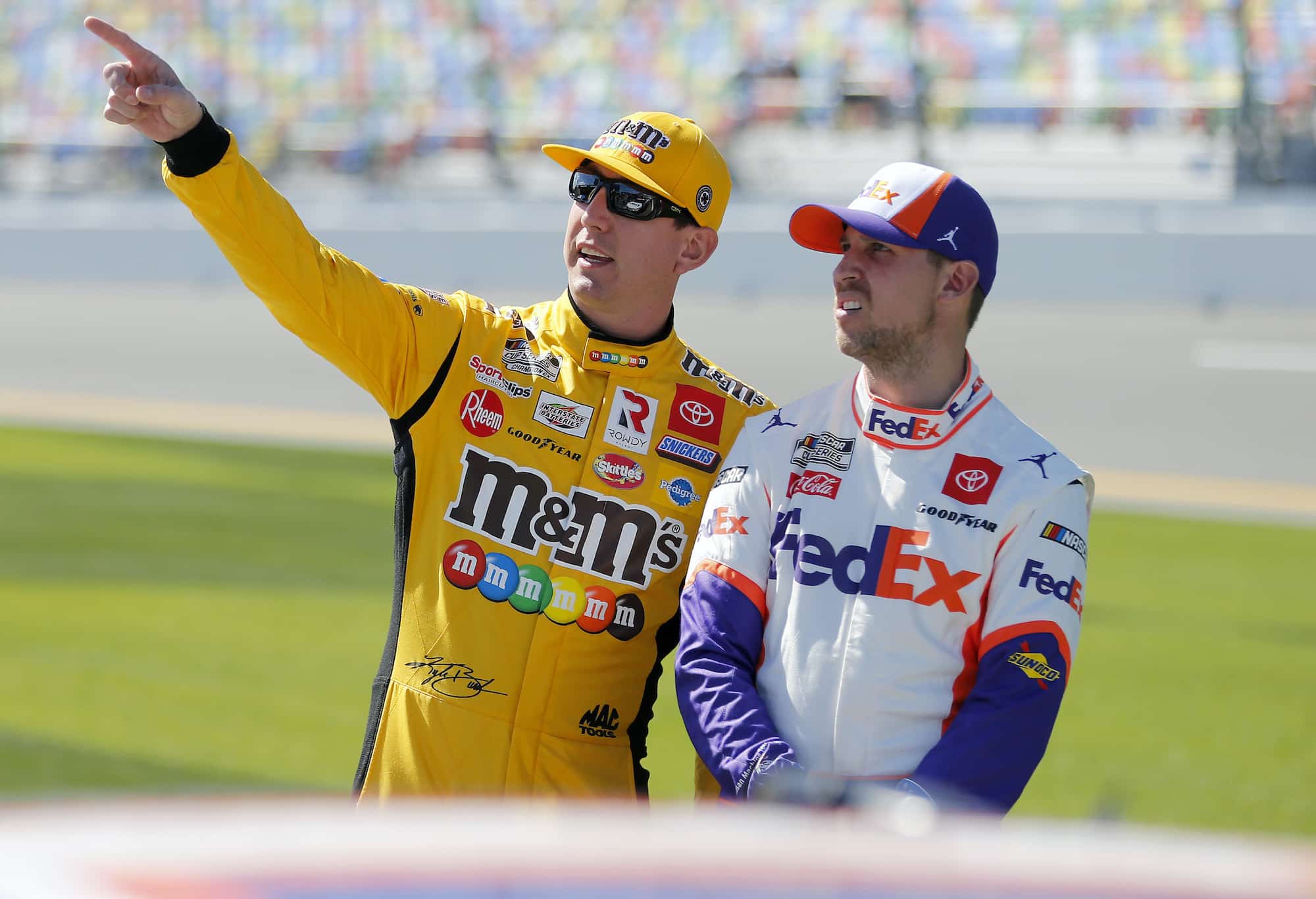 Denny Hamlin raced his first full-time season at Joe Gibbs Racing in 2006. Kyle Busch joined him two years later. They have consistently achieved a high level of success during their tenure at Gibbs. 
Hamlin has won all 48 of his Cup races with the organization. Busch has 56 of his 60 wins with JGR, including both of his championships in 2015 and 2019. 
While Busch has had a below-average year by his own standards, there will be one race from the 2022 Cup Series season that both drivers will never forget. It happened this summer at Pocono when the two cars finished 1-2 in qualifying, with the No. 11 team sitting on the pole. 
After battling for 160 laps around the 2.5-mile circuit, the pair impressively finished in the same positions. Unfortunately, it was short-lived as NASCAR discovered modifications to the cars in postrace inspection and disqualified both JGR cars in a shocking and historic move. 
Busch pulls off move behind Hamlin's back on national television 
When you work with someone for 15 years, it's not uncommon to develop a bond and form a strong friendship. For Busch and Hamlin, their relationship's strength has been displayed numerous times throughout their careers in their various moves on the track. 
This past weekend at Homestead, Busch showed another side to the friendship during the Countdown to Green prerace show while Hamlin gave an interview. As the three-time Daytona 500 winner answered a question, his JGR counterpart appeared behind in his bright red Skittles firesuit.
For a moment, Busch disappeared out of the picture, then suddenly reappeared with his autograph-signing marker in hand, where he proceeded to lean forward and sign the back of Hamlin's firesuit. Seconds after feeling someone touch his back, the 23XI Racing co-owner turned around and realized what was happening. 
"Nice," he said with a smile as Busch walked away and disappeared out of the picture. 
Pair talked about working together at 23XI
Before Busch announced he would be racing with RCR in 2023, he was rumored to be headed to numerous teams, including 23XI Racing with Bubba Wallace and Kyle's older brother Kurt. The team co-owner later acknowledged during an interview on SiriusXM NASCAR Radio that he had spoken with the younger Busch about driving for the team, but due to various circumstances — namely, the inability of 23XI to offer a long-term deal — it didn't work out. 
"I just think that we weren't able to give those long-term securities that he was looking for, which I totally understand. I would love to be a three-, four-car team in the future, but the economic model has to support it," Hamlin admitted. 
The driver-owner also spoke glowingly of his teammate and what the announcement of Busch's departure meant to him. 
"It's definitely a bittersweet day for sure. We kind of knew it was coming here over the last little bit," he said. "For me, personally, Kyle made me a better race car driver. That's just the best way that I can sum it up."
Busch and Hamlin know that they have both benefitted from working with and learning from the other for the last 15 years. Although they won't be working together as teammates any longer, their friendship off the track will likely continue because it's a unique bond that is so close that one feels comfortable enough to hilariously sign the back of the other unaware driver's firesuit on national television.
Have thoughts on this topic? Keep the conversation rolling in our comments section below.