Dale Earnhardt Jr. Called an 'Idiot' for His Take on Denny Hamlin-Ross Chastain Conflict Before Things Get Heated and Junior Drops F-Bombs on Podcast
Dale Earnhardt Jr. got upset with his show co-host on the Dale Jr. Download and dropped several f-bombs in frustration when discussing the Denny Hamlin-Ross Chastain feud.
Dale Earnhardt Jr. has regularly offered his opinion on the conflict between Ross Chastain and Denny Hamlin since it started at World Wide Technology Raceway. This past weekend at Pocono, the pair authored the feud's latest chapter. Or did they?
That was a topic of debate this week on the Dale Jr. Download and the Door Bumper Clear podcasts with Earnhardt viewing what happened as retaliation, as both drivers suggested, while his show co-host and the three spotters on the DBC show completely disagreed. When both shows were over, someone had called the NASCAR Hall of Famer an idiot in one conversation and he got upset in another, dropping multiple f-bombs.
Denny Hamlin and Ross Chastain address latest incident
With 18 laps remaining in Sunday's Cup Series race at Pocono Raceway, Ross Chastain chose the outside lane, and Denny Hamlin chose the inside on the restart. Coming out of Turn 1, Dale Earnhardt Jr. excitedly described the side-by-side action.
"They lean on each other a little bit!" he said of the contact between the two cars, which resulted in the No. 1 sliding up the track hard into the outside wall. "Oooh!" Earnhardt, Jeff Burton, and Rick Allen voiced in unison.
After a visit to the infield care center, Chastain spoke with NBC's Parker Kligerman and offered his version of events.
"Oh Parker, I think that's something that's been owed to me for a few months now," the Trackhouse Racing driver admitted. Kligerman then asked if he felt like that was retaliation.
"I've been owed that and probably some more for a few months now," Chastain said. 
After the race, Hamlin addressed the incident in his postrace interview when Marty Snider asked him if that was "straight payback."
"I mean, what did you want me to do?" he replied. "What did you expect me to do? We got position on him and he just ran out of race track." 
Dale Earnhardt Jr. called idiot for his view 
During the latest episode of the Door Bumper Clear podcast, show co-hosts TJ Majors, Freddie Kraft, and Brett Griffin were all in agreement that what happened between Hamlin and Chastain was a racing incident, not retaliation, and called Dale Earnhardt Jr. an idiot for suggesting otherwise.
The boss made a surprise call later in the show and, unsurprisingly, the topic of Hamlin and Chastain came up.
"What'd y'all talk about?" Earnhardt asked, questioning what had been discussed on the podcast.
"We called you an idiot," Kraft said.
"Let me ask you a question. What did y'all determine on Denny and Ross? Was it a retaliation or not a retaliation?" he asked.   
"We all three said you were wrong," Majors replied. 
"Man," Earnhardt said, surprised. "The man got out and admitted it."
"Yeah, but he was so nice about it," Majors countered. 
"It was retaliation with a scalpel, not a hammer," Earnhardt suggested, which drew a big laugh. "That's a lot for Denny. Believe or not, that's as hard as Denny goes. Who knew?"
Things get heated on Dale Jr. Download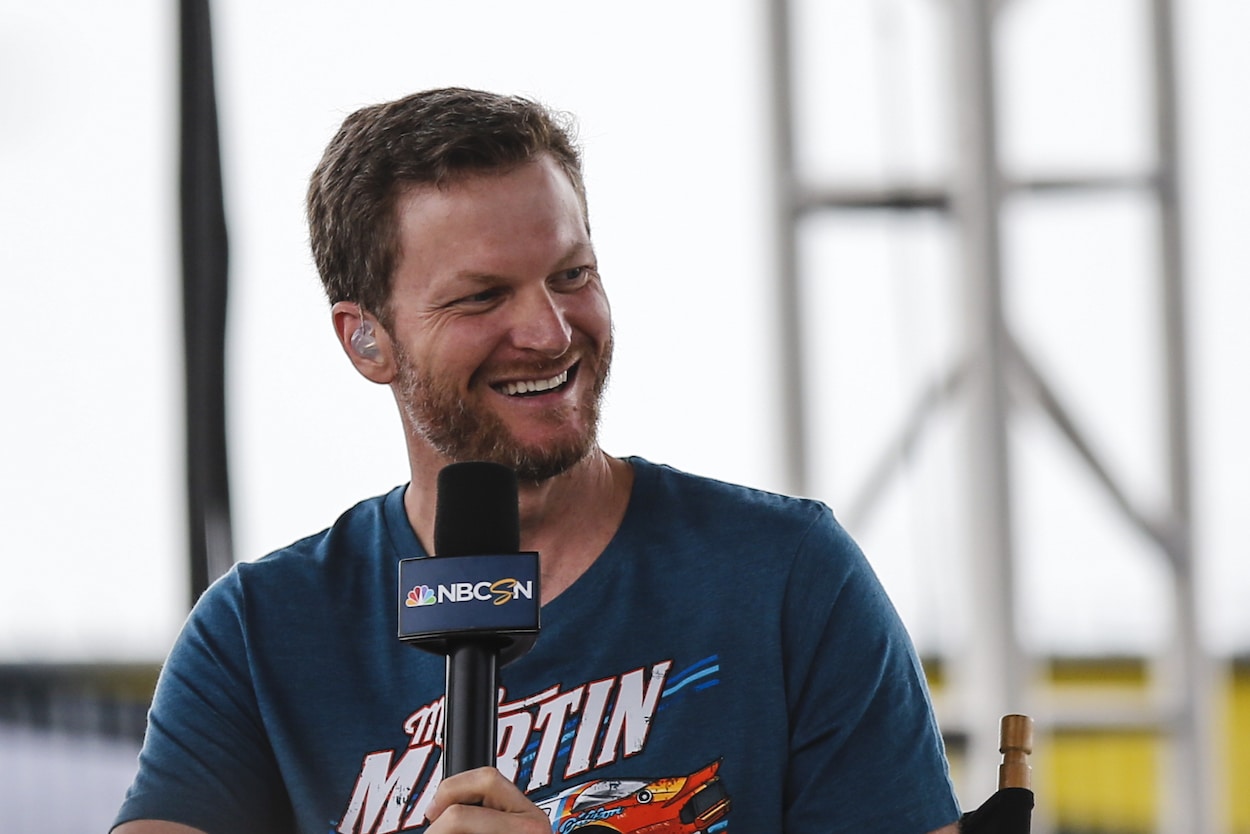 The conversation between Earnhardt and the DBC crew was lighthearted and fun. The same could not be said of the latest episode of the Dale Jr. Download. During the "Dirty Air" segment, the show host brought up the the Hamlin-Chastain feud and things quickly escalated when show co-host Mike Davis said he didn't think that Hamlin ever touched Chastain, which replay clearly showed that he did.
"Are you kidding me, Mike?" Earnhardt said in disbelief. 
"Hey, Door Bumper Clear doesn't think they did either," Davis replied.
"You need to watch the freakin' race. They hit. Smoke comes off the cars," Junior responded. 
Moments later, Davis suggested that he didn't believe Hamlin was thinking about getting even with Chastain with less than 20 laps to go out of concern for causing a big crash and ending his hopes at victory. Earnhardt disagreed.
"I have been watching races all my life," the former driver said. "And I've seen plenty of guys wreck guys out of the lead in retaliation for something else that has happened between them on the race track and certainly inside of 20 laps to go. Even on the very last lap, I've seen guys get wrecked because of past history and feuds that carry on."
"Give me an example," Davis said.
"Oh, goddang Mike, I f****** lived this my whole f****** life," a frustrated Earnhardt replied. 
"So you can't think of one example," the show co-host replied. "Why you gotta cuss? Don't cuss."
"Give me five minutes and I'll Google a f****** example," Earnhardt answered. 
When Davis said all Junior had to say was that he didn't have an example and suggested that he didn't have to get upset, Earnhardt quickly fired back.
"Well, you know that's bulls*** to put somebody on the point," he said. 
Things remained contentious for a few minutes but eventually calmed and the two ultimately agreed to disagree. An interesting conclusion when you consider the participants in the actual on-track feud seem to be in agreement with each other.
Like Sportscasting on Facebook. Follow us on Twitter @sportscasting19 and subscribe to our YouTube channel.