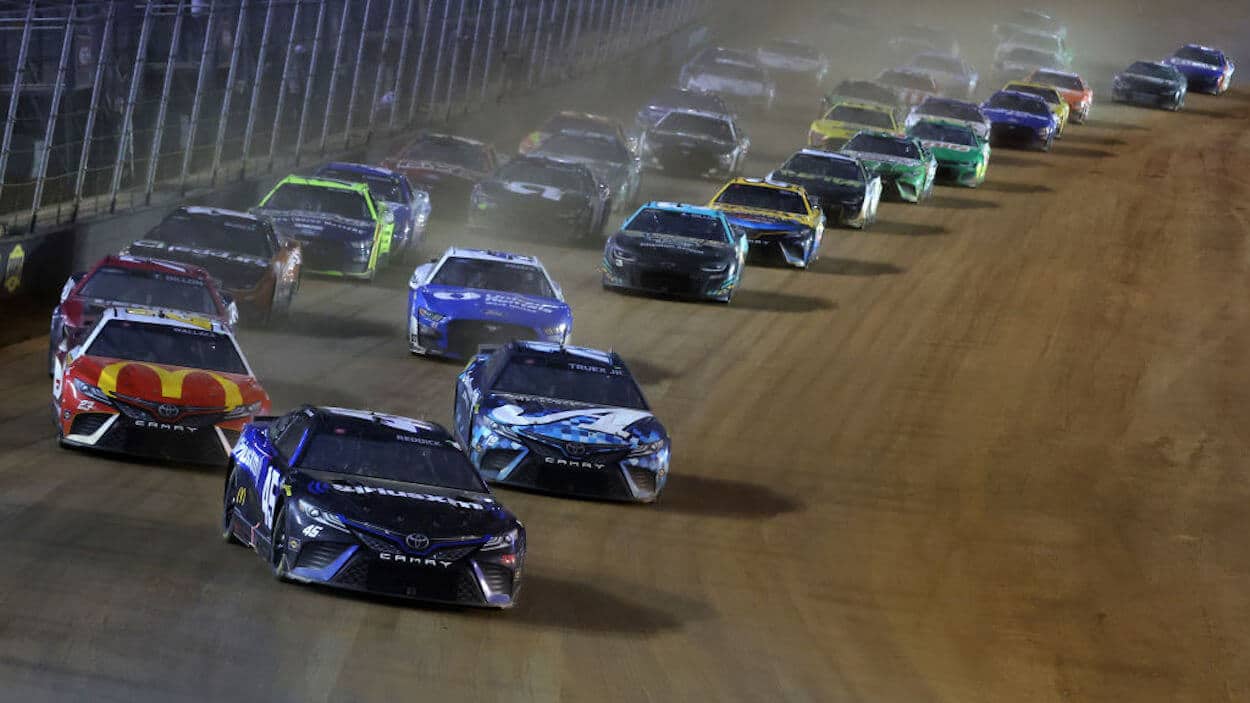 Racing at a Dirt Track — Especially on Easter Sunday — Is a Poor Use of Everyone's Time
Having a NASCAR Cup Series on a dirt track is a questionable idea. Scheduling that race on Easter Sunday only compounds the mistake.
Initially, it seemed like a reasonably good idea. The first NASCAR Cup Series race on dirt in more than 50 years? Sure, let's give it a shot.
Then NASCAR and the folks who run Bristol Motor Speedway decided to take it a step further. Well, actually, two steps further. Instead of dumping 23,000 cubic yards of dirt on Bristol's high-banked, roughly half-mile concrete layout for a one-time affair, they decided to bring the dirt back a second spring. Then a third.
And in between Year One and Year Two, someone had the not-so-wise thought of moving the Bristol dirt race to Easter Sunday — a rare open date on the Cup Series calendar for more than three decades.
Track owner Marcus Smith said this past weekend that it remains to be determined whether BMS will host a dirt race in 2024 and, if so, whether the event will be contested on Easter for the third year in a row.
Hopefully, before any such decision is made, NASCAR and the powers that be at Bristol come to their senses and realize that Bristol's more familiar concrete surface need not be covered in red clay again. And, in just a moment, I'll uncover the reasons why.
Numerous Cup Series drivers give dirt-track racing at Bristol a thumbs-down
While no formal poll has been taken among Cup Series drivers, it's fair to say that a good number of them aren't exactly in love with the Bristol dirt concept. The track still reverts to its traditional concrete layout for its ever-popular fall night race, and there's a seemingly growing sentiment in the Cup garage that BMS officials should leave it that way.

In fact, some drivers don't think NASCAR's premier division needs to be racing on dirt at all.
"I think we all really enjoy the concrete surface here at Bristol," Kyle Larson, ironically one of NASCAR's most experienced dirt-track racers, told reporters this past weekend. "I think the crowd's typically bigger, it seems like at this point now, for the concrete stuff. I don't know. It's up to the series and the promoters, but I would love to get to running two races on the concrete here."
Larson then took it a step further when asked to name a track that could replace Bristol as the host of a dirt race.
"We don't need to be racing on dirt," he said. 
Later on, Kyle Busch concurred with Larson while fielding questions from retired NASCAR driver Kenny Wallace on the NASCAR RaceDay prerace show.
"Look, Kyle Larson's a dirt guy, right?" said Busch, winner of the 2022 Bristol dirt race. "If the dirt guy says we don't need to be running these cars on dirt, let's not do it. … I've got nothing against the dirt; it's just these cars don't belong on the dirt. If you want to run a dirt race with the Cup guys, bring a dirt car. Let's all go race in dirt cars together. That's how I see it."
Others hold a similar perspective on clay-covered Bristol.
"I'm a much bigger fan of the original Bristol," driver Aric Almirola said in a team news release leading up to last Sunday's race. "It's one of my favorite tracks on the circuit, so I really enjoyed racing on the concrete twice a year."
Cup Series veteran Kevin Harvick was more blunt last year when sharing his thoughts about racing on dirt at Bristol.
"If I had my choice, we wouldn't be doing this, anyway," he said after being eliminated from the race early. "What's the point? What's the point, really? I don't know. … I just think it's ridiculous that we're doing what we're doing, anyway."
Even Christopher Bell — a dirt-track racing aficionado who won Sunday's race — was non-committal about his preference when asked during his post-race press conference about dirt Bristol versus concrete Bristol.
"I don't know," Bell said. "I guess that's more for the general public to decide. From my seat, it seemed like it was a pretty good race. This is also one of the best short tracks we have on the schedule. I don't know. Maybe we have three Bristol races, but that's probably not likely. I'm good either way on it."
It's not surprising that Bell hedged a bit when addressing the question of whether Bristol should keep its dirt date. After all, he'd just won the race — and he's an accomplished dirt-track racer whose experience on clay gives him a leg up on most of his competition.
It's pretty clear, however, where the drivers stand on the future of dirt-track racing at Bristol. But what about the fans?
NASCAR fans may love the Bristol dirt even less than Cup Series drivers
I wasn't at Bristol for Sunday's 250-lap Cup Series race, but just watching on TV, the stands appeared at least half empty — maybe worse. Noted NASCAR on FOX reporter Bob Pockrass, who was in attendance, estimated the crowd capacity to be at no more than 40 percent.

That's pretty sad when you consider that Bristol has long been one of NASCAR's most popular tracks, and rightfully so, given that it's been the scene of some of the most exciting races and unforgettable moments in the sport's 74-year history. While the fall night race held on the concrete isn't the hot ticket that it was a couple of decades ago, it still remains one of the five or six biggest events on the Cup Series schedule in terms of notoriety, prestige, and overall fan interest.
So, it speaks volumes of how fans feel about the dirt race that Sunday's event featured such poor attendance. Then again, maybe the dirt isn't the entire problem. 
Maybe it's also the fact that NASCAR abandoned a longstanding and widely embraced tradition when it decided in 2022 to have a race on Easter — a holiday that many consider sacred. 
Even those who don't celebrate Easter enjoyed having the weekend off since the Cup Series has so few breaks in its 38-race schedule (which includes two exhibition events). Now, with Easter a race day, NASCAR's top division is idle just one weekend from mid-February through early November.
Perhaps moving the Bristol dirt race to another weekend and giving the Cup Series Easter Sunday off would alleviate some of the attendance issues.
"I would love to see this race on a non-Easter weekend just to see the turnout," Chase Briscoe said after finishing fifth on Sunday night in his No. 14 Stewart-Haas Racing Ford. "I feel like we don't get a true read about what the fan base thinks about it."
Briscoe could be right. What's absolutely certain, however, is that Bristol Motor Speedway hosting a dirt race — especially on Easter — is a lost cause and a waste of time for the NASCAR Cup Series. If fans don't care enough to show up and the drivers would rather be home with their families and abandon dirt-track racing altogether, then why try to force a nickel into a dime's slot?  
NASCAR and Bristol officials might as well face the music and call it good on scheduling more Easter Sunday races — or any races — on the dirt. As for the last two, maybe even three, years of Bristol dirt races, let's call them what they've truly been: a failed experiment.