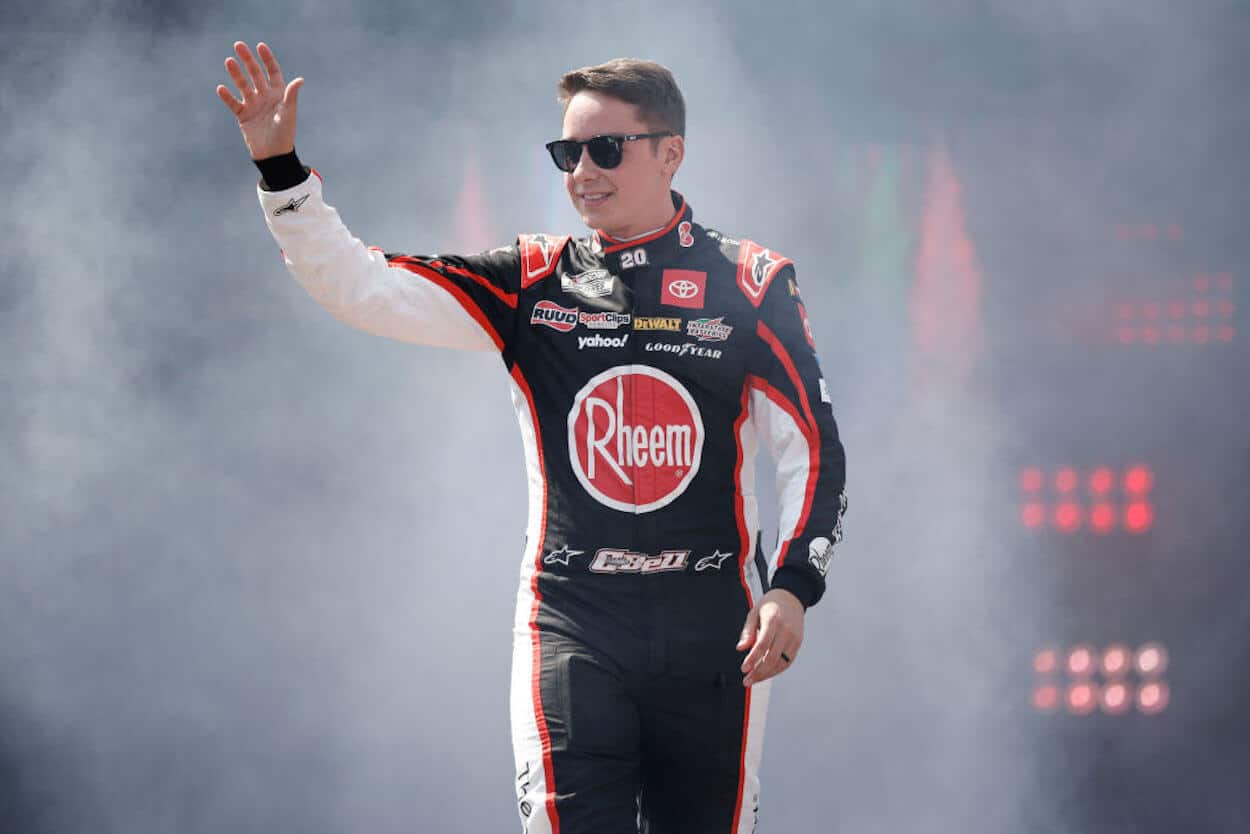 Christopher Bell Has Left Teammates Denny Hamlin, Martin Truex Jr., and Ty Gibbs in the Dust at Joe Gibbs Racing
Christopher Bell might have seemed like a little fish in a big pond at JGR, but he's more than surviving. If anything, he's shining.
Easily the least well-known of the four drivers in Joe Gibbs Racing's NASCAR Cup Series stable, Christopher Bell doesn't have the knack for flamboyance and controversy possessed by JGR rookie Ty Gibbs — team owner Joe Gibbs' grandson. 
Similarly, Bell lacks the name recognition, notoriety, and lengthy list of achievements held by veteran teammates Denny Hamlin and Martin Truex Jr.
But these days, Bell is outshining all three of his JGR teammates — not due to the size of his personality or trophy case but because of what he's doing on the race track. And, in all reality, his fellow drivers with the five-time Cup Series champion organization aren't anywhere close to being in his league.
Christopher Bell has put considerable distance between himself and fellow JGR drivers
There's a popular sports adage that goes like this: "You are what your record says you are."
If true — and it really is — Christopher Bell is one of the NASCAR Cup Series' premier driving talents, and his teammates are currently also-rans. Not that it's always been this way, of course.
Truex is the 2017 Cup Series champion, a three-time championship runner-up, and winner of 31 races in NASCAR's premier series. 
Hamlin, though not a champion, is a three-time Daytona 500 winner who has qualified for the Championship 4 in three of the last four seasons and gone to Victory Lane 48 times in Cup Series competition.
Gibbs, in his first season as a full-time Cup Series driver, triumphed 11 times in 51 NASCAR Xfinity Series starts for JGR over the last two years and captured the 2022 Xfinity title in impressive fashion.
However, over the seven races since the 2023 Cup Series campaign commenced in February at Daytona, Bell has recorded four top-five finishes in his No. 20 Toyota, while his teammates have yet to register a single top-five between the three of them. And, not surprisingly, this is reflected in the points standings where Bell is holding down the third spot behind Alex Bowman and Ross Chastain while Truex (ninth), Hamlin (12th), and Gibbs (20th) all lag significantly behind.
Christopher Bell's emergence as a top talent didn't just start in 2023
Don't think for a moment that Christopher Bell's ascent to the top of the proverbial Joe Gibbs Racing heap has happened overnight or just this season. Far from it, in fact. A quick review of last season — when two-time Cup champion Kyle Busch, not Ty Gibbs, was part of JGR's Cup lineup — will reveal that Bell has actually been leading the charge for some time now.
While Hamlin won twice last season, Busch posted a single victory, and Truex was surprisingly shut out of Victory Lane, Bell collected a career-high three trophies — two of them coming in a playoff elimination race, no less. 
Bell's late-season magic catapulted him all the way to the Championship 4, where he finished third among the quartet of finalists in the season-ending event at Phoenix Raceway.
Hamlin, meanwhile, was eliminated in the Round of 8, Busch saw his title hopes come crashing down in the Round of 16, and Truex missed the playoffs altogether.
So, if you are what your record says you are and the record since the beginning of 2022 is the metric by which JGR's drivers are measured, Bell is clearly JGR's top dog. Even if he doesn't have the last name Gibbs. Even if he doesn't have a Cup Series championship or Daytona 500 win to his credit. And even if he doesn't think people perceive him as one of the Cup Series' top stars.
"Nobody really realizes I drive race cars for a living, I think, for the most part," the always soft-spoken Bell said at last November's Championship 4 Media Day ahead of the final race. "I embrace that role. I guess I don't do anything else to advocate myself, or something like that."
In all reality, though, Bell doesn't really need to advocate for himself anymore. His on-track performance is doing all the advocating for him.
He's the cream of the Joe Gibbs Racing crop right now — and with Busch no longer part of JGR, Truex and Hamlin nearing the end of their respective careers, and Ty Gibbs still learning the ropes of life in the Cup Series, Bell is likely to remain the cream for the foreseeable future.