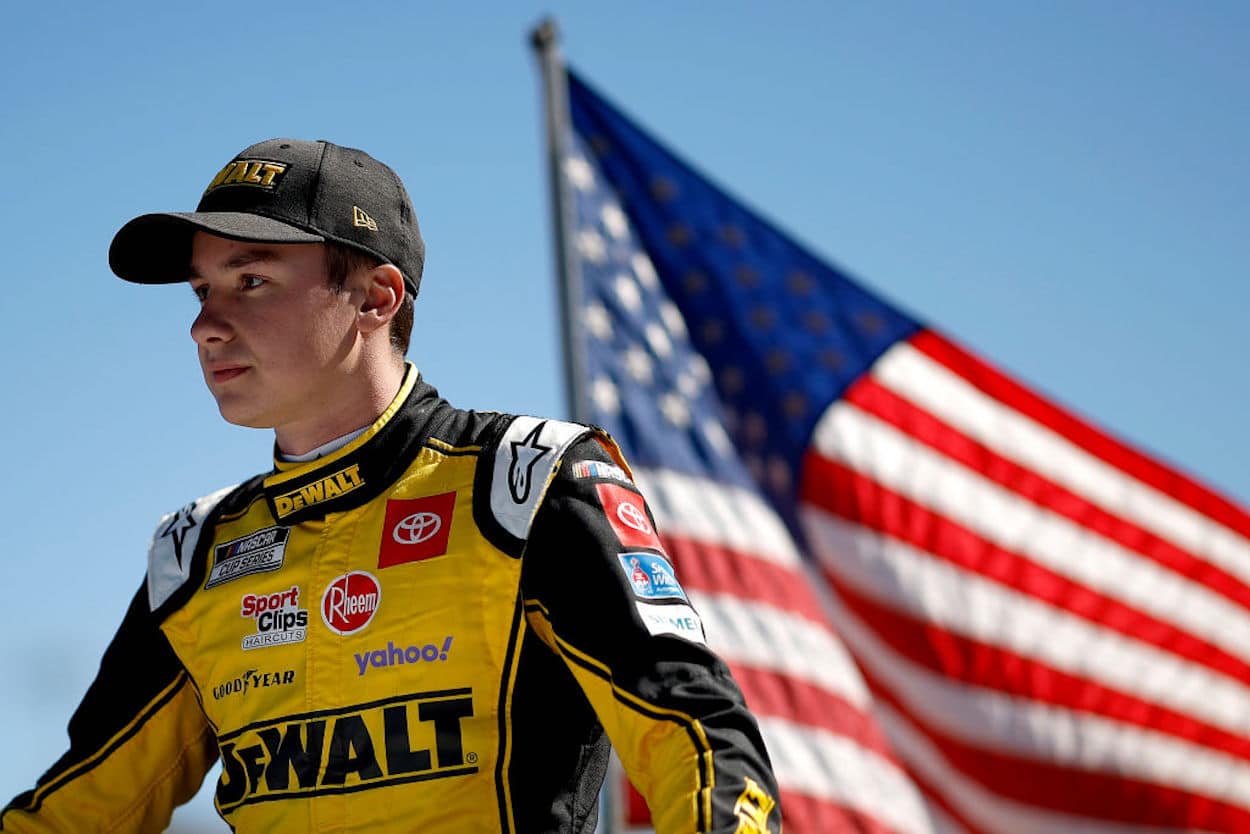 Racing with a Heavy Heart in the Face of Tragedy, Christopher Bell Drove Like a Champion in Defeat
Even though he didn't lift the big trophy at Phoenix, Christopher Bell can still be proud of his performance.
When Christopher Bell rolled into Phoenix Raceway on Sunday morning, he had every reason to feel excited and upbeat about life. One of four drivers competing straight up for the NASCAR Cup Series championship, Bell not only had an equal opportunity to claim the sport's biggest prize, but he arrived at Phoenix a winner of two of the past four races and with a considerable wave of momentum at his back.
Then, tragedy struck. 
Like the rest of the NASCAR world, Gibbs was informed prior to Sunday's season-ending race that Coy Gibbs — son of team owner Joe Gibbs and the vice chairman and chief operating officer of Joe Gibbs Racing — had died in his sleep just hours after watching his son, 20-year-old Ty Gibbs, win Saturday's NASCAR Xfinity Series championship at the desert track.
The news of Coy Gibbs' passing came as a shock and a gut punch to the entire NASCAR world, but the timing was particularly hard on Bell, who carried the weight of still having to go out and compete for a championship all while being in shock at the sudden loss of his friend and one of the team's top executives.
So how would Bell handle it all?

Christopher Bell showed praiseworthy maturity in the face of immense tragedy
Unfortunately for Christopher Bell and Joe Gibbs Racing, the driver of the No. 20 JGR Toyota fell short in his bid to win the championship — which would've undoubtedly been the ultimate tribute to Coy Gibbs, who had moved into a more prominent role at JGR the past few years following the death of his older brother and Joe Gibbs' other son, J.D., in January 2019.
Bell finished 10th in the race — good enough for third among the four championship finalists — after a slow final pit stop cost him several positions and ultimately doomed his quest to bring home the title for himself and JGR.
But Bell fought to the bitter end, maintaining enough focus to complete all 312 laps and stay out of trouble despite driving with a heavy heart. During driver intros before the race, the look of total devastation and grief on Bell's face was palpable as he tried to process his emotions concerning the news he'd just heard. By the time the race ended and Bell emerged from his race car on pit road, nothing had changed with his countenance.
"You wake up first thing this morning and you're super-excited and thrilled with life and where you're at and the opportunity given to you, and to receive news like that a couple of hours before you get in the car is extremely tough," Bell said during a recorded post-race press conference. "It just really kind of puts it in perspective that what we're doing here is not the big picture, for sure. I'm just thinking of Joe. I can't imagine what Joe's going through, and the entire Gibbs family, so that's the important piece."
In a show of incredible class and maturity beyond his 27 years, Bell also later took time to congratulate race winner and 2022 Cup Series champion Joey Logano.
"Congrats to Joey Logano and the 22 team," Bell tweeted Sunday night. "They were the class of the field and deserving champions. Right now my focus is being with my Joe Gibbs Racing family and trying to process the news of Coy's passing. We are all so heartbroken."
Christopher Bell isn't the champion, but he handled himself like one at Phoenix
Christopher Bell's career-high three NASCAR Cup Series wins this season, including two in pivotal playoff elimination races, pale in comparison to what he accomplished on Sunday at Phoenix.
No, Bell didn't win the race or the championship, but the young Oklahoma native and second-year member of Joe Gibbs Racing's Cup Series stable held it together in the face of immeasurable adversity — adversity the likes of which few of his driver peers will ever have to deal with.
The way Bell handled himself, both on and off the track, Sunday was downright admirable and worthy of major applause. Hopefully, once the sting of Coy Gibbs' passing isn't quite so fresh, Bell will be able to sit back and realize that he was a paragon of poise at Phoenix.
And for that, he and everyone at Joe Gibbs Racing should be forever proud.