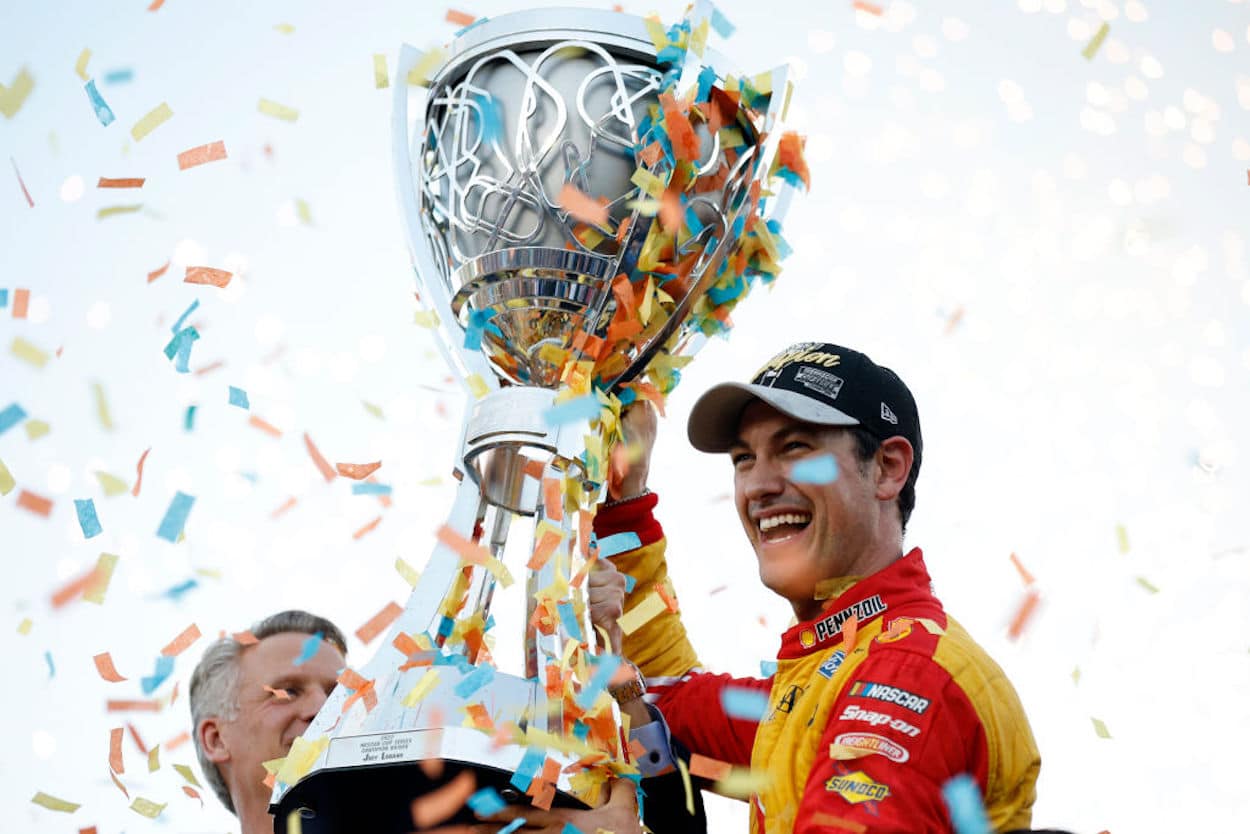 Sorry, Chase Elliott and Kyles (Busch and Larson): Joey Logano Is Now the Cup Series' Top Driver
With the 2022 Cup Series crown in his back pocket, Joey Logano is sitting on top of the NASCAR world.
That wide grin that seems to cover his entire face when he's just pummeled the competition. Those squinty eyes that accompany the smile. The aggressive, get-out-of-my-way style of driving that has earned him a lot of trophies but also quite a few enemies. The confident — some might call it cocky — Joey Logano attitude that bluntly declares, "I'm the favorite to win this."
Long before Sunday's season-ending NASCAR Cup Series event at Phoenix Raceway, Logano had established himself as one of the sport's most polarizing drivers for all the reasons stated above.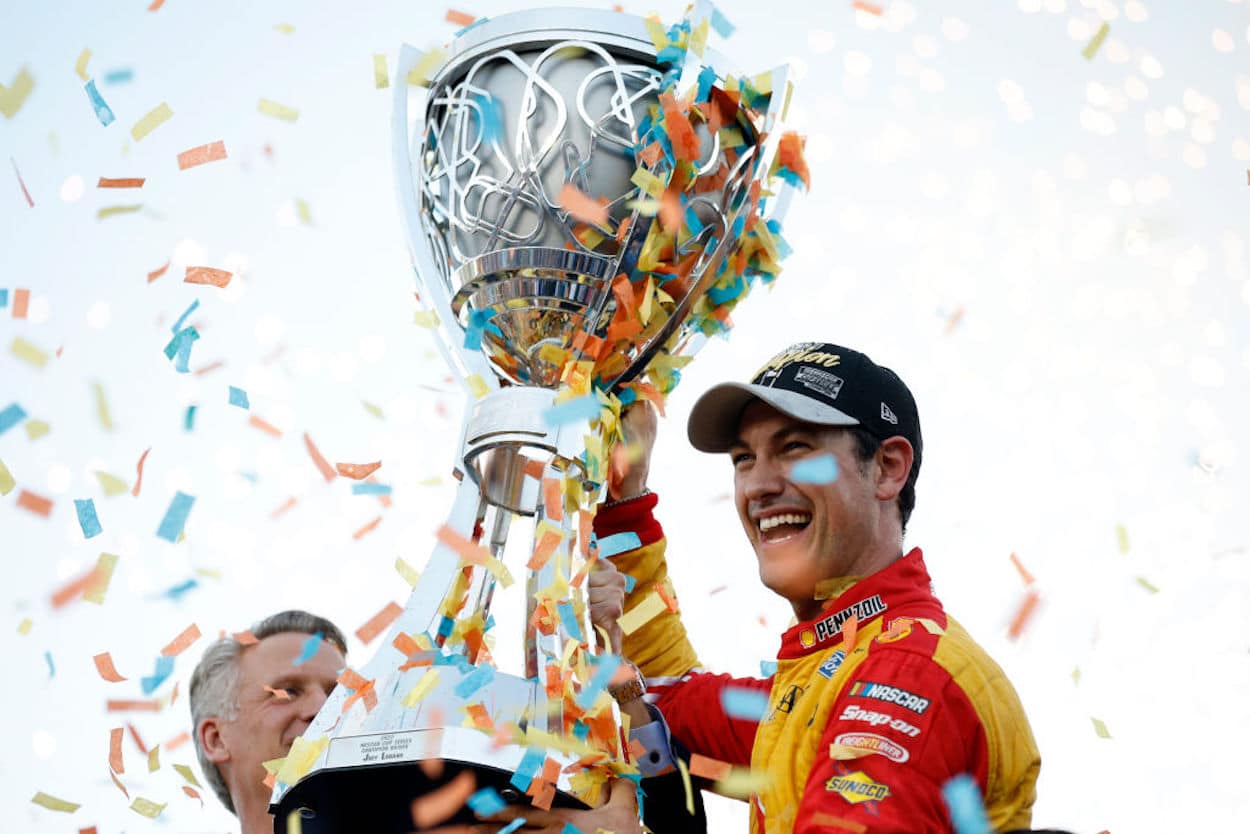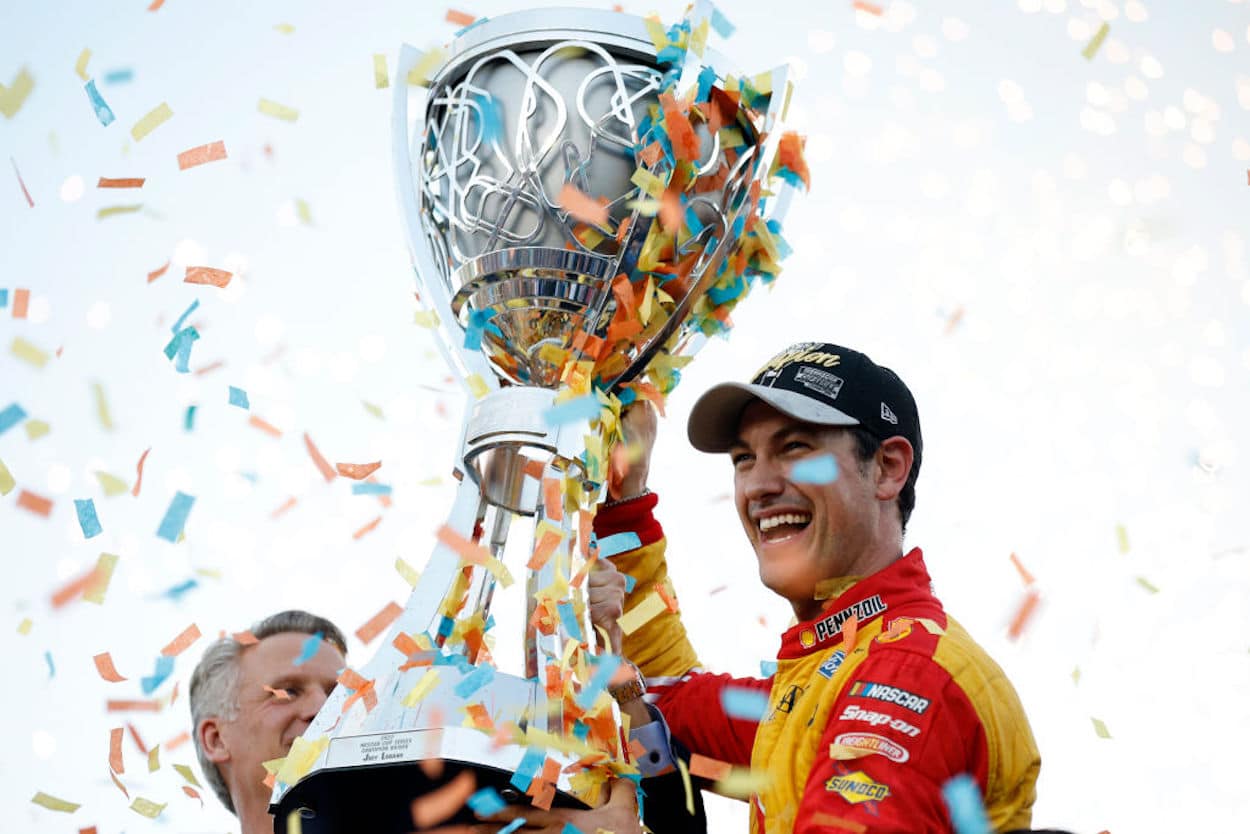 What wasn't established before Sunday — but is firmly established now — is that Logano, the 32-year-old phenom from Middletown, Connecticut, isn't just one of NASCAR's top drivers. No, my friends, Logano is now NASCAR's premier driving talent. And it's frankly not even all that close. 
Next up, I'll explain how with Sunday's dominant win that gave Logano his second Cup Series championship in five years, the Team Penske wheelman has set himself apart from three others often touted as the sport's best driver — Kyle Larson, Kyle Busch, and Chase Elliott — and left no question about who's the cream of the crop, at least for the time being.
Joey Logano has Kyle Larson whipped in the area of sustained excellence

Arguably the No. 1 measurement of greatness in any sport is sustained success, or excellence, over many years. If this applies to NASCAR — and, of course, it does — Joey Logano, without question, has a major edge on Kyle Larson.
Sure, Larson enjoyed a banner season in 2021 as he recorded 10 wins — the most in a single season since Jimmie Johnson went to Victory Lane 10 times in 2007  — but he's only won nine other races throughout the rest of his career in NASCAR's premier division.
Am I suggesting Larson was a one-season wonder? Hardly. With three victories in 2022, the Hendrick Motorsports driver proved this season that he's likely to be a championship contender for years to come.
But compared to Logano's resume, Larson's is paper thin. How much so? All of Larson's wins, naturally, have come during his eight full seasons of Cup Series competition. Logano's number of wins over the past eight seasons? Try 23 — along with two championships to Larson's one. And there hasn't been a season over that stretch when Logano didn't win a race. Larson, meanwhile, is batting 5-for-8 in that category.
Is that terrible? No. But it's also not anywhere close to being on a level with Logano. So Logano wins the award over Larson for sustained success, which by definition makes him the better driver.
Joey Logano has been head and shoulders better than Kyle Busch for the past three seasons
Now for the other Kyle — Busch, that is. Like Logano, Busch owns two championships at NASCAR's premier level, and those two titles came over a five-year stretch (2015 and 2019 for Busch, 2018 and 2022 for Logano).
Busch does have 60 Cup victories compared to Logano's 31, but keep in mind that Busch got a four-year head start over the Cup Series' newest champion. Logano triumphed a total of just three times over his first five seasons but has averaged an impressive 3.2 wins a season over the past nine years. One of those wins, it should be noted, came in the 2015 installment of NASCAR's biggest race, the Daytona 500 — a glaring omission from Busch's resume.
But what really sets Logano apart from Busch — who happens to be one of Logano's biggest rivals — is the difference in their results over the past three seasons. Since 2020, Busch has been to Victory Lane a total of four times. Logano has prevailed eight times over that same stretch — twice as often as Busch.
So while Logano's overall record doesn't measure up to Busch's, the newly crowned 2022 champ has far eclipsed Busch in performance over the past trio of seasons. And three seasons of outperforming a driver seem like large enough of a sample size to suggest that Logano has surpassed Busch — who is five years his elder — in the pecking order of NASCAR's elite driving talents.
Joey Logano has a much-needed confidence that Chase Elliott lacks
Now for Mr. Popularity himself, aka Chase Elliott. While it's true that Elliott has 18 Cup Series wins compared to Joey Logano's 13 triumphs over the same period of time, let's go ahead and take one off the board for Elliott since his "victory" at Pocono this year came only after first-place Denny Hamlin and second-place Kyle Busch were disqualified.
Now let's consider the fact that Logano has two championships over the past five seasons, to Elliott's one. Truly setting Logano apart from Elliott, however, is this season's playoff run.
Over the final 10 weeks of the season, Logano amassed five finishes of sixth or better. Elliott recorded only three top-10s — and one of those was a 10th-place finish. In the final race, Logano led 187 of 312 laps after qualifying on the pole. Elliott never even came close to whiffing the lead at Phoenix and came home in 28th — last among the four championship contenders. 
Deduce from this whatever you may, but here's my takeaway: Elliott choked under the pressure during the season's pivotal stretch run while Logano rose to the occasion. Perhaps the difference in outcomes had something to do with attitude. Just before the playoffs commenced at Darlington on Labor Day weekend, Logano brashly declared himself the favorite to go all the way. Then he made it known in the days leading up to Sunday's championship race at Phoenix that his feelings hadn't changed.
As for Elliott, well, he moaned and groaned at various points throughout the playoffs about myriad issues, the biggest being his belief that it's nearly impossible to pass at some tracks with the Next Generation Cup Series car. The worst of Elliott's griping took place after the Round of 12 elimination on the Charlotte ROVAL, where he basically declared himself out of the running to win any of the three races in the Round of 8 — which ultimately became a self-fulfilling prophecy. 
This kind of complaining doesn't do anything to build the morale of a team competing for a championship — unlike proclaiming yourself the driver to beat, which obviously goes a long way toward getting a team fired up and making its members believe in their driver and themselves.
"I truly believe that attitudes are contagious, good or bad," Logano said in his postrace champion's press conference at Phoenix. "And when you're able to bring that attitude to your race team in a moment like this, as a driver there, that just carries through it.
"I believe confident people win. If you don't believe in yourself, who else is ever going to believe in you? How are you ever going to win?"
Logano's confidence heading into the final race stemmed in part from knowing this was his fifth appearance in the Championship 4. None of the other finalists, including Elliott, had more than two years of previous experience in this setting.
"We've been here before," Logano said in his postrace press conference. "We knew how to do things. We knew how to prepare. We went out and just did our job. We put it on the pin, and then we won the race. Like that was the job at hand, and we nailed it.
"I couldn't be more proud of everybody doing that together, but we knew we were going to do it. Like that was where we were at. We had the time to think about it and go through things, and we felt truly ready. That's a great feeling going into a battle like this."
And it was a feeling that Elliott — despite himself being a former champion — clearly lacked.