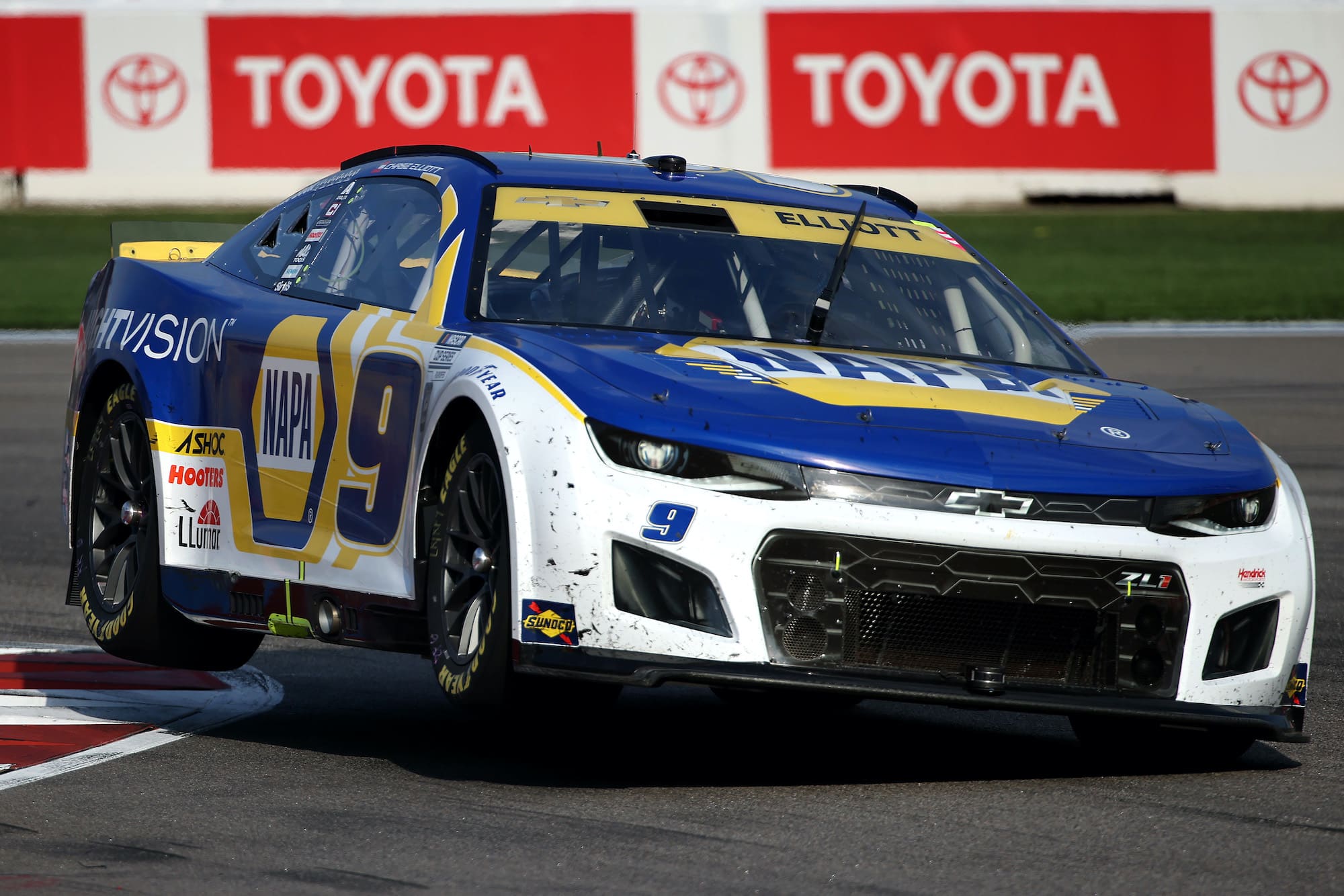 Frustrated Chase Elliott Pushes Away Camera and Then Sends Fans Ominous Warning About What to Expect for Rest of 2022 Cup Season
Chase Elliott was not happy on Sunday and didn't pretend to hide it, pushing a camera away and then bashing the Next Gen car in an ominous warning to fans about the rest of the 2022 season.
Chase Elliott has been the class of the field in the 2022 NASCAR Cup Series season, with five wins to his credit. It could have been more. Last week on the Charlotte Roval proved to be a prime example when the Hendrick Motorsports driver led a race-high 31 laps and was poised to win the race late until a bizarre couple of cautions and chaotic restarts shuffled him back in the pack. 
After the race in which he finished 20th, the 2020 champ was understandably unhappy with the result. He made that perfectly clear a couple of times, including once when he pushed a cameraman away and moments later when he bashed the Next Gen car and sent an ominous warning to fans. 
Chase Elliott runs up front but cautions change everything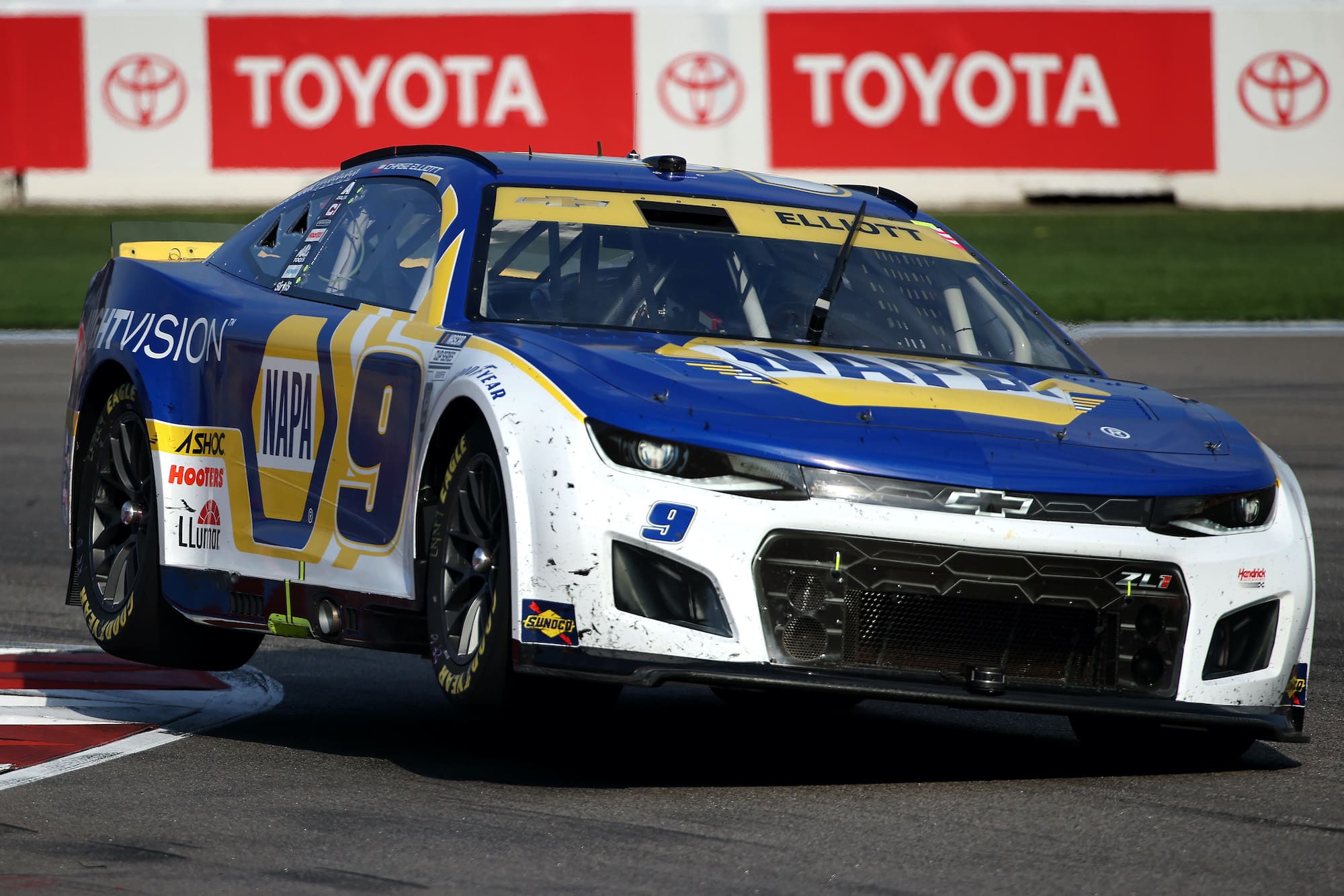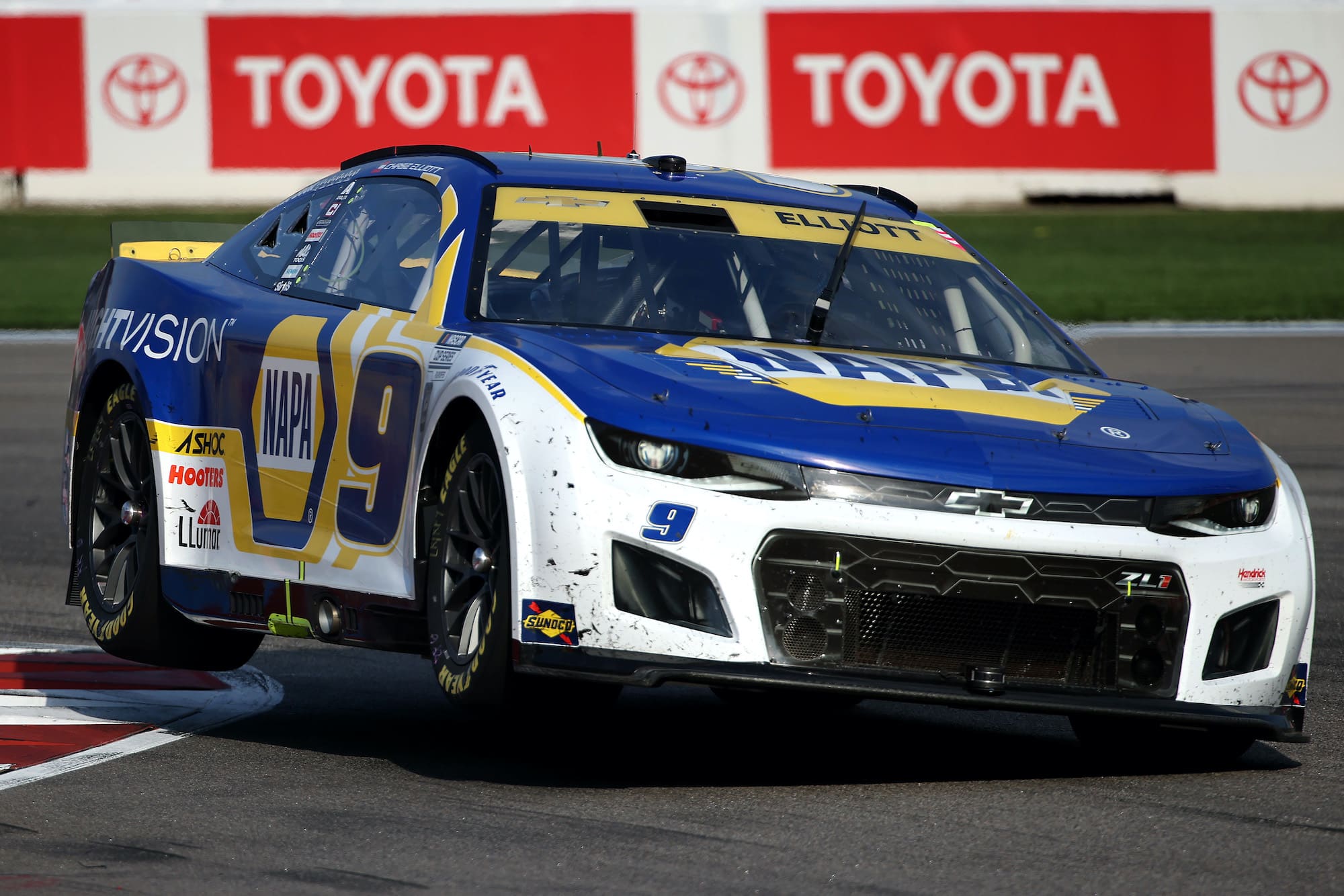 Chase Elliott was a favorite coming into the Charlotte Roval, having already won the most races this season, combined with his previous success on the track. He backed it up on the 17-turn layout and led a race-high 31 laps, and they came in what was reportedly the longest-ever green-flag run on the Roval at 47 laps. 
That history-setting run under green bizarrely ended with six laps to go and the No. 9 car holding a four-second lead when, of all things, a sign made its way onto the track. 
When the race restarted, Elliott got a good jump on AJ Allmendinger driving into the first turn, but the Kaulig Racing driver battled back, got even, and then ran the No. 9 out wide coming out of Turn 3. A couple of turns later, Tyler Reddick dive-bombed Elliott and sent him out for a spin through the grass. That was just the beginning of the chaos that included a red-flag delay because a large piece of the curb had broken off and sat in the middle of the track. 
Any hopes of the 26-year-old earning a solid finish ended when he was caught up in carnage on Heartburn Turn during the race's final restart. 
Elliott pushes away camera
Moments after the race on pit road with media members milling about, Elliott visited with teammate William Byron when an NBC cameraman approached from behind. He focused on the two drivers for a couple of seconds when Elliott noticed him out of the corner of his eye, turned, put his hand on the camera, and pushed it away. 
The driver wasn't done. When the cameraman backed up a step and stopped with the lens still focused on the pair, Elliott took not one but a couple of steps toward the camera, each time motioning for the cameraman to go away. 
Eventually, the broadcast cut away from the temperamental driver. 
Doesn't hold back his thoughts about rest of season
While Elliott was confronting the cameraman, SiriusXM NASCAR Radio's Claire B. Lang stood in the background with a microphone in her hand, waiting to interview the HMS driver. A few minutes later, she got her chance and asked him about his battle with Allmendinger on the first restart.
"I felt like I had a good launch and I got through (Turn) 1 OK," Elliott said. "Felt like I gave him room through 1 and 2. I don't know if he just overdrove 3 or got loose or whatever. But nonetheless I ended up off the track and then had me in a really tough spot there through 3 and then I don't know who ran me over through the other turns. So, yeah, it didn't work out."
Lang then asked about the overall racing. The driver provided a salty response that NASCAR officials don't want to hear. 
"Really difficult to pass," he admitted. "Standard with what we've seen with this car all year and just going to get worse." 
Less than two weeks ago, Elliott joined a chorus of drivers in expressing concerns about safety issues with the Next Gen car. Now these latest remarks. NASCAR's most popular driver — despite his success this season — has been in a mood lately. And we're here for it.